Anjolaoluwa, or Anj Fayemi, the Co-founder and CEO of Rivet, was perhaps the first person to rap their pitch at a Techstars demo day.
Fayemi is a mechanical engineer and a musician. He was motivated to build Rivet because of his challenges as an artiste. He discovered that maintaining engagement with people who connected with him through his music was difficult.
As an up-and-coming artiste, keeping up with people who have shown interest in his work is essential. Informing them of new song releases and giving discounts on merchandise were all ways to keep them engaged.
Rivet, an AI-powered fan management platform, helps artists collect data across social media platforms and other places where they engage their audience, creates actionable insights based on that data, and provides recommendations on how to reach out to the fans.
Fayemi and Nafim Rahman founded Rivet in 2020 alongside Simran Pabla, the company's Head of Product. Pabla explained that the platform essentially helps artists know where to focus their energy.
"We're taking platforms where creators are engaging fans, stitching the data that we're collecting across these tools, and using that to build better recommendations for artistes and creators.
This helps them understand who to focus on, like which fans are most engaged, and then produce recommendations they can follow regarding how to engage them best."
According to Fayemi, the platform "allows these artistes and creators to be more like small businesses, enabling them to proactively lean into top fans with exclusives, offers, discounts, and also be able to tell when fans are about to churn and take steps to re-engage them."
Rivet integrates with platforms like Instagram, Shopify, and Eventbrite, takes fan data from those platforms, and uses AI to understand fans' engagement levels and content preferences, among other things. Pabla called this process smart segmentation as it helps the creators reach out to their fans in a personalised way.
Data gathering and privacy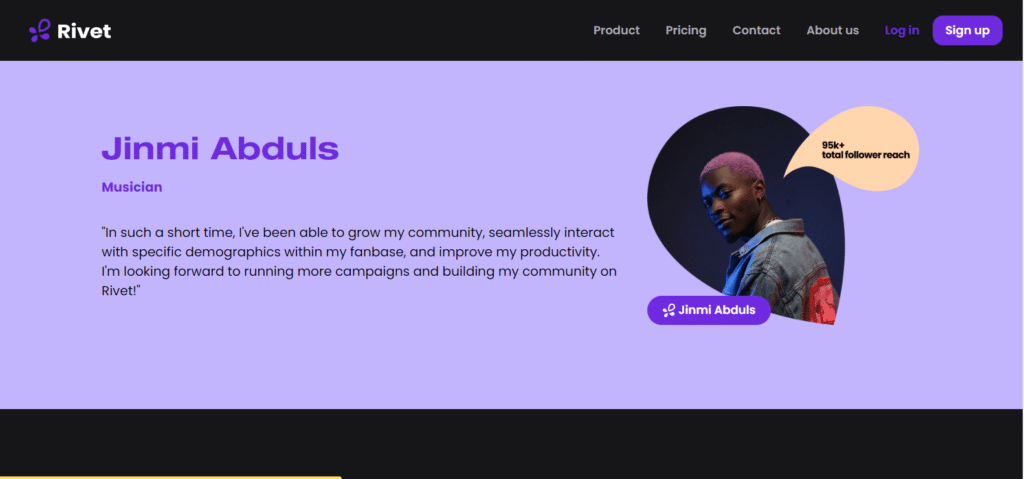 According to Pabla, who specialised in Machine Learning for her Master's Degree at the Massachusetts Institute of Technology (MIT), the data used by Rivet is mostly first-party. She said they only use APIs provided by these platforms to access data.
Rivet also uses data gathered by the creators, such as email lists, event attendees, etc.
For Pabla, one of Rivet's biggest value propositions is its recommendation to creators based on the data gathered.
"We're also creating recommendations. Once they've plugged their accounts in, they're able to see not only who their most engaged fans are, but how to best reach out to those people over time."
Combining music and engineering
Fayemi grew up in a musically inclined household; naturally, he tilted towards that path.
However, music wasn't the only thing he loved. He also loved football and entrepreneurship. Travelling to the US to study made him pursue something other than music.
He said it was a privilege he wanted to use to the fullest.
"I wanted to become an entrepreneur and take advantage of the privilege that made me go to the kind of school I attended. I wanted to build something impactful that helped many more people than me."
He got his love for music from his dad, an artiste. This made him enjoy music so much that he never missed an opportunity to participate in anything music-related; he was either a church choir member or singing in school groups.
Pabla, on the other hand, has no musical inclination, but using machine learning and artificial intelligence skills to help creators means a lot to her.
"I've always been motivated to use my background in tech to inspire passion, and this was a form in which I could do that; I have always sought out opportunities where I'd be able to help people do what they love or share what they love with others."
Pabla and Fayemi met at an engineering leadership programme at MIT, where they started doing a lot of work together. Between his music career and her love for helping creatives with tech, Rivet was born.
Business model and fundraising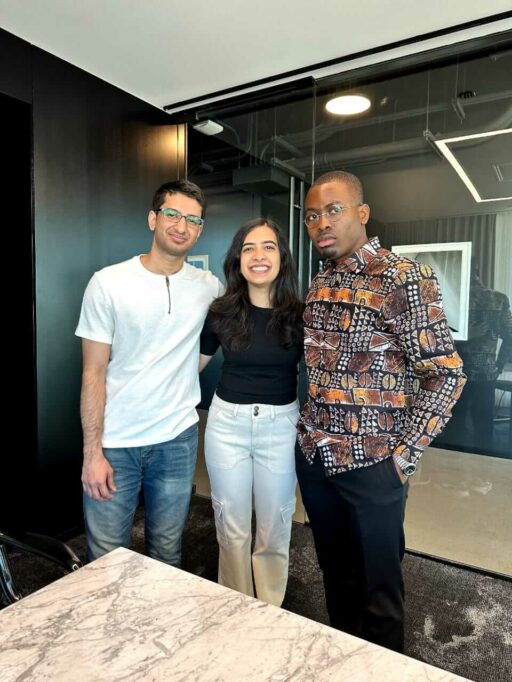 The business model for Rivet is a freemium plan where creators pay after they've used the platform's services.
They charge a commission on the sale of products and content creators make through their platform. The commission gets lower as creators use the platform to build a larger audience, at which point the payment model goes from commission-based to a monthly software as a service (SaaS) payment.
Interestingly, it was not the business model that got Drive Capital — the lead investor in Rivet's $500k funding round — interested in Rivet but what it could achieve in the creator economy. Content creation and fan engagement are important to content creators; even businesses also embrace them.
According to Fayemi, the plan for Rivet is to become a community retention engine that can help creators and even B2C businesses determine how valuable a community member is and know how to retain such members.
While Rivet can cater to all kinds of creators and businesses using content to scale user generation, Pabla said the company is focusing more on musicians.
The platform is currently home to 1,400 creators, and the company hopes to onboard a more diverse set of creators by 2024.
"We've seen a few other creator types reach us organically already. We have some podcasters and YouTubers on the platform, and the goal is to extend the platform more intentionally towards those creative verticals."
Fayemi and Pabla shared what it is like to have their level of entrepreneurship exposure and are excited that their hard work is paying off early in life.
Fayemi shared that the secret was that he got close to entrepreneurs, especially in Nigeria, who taught him early in his journey what he should be doing. He described his journey as a founder as "very mentorship-driven."
For Pabla, it has been exciting to see the team learn about fundraising and building a product that provides user value. She recalled how the team has learnt from the challenges of building the product and how it has helped them prioritise the right things.
Her entrepreneurship journey has been a mix of trying to start a company in 2014 to taking on several jobs, including working on machine learning applications in the aerospace industry.
Fayemi feels he is finally doing the right thing and hopes to successfully continue pursuing music, entrepreneurship, and engineering simultaneously.
While sharing some important things that have aided their progress, Pabla said, "if you're not embarrassed by the first release, you waited too long."
She emphasised the importance of sharing ideas, executing early, and getting feedback on what you're building.