Over the years, models for startup growth and acceleration have matured. New entities have unfolded to guide and nurture seedling companies, developing them from conception through to launch and sometimes, exit. It is common knowledge that these models include angel investors, incubators, accelerators, and venture capitalists (VCs), among others.
However, the startup studio model, which has been around for some time, operates differently and unfolds a new approach to accelerating innovation.
Startup studios, unlike incubators or accelerators, are companies that specialise in idea generation. They start with an idea and a team, then go on a path to validate the idea, and attain product-market fit before launching the startup.
Enter Nigerian startup studio, CeedCap
The startup ecosystem in Africa is quite unique and differs from those in other continents in the sense that founders usually require some level of experience, a number of contacts, shrewdness, knowledge of what strings to pull, and an understanding of how things work locally.
This is why Kessiena Majemite and a group of individuals who had industry experience, contacts, and a clear understanding of how to get things done decided to help put startups on the right path of growth and profitability. They began researching how best to create impact with unique solutions that could solve problems quickly and that's how CeedCap was born.
Kessiena Majemite, a self-professed Nigerian impact investor founded CeedCap in 2018. Before that, he founded a media company, VoizeMedia and worked as a strategy consultant in Dubai before moving to Lagos where he was head of product development at Service City Africa, an on-demand marketplace.
For someone who had been on the startup scene for over ten years, Majemite felt he was ready to play his part in building sustainable companies. He tells Techpoint that prior to founding CeedCap, he studied the venture capital model in Africa and realised that the returns on investments are centred on startups that have shown a significant amount of traction and only a few startups have been able to achieve this.
"My conviction is that some ideas need to show traction, but when embarking on solving real social and economic problems as an entrepreneur, it is usually difficult to make headway without the right support to leverage on. Our mandate at CeedCap is to see the potential in new thinking and ideas that can change lives as well as make investors returns."
How does the startup studio work?
CeedCap has multiple channels where it scouts for interesting startups and entrepreneurs. After that, like a brainstorming session, ideas are internally generated. Majemite says those that eventually fly are the ones CeedCap is strongly convinced can exist in the African market.
A rigorous 6 to 18-month process follows, with founders and their teams understanding the problem the new ventures are planning to solve, validating their business models, and finding a product-market fit.
Majemite says if the startup passes the validation checklist, CeedCap goes ahead to provide the necessary support which the startup needs.
"For us, it is ultimately about building businesses that help people and society flourish. The value we offer technical and non-technical entrepreneurs turns ideas into viable and sustainable businesses by providing in-kind resources, market access through partnerships and mentoring, and venture finance support such as direct pre-seed or seed investment or fundraising support."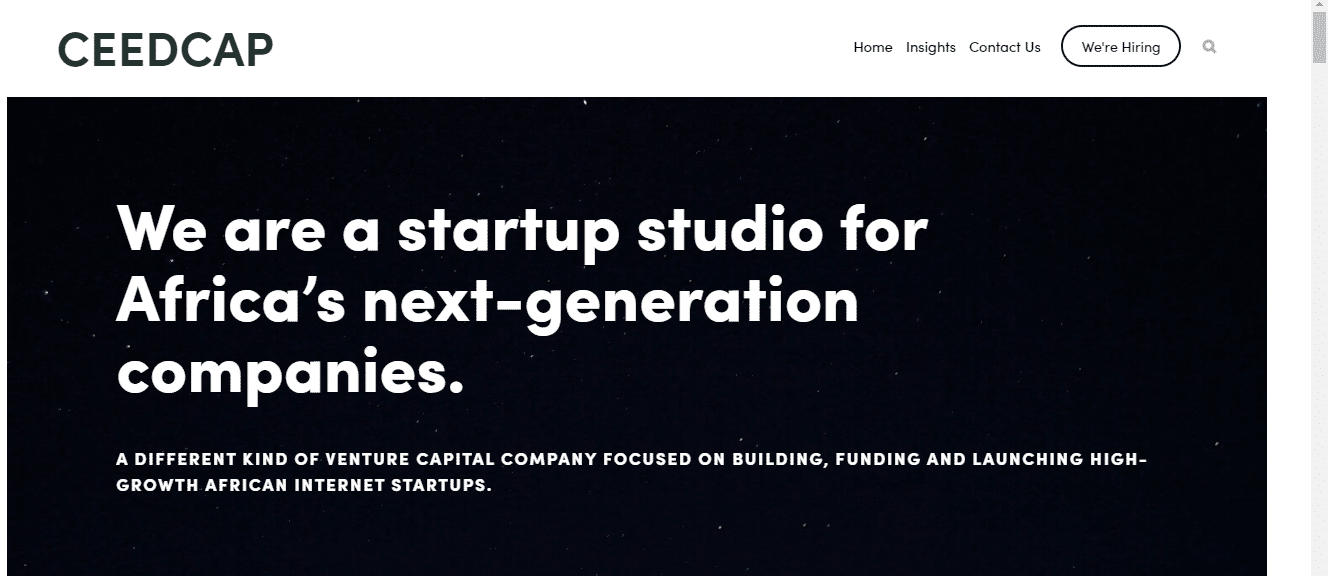 The startup studio model is one deployed to accelerate and reduce the overhead cost of founders and Majemite says the company is a blend of VC, an incubator, and accelerator.
By providing financial, technical, and legal services, CeedCap brings them under one umbrella enabling the startup to focus on one thing -- creating a great product.
"Usually, most startups don't have 100% of the skillset, experience, and more required from the founding team and employing such from day one is simply too expensive and unsustainable at the stage of development of the idea."
Where does CeedCap get the money it uses to finance these startups? Majemite tells us that the company works with angel investors and other networks looking to invest in early-stage startups and diversify their portfolios. They also operate a fund for fund managers who rely on the company to scout new deals, technical assistance, and investor readiness services to fund startups.
The numbers game and CeedCap's outlook on the startup studio space
CeedCap starts with a $25,000 ticket size and can go as high as $100,000 depending on the growth of the startup, with the likelihood of a follow-up funding through its investors' network.
However, the company doesn't say how much equity it takes from the startups but if examples of other studios around the world are anything to go by, it is very likely CeedCap collects a substantial amount of equity.
In a continent where disruption is constantly taking place, Majemite says CeedCap is focused on key growth and impact areas that can improve the quality of living, create jobs, and invariably create wealth with a particular interest in education, logistics, eCommerce, and social interaction platforms that bring people closer.
In October 2019, the studio kicked off by launching three projects -- Swiftly, a logistics fulfilment platform for micro, small and medium businesses (MSME); Evesting, an investment platform for micro investors to generate passive income; and CrowdCone, a financing platform for small businesses seeking short-term funding.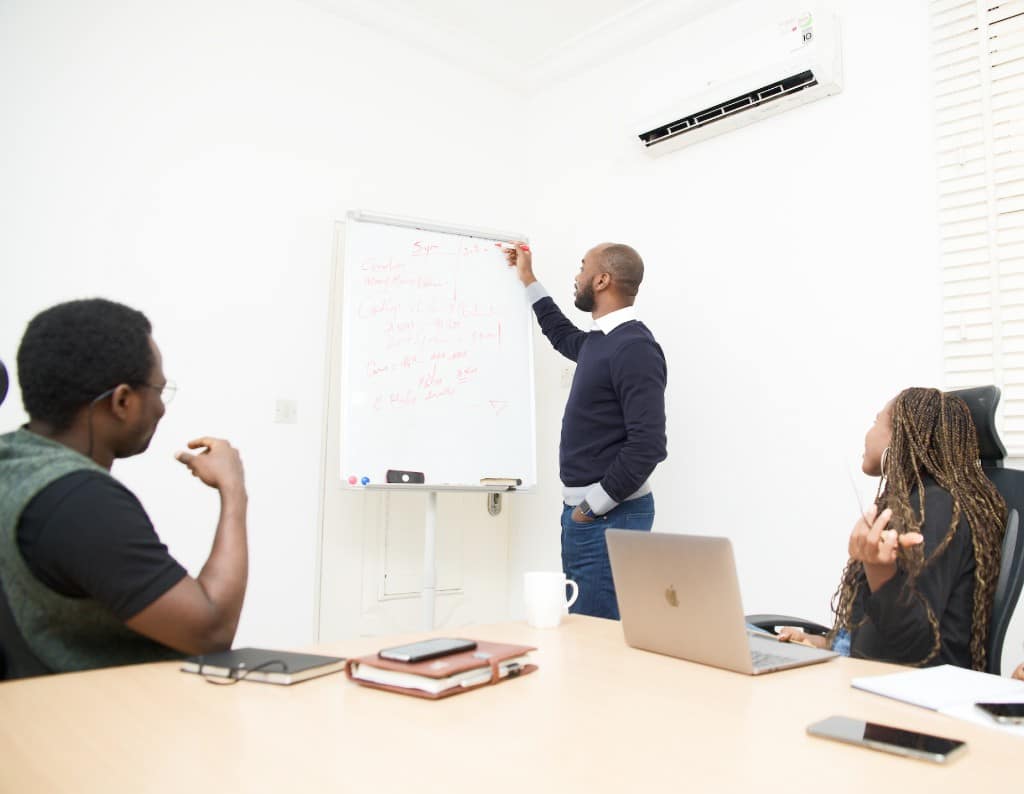 However, none of these projects is yet to hit the market but Majemite is confident that by the end of the first quarter this year, the public will have a taste of one of the startups.
Late January saw the startup studio selected as a member of the Global Startup Studio Network (GSSN), a network of venture builders giving startups the opportunity to create impactful businesses in their respective countries. And being the first African startup studio to be selected, CeedCap sees it as a stepping stone in its quest to create 500,000 jobs across Africa by 2050.
Despite this progress, and the fact that CeedCap brainstorms ideas and turns them into startups or projects, Majemite says there have been instances where the company had to get rid of some ideas. One of which, Majemite narrates, was the result of a change in government policy.
"We had to scale down on a project in the ride-hailing space due to the recent policy of a government in West Africa. The interesting thing was though our startup was creating a solution related to the business of ride-hailing, it was not in the ride-hailing business.
"Now, the government policy has thrown the project off its feet and we are repositioning the startup towards another sector completely. So as much as we plan, we can't really foresee such policy changes."
Regardless of setbacks such as this, Majemite says CeedCap remains bullish and confident it will be part of the continent's success stories as it has plans to expand to other African markets in search of talent with great ideas that can scale.