Hello,
Today I'm discussing:
#EndSARS: We will not forget 20.10.2020
How Homefort is assisting customers in avoiding running out of cooking gas
Healthtracka's admission into Techstars' Accelerator Programme
Backup's launch to commemorate 20.10.20
#EndSARS: We will not forget 20.10.2020
The #EndSARS protests first began online in Nigeria in 2017 as a cry to denounce police brutality and disband the Special Anti-Robbery Squad (SARS) of the Nigeria Police Force.
But, on October 4, 2020, the online protest gained momentum as videos of police brutality circulated on social media.
The protest, fueled by a desire for justice in the face of all forms of police brutality, resulted in illegal arrests, physical assaults, and deaths.
To cater to different needs that arose as protesters increased across the country, African payments startup, Flutterwave — after making a ₦2m ($4,400) donation to assist injured people just after the protests began — started receiving contributions from the public via a link.
However, following some threats from the federal government, Feminist Coalition (FemCo), a group of Nigerian feminists, who were at that time aiding the fight, sent out a Providus Bank account number and a Bitcoin address to continue donations.
Jack Dorsey, Twitter CEO, also backed the campaign and requested Bitcoin donations to support the movement. Interestingly, the #EndSARS campaign resulted in a surge in cryptocurrency adoption in the country.
Unfortunately, on this day last year, October 20, 2020, several eyewitness accounts reported the shooting of unarmed and peaceful #EndSARS protesters at Lagos' Lekki Tollgate area. As people attempted to broadcast live, there were reports of network outages in the area. We discussed how this could have been bypassed in this article.
Media companies were fined for using the footage to cover the protest. Read.
Google took down Arise News's YouTube live stream, and Facebook censored anything #EndSARS; both claimed it was a mistake. Read.
The Nigerian Army labelled many stories on social media fake news. Read.
Although Babajide Sanwo-Olu, Lagos State governor, acknowledged Lekki Toll Gate deaths, no one has taken responsibility for what happened. So, who ordered the shootings?
Without addressing what occurred, in December 2020, the Lagos State government and Eko Innovation Centre organised the Art of Technology (AOT 2.0) to reportedly provide an enabling environment for techpreneurs by ensuring proper broadband Internet penetration.
In sadness and despair, some saw an opportunity to help, an idea that could save others. Our reporter, Ogheneruemu, talked to one such person. Please, look out for this story.
It's been exactly a year since the Lekki Toll Gate deaths, and after previous backlash, the public continues to question FemCo despite audits demonstrating how the money was disbursed.
Today, we remember those whose lives were cut short, those who were jailed, and every hard-working young person being harassed by the police. And we will not forget how technology, through social media, enabled our voices to be heard.
We will not forget…
Homefort doesn't want you to run out of cooking gas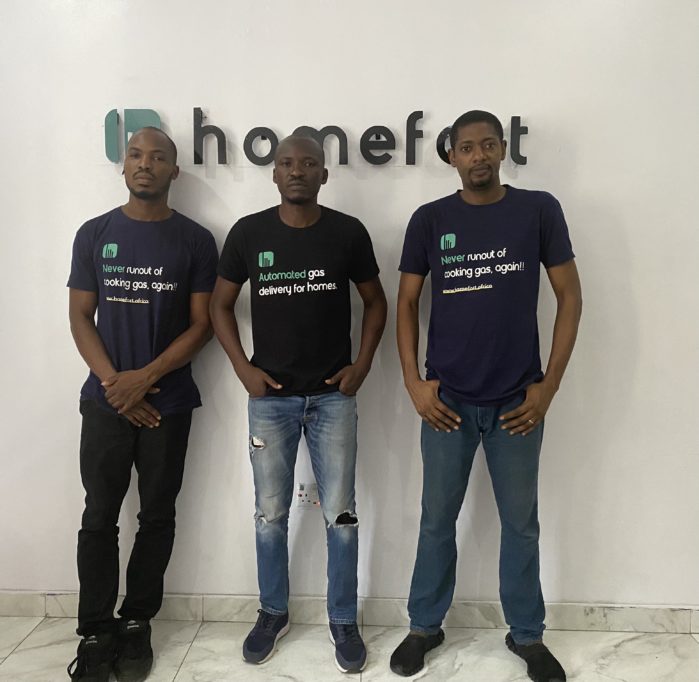 While the prices of cooking gas in Nigeria continue to rise, Homefort Energy, a clean energy startup, is helping its users purchase cooking gas at a lower price.
The startup says it replaces users' existing cylinders with brand new ones at no cost to the customer if the cylinder is less than eight years old.
Also, Homefort automates gas delivery to homes and businesses using Internet of things-enabled smart metres. It notifies its users whenever their gas is about to run out and schedules a delivery date.
The company helps users track gas quantity used, gas quantity remaining, consumption, and transaction history.
Read this for context: Nigerian clean energy startup, Homefort Energy, wants to make sure you never have cooking gas worries again
From the Intelligence Department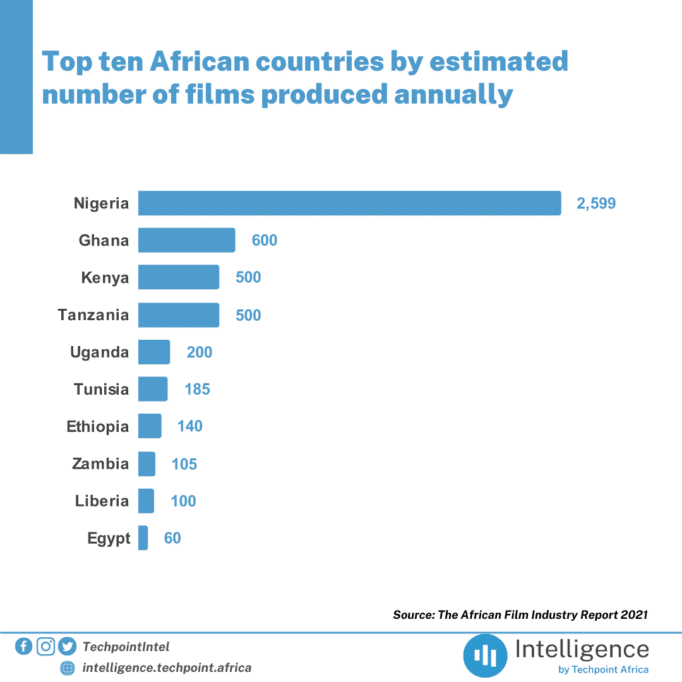 The Nigerian movie industry, mainly financed via public or private funding and international grants, produces the most films in Africa yearly.
The graph above shows the top ten African countries by estimated annual film productions.
Healthtracka has joined Techstars Accelerator Programme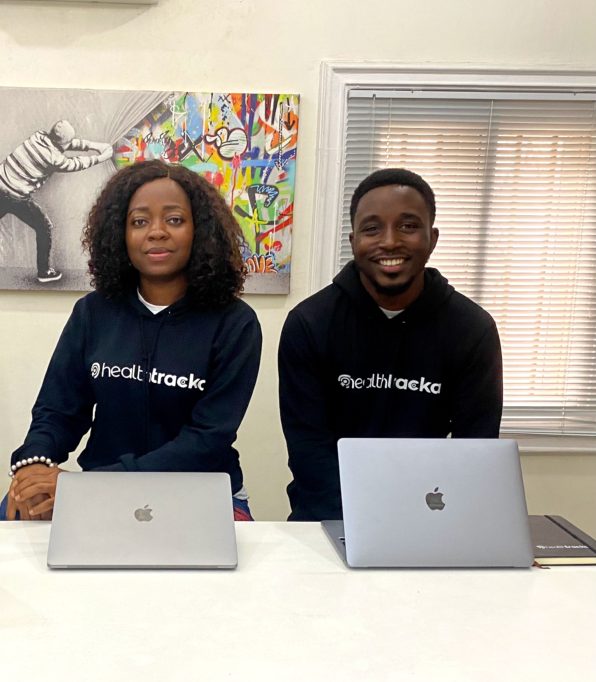 For some startups, an accelerator programme might be as important as funding.
According to the Business Developing Company (BDC), a bank for Canadian entrepreneurs, a business accelerator is a programme that provides developing companies with mentorship, investors, and other resources to help them become self-sufficient, stable businesses.
Why accelerator programmes?Apart from the benefits started above, mentors can also provide emotional support, which can be highly beneficial for some startup founders.
So, who joined an Accelerator programme? Healthtracka, a Nigeria-based healthtech startup decentralising laboratory testing in Africa using at-home tests and digital results, announced on Tuesday, October 19, 2021, that it has joined the Techstars Toronto Accelerator programme.
The five-month-old company sees its acceptance into the accelerator as validation, and there are some takeaways from the co-founder's interview with our Reporter, Joy.
Please, click here to read her interview: African healthtech startup, Healthtracka, gets into Techstars Toronto Accelerator programme
If you want to know what Healthtracka does, please, read: From death to life: how a loved one's demise spurred the idea for Healthtracka
Another one from the Intelligence department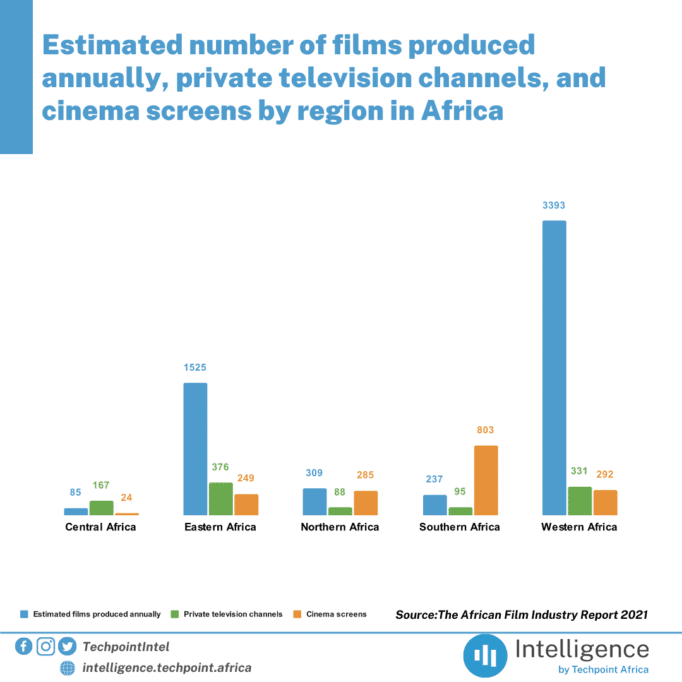 According to the United Nations Educational, Scientific and Cultural Organization (UNESCO), low-budget movies from Nigeria and other African countries account for most of the films produced annually in Africa.
The above graph shows the estimated number of films produced annually, private television channels, and cinema screens by African region.
Kindly follow Techpoint Intelligence on Twitter, @TechpointIntel, for exciting insights like this.
The CANS Foundation launches Backup to commemorate 20.10.2020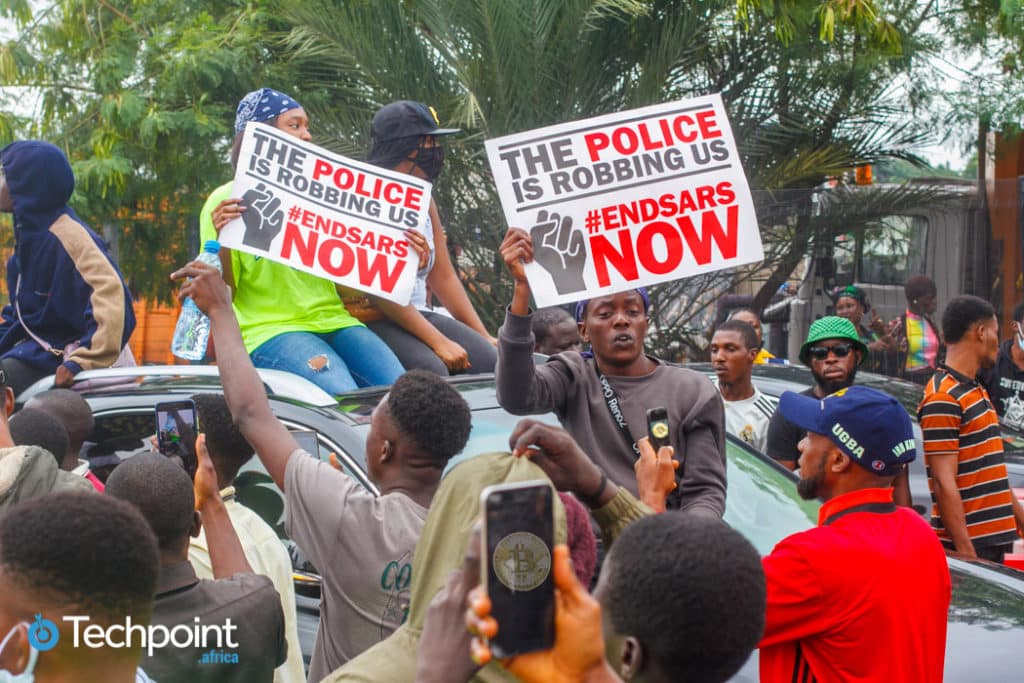 What's new? The CANS Foundations, an organisation that accelerates social impact in Africa, in collaboration with the Open Society of West Africa (OSIWA), is launching Backup, its new law enforcement brutality digital intervention platform, today, October 20th, 2021, in Abuja, Nigeria's capital.
The Backup platform was created to solve the rising case of police brutality among Nigerian youths. And the date was chosen to commemorate the first anniversary of the #ENDSARS protests.
Anthony Eromosele, Programs Lead, Backup, in a statement, said that the project's goal is to create an effective system for intervention and data collection in cases of police brutality.
He also said that the platform would enable people whose rights have been violated to seek help from emergency contacts, social media, or organisations.
What I'm reading and watching
#ENDSARS MOVEMENT: FROM TWITTER TO NIGERIAN STREETS. Read.
CNN #ENDSARS investigation: CNN releases second report on the Lekki shootings. Watch
'Many Sides Of Jane' Mother Sheds Light On Dissociative Identity Disorder | TODAY. Watch.
Opportunities
Sendcash is accepting submissions for its essay contest. To apply, visit this page.
Varsity Tutors is looking for a senior user-centered experience designer. Apply here.
Have an amazing day ahead.
Victoria Fakiya for Techpoint Africa.