Google has apparently taken down the YouTube live feed for popular media house, Arise News, following their coverage of the shooting of unarmed protesters in the Lekki area of Lagos Nigeria.
Arise News is a media house with bases in London, Johannesburg, and Lagos, but with a strong focus on reporting events from the African content.
On October 20, multiple eyewitness reports showed members of the Nigerian Armed forces firing at unarmed protesters at the Lekki Tollgate in Lagos, but several news media were seemingly inconsistent in their coverage.
The following day, Arise News went to the scene and started a live broadcast which aired on various platforms like DStv channel 416, YouTube, Twitter, and the Arise TV website.
For a large number of users of social media, Arise TV has been one of the few news media companies in Nigeria bringing factual coverage of the events to the majority of Nigerians at home and abroad watching on TV and online.
https://twitter.com/LifeofPegasus/status/1318950265517690881
https://twitter.com/Omoissydeyhere/status/1318913742139260930
How can a TV station be so accurate with facts and figures regarding the ongoing situation of unrest in lagos state? May God bless whoever owns Arise TV. As for the owners of TVC and Channels, i refuse to speak.
#LekkiMassacre #LekkiGenocide #EndSars

— ENITURN™🌍 (@eniturn) October 21, 2020
https://twitter.com/iiampsticks/status/1318972131380809729?s=19
Having a widely trusted news source is especially important considering that a lot of information -- both genuine and questionable -- has been making the rounds on social media and on traditional news outlets.
In baffling circumstances, Facebook and Instagram flagged content about the Lekki massacre as fake news. The reason for the takedown of Arise News' live YouTube feed still raises some questions.
Google's terms of service state that content might be taken down if it, "Would cause harm to any user, other third parties, YouTube, or our Affiliates." 
However, Techpoint Africa can confirm that the live feed on YouTube has been taken down for alleged copyright violations.
"This was due to copyright infringements on the live stream because of the music stings in the programmes. We can't upload on YouTube for a week," says a source at Arise News.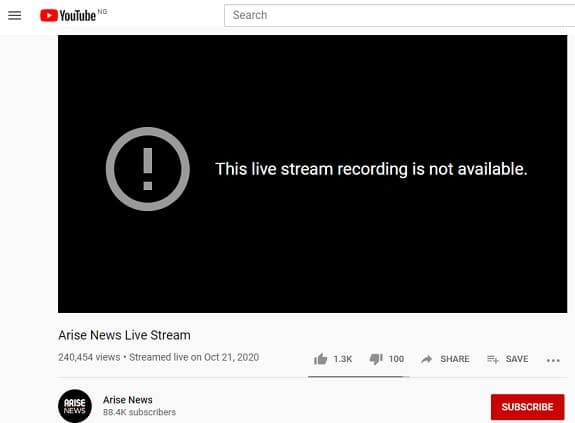 A look at YouTube's copyright policies shows that it allows any person who owns the copyright for any content to either block the video, monetise it or track its viewership.
However, on a case-by-case and a country-by-country basis, YouTube allows fair usage in works of commentary, criticism, research, teaching, or news reporting.
It is also worthy of note that Arise News' music sting has been in use for quite some time, and Google's AI had not flagged it for copyright infringement until they aired updates surrounding the Lekki massacre and ongoing protests to end police brutality.
The good news is, while the live feeds are unavailable on YouTube, they're still accessible on the Arise News website, on Facebook and on Twitter. Though YouTube seems to be one of their most popular platforms, the last upload from the channel came at about 6 a.m. (WAT) on October 22.
Featured image
Kelly Sikkema
on
Unsplash
---
UPDATE [October 22, 2020 at 7 p.m. WAT]: The Arise News YouTube livestream feed came back up at 4 p.m. (WAT); roughly an hour after press time, and about a week earlier than expected. The ability to upload videos has also been restored; new videos appeared at around the same time.
Headline has been updated to accurately reflect this