During a short business trip to Nigeria in 2015, Ike Okosa witnessed firsthand the nascent but bubbling tech ecosystem in the country.
At the time, Okosa was running Swoop Media, a UK-based company that provided IT and digital marketing solutions to UK private schools.
The UK-born entrepreneur, who was visiting for the first time in over a decade, admits he was unaware that the country had a tech ecosystem.
However, attending the 2015 edition of Social Media Week in Lagos changed his notion, and he formed vital connections there that proved helpful in his journey to becoming a Nigerian-based entrepreneur.
Furthermore, the amount of talent he met led him to hire a developer, designer, and social media marketer for Swoop Media. He was so impressed with their work that they replaced some of his UK employees.
Then he noticed something else.
Swoop Media predominantly outsourced its software engineering work to a team of five in India. The Asian country was the first market for most companies that wanted quality software engineering work done for cheap. But that model proved difficult for Okosa.
"Working with Indian developers was painful at times. English isn't their first language, so communication was often a problem. The time zone difference -- five and a half hours -- also made working with Indian talent difficult," he says to Techpoint Africa.
eWorker v1.0
Like most founders, he set out to solve his problem. He knew that connecting UK companies to talent in Africa would address many of the challenges they had with India. And at the same time, it was going to have a positive impact on Africa.
Over the next few months, he and his team started building the first iteration of eWorker as a freelance job platform which they launched in 2016 at Social Media Week.
Via social media, eWorker signed up 500 African freelancers in a couple of weeks. Asides the fact that the startup was competing with the likes of Fiverr or freelancer.com, most of the jobs that came on the platform were low-value ones. Also, the performance of the developers was subpar.
"Some of the work was really good, some of it was poor. Some users stole other people's work and presented it as their own. Some even copied from other registered users."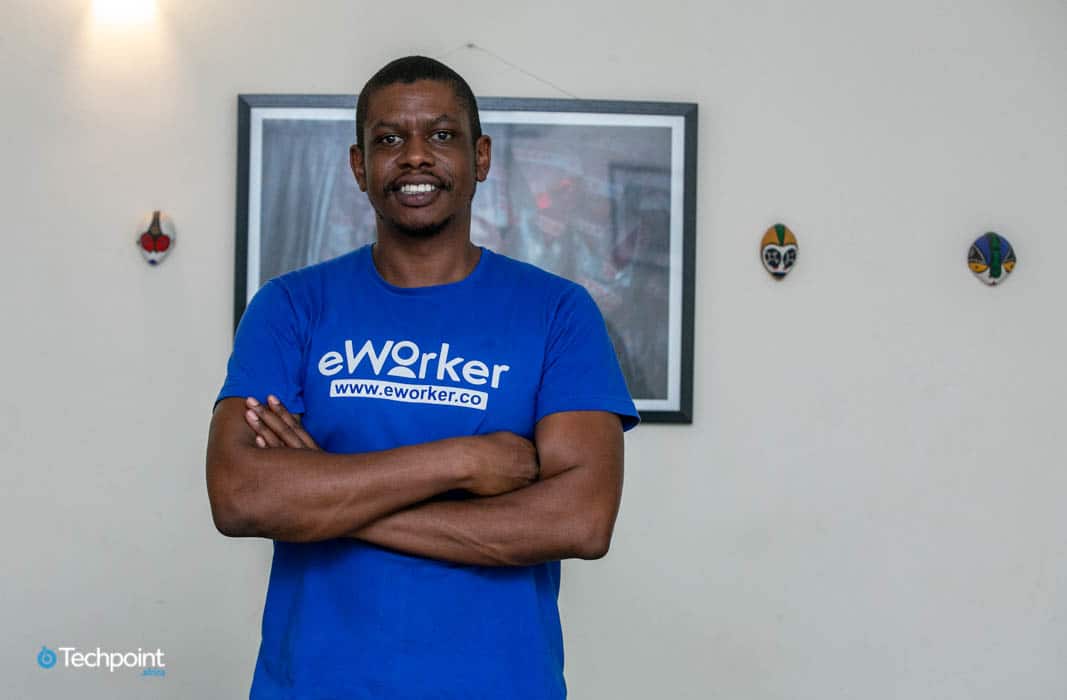 The founder says this made the team pivot to local tech recruitment the following year, and then to what it is today: a senior engineer hiring platform connecting global companies to top tech talent in Africa.
Why focus on senior engineering talent?
In 2017 when eWorker pivoted, a number of companies had sprung forth with similar offerings. And creating a niche for itself, the startup decided to focus on senior software developers.
Okosa says that the startup's clients have always been on the lookout for quality senior engineers. He claims that this is because, in the US and UK, there's a tendency for such companies to have good junior and mid-level developers at affordable rates; the senior engineers, on the other hand, are quite expensive.
eWorker vets software engineers and clients to protect both parties.
"The last thing we want to do is to connect a senior software engineer with a company that doesn't understand the value he or she has."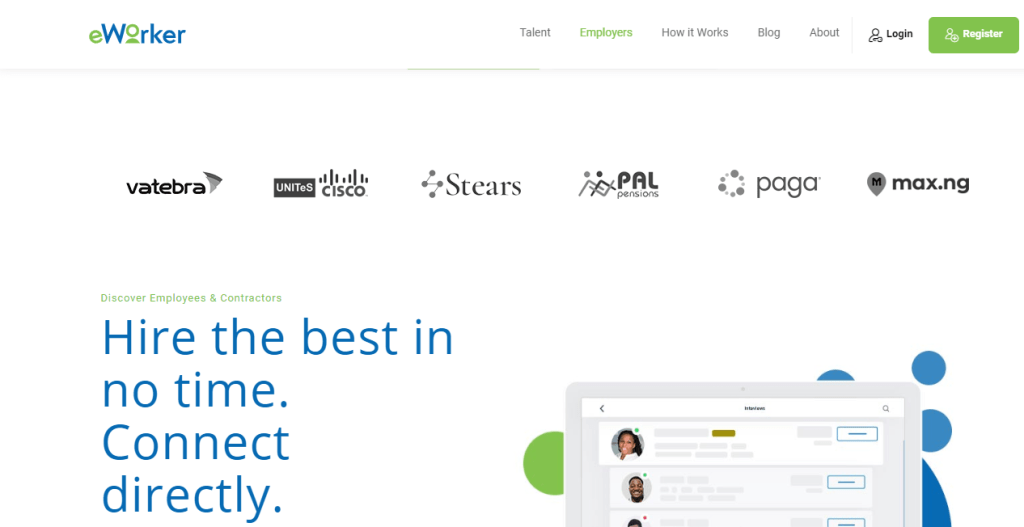 On the supply side, eWorker puts the engineers through a thorough skills assessment where evidence-based data is key. Here, the company vets the individuals' previous performances, recent assessments, take-home projects, and cultural fit assessment to ensure they are the right fit for a company.
The demand side has some similarities. Okosa says one of the things eWorker does is try to understand the culture of the client first. It then considers the size of the company, if they have the right infrastructure in place, the right team to support the developer, and its financial position.
The processes are vital in matching engineers with clients. For Okosa, eWorker is big on clients that have people their developers can work under, thus providing room to learn and grow.
Since launching five years ago, eWorker has bootstrapped its way into nine African countries: Egypt, Ethiopia, Ghana, Kenya, Morocco, Nigeria, Rwanda, South Africa, and Uganda.
With clients mostly in the US, UK, and Europe, the company has assessed over 5,000 developers across the continent (85% from Nigeria) and matched them with these companies.
Remote work and expansion
Using talent managers in these countries, eWorker has gone remote and expanded using a smart and lean approach. Although Okosa adopted remote work when he worked with the Indian developers, he admits that it wasn't easy this time.
Okosa recounts why it was difficult at first adjusting to the fact that his home was his new office.
"When we started remote work, I found it difficult to adapt to full-time because I was working from a small table. But getting a desk and chair for my home office has brought comfort and improved my remote work experience."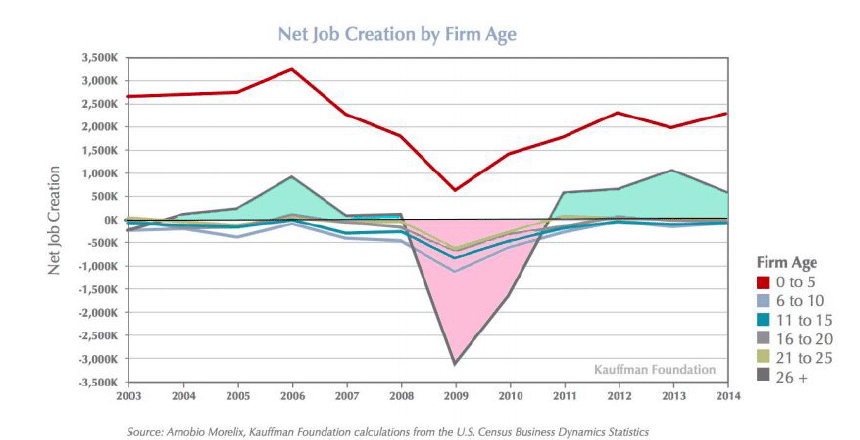 Now that the pandemic has sped up the adoption of remote work, eWorker has fully embraced it and everyone works from home. He believes one of the advantages of this decision is increased focus as against distractions like staff clocking in when they had a physical presence.
With that out of the way, eWorker is laser-focused on more expansion. Okosa says Lagos, the company's first market, has proved valuable in its quest for expansion within and outside Africa. Citing Lagos as a tough tech talent market to crack, he feels if tech companies can survive in Lagos, they'll likely survive outside Nigeria and Africa.
On another note, the company recently launched its eWorkerHR platform that helps human resource personnel to measure and find quality talent.
The platform was created from the company's Talent Identification Framework, a 9-step process that helps companies identify top performers. So far, eWorker has partnered with enlisted companies like MAX, Paga, NIBSS, Business Day, and BUA Cement to use the platform.
While the startup is providing solutions like this to companies outside tech, Okosa reminds us that eWorker remains committed to connecting African senior tech talent with global opportunities.
"It's now time to broaden our scope as we have a global vision. For eWorker, talent exists across Africa and providing opportunities to top tech talent across the continent has always been our mission."
https://zp-pdl.com/emergency-payday-loans.php
http://www.otc-certified-store.com/brands-medicine-europe.html
https://zp-pdl.com/fast-and-easy-payday-loans-online.php
https://zp-pdl.com
как получить займ на qiwi
займер первый займ
займ на карту езаем