Every social media platform is known for something.
Facebook is where you'd normally go to connect with old school friends, find out whose birthday is next, and maybe check up on relatives.
Twitter, like a bar where random conversations take place simultaneously, has the latest news and banter on everything from politics to Tacha titans.
Instagram feels more like an art gallery where people share carefully curated and filtered versions of their lives.
Of course, there is the much younger TikTok where all the 'cool kids' now go to share lighthearted and often goofy videos for fun.
And then there is Snapchat.
You may remember it for its cartoonish filters and augmented reality flower crowns which were the rave between 2015 and 2018.
But even though everyone seems to have moved on to the newest shiny thing, Snapchat has retained a number of loyal millennial users across Nigeria.
Since the lockdown was initiated in some parts of the country, social media usage has skyrocketed. People are either joining the latest challenge on TikTok, hosting a show on Instagram live, tweeting by the second, or sharing mirror selfies from their bedrooms.
However, the scene is quite different on Snapchat where users are sharing videos and photos of themselves in their homes showing off marijuana, shisha, drugs, and alcohol—content not commonly seen on other platforms.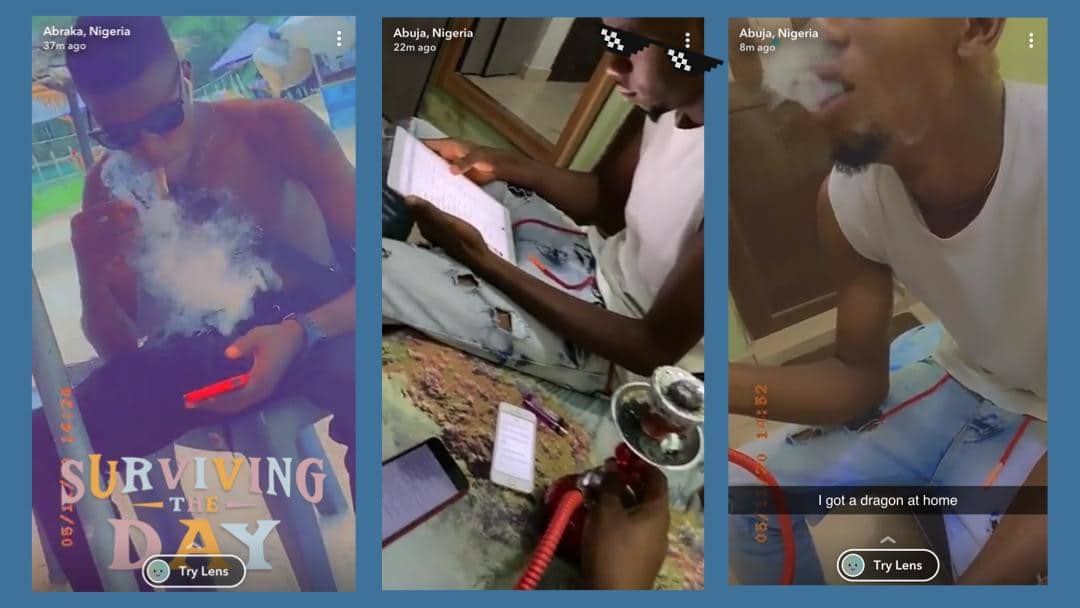 One user in Emuern, an area in Ikorodu, Lagos, records himself in the mirror with a red-coloured iPhone in one hand and a rolled-up joint in the other.
All the way over at Rigachikun, a town in Kaduna, another user shows off a blue shisha pot on a table in what appears to be their living room.
And in Abraka, Delta state, yet another user sits shirtless under a canopy as he takes a puff of a joint, music playing in the background.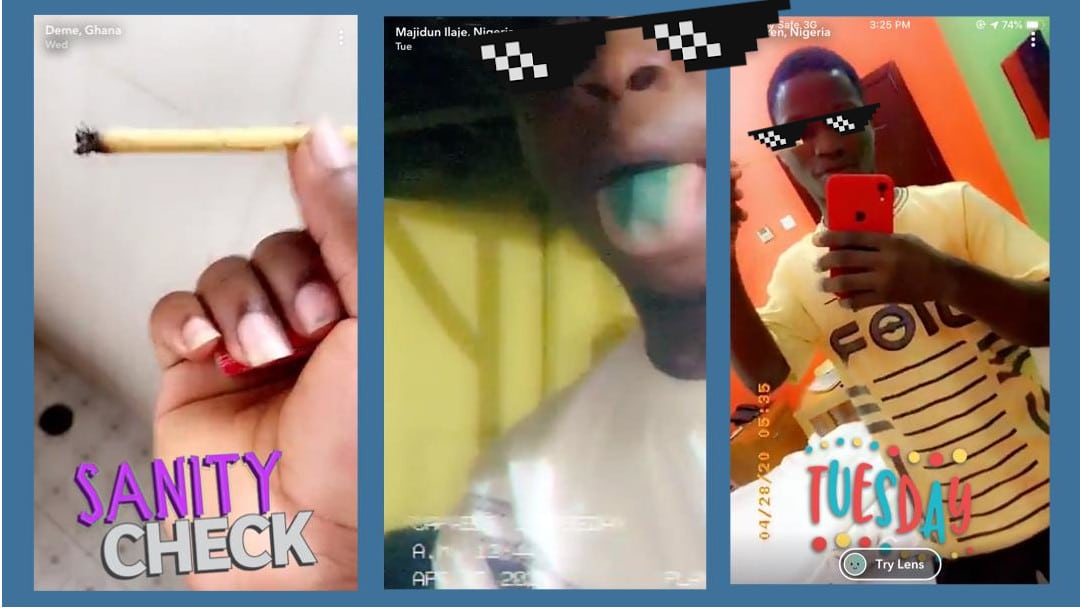 Beyond Nigeria, a user in Deme, Ghana, can be seen flashing a lit joint with the sticker 'sanity check' plastered across the video, while another in Cotonou stares into the camera as she sucks on a blue and red shisha pipe.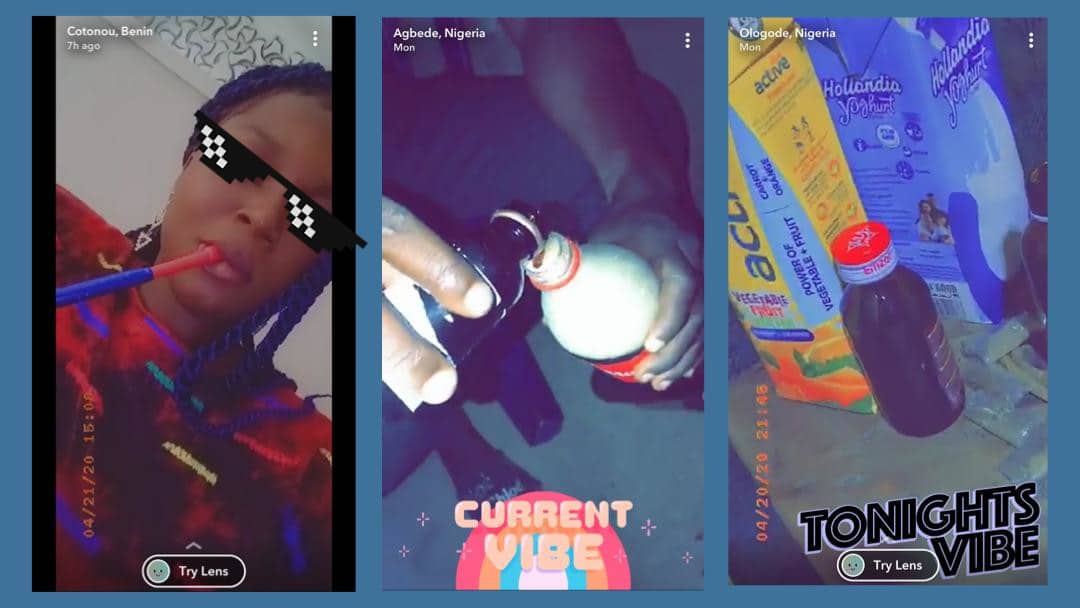 Skimming through Nigerian cities and parts of West Africa on Snap Map, a Snapchat feature that allows users to view thousands of public photos and videos called Snaps, reveals a myriad of these types of content.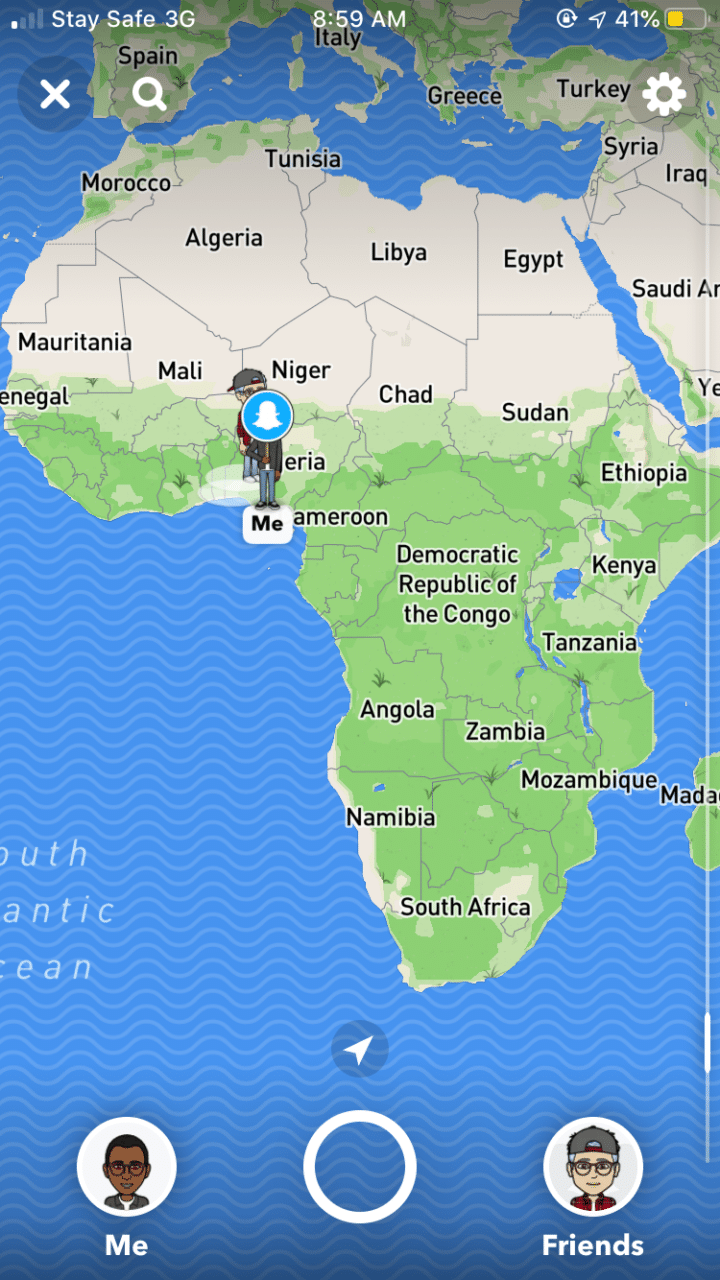 While photos and videos displaying marijuana, alcohol, and several other drugs — often at clubs and parties — are not new on Snapchat, they appear to have been magnified lately as people have been isolated at home with little to do.
The snaps often have stickers and captions like, "Lockdown got me like this," and "__ days of social distancing. How are we doing?"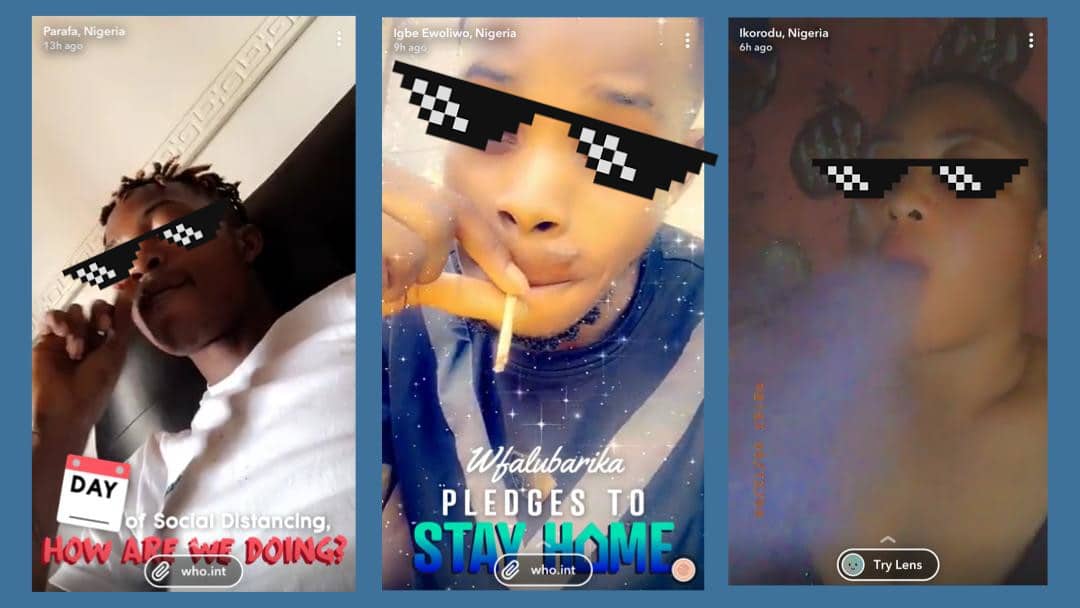 "The current situation is abnormal," says Oluyide Mojisola, a clinical psychologist. "People who find it hard to control substance intake now have the opportunity to be excessive about it. Most people do these things to reduce boredom."
"People use drugs or alcohol to escape the depression and anxiety they experience as a result of the lockdown," she adds.


Snapchat has become the platform where people feel comfortable sharing activities and parts of their lives which tend to be criticised by people on other platforms or even restricted by the platforms themselves. 
For one, Snapchat offers a level of privacy, unlike other platforms. Its features give users the option to handpick who they want to view specific posts on their Story. 
But beyond this, Snapchat is one of the few platforms yet to be invaded by 'the Olds.'
Facebook has been overrun by 'older people' not just in Nigeria but around the world, causing an exodus of younger users to newer platforms like Instagram and Snapchat, mostly to escape the prying eyes of their parents, relatives, and even employers. And with Instagram's massive growth and consequent expansion into older demographics, Snapchat has become one of the few remaining havens for young Nigerian users seeking such privacy.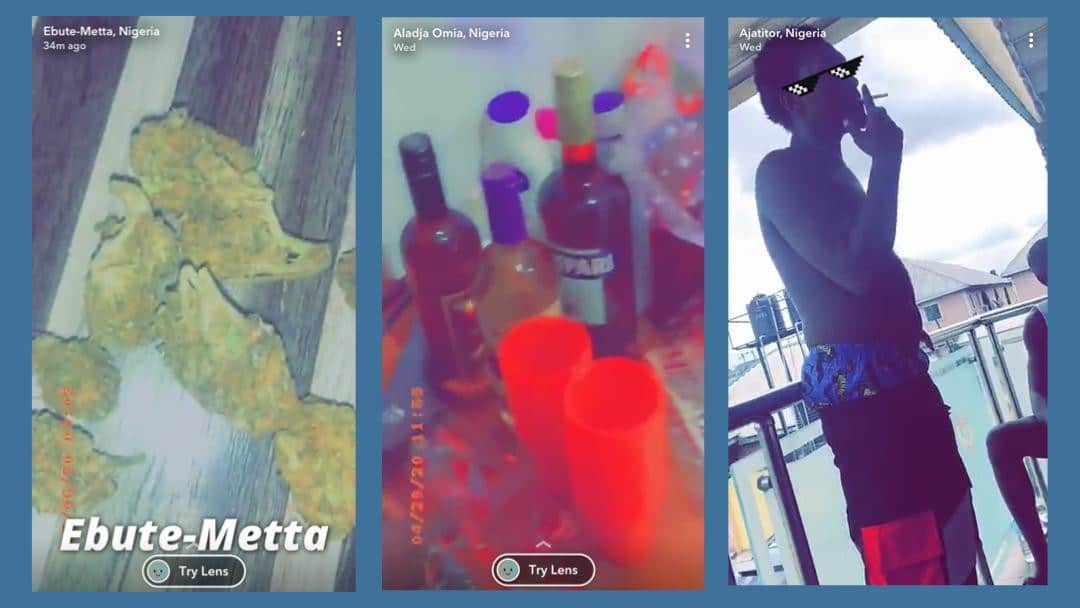 "I wouldn't put a post of me hanging out with my friends when we are smoking and drinking on my WhatsApp. Some people do it but most won't," says Temitayo Ogumola, a creative director, "but they post it on their Snapchat because they feel that it's secure since only people in their circle can see it. So they leverage on that privacy."
Also, there's a popular saying that "the Internet never forgets." However, Snapchat was built to forget.
Posts and messages on Snapchat last only for a short time (24 hours for Stories) before they become inaccessible to their recipients.
And for many Nigerian users, that has been one of its unique selling points. 
The 'cancel culture' on Facebook, Instagram, and particularly Twitter, where users call out celebrities and influencers for various reasons, thrives on digging up old posts and messages, often called 'receipts,' which are embarrassing to the victims at best and incriminating at worst. But the ephemeral nature of Snapchat posts tends to reduce this risk.
"I think the reason people tend to show all of that character on Snapchat is that posts last for just 24 hours, so the posts are limited," says Phemmy White, a Snapchat user. 
"Nobody wants to stain their personality. Though there are some people that actually post these kinds of content on Instagram and Facebook, most people don't want a stain on their personality because they're still trying to get bigger opportunities."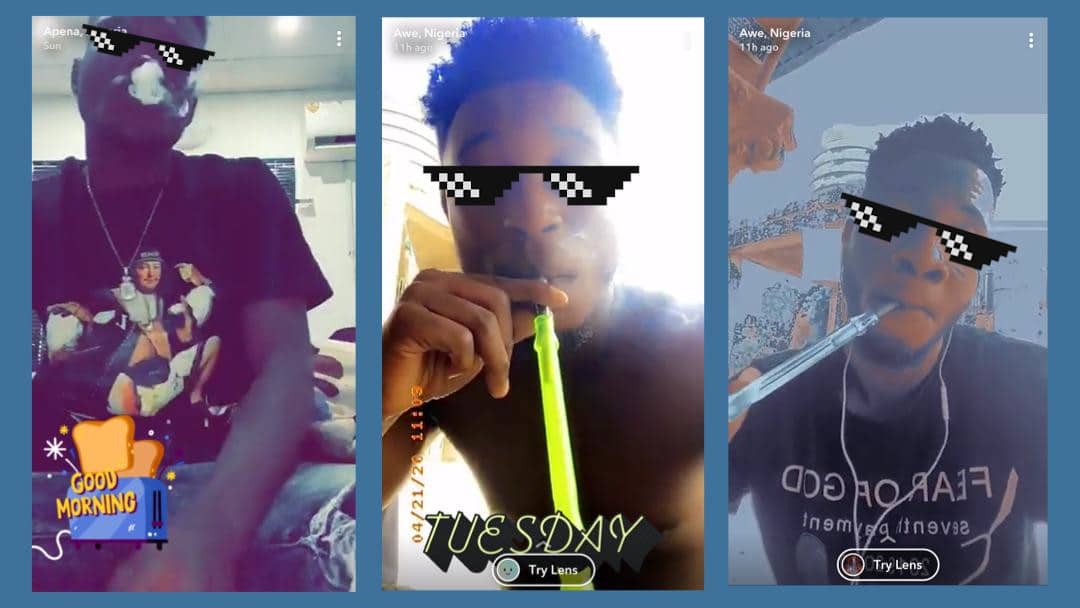 Snapchat also has a feature that notifies users when someone takes a screenshot of their posts or messages. This, to an extent, serves to deter users from keeping records of posts and conversations of others without their permission.
These features and conditions on Snapchat have created an environment where people feel safe to share a less curated and paradoxically less-filtered version of themselves, giving a raw and intimate look into how they live especially during a pandemic. 
With the lockdown being eased in some parts of the country, and people resuming other activities, it may take a few extra taps to find these kinds of content on Snapchat. However, they continue to linger —a telling sign that they are here to stay.