According to the National Bureau of statistics, as at 2013, there were over 37 million MSME's in Nigeria and more uncounted for. Which leaves us with the questions as to what these startups are up to? Those in the business of making it, what are they doing right? Those who are yet to get their right foot forward, how should they go about it?
Little wonder Facebook founder, Mark Zuckerberg's first port of call during his recent visit to Africa was Nigeria. There is a lot of potential in startups emerging from Nigeria if well nurtured and a lot of work has to be done as to the developments of the startup culture in Nigeria. Every day since the last quarter, we have brought to you several startups among a pool of startups who pitch on a daily basis. This has been deliberate as our goal has been about nurturing startups and also seeing them grow to become tech giants from Africa. We have found out that many seem not to have gotten the whole startup model right and this is why we have decided to create a solution to that effect.
We have taken the initiative by introducing Techpoint Inspired, an annual convergence for startups, career professionals and policy makers across Nigeria and Africa to contribute to the National discourse that would inspire radical transformation of the Nigerian and by extension, the African economy. It is our strong belief that technological innovation is the next frontier of economic development in Africa. Our mission has always been to bring this technology closer to every class of Nigerians. It is our hope that startups begin to interface with technology in a dignifying manner that would bring about growth.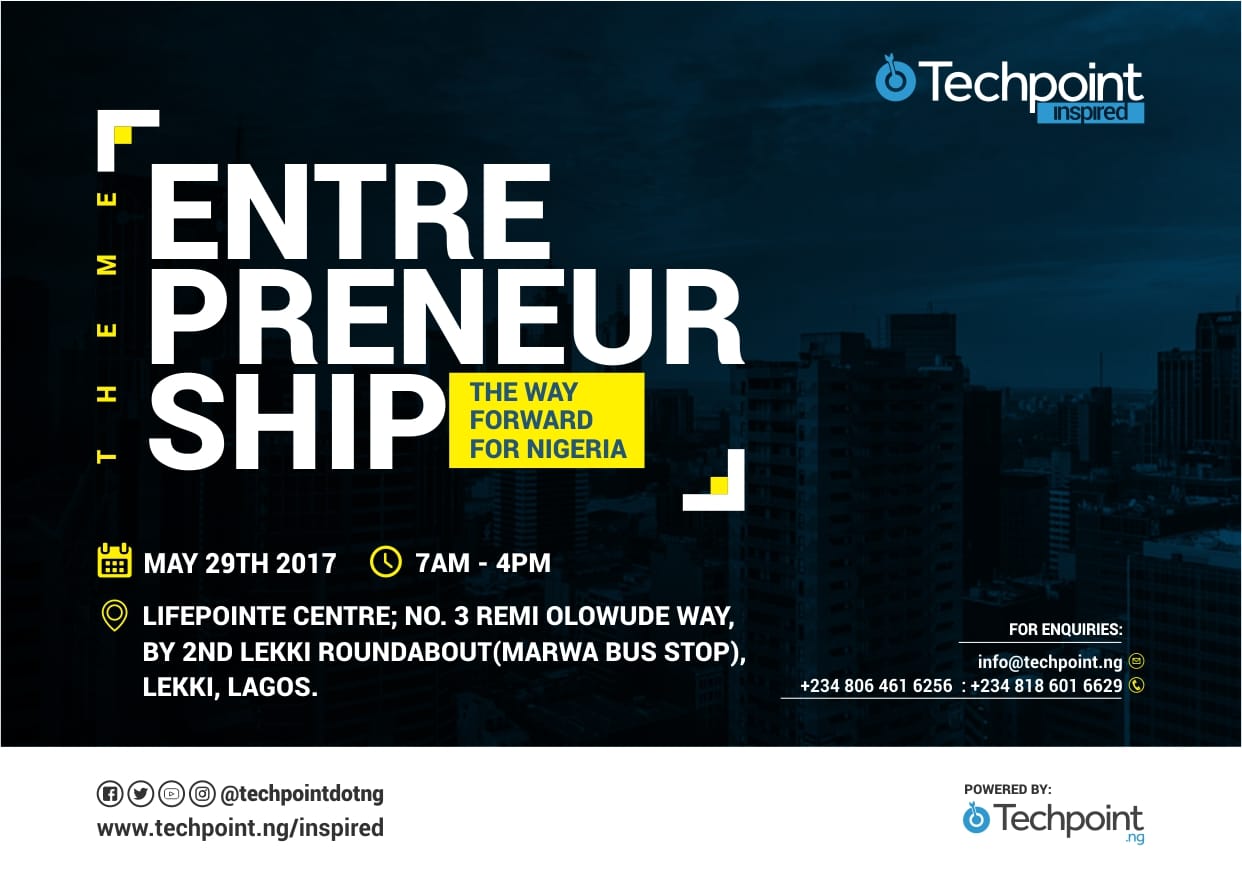 This year at Techpoint Inspired, we bring to you trailblazers from various sectors, who will share their inspiring stories from their wealth of experience. Through this event, we hope to create a model that works for Nigeria's growth and development, restore and build confidence in Nigeria. The event would also launch our mentorship program for those who need mentorship in their career and ventures.
So on 29th May 2017, we will gather at Lifepointe Centre, to discuss pragmatic sessions:
How we built it
Being a Founder in Nigeria
21st Century Calling: Why is Offline to Online important for Nigerian businesses?
Digital Era: How contents can shape our conversation.
Is there really a tech ecosystem in Nigeria?
If you are a startup founder, innovator, technology student, or anyone with brilliant innovations, or you know anyone who is, this event is for you. You can register now and book yourself a seat at Techpoint inspired.
Thanks to our speakers and panelists  —  Eyo Bassey (CEO,Payporte), Emeka Okoye (CEO, Cynmanticks), Victor Asemota (C0-Founder & Director, SwiftaCorp), Abiola Olaniran (CEO, Gamsole), Sherif Shittu (CEO, Switch Innovation), Iyinoluwa Aboyeji (CEO, Flutterwave), Seun Onigbinde (CEO, BugIT)  and others who are yet to confirm — we will be able to fully achieve our aim.
If you are looking at sponsoring or partnering, reach out to us via mail at events@techpoint.ng. Our doors are wide open.
Follow the conversation on Twitter, Facebook and Instagram #TechpointInspired.