In today's ever-changing world, the workplace is undergoing a profound transformation, and understanding its future is essential. We are delighted to introduce you to three exceptional speakers who will illuminate the path forward at the Modern Workplace Africa Conference 2023.
Victor Fatanmi, Co-founder, Fullgap/FourthCanvas
Victor Fatanmi, a purpose-driven business leader, is at the helm of FourthCanvas and Fullgap, where he is pioneering innovative ways to elevate experiences and shape the future of work. With FourthCanvas, he has assembled some of Africa's brightest minds in brand strategy and design.
Building on this expertise, Fullgap, his tech startup, is building an operating system tailored for freelancers and anyone engaged in meaningful work. Victor is constantly rediscovering and living out his voice while helping other people and businesses — especially the underdogs — find theirs.
At the Conference, he will share his insights on "Riding the Gig Wave: Maximising Opportunities in the Gig Economy."
Chisom Nwokwu, Software Engineer & Author
Chisom Nwokwu (fondly called TechQueen) is a software engineer based in Lagos, Nigeria working with the Sustainability Team at Microsoft. She joined Microsoft as a graduate shortly after rounding up an internship with the Bank of America, where she worked as a technology analyst.
She actively helps product teams build more sustainable systems with proven data engineering skills on big data platforms.
Chisom is the author of A Techie's Guide into Big Tech Companies, a popular book which acts as a complete roadmap for landing jobs at international tech firms.
Aside from engineering, Chisom has a growing YouTube channel dedicated to tech, career-related topics, and her life as a software engineer.
As a woman in tech passionate about helping others, Chisom is keen on supporting individuals in the ecosystem, dedicating her social media channels to posting tech job opportunities and being a person of value and inspiration. Catch her in the panel session titled, "Artificial Intelligence and Your Future in the Workplace."
Toun Tunde-Anjous, Founder, The People Practice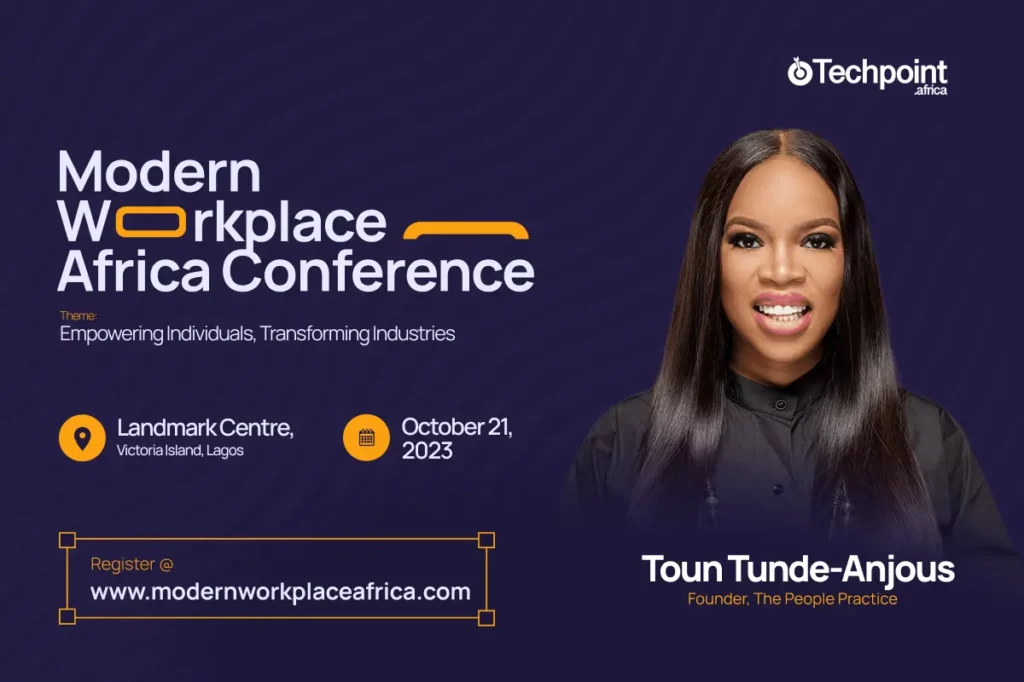 Toun Tunde-Anjous is the Founder of The People Practice, a people advisory company that empowers companies through people, culture, and technology.
She served as the Founding Director of People at Co-Creation Hub (CcHUB), where she oversaw people operations across Nigeria, Rwanda, and Kenya, and managed corporate partnerships.
She has a degree in Economics from the University of Nottingham, UK, and a Master's degree in Human Resources Management from Aberdeen Business School, Robert Gordon University, UK.
Toun is the author of Your Interview Cheat Code, a book designed to help individuals secure and thrive in roles. She has been featured on BBC Africa where she shared how her company accelerates culture alignment and proactively deals with workplace harassment.
Toun's passion for reshaping Africa's work culture shines through her innovative product, OnCulture, which drives performance and synergy through learning and process automation.
She'll be facilitating an executive masterclass session titled, "Riding the Talent Migration Wave: How to Attract and Retain Top Talent in a Global Market."
Register to attend
Join us at the Modern Workplace Africa Conference 2023 to gain invaluable insights from these distinguished speakers and many more. The Conference promises engaging keynote addresses, panel sessions, workshops, masterclasses, product exhibitions, a job fair, and ample networking opportunities.
Date: Saturday, October 21, 2023.
Venue: Landmark Centre, Victoria Island, Lagos, Nigeria.
Don't miss this chance to shape your future in the modern workplace. Register now to secure your spot.
Get Tickets
For sponsorship and exhibition opportunities, contact Abisola Adenuga at business@techpoint.africa. Let's explore the future of work together. See you at the Conference!