Furex, a crypto and gift card trading platform, proudly unveiled its much-anticipated mobile application on Friday, October 6, 2023, amidst a gathering of esteemed customers, distinguished members of the press, and industry stakeholders. The ceremony, held in Lagos, Nigeria, marked a significant milestone for the company as it reaffirmed its commitment to innovation and customer-centric services.
Founded in 2016 by Fure Evieosekwofa and his dedicated team, Furex has transcended its initial scope of catering to select clients, extending its reach to serve a broader market. The recent launch of the Furex App represents the culmination of years of strategic planning and relentless dedication to meeting the evolving demands of the digital asset trading landscape.
According to Fure, he had envisioned building a mobile app for some time, and the challenges faced in the crypto industry and the ever-evolving needs of their users led them to develop what is now the Furex App.
He stated that each challenge encountered only fueled their determination to overcome. "We didn't just adapt to change; we embraced it, innovated, and evolved. This transformation, born from our relentless pursuit of excellence, gave rise to Furex."
The launch event also witnessed the introduction of four esteemed Furex brand ambassadors, namely Ola of Lagos, Isoko Boy, Olatunde Olawuyi (Classy Jesters), and Anthony Umeh. According to Fure Evieosekwofa, each ambassador embodies the ethos of the Furex brand and is poised to promote its values to a broader audience.
In an exclusive interview with Techpoint Africa, the founder and CEO of Furex said, "The need for Furex stemmed from our desire to simplify and enhance the crypto and digital asset trading experience. Initially, we began as FuretinXchanger, focusing primarily on gift card exchange and building trust with our customers.
As the demand for cryptocurrency trading grew, we saw an opportunity to expand our services. We aimed to provide a reliable and user-friendly platform where people could seamlessly trade cryptocurrencies, gift cards, and other digital assets. The transition to Furex was a strategic move to broaden our offerings and provide a one-stop solution for all digital asset trading needs."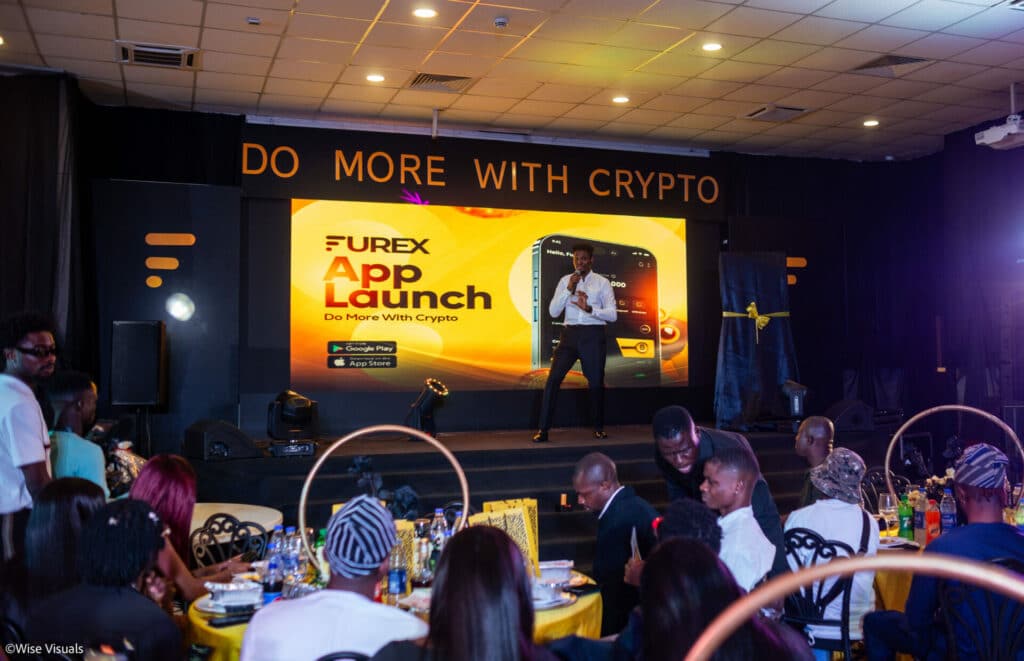 He also added that people coming to the Furex platform can expect a revolutionary trading experience. "Our platform is designed to be user-centric, ensuring that both beginners and experienced traders can navigate it with ease. You can expect ease of use, security, access to a wide range of digital assets, and speed. We prioritise the security of user funds and have robust liquidity partners to ensure transaction safety."
Fure also called on potential users and the broader community to engage with their platform, as it was built with them in mind. He emphasised that the platform offers opportunities for growth, financial freedom, and independence by adding that "together we can revolutionise the way digital assets are traded and bring financial empowerment to everyone."
According to the product marketing manager, Alfred Jarikre, the Furex app stands out in several ways. He stated, "Firstly, the security of user funds is a paramount concern for us. We have partnered with robust liquidity providers to ensure that user assets are safe and secure. Our commitment to safeguarding our users' investments is unwavering. Secondly, the Furex App offers access to an extensive range of over 100 digital assets, including nine prominent cryptocurrencies. This diverse selection provides users with ample options to diversify their portfolios and explore various investment opportunities."
The Furex App is designed to cater to a broad user base. While it is initially available for download and use in Nigeria and Ghana, there are plans for expansion into other regions. The aim is to make this innovative platform accessible to users worldwide, offering the benefits of seamless cryptocurrency and digital asset trading to a global audience. Stay tuned for updates on our expansion efforts as we work to bring Furex to users beyond Nigeria and Ghana.
Reflecting on the arduous product development phase, Damilola Olatoye, product manager at Furex, acknowledged the challenges faced by the company during the app's inception, underscoring the resourcefulness of a small yet dedicated team of engineers and designers. Additionally, he assured users of the platform's robust security measures and highlighted Furex's established credibility within the industry, boasting a loyal user base of over 20,000 individuals.