Truck Transit Parks (TTP) limited (Ltd), an innovative traffic management company leveraging technology to help decongest Nigerian ports, celebrated its first anniversary and unveiled its new brand on February 28, 2022.
Bolaji Akerele, head of corporate development, TTP Ltd, opened the event, welcomed the attendees, and briefed the audience on the journey so far.
He said that intensive research was done to solve truck traffic and congestion in and around ports, and technology was sourced as the solution.
Mr Bolaji admitted that the past year had been a work in progress for them and their stakeholders: the Nigerian Port Authority (NPA), Lagos State Government (LSG), truck owners and drivers, transport unions, etc.
He said they work in line with the plans of the NPA and LSG.
The next speaker, Richard Emenim, executive assistant to the managing director (MD) of TTP Ltd, gave an overview of the previous year, emphasising the milestones achieved and challenges faced.
Over one year, TTP Ltd has had 9563 registered users, 592780 processed truck bookings, 83531 registered trucks, and 85 approved park facilities. TTP Ltd has been able to help decongest ports and improve access to ports through its proprietary booking app known as Ètò.
They have also reduced the cost of moving cargo to and from the port and improved truck throughput efficiency. The ICT solutions offered by TTP Ltd brings ease to trucking operations.
There have also been challenges; however, TTP Ltd reiterated its resolve to providing lasting solutions to challenges affecting the smooth running of operations.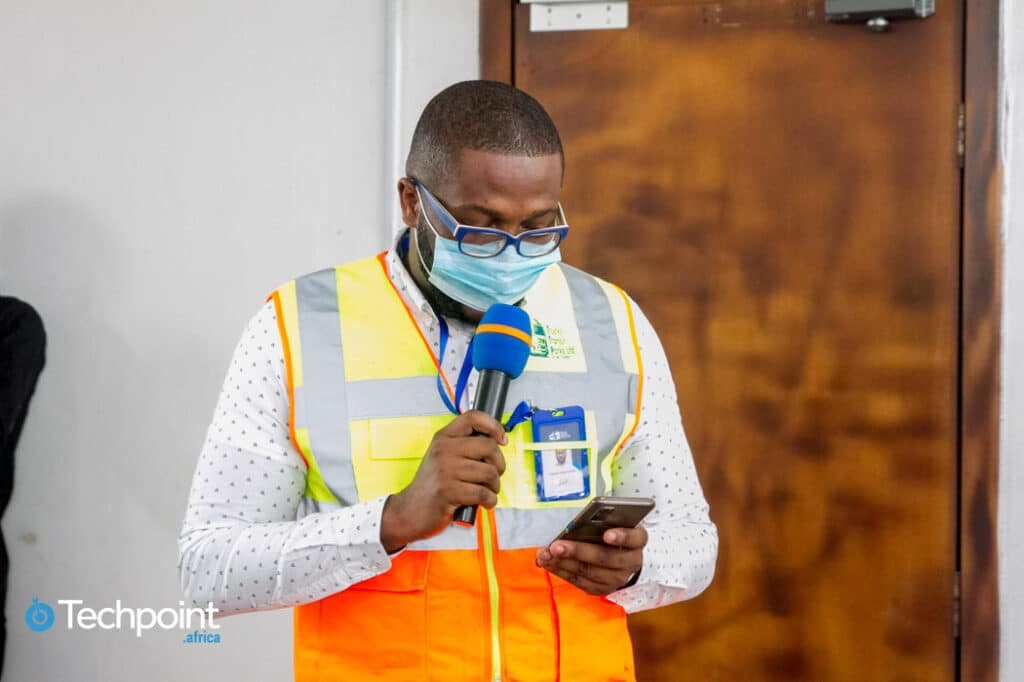 Among these challenges is ineffective enforcement of the call-up system, extortion of drivers by security operatives, thugs, etc., multiple checkpoints, turning away trucks with valid Ètò booking tickets, low daily admission of empty containers into the port, and ticket racketeering.
The proposed solutions to these challenges were presented, most involving working with the NPA, LSG and other stakeholders.
A short documentary by Jama Onwubuariri, the managing director of TTP, discussed the journey so far for TTP Ltd, its importance, and other plans to expand to other ports.
Mr Ayo Duruwaiye, the assistant general manager (AGM) operations, Nigerian port authority (NPA), congratulated TTP Ltd; however, he also said pressing issues require attention. He charged TTP Ltd to listen to what their customers are saying as it is a good way to appraise success.
He highlighted some of the challenges that still require attention and charged TTP Ltd to perform traffic management analysis concerning the numbers they record at the waterfront.
Mr Duruwaiye ended by saying that "we have moved a little bit, but we are not at the point where we should clink glasses." He said that the NPA would need TTP Ltd to work on the deliverables.
Honorable Shola Giwa representing the Lagos State Government (LSG), discussed the importance of the collaboration between TTP Ltd, NPA and the LSG. He also called for more attention to the issues facing Tin can island. He said focus should not be only on Apapa port.
He called on the stakeholders to work together, be orderly patriotic and do things right to get things right.
Mr Jama Onwubuariri, MD TTP, spoke on the forward steps for TTP Ltd. These steps include complimentary services, helping drivers optimize, improving communications, and increasing engagement with terminal operators. He said that the number of offloaded cargo matters at the end.
Mr Onwubuariri gave more insight on Ètò, their booking app. With Ètò, truck drivers can book parking spaces at the Lilypond Pre-gate terminal or any satellite parking spaces affiliated with TTP Ltd. This booking service also affords truck drivers entry into the port as their ticket is scanned for confirmation.
The unveiling of the new brand logo signifying progression was launched by Mr Jama Owubuariri, Mr Ayo Durowaiye, Mr Shola Giwa, Mr Bolaji Akerele and others.
A tour of the lilypond container terminal was held shortly after the launch with visits to the control room, booking center, and container terminal park, among others.
In a question and answer session, Mr Onwubuariri highlighted that the tech behind TTP Ltd is a mobility and booking solution. It is relatively homegrown because of the unique traffic problem in Nigeria. He also said that this solution is presently being used for truck traffic management. The solution can also be applied to passenger traffic.
It can be modified to enable the movement of buses, trains, and boats. TTP Ltd is looking at expanding the scope of what this solution and its derivatives can give in terms of vehicular parking, not just truck parking.
The MD recognised the importance of feedback from customers and other stakeholders, confirmed they found ways to solve customer complaints in the past, and reiterated TTP's commitment to getting better.
As regards the future, the MD sees TTP Ltd transforming from a traffic management company to a tech solution company. He said that diversifying the areas where they provide support and solutions to businesses is an approach they are adopting consciously.
Truck Transit Parks Limited is a traffic management company that leverages technology and man-management systems to ease traffic challenges. They provide a cost-effective, physical and technologically secure network of truck parking services in Nigeria.
Leveraging experience and research, TTP Ltd have designed a system that manages truck traffic issues within the country.'