The excitement is building up as we approach the highly anticipated East Africa Digital Innovation Summit. With just two days left until the event, the stage is set for a transformative gathering that will shape the future of digital transformation in East Africa and the entire continent.
As the countdown continues, it's essential to highlight a significant event taking place during the summit - The East Africa Digital Entrepreneurs Forum and startup pitch contest. This event, scheduled for July 7, will be held at the prestigious Kigali Convention Centre in Kigali, Rwanda.
The Digital Entrepreneurs Forum will serve as a platform for emerging entrepreneurs and innovative startups to showcase their groundbreaking ideas and projects. It is an incredible opportunity to gain exposure, network with industry experts, and potentially secure funding for their ventures. The pitch contest promises to be an intense competition, where the most promising ideas will be recognised and celebrated.
The Kigali Convention Centre, known for its state-of-the-art facilities, will provide an inspiring backdrop for this forum. With its modern architecture and world-class amenities, it will undoubtedly foster an atmosphere of creativity, collaboration, and forward thinking.
The East Africa Digital Entrepreneurs Forum and startup pitch contest will be a catalyst for innovation and entrepreneurship, driving the region's digital transformation to new heights. Attendees can expect insightful panel discussions, informative presentations, and engaging conversations with industry leaders.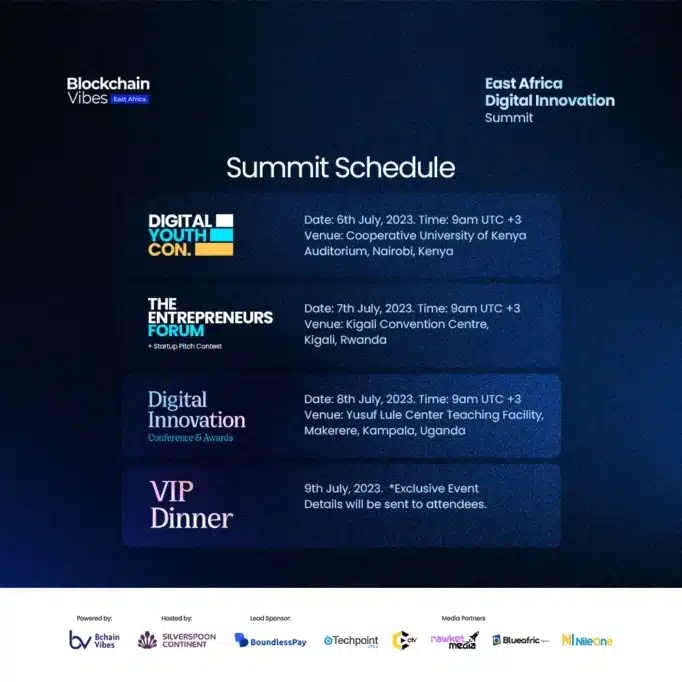 If you haven't registered for the East Africa Digital Innovation Summit yet, there's still time to secure your spot. Visit the Blockchain Vibes website to reserve your place and be part of this game-changing event.
To stay up to date with the latest information or if you have any inquiries, reach out to the Blockchain Vibes team via email at [email protected] or send a text to +971586819939 on WhatsApp.