The Termii Elevate 2.0 conference, themed "Building Stronger Customer Relationships", was held successfully with lots of fanfare, knowledge sharing, and interactive sessions on Saturday, June 24, 2023, at Zontech Park, Gbagada, Lagos.
The conference had insightful keynote addresses, panel sessions, product demos, and exhibitions that saw major partners of Termii such as Moniepoint and Truecaller grace the stage to discuss their solutions.
It was also announced at the conference that Termii and Truecaller have partnered to enhance business communications in this part of the world.
The conference was anchored by Doyinsola Ajayi and opened with a welcome address delivered by Cecilia Abegunde, Growth Lead, Termii.
You can watch the recap here:
Cecilia said the need to forge stronger connections with customers became paramount, and that was what birthed the Termii Elevate conference. She concluded by saying, "It's not your customers job to remember you, but it's your obligation and responsibility to ensure they don't forget you, and that's what would be taught at the conference."
The first keynote address, titled "The Role of Artificial Intelligence in Customer Communication, Automation, and Personalisation," was delivered by Adora Nwodo, Author and Software Engineer at Microsoft.
Nwodo said, "AI also fuels the power of automation and personalisation in customer communication, and this enables businesses to deliver tailored experiences at scale, automate routine tasks, and forge meaningful connections that drive customer loyalty and business growth."
She said it's important that businesses are able to anticipate customer needs and offer customised offers to them. This process is made easier through artificial intelligence.
The first panel session was titled "Winning Customer Loyalty: Proven Communication Strategies for Startups and SMEs." The session was moderated by Clementina Busayo, Business Development Manager, Termii.
The panellists were Nora Ikoh, Head of CX Operations, Kuda Microfinance Bank; Ayooluwa Haastrup, Growth and Community Lead, Inkblot; Chikaodi Emmanuel, B2B SaaS Sales Expert; and Adaeze Unwubuemeli, Head of Customer Support, Moniepoint.
The panellists said it's important for businesses to leverage user-generated content and tell stories that customers can connect to using data and personalisation.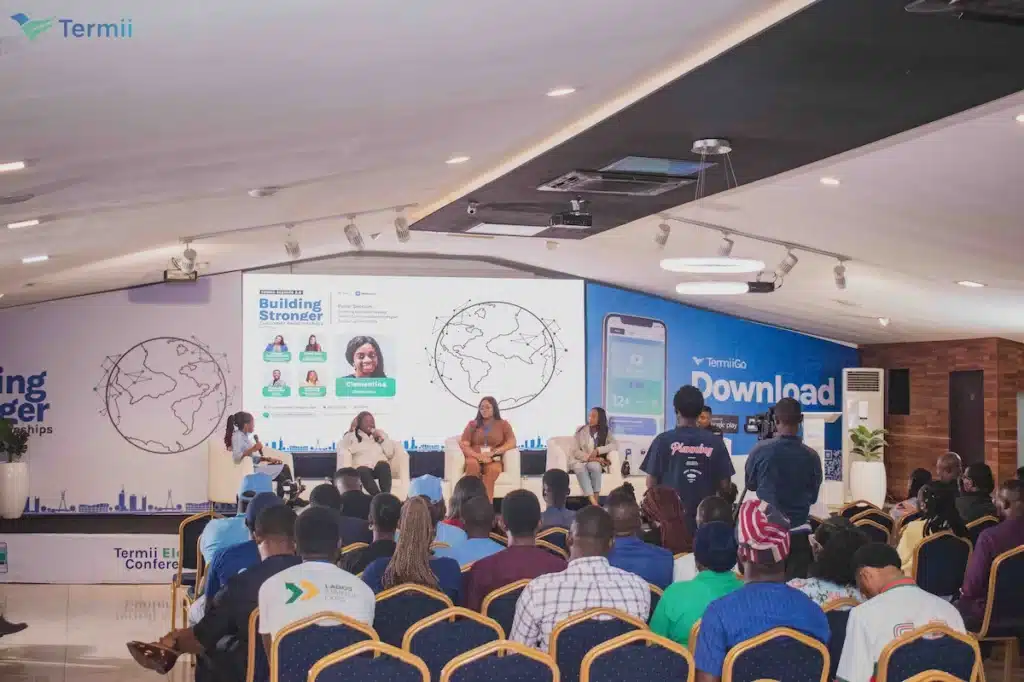 They also discussed how startups and SMEs can stand out in competitive markets by being authentic and communicating their unique value proposition in a language their present and potential customers will understand.
Toyin Adepegba, Head of Marketing at Omnibiz, delivered the second keynote address, where she discussed the role of communication in customer success and support. She highlighted the major difference between customer support and customer success, pointing out that the former is reactive while the latter is proactive. She said businesses should take a proactive stance when it comes to dealing with customers.
The second panel session had Dolapo Akinbisola, Country Head, SmartComplyApp; David Adeleke, Founder and CEO, Zeeh Africa; Ibrahim Adepoju, CEO and Founder, Tyms Africa; Olayinka Ayomo, Lead, Fraud Management, Nomba; and Ojimaojo Udale-Ameh, Head of Engineering, Piggyvest all come together to discuss the topic "Preventing fraud in customer transactions: Best practises and strategies."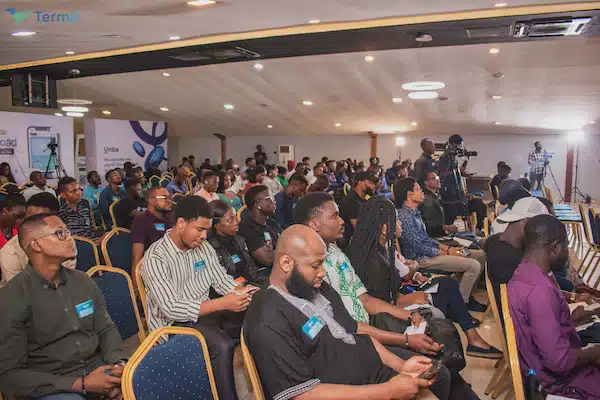 The panellists explored the meaning of fraud. They pointed out the weakest link that enables fraud, which is the people. They touched on the importance of customer communication, educating them and the internal business team, as well as tools and processes that are important to implement to prevent fraud.
Isaiah Accra-Jaja, Divisional Chief Innovation Officer, UBA Group, delivered the final keynote address, titled "Transforming customer communication: the power of automation and integrated messaging."
He said the impact of communication has a global scale, adding that communication is the backbone of different businesses. Isaiah said that one of the benefits of automation and integrated messaging is customer retention, where they get real-time feedback.
In a session that discussed their product updates and app launch, Gbolade Emmanuel, Co-founder and CEO of Termii, said, "In a short time, we have been able to spin off some of the world's best solutions across the continent, and our numbers speak for themselves.
As far back as Termii Elevate 1.0, we had barely below 5000 businesses, and right now that has grown to over 11000 across Africa. Right now, we have done over 400 million transactions."
Atinuke Idowu, Co-founder and COO of Termii, announced some of the new updates that Termii has built. She said they have revamped their website: "We are making it more user-friendly. We have also introduced sub-account creation, enabling people to create sub-accounts from one major account instead of creating new ones.
The campaign dashboard has also been upgraded. Previously, on Termii, you could only upload 200 000 contacts, but now you can upload as many as a million contacts and send your messages to them with one click." She also said the transaction history export feature has been upgraded.
Gbolade said that all these upgrades are powered by Version 3. Ayomide Awe, Co-founder and CTO, discussed the intricacies of Version 3, adding that they have introduced the Termii Inbox, which is a one-stop tool where businesses can integrate their social media platforms and support their customers from one place.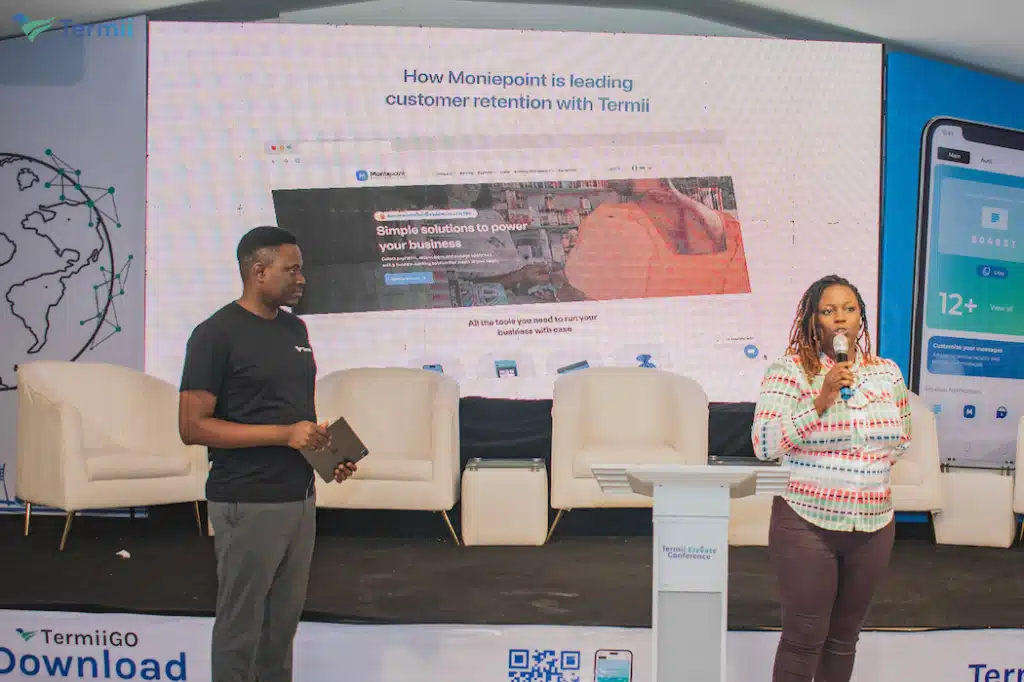 Gbolade also spoke about the launch of TermiiGo, a communication and verification mobile app. The app enables businesses and customers to communicate seamlessly from one place. It also has an e-sim feature that allows you to perform remote tasks seamlessly from another country.
Speaking to Techpoint Africa, one of the event exhibitors, Gbenga Shodunke, founder of waystream.io, an audio streaming and podcast platform for businesses and individuals, said, "Looking at Termii's target audience, they also form a segment of our target audience, especially those we are trying to target for our podcast." According to Shodunke, Waystream is one of Termii's earliest customers, adding that one of the reasons they came to Termii Elevate 2.0 was to position Waystream as the go-to podcast platform for businesses in Africa, starting from Nigeria.
Henry Obarafe, Sales Manager for Umba, a digital bank for Africans that runs payroll solutions for SMEs and startups that enable employees to pay their staff seamlessly and offer salary advances, said the reason they decided to exhibit at Termii Elevate 2.0 was to showcase their product. He said their experience at the event has been good and very educational, making reference to the first keynote and the panel sessions.
Another exhibitor at the conference was Tyms Africa. According to Omolade Jegede, legal and compliance officer for Tyms Africa, they are into many interesting things, and currently their major product is the Tyms Book, an automated accounting software for businesses and individuals. Tyms Book helps businesses and individuals streamline base actions in one place; you can generate financial statements, invoices, profit and loss statements, reconcile bank accounts, and other interesting stuff.
She said they decided to exhibit at Termii Elevate to meet with other businesses at the conference, and it's a way for them to put themselves out there, adding that the event had been insightful and inspiring.
Speaking to Techpoint Africa, Gbolade said, "The focus of our platforms is the customer, the end user, that is, the direct end user of the businesses that use us. We have started onboarding banks, social media platforms, and local and international fintechs, among others. They deal with millions of Africans, and that's why we did this: to bring them around to see what we are doing, let them see what we are doing, and partner with them generally."
Gbolade said we should expect Termii Elevate every year. He said that we are envisioning a platform where companies come to showcase new things that they have done alongside what we are doing both in the user experience and communications spaces.