In a quiet estate on the outskirts of Lagos, Tunji, a small-time electronic shop owner, completes a sale with a blue PoS device in his hands. He's one of the 1.6 million businesses that have found an efficient digital sales funnel with Moniepoint's platform. After winning in agency and business banking, Moniepoint is setting its sights on individuals, aiming to redefine financial inclusion in Nigeria.
Financial inclusion? Yeah, I can feel you rolling your eyes, and I understand. In 2020, McKinsey declared something increasingly obvious — Fintechs are merely scratching the surface of financial inclusion in Nigeria.
The figures do not lie. Per Intelpoint's 2022 financial services market report, over 66 million Nigerians, aged 15 and above, do not have a bank account. This means 55% of Nigerians older than 15 are excluded from the financial sector.
This sounds huge, but when placed in context, a higher percentage (45%) of Nigeria's teenage to adult population is financially included compared to other populous African countries.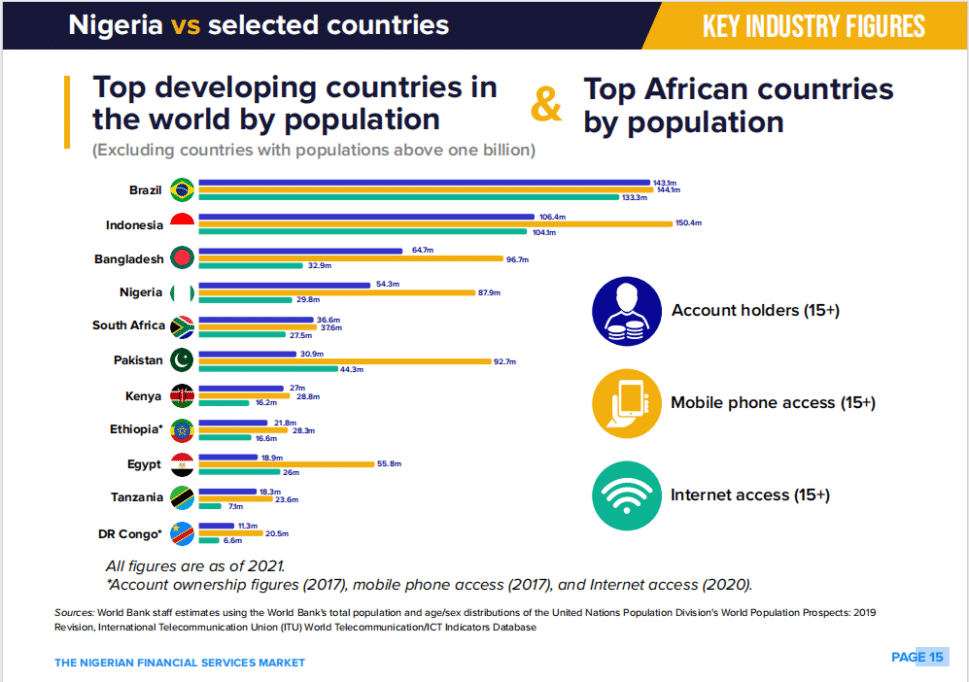 While most fintechs have largely served people with smartphones or those already in the banking sector, some Nigerian commercial banks and agency banks like Paga, Moniepoint, and OPay, are pushing financial inclusion to the frontiers.
Interestingly, the Central Bank of Nigeria has set an ambitious target: 95% financial inclusion by 2024. While some of its more recent policies have seemed counterintuitive to this target, companies that didn't fold are innovating regardless.
Moniepoint, buoyed by its success in the agency banking game and in serving over 1.6 million organisations, is stepping into the personal banking arena. But they're not just offering another banking service; they're aiming to provide "financial happiness," according to Babatunde Olofin, the Acting Managing Director of Moniepoint MFB. Read more about their foray into personal banking here.
The company has a strategy for everyone. The banked, or unbanked, those with or without access to smartphones
Financial inclusion with Smartphones and beyond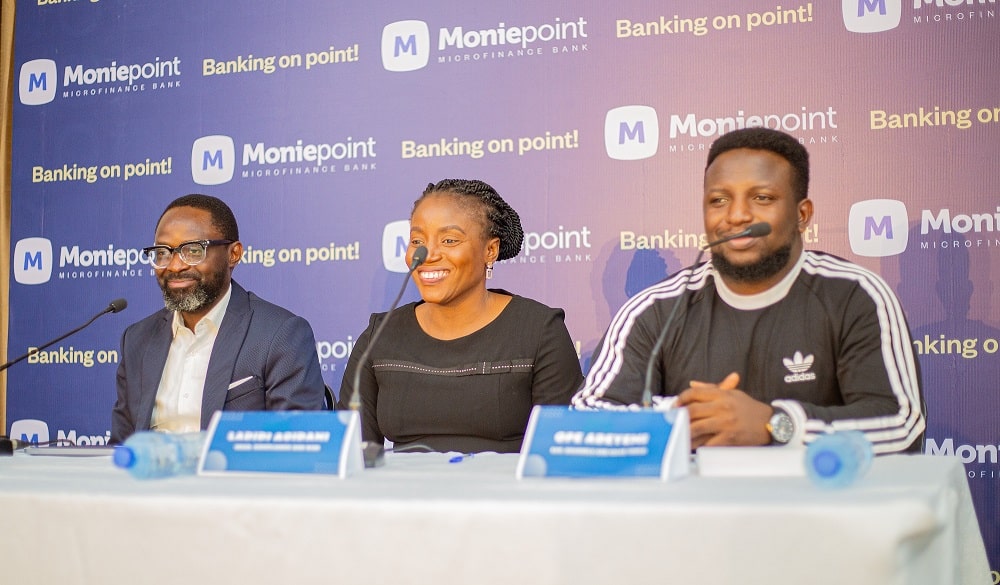 Smartphone ownership is a significant indicator of financial inclusion. Intelpoint's report reveals that people with smartphones or smart feature phones are more likely to own a bank or mobile money account.
Roughly 30 million Nigerians aged 15 and above have access to the Internet, and Moniepoint is looking to capture this demographic with what it believes to be a winning strategy.
"We realize that if you want to drive behavioural change and increase adoption, you should reward consistently good behaviour," says Ope Adeyemi, Senior Vice President, Channels and Sales tools, Moniepoint.
The company rewards consumers with coins on the personal banking app after they carry out transactions. These coins allow them to take part in exciting weekly games such as Shuffle and Spin the Wheel.
This gamified approach could see users win ₦2,000 weekly and a grand prize of ₦10 million.
Some of Moniepoint's competitors have also used similar rewards-based approaches to varying degrees of success. One such is the fintech company, OPay, which was one of the big winners of Nigeria's cash crisis of January 2023.
Intelpoint's report survey shows that 83% of respondents had accounts with just a commercial bank. The core focus for Adeyemi is on incentivising people to keep their money on the app and use it for their transactions.
The executive eyes a scenario where people can now use a portable version of the Moniepoint PoS terminal to handle public bus rides (Danfo) in a city like Lagos. Nigerian startup, Touch n Pay (TAP), is already making forays in this area with NFC cards, so Moniepoint's approach should be interesting to see.
However, we can't ignore the cockroach in the room.
Taking it a step further
Moniepoint is preaching the gospel of financial inclusion with its foray into retail banking. While the rewards-based model has its quirks, we can't escape the fact that just 26% of Nigeria's teen-adult population have access to the Internet.
Nigeria's young digital native population is promising, but we can't ignore 66 million people outside of the digital space. Moniepoint's agency banking strategy heavily relied on a massive offline network, and it would power this to the retail banking space.
"We want to include everyone from the regular Okada rider, the market woman in the financial services space," Olofin explains.
"In nearly every corner of the country, we have representatives. Even in localities where there is no physical bank or ATM presence, you'll find our precious blue boxes there."
Each agent is like a bank branch in their own right. Not to be confused with cash-in-cash-out PoS operators, they will be key to powering Moniepoint's ambition to onboard 4.8 million retail customers in three months - three times its current customer base of businesses.
While gamification is key to hooking smartphone users, Moniepoint's agents will help those without phones open accounts and issue them cards for them to conduct transactions anywhere.
"We have built our infrastructure in such a way that it is very elastic. As transactions grow, we can expand our infrastructure and this is because we have several monitoring tools that help us to monitor how transactions are growing."
It's hard to bet against Moniepoint, considering their quiet dominance in the fintech market, but that's just one part of the financial inclusion puzzle.
Expanding the definition of financial inclusion
Financial inclusion has often been reduced to mere bank account ownership. For the avoidance of doubt, bank account ownership is the entry point for financial inclusion, and it extends to important services like credit, insurance, pension, investment opportunities, remittances, and financial education/literacy.
According to Intelpoint, only 31% of MSMEs have obtained loans, and a mere 2.1 million adults have insurance.
Moniepoint, already processing a staggering 400 million transactions monthly valued at $12 billion (yes, a billion US dollars), has plans to extend its credit services to individuals. It's a lofty goal in a country where 42% of those without a bank or mobile money account earn less than ₦35,000, and nearly 29% are unemployed.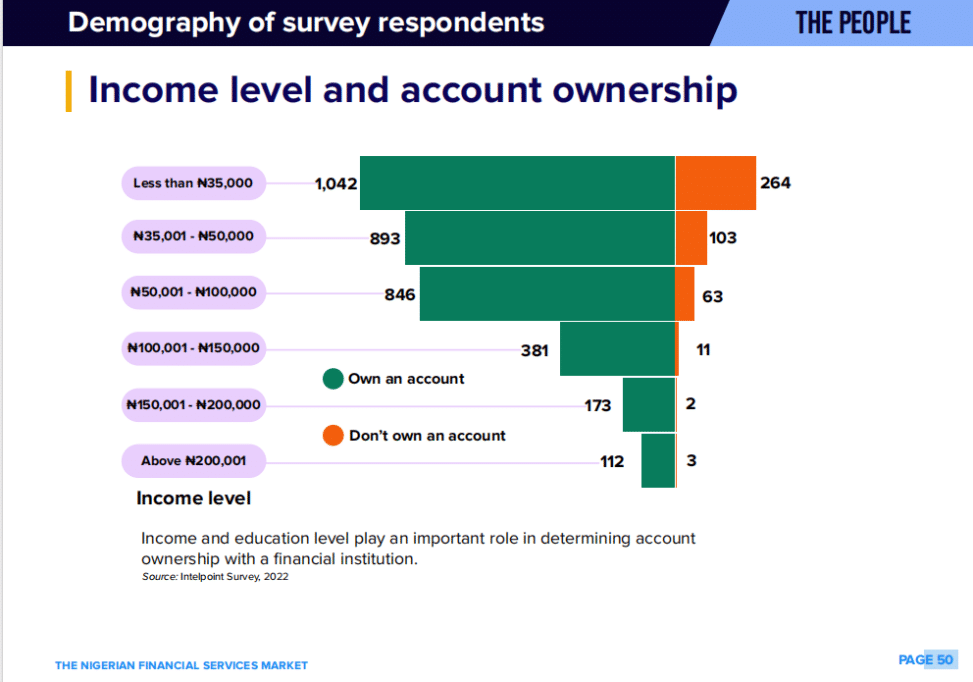 The story so far for lending companies has been a mixed bag of success, sordid, and predatory among players like Carbon, Fairmoney, Kuda, Palmpay, and Sokoloan.
Some experts like Lendsqr's Adedeji Olowe see unlocking access to credit as the key to unlocking prosperity for millions of Nigerians. Our best guess is there have to be more developments on the credit fronts before it fully rolls out credits for individuals.
The bigger picture: A continental financial inclusion play
Moniepoint's ambitions are not just national but continental. "We're not just a bank; we're a movement towards financial happiness across the continent," Olofin adds cautiously. This isn't mere rhetoric; Moniepoint recently acquired Kenyan company Kopo Kopo, signalling its continental ambitions. Read more about the acquisition here.
By understanding the nuances of the Nigerian market, Moniepoint is poised to make financial inclusion a lived reality for millions. Whether it's Tunji in her Lagos market stall or a Danfo driver navigating the city's chaotic streets, Moniepoint's vision is clear: financial inclusion is a right, not a privilege.