In June 2017, Oyinlade Adewale lost over ₦10 million in one night; robbers broke into her boutique in Surulere, Lagos, and carted away all goods in it.
Interestingly, Oyinlade had gotten an insurance cover a month before the incident but unfortunately, it wasn't for her boutique -- it was for a new sport utility vehicle (SUV) that she just bought.
It's been two years since the incident and Oyinlade -- who is in her early 30s -- is still not emotionally ready to get another physical store even if she has the means to do so.
"It's something I don't like talking about because it is a very painful experience," she says.
She has since resorted to using Instagram and her WhatsApp status as platforms for displaying her stock to potential buyers.
---
Suggested Read: WhatsApp, not Instagram, is the preferable platform for small businesses in Nigeria
---
Just like Oyinlade, small business owners in Nigeria are losing billions of naira to robbery and fire incidents annually. In 2016, the National Association of Nigerian Traders (NANTs) revealed that market men and women nationwide had lost ₦5.3 trillion to fire incidents since the year 2000.
What makes these losses tragic is that most of the traders, like Oyinlade, don't have insurance cover for their businesses, which leads to people losing their means of livelihood.
Whenever there's a fire incident, appeals are usually made to the government at all levels to help restore what has been lost. Sadly, all they get are just sympathy visits.
There seems to be adequate awareness about insurance
Though these small and medium enterprises don't have insurance cover, they cannot claim to be ignorant of insurance and its importance.
According to a Techpoint survey, 96.9% of respondents -- who are small business owners -- have heard of insurance before. But only 7.6% of respondents actually have insurance cover for their businesses despite the fact that 67.9% claimed to have been approached by an insurance sales agent before.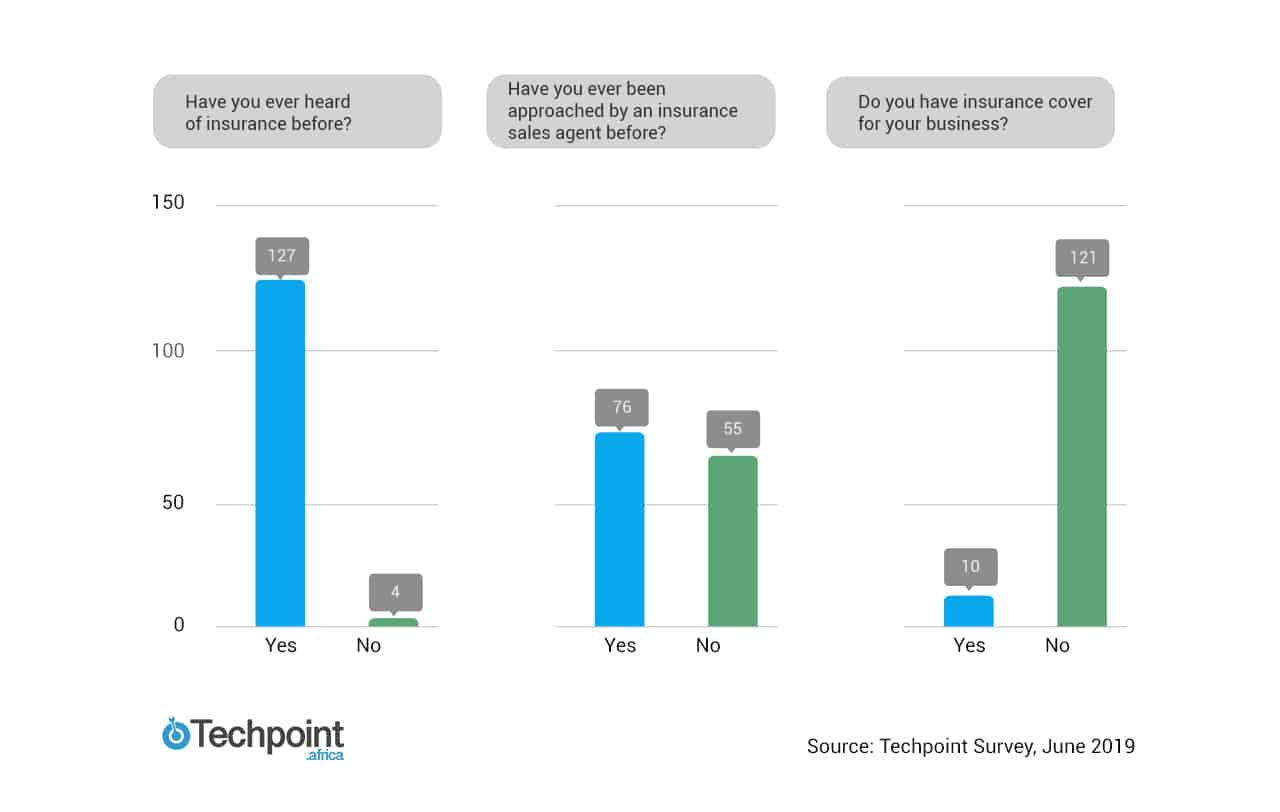 This shows that there's enough awareness about insurance in Nigeria. And on the other hand, this high level of awareness makes one question the low level of insurance penetration in the country.
Kenneth Egwu, a top executive at the Lagos Zonal Office of National Insurance Commission (NAICOM), affirms that insurance penetration in the country is currently less than 2%.
"Acceptance is very low," Kenneth says to buttress his point that low penetration in the insurance industry isn't a problem of awareness but one of acceptance of insurance products.
Kenneth also pointed out that the Commission organises awareness programmes, which include town hall meetings and market outreaches, all designed to educate business owners on the importance of insurance.
And to take the awareness further, the Commission is currently working on ensuring that insurance is added to the secondary school curriculum. The belief is that introducing insurance to students early will increase adoption as they will not only introduce it to their parents but also take up insurance policies when they grow up.
For Ronke Fajemirokun, Relationship and Corporate Branding Officer at Compare Insurance Nigeria (CIN), people still don't understand the importance of insurance for their businesses in Nigeria despite the awareness initiatives by players in the industry.
Ibrahim*, a sales agent with an insurance company, confirms that the low penetration isn't about awareness. Ibrahim -- who operates out of the famous Tejuosho market in Lagos State -- hasn't sold an insurance policy to any business in the last year. This is despite the fact that he regularly takes his time to educate businessmen and women on the importance of insurance.
According to Ibrahim, some of the business owners he tried to convince are not ready to buy insurance products because they don't trust that these companies will come to their rescue when the need arises.
Head, Financial Institutions and SME at Cornerstone Insurance Plc., Charles Nwachukwu, admits that people don't see insurance as something they must do mostly because they don't trust the system to come through when it comes to making claims.
Apparently, a lot of people don't really take their time to understand clauses in their insurance policies, which results in people claiming what they didn't sign up for. Such situations harm the reputation of the industry.
The way forward: hitting the right target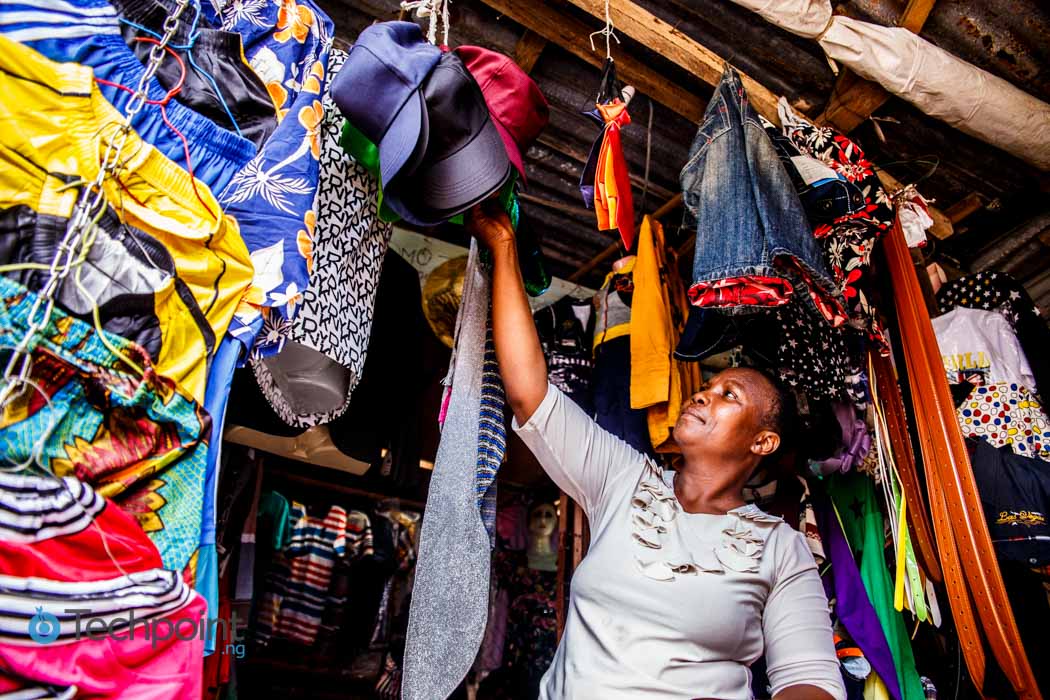 "You can't infringe on the rights of people," Charles Nwachukwu said in response to whether making insurance mandatory for SMEs could help drive penetration. He affirms that industry players have to keep working on bringing more people into the industry.
"I believe in convincing people to do the right thing," he concludes.
As it is, technology seems to be a great tool with which to bring more people and businesses into the insurance net. The role that technology currently plays in the Nigerian banking industry is proof of its capability to disrupt any sector.
Using technology as a tool might just work because the majority of educated Nigerians is captured in the digital space, some of whom already use Internet tools, especially mobile applications that have taken lending and investment products mainstream in the country.
Leadway Assurance Company Limited, in what seems like a plan to reach the youth, recently introduced a fully digital insurance product -- Student's Protection Plan -- that's targeted at students of federal tertiary institutions. The product is designed to ensure their education is not disrupted because of the loss of a parent, sponsor, or guardian.
"Once you can get the educated ones and the millennials, it's easy," Relationship and Corporate Branding Officer at (CIN), Ronke Fajemirokun says.
That the majority of these people are already online somewhat makes the job of these companies easier. Besides, there's a higher tendency that people who don't trust insurance companies will want to buy insurance if their learned family member or friends tell them about its importance.
Besides using the Internet to create awareness, automating insurance processes for SMEs will definitely go a long way in driving up penetration.
However, it appears insurance companies rely majorly on their offline foot soldiers while doing little on the use of technology. Unlike their counterparts in the banking industry, there are only a few insurance companies in Nigeria that have mobile applications; the likes of Cornerstone Insurance, Allianz Nigeria Insurance among others.
According to Matthew Elan Smith, insurance can be made cheaper and more accessible with effective use of technology.
Matthew is one of the founders of Pineapple -- a South African insuretech startup. Unlike the conventional model of the insurance industry, Pineapple pays back all unused premium to the insurer at the end of every year. Insurers can also track how their premiums are being used.
Interestingly, Pineapple doesn't own an insurance licence but works with traditional insurance companies in the background to ensure claims are paid. The startup only charges a fixed amount, which implies that the company won't be converting unclaimed premiums to profits.
At the moment, Pineapple only caters to individuals but Matthew claims they are already working on a product targeted at small businesses. Hence, it's not the case of competition between Pineapple and traditional insurance companies but rather a symbiotic relationship. And the fixed fee Pineapple charges is shared equally between the startup and the insurance companies.
Matthew affirms that traditional insurance companies are ready to work with the startup. Evidently, technology tools are proving to be appropriate tools to inspire trust while also increasing acceptability which seems to be missing in the Nigerian insurance industry.
One of the respondents of the Techpoint survey agreed that the Pineapple model will serve as extra motivation for her to get an insurance policy for her business.
"I would love to have some of the premium back or even pay less in subsequent years whenever I don't make a claim at the end of the year," she says.
It can be deduced that a model like this will boost the acceptance of insurance products in the country.
Beyond increasing acceptability, technology has the potential to make insurance transparent while also making it flexible and affordable. London-based insuretech startup Coverly offers an on-demand product that allows small businesses to pay premiums on a monthly basis -- a pay-as-you-go model.
Casava -- a Nigerian insuretech startup that's yet to launch -- wants to offer employment insurance cover for salary earners. Like Coverly, Casava will allow weekly or monthly subscriptions on its platform.
Though Casava appears to be targeted at a particular set of people in the society, it's likely to have a great effect on the entire industry, as it can be deduced that a model that targets insurance awareness at educated Nigerians will likely have more effect in capturing the semi-illiterate and uneducated in the society.
After being an insurance sales agent for almost a year, Sulushuaib Abdulakeem is currently working on a mobile app -- Insurecentric -- to increase public knowledge of insurance products in the country. One of the things Sulushuaib wants to do with his app is to enlighten people on insurance policies -- what they do and do not cover.
Sulushuaib reveals that some insurance companies only pay commissions to their sales agents on the amount of sales or after hitting a particular target. For some of these agents, it's about meeting their periodic targets so they tend to over-promise.
The app, which is being designed to educate the populace on insurance policies, structures and systems, is likely to address the problems associated with the sales agents.
The vast opportunities for insuretech
There were over 37 million MSMEs (PDF) in the country as at 2013 and regular calls to the government for help, in cases of fire or robbery, point to the fact that these businesses don't have insurance cover. This shows how much of an untapped sector the insurance industry still is.
According to NAICOM's website, there were 13 composite insurance companies, 28 general insurance companies, and 457 insurance brokers in Nigeria as at March 2019. The fact that these companies have thousands of agents selling insurance products should be enough reason to have a higher insurance penetration.
However, the reverse is the case as acceptance is still poor. This can be considered a wake-up call for insuretech startups in the country, and Africa by extension.
Insuretech startups have a role to play in filling the enormous gap that exists in the sector. But most insuretech startups in Nigeria at the moment are only offering services like health and vehicle insurance as well as price comparison.
There's the need for insuretech startups in the country to rise up to the challenge of filling the gap in the insurance industry and it's not about reinventing the wheel but making use of what is already part of people's daily lives -- technology and its tools.
Since insurance cannot be imposed on SMEs in the country, it is left to make use of what's currently available to people towards increasing insurance penetration among small businesses and individuals as well.