It was a busy Thursday afternoon in one of Nigeria's busiest cities — Lagos. Three young men who needed to go from Ikotun to Agege hopped into the popular yellow buses known as Danfo.
Shortly after the journey began, the conductor asked for payment.
The man who was to pay their fare had no idea his wallet wasn't with him and confidently reached for it in its usual place — his back pocket — but it wasn't there. He calmly stuck his hand into the left-back pocket but withdrew it with a panicked look on his face.
That pocket, too, was empty.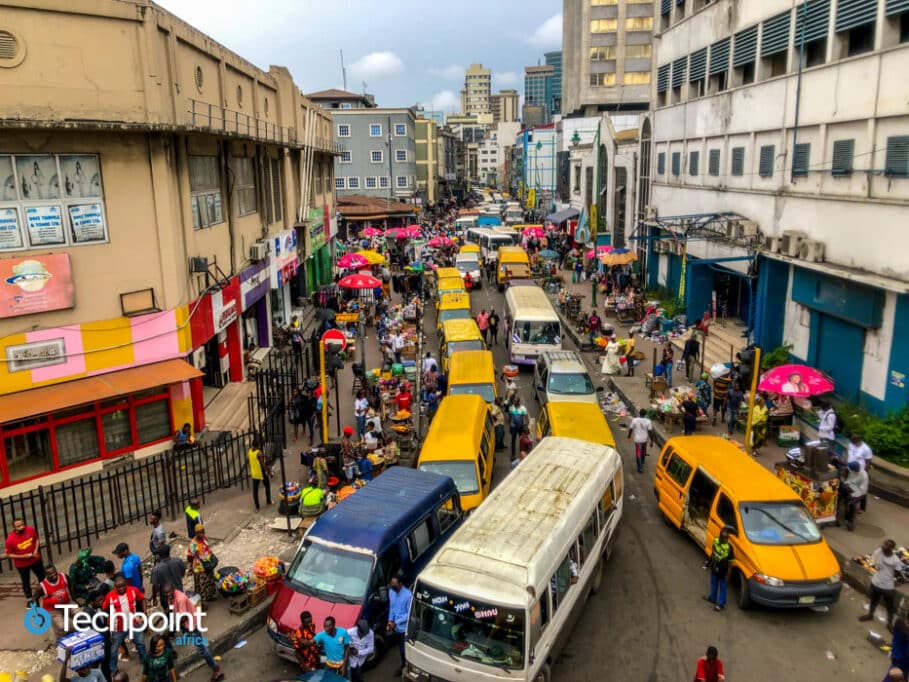 His situation instantly became a drama; his fellow commuters, the audience, and he, the protagonist in a stage play with a bad script.
The conductor, who stood right in front of him, glared at him as he tried to come to terms with the situation.
Beads of sweat had begun to appear on the young man's head. He wasn't okay. Although he knew he wouldn't find it, he searched his other pockets frantically.
He'd forgotten his wallet at home.
Resigned to his fate, he concluded that he and his friends were in trouble. When the conductor finally asked what the problem was, he asked, "Can I do a transfer?"
The conductor threw his head back in laughter but what followed was a very dark look.
Michael Oluwole, Olamide Afolabi, and Yinka Adewale (Kudi CEO) had a similar experience, which led them — Oluwole and Afolabi — to create a digital payment system that is as seamless as cash payments.
They are the founders of Touch and Pay (TAP), creators of the contactless Cowry card used in paying bus fares. It is especially popular in Lagos, with over 1.5 million users. TAP is currently trying to replicate its success in Kaduna, Kano, Oyo, and Ogun States.
Coding from OAU to LAUTECH
The three friends wanted to own a tech company since they were in university, so they did the techiest thing they could think of — coding.
From what Afolabi told me, coding was perhaps the coolest thing to do in university then.
"We were basically tech enthusiasts. In the university, we devoted most of our time to technology. We participated in Microsoft Imagine Cups and Microsoft student ambassadors. Those were the things that reigned seven or eight years ago. To be cool in school, you just had to be a member of a tech organisation."
Afolabi went to Ladoke Akintola University of Technology (LAUTECH), Osun State, Nigeria, while Oluwole and Adewale studied at Obafemi Awolowo University (OAU), Ile-Ife, Osun State, Nigeria. Though Afolabi wasn't in the same school as his friends, he said they could still do things together.
"We came together to participate in Microsoft Imagine Cups, and the first time we did it, we didn't even qualify. We did it the second time, and we came second, and the third time we won to represent Nigeria in Russia."
They were great at coding, and to them, that was all they needed to build a successful tech business, but after a couple of unsuccessful businesses, they quickly realised they couldn't be more wrong.
They came up with businesses such as Clinic Bell, a platform that helped doctors and patients secure appointments at a mutually convenient time. Still, the three went broke within a couple of months as their pocket money could not keep the business running.
When they returned from Russia, they got into the Gordon Institute of Business Science (GIBS) and learnt that being able to code doesn't make you a good businessman.
Getting the Lagos deal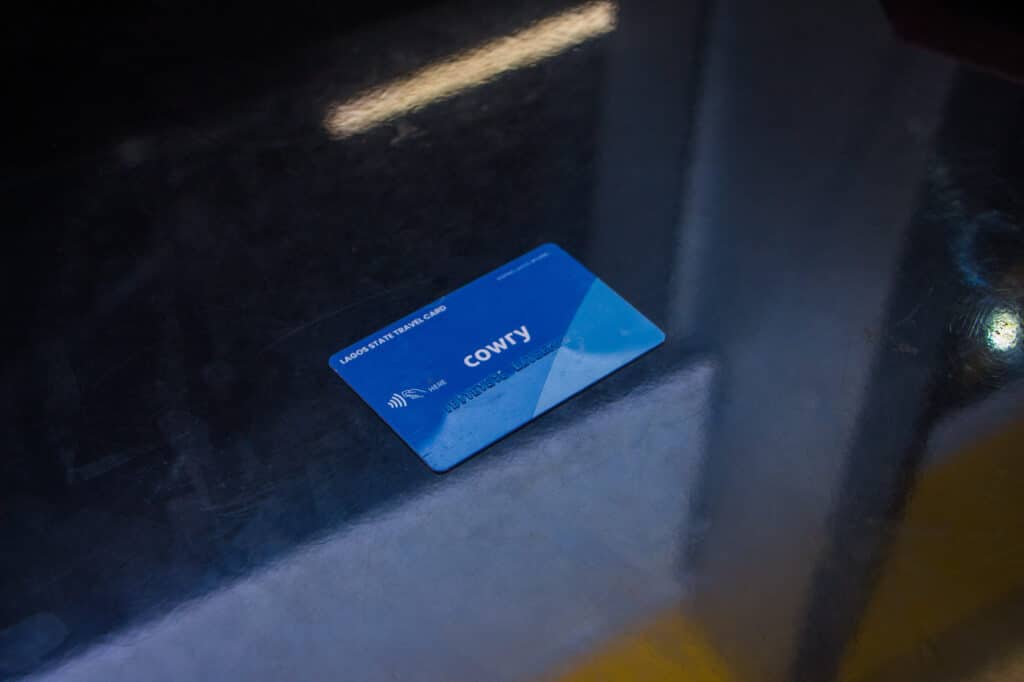 TAP started the process of digitising microtransactions in 2017, but it didn't start with transportation. It piloted with different sectors before realising transportation was the way to go.
"Between 2017 and 2019, we ran a lot of pilots. We created wristbands for Gidi Culture Festivals; we collected the Jangali tax in Kwara. We also deployed the technology at Babcock University and LAUTECH. We even tested it with microfinance banks and thrift collectors.
"And it was at that point we realised we couldn't keep stretching ourselves. We were probably a team of eight then."
The team asked, "Which sector can we look at that will give us traction in the shortest amount of time?"
The answer was transportation, and they decided to focus on digitising transactions in that sector.
Oluwole said the decision to focus on transportation put them in the right place at the right time. They started by working with LAGBUS, creating a revenue assurance system that helps track revenue.
Impressed by their work, LAGBUS recommended them to LAGFERRY to do the same thing. But when the COVID-19 pandemic hit, everything was about to change for TAP.
Side note: LAGBUS was created by the Lagos State Government in conjunction with a private company in 2007 and has over ten franchises. LAGFERRY, on the other hand, was established in 1983 in conjunction with Lagos State Waterways Authority (LASWA). LAGBUS and LAGFERRY are under a single regulator, Lagos Metropolitan Area Transport Authority (LAMATA).
Popularly known as BRT buses, LAGBUSes are anchored at several terminals across Lagos, where passengers get tickets to board buses. However, TAP has been contracted by LAGBUS to digitise the payment system. Passengers now load their Cowry cards at terminals instead of paying with cash and getting tickets. They pay by placing the cards on the NFC-enabled devices on the buses.
The entire country was in lockdown, and governments were saddled with the daunting task of figuring out a way to open up economic activities in the safest way possible. Transportation was obviously a strong spread point for the virus.
Exchanging cash, handing out bus tickets, and frequent communication were ways the virus could spread, and the Lagos State Government needed a solution.
Afolabi defined the solution the State wanted specifically as "the contactless system just like Oyster in the UK."
A lot of companies that could provide this solution came forward. Oluwole said they came from Cyprus and several other European countries. But their solutions did not conform with the realities of Lagos. He said many of them proffered online transactions, but Internet quality in Lagos and Europe differ significantly.
Oluwole and Afolabi live in Lagos, and they understood that a radical change that was too different from what people were used to would not work. And with enough experience with LAGBUS and LAGFERRY, TAP was the right company for the job. The startup formed a strategic partnership with the Lagos State Government to digitise the transport system.
Digitising microtransactions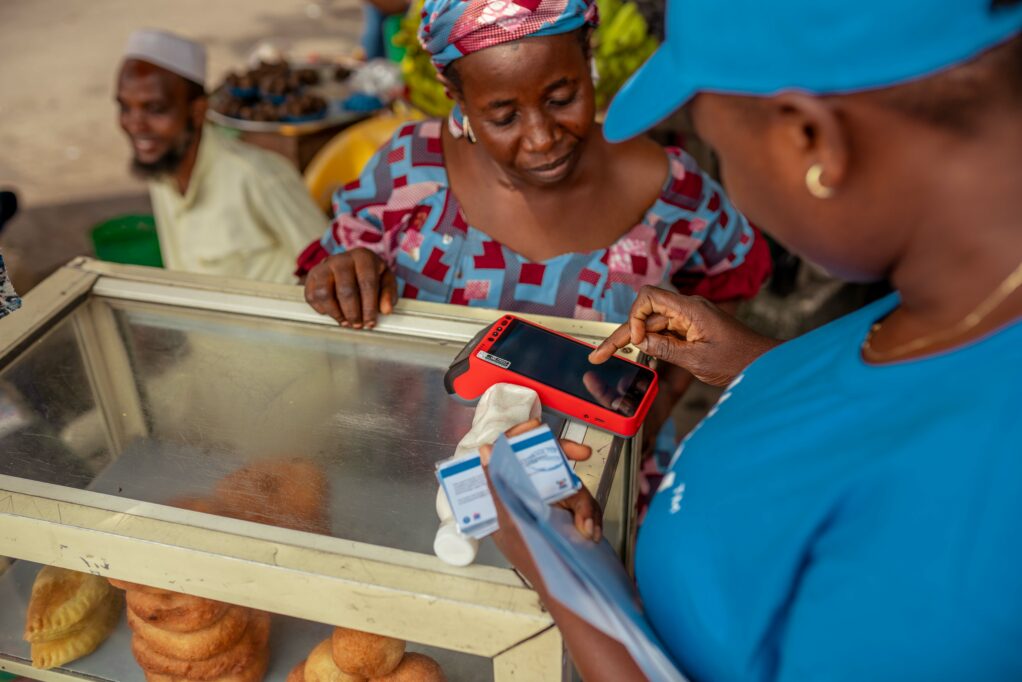 Microtransactions are daily transactions, like paying bus fares and buying things in traffic. They're transactions done with cash because they're inexpensive and are not worth the hassle of bank transfers or card payments.
As insignificant as they might seem, microtransactions are very important to the economy. They are what keep small businesses going. These small businesses are the backbone of the Nigerian economy. According to PwC, they have contributed 48% of the national GDP in the past five years.
However, microtransactions are still largely cash-based in Nigeria. Towards the end of 2021, naira notes in circulation rose by 4.6%, signifying a high dependence on cash.
However, digitising daily transactions is hard. Afolabi said it is understandable to use bank transfers for rent, school fees, and other large payments, but doing the same for micropayments isn't worth it.
The founders thought the best way to digitise small payments would be through contactless cards.
Oluwole said, "We needed to mimic cash transactions, and one of the characteristics of cash is that it is physical. It doesn't get network issues, and you receive the value immediately. Hence the reason why we went through the contactless route.
"Today, contactless works both online and mostly offline. So, if I perform a transaction, it will be completed whether there is a network connection or not."
Afolabi chipped in that in the informal sector, it has always been speed over accuracy, which is why cash works.
"Any tech that will digitise cash transitions in the informal sector has to match the speed."
Other startups have tried to digitise payment for public transport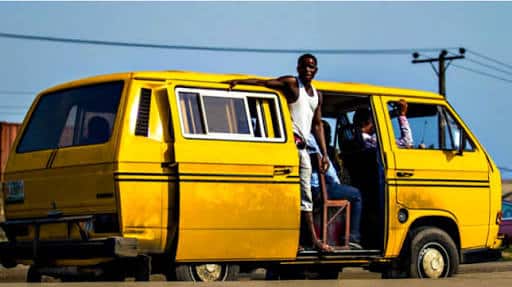 There are many problems with the public transport system in Nigeria, especially Lagos, and the easiest way to sum up these problems is through a single phrase, "enter with your change."
That phrase takes into account the ways of unruly bus conductors, uncomfortable sitting arrangements, and even the battle to secure a place for yourself in old rickety yellow buses.
But the most apparent meaning of the phrase is, only board a bus with the exact denomination of the bus fare or be prepared to give away your change.
TAP isn't the first startup attempting to digitise payment on public transportation. In 2019, we featured Gona, a startup digitising bus payments with Quick Response (QR) codes.
Passengers download the Gona app and scan one of the many QR codes that have been pasted in strategic points on the bus to pay their fares. However, we've not heard much of the startup; lately, the website, getgona.com is also not functioning.
Interestingly, Afolabi pointed out that TAP is also experimenting with QR codes, but they've realised not everyone has a smartphone to scan them.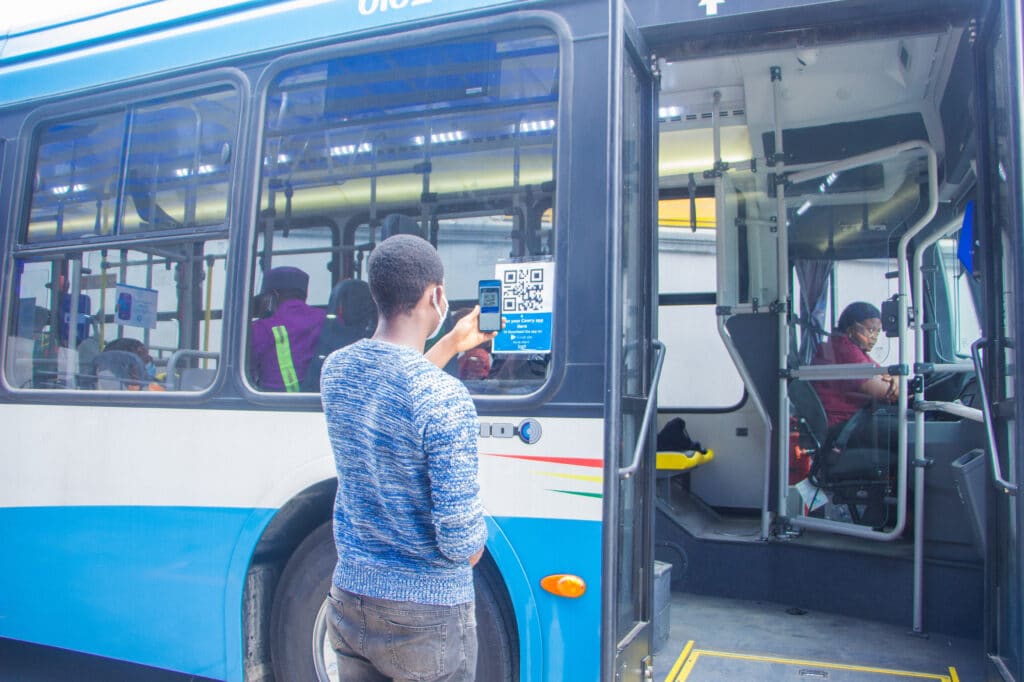 According to Statista, 48.12% of Nigerians use mobile Internet. It is projected that this number will hit 59.7% by 2026. Afolabi admits that the smartphone penetration in Nigeria is definitely growing, and scanning QR codes as a means of payment could be an iteration for TAP.
ATM cards have contactless capabilities too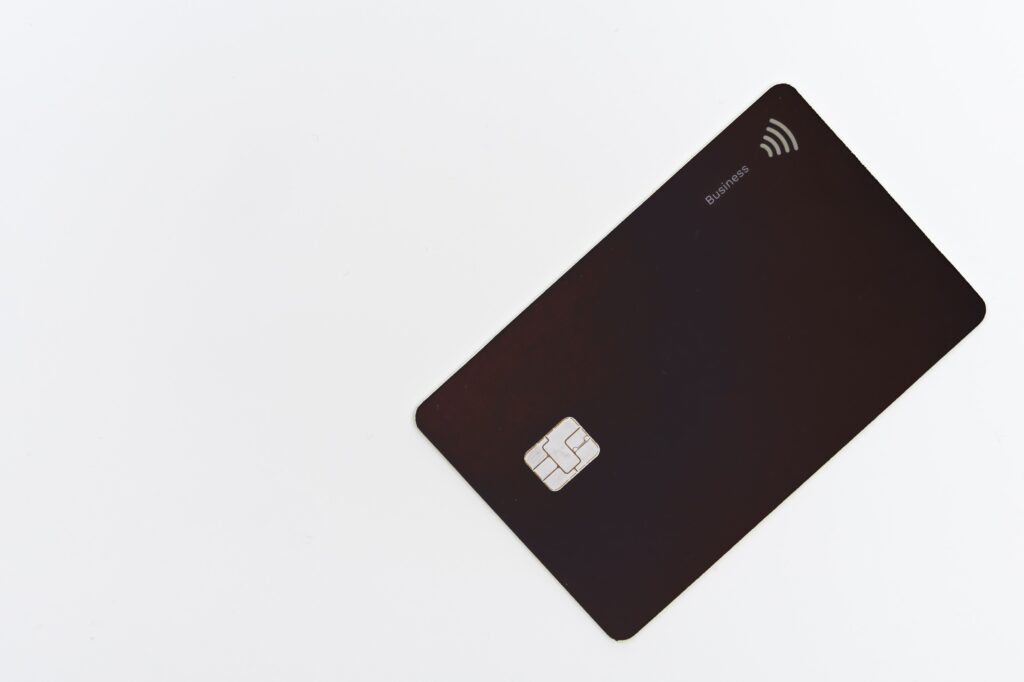 The touch to pay technology on contactless cards is made possible by Near Field Communication technology or NFC. While NFC is just catching on as a payment method, it is not exactly a shiny new technology.
In 2006, Nokia created the first NFC-enabled mobile phone and most flagship smartphones since 2010 have NFC. Once a card or device has an NFC chip, it can exchange information with other NFC-enabled devices.
Most bank cards also have this NFC chip in them. A radio wave image at the corner of an ATM card indicates it has an NFC chip. So why can't we just pay for bus rides with our bank cards?
Afolabi's first answer is that bank cards still need the Internet to carry out transactions with NFC because the money has to be debited from the bank account. Where there's a network timeout or the recipient's bank isn't available, transactions will fail.
Oluwole explained this further with a bit of humour, asking, "Would you go to the bank to complain that a ₦200 transaction did not go through? The current infrastructure we have today doesn't really support microtransactions,s and that's why we are creating a new framework."
It is also quite expensive for the merchant and the customer. According to Afolabi, there are charges that the card issuer (MasterCard or Visa), the bank, and the terminal provider deduct from every transaction, which is to the detriment of the merchant.
Another major reason why bank cards will not work is that "we still have so many people that don't have bank accounts."
The Inter-Bank Settlement System (NIBBS) puts the number of Nigerians with a bank verification number (BVN) at 51.8 million as of January 2022. This leaves about 54 million Nigerian adults without a BVN.
He, however, admitted that TAP is working with some banks so users can top up their Cowry cards directly from their banks.
A path to true financial inclusion?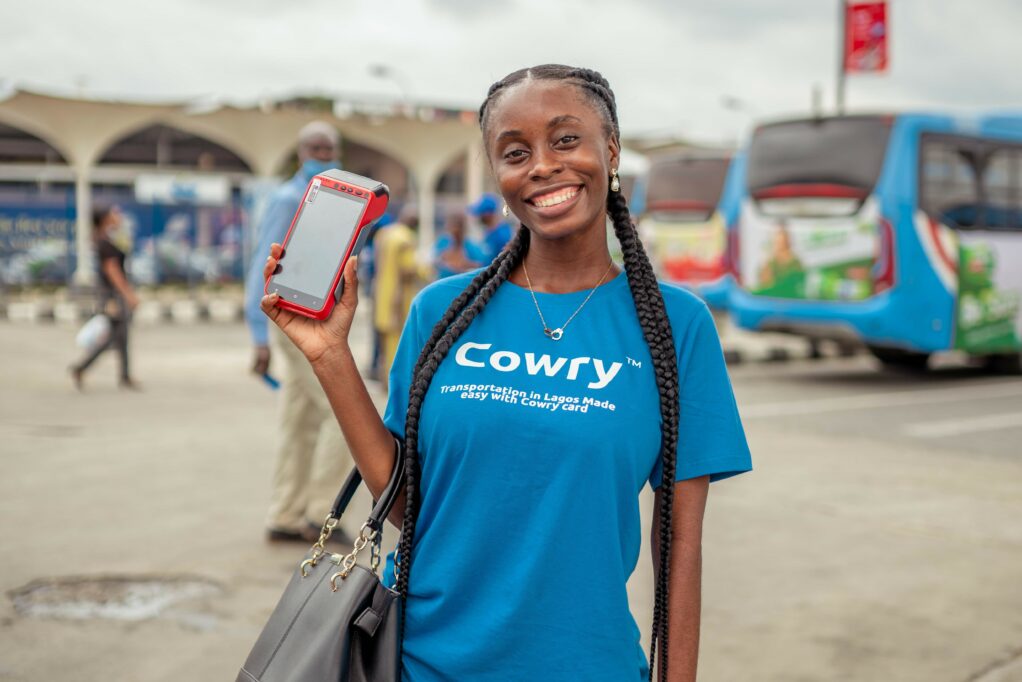 Although it's starting with transportation, TAP has plans to digitise the entire informal market with contactless cards and perhaps it could be a way to achieve true financial inclusion.
The founders explained that Cowry cards generate financial data about people that might not even have bank accounts.
An instance is how they've deployed the technology in other states like Kaduna, Ogun, and Oyo. In Kaduna, for example, the Cowry card helps the government receive revenue from transport operators.
Oluwole pointed out that receiving the revenues via cash through a collector left out a lot of information that could be valuable to the government. The actual bus drivers or bus owners were unknown to the government even though they pay taxes regularly.
"Now we're changing that model by giving them a card which could also serve as their association ID card. They can fund this card and make their daily payments with it. The more they make these payments with the card, the more the government has access to them."
Paying with the cards gives the government information about individual drivers and how much they pay tax. Giving tax returns or tax reliefs then becomes easy.
Bus drivers could also access insurance through the plethora of data the card payment system provides.
Both founders did not immediately admit they were positioned to solve the problem of true financial inclusion in the country when I asked them. However, they inadvertently did when they enthusiastically painted scenarios where the Cowry card could facilitate financial inclusion.
One of those scenarios is passengers getting rides on credit due to information available about their ride patterns.
It is important to note that all these could be possible without even having a bank account.
"These are informal transactions, and nobody has been able to penetrate this sector. We are creating a simple platform that provides visibility into these transactions, and all of a sudden, the entire ecosystem changes and now we have data." Oluwole said.
The company makes money by charging a 2% or 5% fee on transactions. Oluwole hinted that merchants are happy to part with the fees because it doesn't only cover the transactions but the entire process of digitising a business.
The company has grown so far without raising any funds, but Communications Manager, Damilola Adebesin, said they have plans to raise in the future.