Today, Young African Catalysts is announcing its acceptance into Techstars Toronto and a rebrand to CatalyzU. CatalyzU joins 23 other startups from Canada and emerging markets in this cohort.
Founded by former investors, Karl Nchite (CEO) and Luke Mostert (Chief Strategy Officer), CatalyzU is taking on the challenge of training and placing African talent into startups across the globe. 
Where startups like Andela have focused on technical talent, CatalyzU intends to focus on non-technical roles, such as sales, marketing, business development, and customer service. Its participation in Techstars will aid in this goal as it would have access to the accelerator's portfolio companies and partners.
Per Mostert, the rebrand aligns with the startup's mission to educate and place people in jobs. Mostert previously worked as the Head of Investments at Future Africa, but will now lead CatalyzU's strategy, funding, partnerships, and marketing efforts.
"Karl and I have fantastic networks across Africa, including the Young African Catalysts ecosystem, which includes fellows from the leading 65 African VC Funds. However, we don't have similarly broad networks in the US, and given the nascent nature of edtech and jobtech specific funding on the African continent, we want to tap into those specialised US funds. As the world's largest pre-seed investor, Techstars has access to these networks and is willing to help us access them to unlock growth capital and networks that come with it," he told Techpoint Africa.
As part of their acceptance into the accelerator, CatalyzU will receive $120,000 from Techstars, which the founders say is part of the first tranche of their pre-seed round.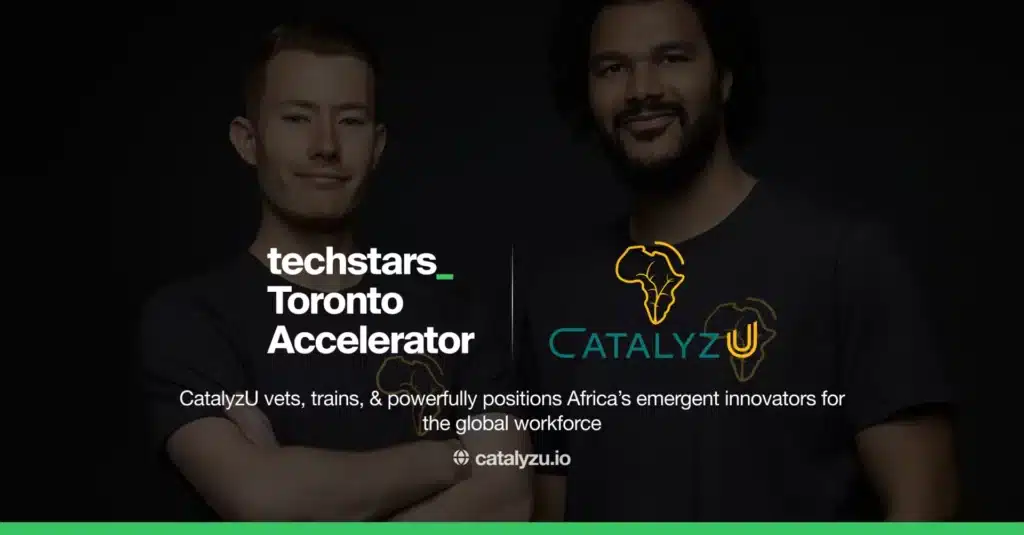 Additionally, the startup has received angel investments from Paul Breloff, Founder of Accion Venture Labs & Shortlist Professionals; Toyosi Abolarin, Founder of Nigerian Web3 gaming platform, Awujo; and Robert Cole, Head of Investments at Tencent Europe.
The startup intends to commence fundraising efforts for the second tranche of its pre-seed round after the end of the Techstars programme in October 2023.
Nchite has been representing the startup in Toronto since July and cites Techstars' reach and influence on the African continent as a major motivation for joining the accelerator.
"The experience has been amazing so far, we've been fully immersed in it, constantly surrounded by industry leaders trying to help us with core elements of our startup's development. We're thrilled about this experience as well as the invaluable relationships and partnerships that have already begun stemming," he said.
In the face of slowing venture capital funding, Techstars has remained one of the most active investors globally and has invested in over 60 African startups since 2021.
"The Techstars Toronto fund has now made 40 investments directly into African startups, making us one of the most active global direct investors on the continent in the entire world. What we immediately saw in CatalyzU was the platform they are building to support the rise of entrepreneurs themselves, it's a foundation. We share their view that African entrepreneurs are young, talented, and unstoppable and we want CatalyzU to support our African portfolio, as a start," Sunil Sharma, Managing Director of Techstars Toronto said of the startup's mission.