Founded by Onyeka Akumah, Akindele Phillips, Temitope Omotolani, Christopher Abiodun, and Ifeanyi Anazodo in 2016, Farmcrowdy started with a premise to finance small scale farmers across Nigeria.
To achieve this, it crowdsources funds from individuals and corporates, via its online platform, with a promise of a share in the returns.
The four-year-old startup says that since inception it has amassed a network of over 300,000 farmers, cultivated across 17,000 acres of farmland, reared 3 million broilers, and deployed funds for farming projects across the country.
Farmcrowdy has also raised a combined $2.4m in grants, pre-seed, and seed investments. And in the process of financing farms, it has raised $15m for 25,000 farmers.
With new developments and opportunities in the agriculture value chain, the agritech landscape today isn't what it was in 2016. And new players creating unique and similar products catering to stakeholders' needs have emerged. 
In light of this and coinciding with the celebration of its fourth anniversary, Onyeka Akumah, Farmcrowdy CEO, announced two weeks ago that the company would be focusing on using technology to "boost food security in the country through six business focuses."
Furthermore, having pioneered agro crowdfunding in the country, the company will be making a full pivot to a digital agriculture platform. According to him, these six businesses were set up to serve individuals across the agriculture value chain. They include Farmcrowdy Structured Finance, Farmcrowdy Insurance, Farmcrowdy Marketing, Farmcrowdy Tech & Data, Farmcrowdy Foods and Farmcrowdy Aggregation.
Techpoint Africa sat down with the leaders of these businesses to understand what they mean to the agritech space, and why stakeholders in the agriculture value chain should care about them.
Farmcrowdy was first an agro crowdfunding platform before it became a digital agriculture platform; can you briefly share the reason for the transition?
Onyeka Akumah (Founder & CEO): We started in 2016 as a crowdfunding platform. While running the platform, it became clear that we needed to get involved in the core production activities at some point. So, we decided not just to crowdfund funds for the farmers, but we also started farming ourselves. That was the first transition. 
Then we saw there was a market access bit where we could provide a place for farmers to sell whatever they produced and get decent margins. In our first year, we were working with 3,000 farmers. We took that up to 7,000 farmers by our second year when we were doing core production activity. And then 25,000 farmers in our third year. 
It was in the third year we started focusing more on the market access bit, and that led us to do trading. So, the transition was from just crowdfunding to getting resources to the farmers, to crowdfunding and doing the core production, then to crowdfunding for core production and trading.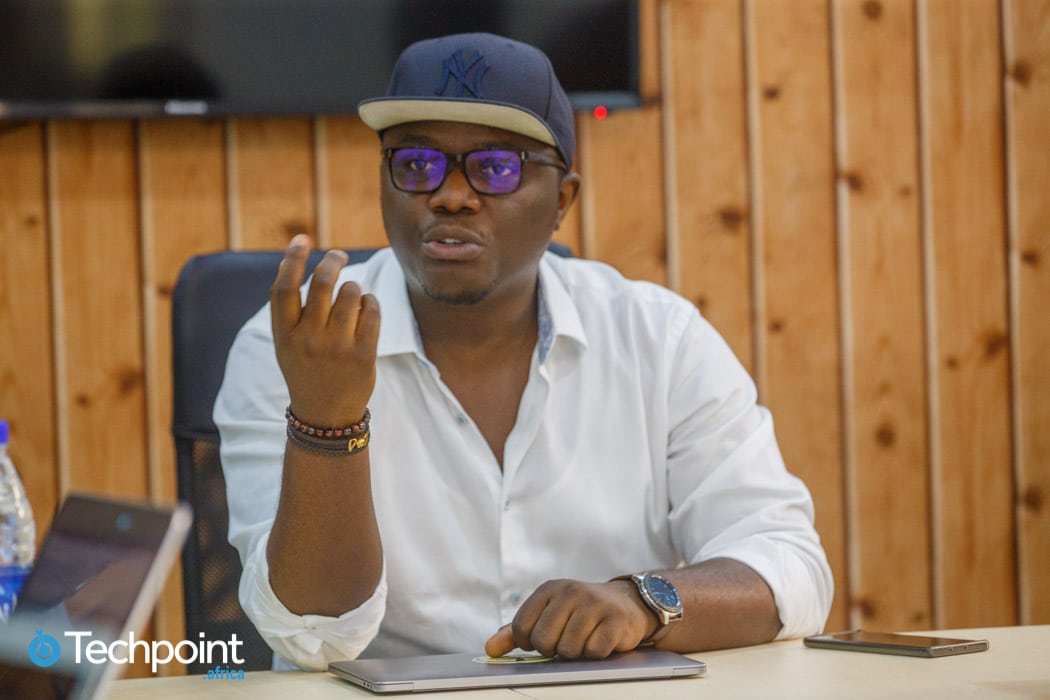 We got to a place where we said: "Hey, maybe there's more to using technology in the agriculture value chain than just for financing." And I think it's something that people miss and don't pay attention to. Once you say you're an agritech platform, they believe you are a crowdfunding platform. Agritech is using technology across the entire value chain.
How did these other businesses come about?
Akumah: So, we decided to focus on how to use technology across the food value chain; finance is one. But rather than crowdfunding, we created a Structured Finance model where crowdfunding is one way to raise money for the farmers, but you also have banks that are willing to do large amounts of loans to the farmers. You have development finance institutions (DFIs) that make large investments in farmers too. 
We looked at our trade side and started Farmcrowdy Aggregation. Here, beyond farmers, we've done core production with new farmers who can sign up on our network to sell what they've produced. 
Then there's Farmcrowdy Foods that started because of COVID-19. We realised that people were finding it difficult to get access to food items, so we created a mobile application and eCommerce site to address that. Also, it became an outlet for some of the items coming from Farmcrowdy Aggregation to sell directly to the consumers.  
In Farmcrowdy Marketing, we took a bit of what made Farmcrowdy a huge brand and noticed there were so many SMEs that needed similar services in the food value chain. So we created a marketing-as-a-service platform to those organisations, so if you're in the food value chain and you need a website or brand representation or PR services, Farmcrowdy Marketing will handle that.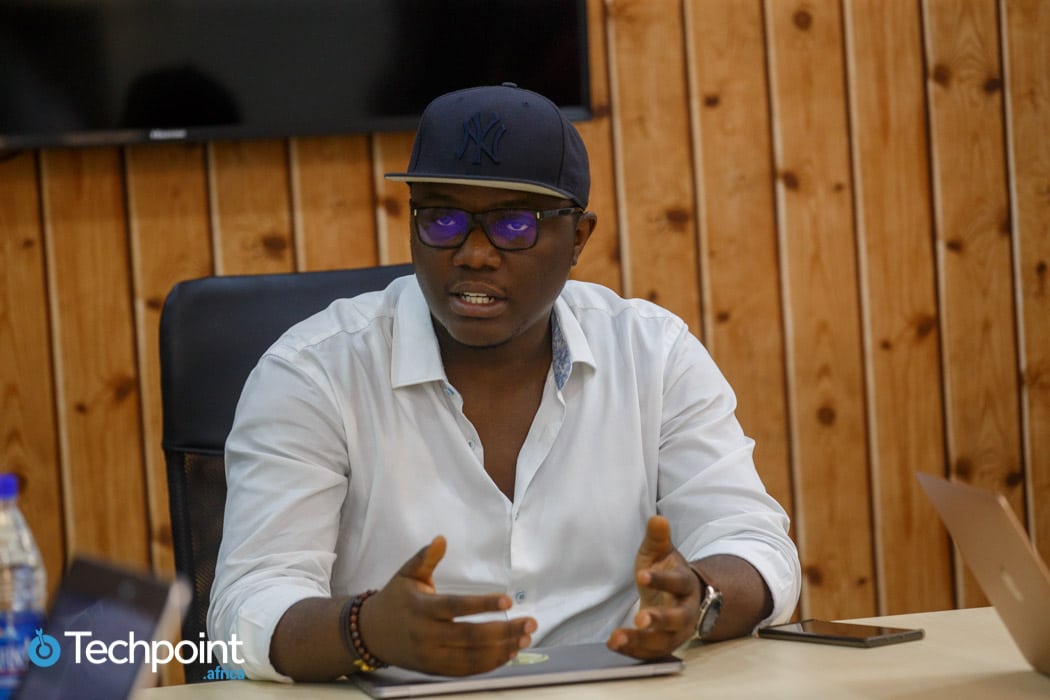 There's also Farmcrowdy Insurance. One of the things we noticed while working was a need to protect our investments with the farms or goods in transit. We saw an opportunity to provide insurance for several players in the food value chain.
The core factor driving all this is our technology as it powers all our platforms. So it only made sense for us to have a separate business called Farmcrowdy Tech & Data. While it is powering what we have internally in Farmcrowdy, it's also helping people in the food value chain looking at how to use tech for their businesses. We're talking to state governments, the federal government, national governments in and outside of Africa. We're looking at building technology that touches every part of the value chain and our tech team can provide that expertise for them.
So this led to the different businesses and how we've evolved from just being a crowdfunding platform to what we are now. Even speaking about that, we stopped crowdfunding on Farmcrowdy in August 2019 and started focusing on core production.  
If that's the case, doesn't Structured Finance have some kind of crowdfunding activity?
Akumah: Yes, but Structured Finance can access money from Crowdyvest, which is a separate business. It isn't just a crowdfunding business for Farmcrowdy, it also provides money for companies in the real estate and health sectors, and other agritech businesses, among others. So we use Crowdyvest as one way to make money, but our primary method of raising money going forward is not crowdfunding. 
How different is Structured Finance from other loan providers giving credit to farmers?
Oluwakotanmi Ojo (CFO & Business Lead, Structured Finance): Well, not different but what we're doing is to make sure that we're impactful. I'd say that unlike these loan providers that tell farmers to provide collateral, we offer the farmers some products collateral-free. 
This is one of the reasons why we're working with DFIs. Some projects will be community-based, so that's how we're a bit different. Typically, farmers would have all the liabilities, but some of our products are taking up these liabilities. However, they'll be monitored with a proper model. Another thing is interest rates; we're looking at projects that will have zero interest rates.
Is this possible?
Ojo: Yes. Although we're not disclosing it now, there's a project that we're working on which involves zero interest rates.
So, how exactly do these farmers access credit on Structured Finance?
Ojo: That's where technology comes in the form of our portal. We also have a database of the farmers we work with. We reach out to them through our representatives, and that's how it's done. We have aggregation centres where they meet. 
As Onyeka mentioned, we're working with state governments; we collaborate with them and cooperatives to give these farmers credit. 
This leads me to Farmcrowdy Insurance. To what extent does the company's insurance cover activities on the farm?
Akindele Philips (Co-founder & CRO, and Business Lead, Insurance): Generally speaking in Nigeria, the popular kind of insurance product available is the input insurance. What that means is that the farmers who use insurance can be protected to the amount they've used in kind, inputs, seeds, and what have you.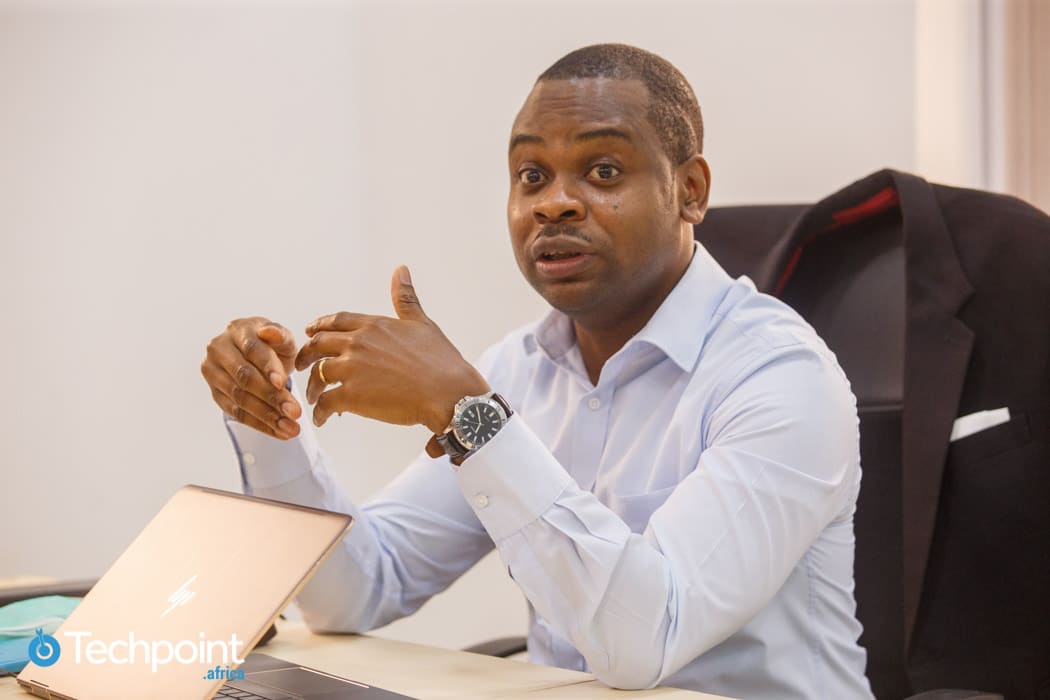 But the best in more matured markets is the yield insurance which means if something goes bad, you are compensated for the value of the crop if it has matured. That's not popular in this clime, certain providers like us are working towards that.
So the insurance is just for the farmers? What about investors that, in some way, fund these farmers via Structured Finance?
Phillips: The only institution that can insure cash is the Nigeria Deposit Insurance Corporation (NDIC). However, for the agritech space, you can only insure agro-products: inputs, goods in transit, in storage. So in this space, you can insure what the cash is used for along the food value chain. 
Akumah: You asked about insurance related to the sponsorship that comes from Structured Finance. So, Farmcrowdy gets money from Structured Finance as Farmcrowdy. It takes the money and insures the work in the farms or crops or goods in transit. Farmcrowdy is not insuring sponsors. 
On Crowdyvest's end, they have their insurance in place for their sponsors, but Farmcrowdy no longer has sponsors. So, if Farmcrowdy is getting money from Structured Finance or Crowdyvest for core production which hasn't happened in more than a year, it'll now be a case of Farmcrowdy dealing with Crowdyvest as a different entity.
The Farmcrowdy Insurance Akindele is speaking of is focused on insurance in the agriculture space beyond what happens with the sponsors.
Do the DFIs, banks, and institutions that give you money have some form of cover?
Phillips: Yes, because they're providing funds for agro products. For anything that has to do with Farmcrowdy and our farm activities, what we can insure are the items that have been purchased with the funds. So, do we insure cash? No, but what the cash will be used for? Yes.
And these institutions don't see any problem with that?
Phillips: We have contracts with them, from who's bringing the money and how they're protected, all of that will be in the contract. But the question about insurance, there's no insurance tabled in the contract.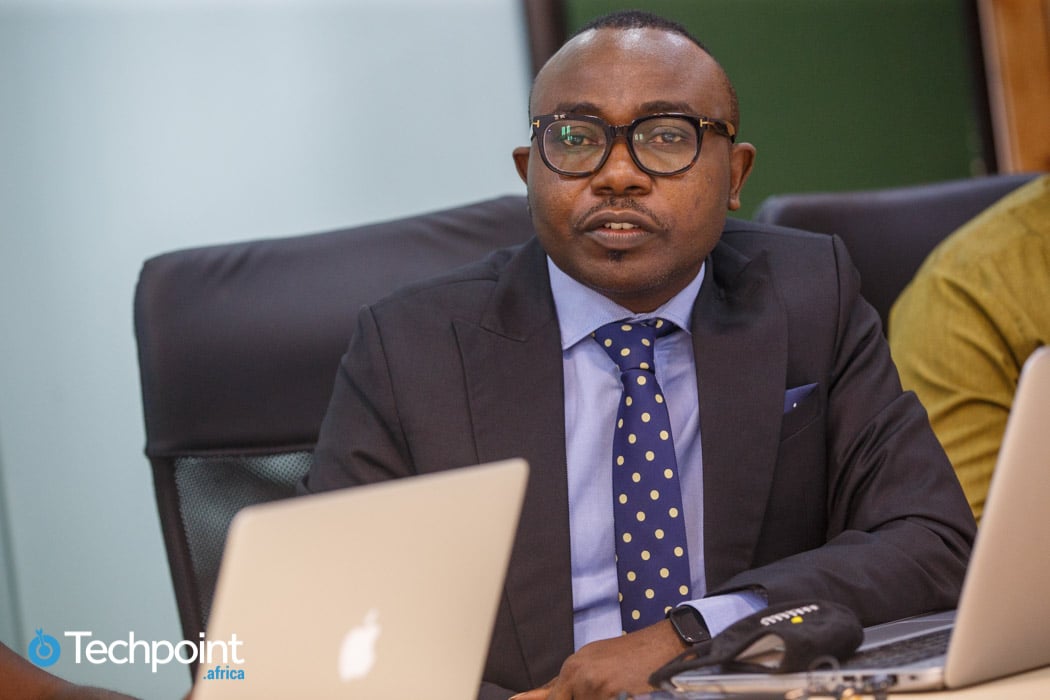 Ojo: In addition to what Akindele has said, there's what we call economics of production and insurance is usually factored into it. So the person providing the funds is not being insured but what we do is that in the cause of production, insurance is factored such that the commodities and the whole production is protected ab initio.
How does Marketing come into all this?
Tony Udomiaye (Asst. Business Lead, Marketing): Every product that comes from the farmers needs to get to the consumers, and one of the fastest ways to make that happen is positioning the product the right way for every consumer to see.
So we have our 360-degree solution that cuts across lead generation, analytics, then digital marketing where we do social media management and also, increase in awareness, and out-of-home marketing.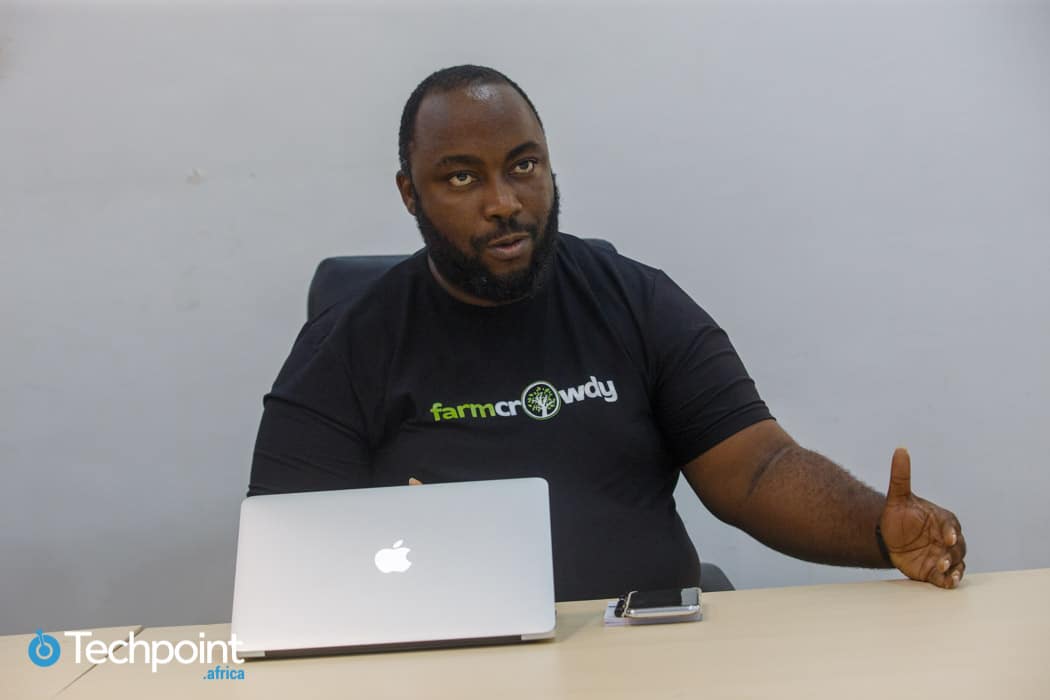 We have a roadmap which we'll get the consumers into from the consulting phase where they get to know their products and target market. Then we give them a brand manual which they should follow through. After this, we educate them on their online and social media presence.
What's the timeline to onboard these farmers and agribusinesses? 
Udomiaye: First, it's dependent on the number of products that they have. But basically, in four weeks we can onboard any business for at least one particular type of product. 
These businesses have survived for this long without Farmcrowdy Marketing, what's in it for them if they choose to use it?
Obiajuru Luya (Business Lead, Aggregation): Any business that chooses to subscribe for our marketing service wants to do two things: increase awareness of products and drive sales. So these farmers want their product to be top of mind in every home and also want their product to be out there in the market for everyone to see online and offline, and that's what we do.
Tell us about how Farmcrowdy Marketing intersects with Farmcrowdy Aggregation?
Luya: Digital marketing is a core area where Farmcrowdy is using technology to facilitate trade or services along the agricultural value chain. At Farmcrowdy Aggregation, we have our flagship called FC Trader, where we have created a safe space for buyers and farmers to meet.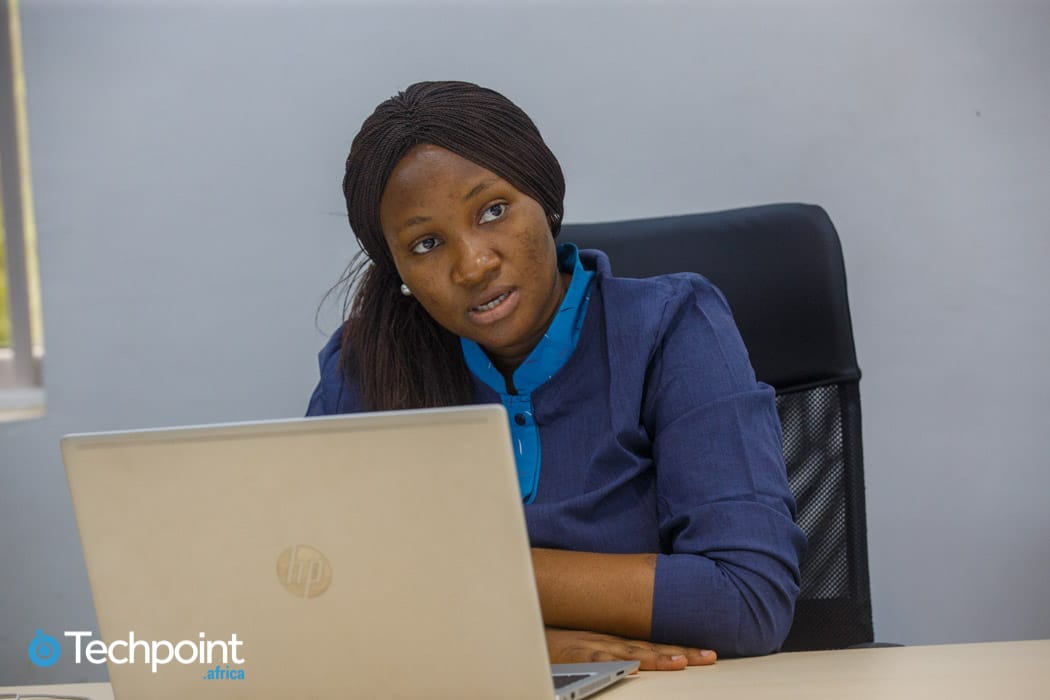 Buyers can sit in the comfort of their offices, sign up, and request for particular commodities. Farmers can then respond in terms of availability and pricing, and buyers can make a comparison, place an order, and purchase. That's us using technology (FC Trader) as a digital marketing tool.
Also, in terms of marketing, we have the Agricsquare platform where different players in the agricultural sector come in to ask questions and get feedback relating to anything in the space. So marketing, especially digital, ties into virtually everything that we do here, and that's how we're able to get the products out there and facilitate along the food value chain. So FC Trader is where marketing and aggregation come together. 
Have you faced any challenges convincing some farmers to use the FC Trader platform?
Luya: Yes there are challenges of adoption, but I think farmers want to sell more. Also, some of these farmers who are not literate enough to get on the platform themselves have our technical field specialists in these communities.
They are allocated where the aggregation centres are helping farmers onboard their products in terms of weight and other parameters. For instance, we look at the moisture content in grains, among other things.
Once that's standardised, they take the weight and upload the products and their availability via the platform. So it's a growing network of farmers which isn't very widespread at the moment. And for now, we have 101 aggregation centres. Once farmers see that the system works -- it helps them sell and get value for their product -- they should get on board easily. 
Are these aggregation centres open to non-Farmcrowdy farmers?
Luya: One crucial thing in the agricultural industry right now is how to get farmers numbered, registered, or connected to a system that accounts for them. This is why Farmcrowdy is big on farmer registration. 
So, if a community farmer who we have not profiled goes to our aggregation centre, they'll be profiled via the platform. That way, they will be included anytime there's a project targeted at that area or geographical location. If they have an offer, their products will be uploaded as well. So, there isn't a special hurdle to becoming a Farmcrowdy farmer.
How does Farmcrowdy Foods come into play?
Linda Obi (Business Lead, Farmcrowdy Foods): I'd like to say Farmcrowdy Foods completes our production value chain. What we sell is what we get from the aggregation centres.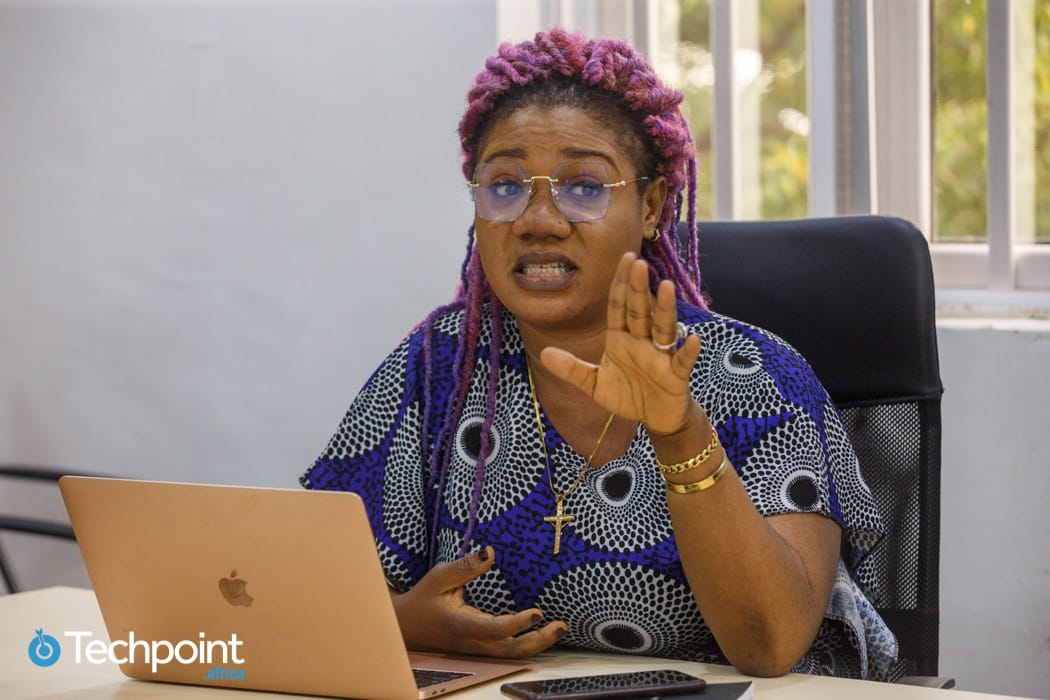 On Farmcrowdy Foods, our products are classified into grains, tubers, seafood, wheat, and fruits and veggies. Save for our seafood where we've partnered with credible importers and farmers who produce things like snails and prawns locally, every other thing we have on our platform is gotten from our aggregation centres. 
Onyeka mentioned earlier that Farmcrowdy Foods was born out of the COVID situation, but it looks like the acquisition of Best Foods in February was in preparation for this?
Obi: The acquisition of Best Foods was for what we wanted to do at that time, which was meat hubs. I don't know if you've heard that we provide about 30% of the meat you find in Lagos eateries.
So we did a lot of trading along with beef processing where we fed big quick-service restaurants (QSRs) and their facilities. So, the beef processed at Best Foods fed directly into these QSRs, and that was what the acquisition was for in the first place.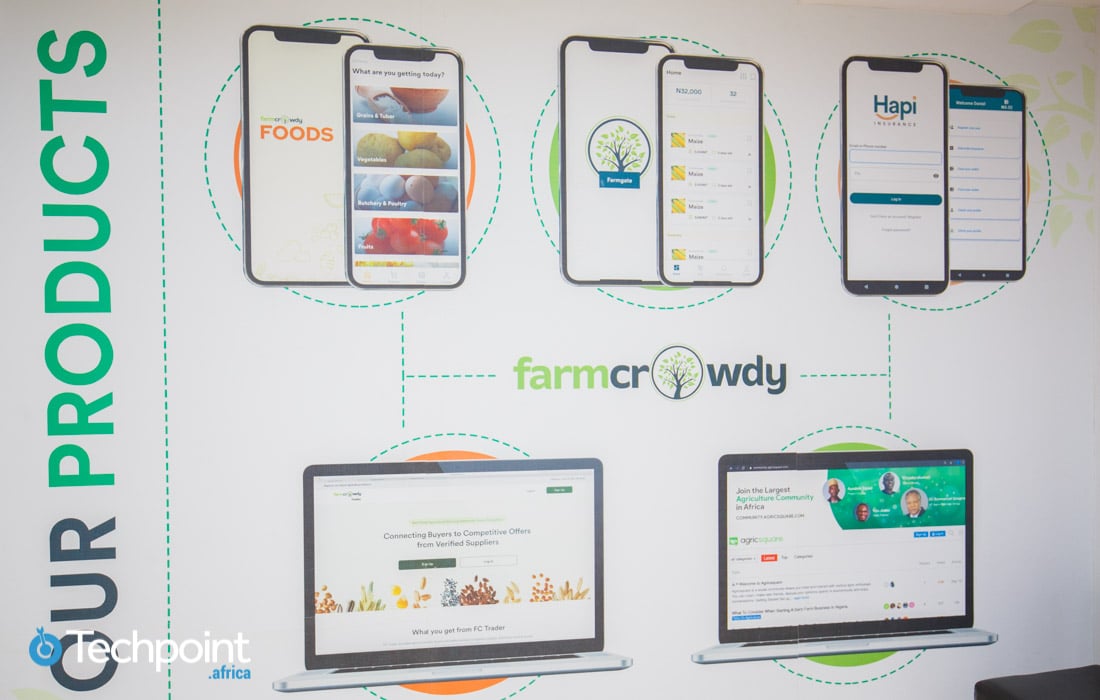 Then again, we saw that need where we wanted to buy food items, and due to the lockdown, we couldn't move around. We did some test piloting with our staff only, got a licence from the Lagos State Government, and proceeded to provide the basics they needed to live during that period. And we saw that there was a market so we decided to jump on that. 
How much progress has been made and what challenges have you faced in this short time?
Obi: I'd say the only challenge we've faced is logistics. So we have some places in Lagos where cars and bikes cannot ply without suffering some kind of damage. We've had to look at our logistics structure, remodel what works, and what areas we can cover to retain and sustain customer satisfaction. That's how we've scaled this period.
Let's move to Tech & Data which Farmcrowdy calls the backbone of all these businesses. Was it really necessary to make it a standalone business?
Christopher Abiodun (Co-founder & CTO, Business Lead, Tech & Data): It was essential to make it a standalone because as you said, it is the backbone of everything that happens in Farmcrowdy. Secondly, it is also the backbone of everything that happens outside of Farmcrowdy.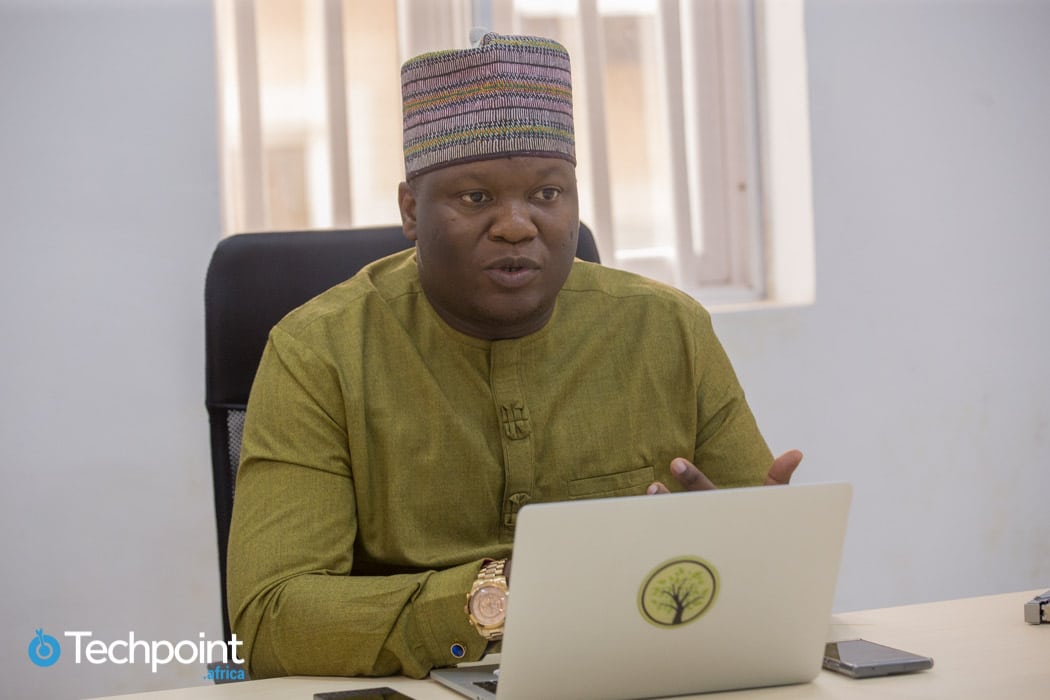 There are different organisations in the agricultural value chain that need tech solutions. I know for sure that there are agribusiness players that work with a lot of farmers who still use cash and don't have records of how they handle these payments.  We can help by providing data on how they trade with their farmers and what they sell to them, among other insights. 
We have solutions where these businesses can pay into the farmers' mobile wallets, and through that, you can determine how they spend their money and what they spend it on. So making Tech & Data a standalone business gives us an opportunity, just like the other businesses, to create solutions for third-party clients.
Does Farmcrowdy have plans to take these businesses out of Nigeria?
Ifeanyi Anazodo (Co-founder & CGO): Yes we're looking at Ghana, Kenya, and the Caribbean. 
The picture we have is that for any environment with similar challenges to Nigeria where smallholder farmers are trying to optimise their products and want to sell more, we'll be able to design what we currently have to fit into that clime. It serves as an opportunity to extend our solutions. 
Is there anything else we need to know?
Akumah: I think one of the things I want to stress is that if you look at all the different business leaders, the success of Farmcrowdy is not tied to one person. It's tied to different business leaders who could individually have been responsible for building their own business focused on that area.
So, the richness we have in the team comes from what everyone is bringing to the table.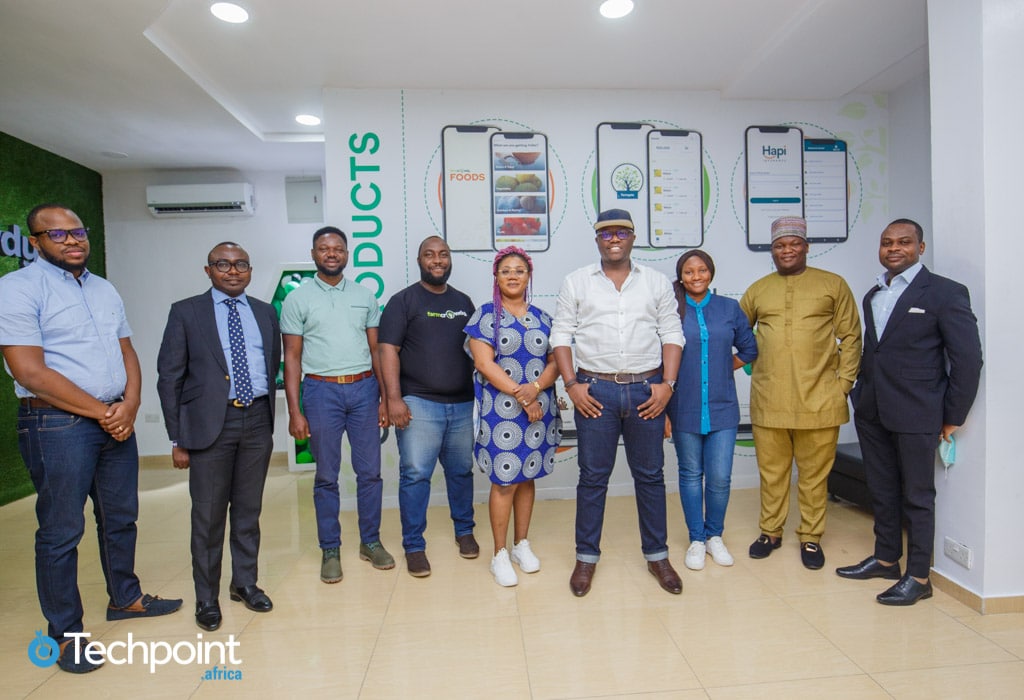 Olu, for instance, was the chief financial officer of two investment banking institutions before joining us to lead Structured Finance; Linda was responsible for setting up over 250 retail outlets for the Indomie brand in Lagos; that's one of the things she's done.
Obi was responsible for the first agro-commodity trading platform in Nigeria in 2014; Toni, who is standing in for Jide, has done remarkable work for the likes of Wakanow and Oracle; while Jide was a founding team member in both Konga and DealDey, and also responsible for their marketing. 
This is something I always like to highlight and emphasise so that people understand that one person is not responsible for what we're doing now and what we will do in the future; everyone is responsible. 
https://zp-pdl.com/fast-and-easy-payday-loans-online.php
http://www.otc-certified-store.com/antiparasitic-medicine-usa.html
https://zp-pdl.com/best-payday-loans.php
http://www.otc-certified-store.com/hiv-medicine-usa.html
https://www.zp-pdl.com
экспресс займ ростов
онлайн займ без %
займ под проценты уфа