It's 7 p.m. on Sunday October 6, 2019 and millions of people across Nigeria and Africa are tuned in to Africa Magic Family. It is Day 99 and season finale of the fourth edition of the widely popular TV reality show Big Brother Naija (BBNaija), themed "Pepper Dem".
In the course of that week, lovers of the show all over the world voted to see their favourite of the top five housemates claim the ₦60m grand prize.
During the live show, the host, Ebuka Obi-Uchendu, revealed that this year's edition saw a record-breaking 50 million votes in the final week alone, and 240 million votes for the duration of the show.
While there were several discussions on how many of those votes translated into cash for the organisers -- considering the options of SMS voting, online voting, and app voting -- the numbers say one thing; millions of people voted, some more than once.
This fact makes one wonder how the enthusiasm to vote for contestants of a reality TV show can be channeled into the Nigerian electoral process.
Mobile voting as an option during Nigerian elections
Before Nigeria's general elections were held on February 23, 2019, the Independent National Electoral Commission (INEC) revealed that about 84 million Nigerians registered to vote.
According to INEC, of those 84 million registered voters, about 28 million votes were counted; only about 33% of the number of registered voters. The turnout was the lowest since the return of democracy in 1999.
"In 2003, 69% of 61 million eligible voters participated in the presidential elections, and the number declined to 57% in 2007 and 54% in 2011, before dropping below 50% to 44% in 2015," reads a report by Stears Business.
While we might not be able to quantify the people who couldn't vote as a result of card reader faults, cancelled votes, and polling unit disruptions, many polling units across the country recorded low turnouts.
The reasons for this can be traced to the tedious voter registration process. And then to other reasons bordering on security concerns, distance to polling units, and lack of faith in the electoral process.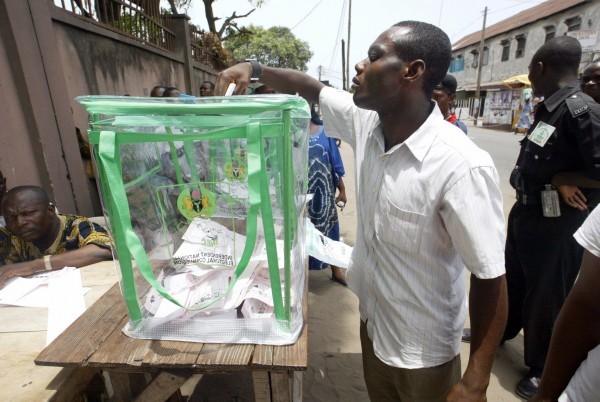 These issues make a case for the option of secure online voting as a way to possibly increase election turnouts significantly.
Imagine a scenario where, in addition to the offline voters' registration and voting proper, you have the option of going through this process online -- on your mobile phone or tablet -- from the comfort of your home.
Imagine that to register, all you need to do is go to the INEC website and fill a form requiring your name, email address, phone number, home address, and National Identification Number (NIN).
INEC then verifies this information  by checking it against the information you provided when registering for either your driver's licence or Bank Verification Number.
Of course, for this to work, Nigeria has to have a unified database but this scenario is not far-fetched.
---
Suggested Read: Why doesn't Nigeria have a unified database?
---
Since it is said that there are about 122 million Internet users in Nigerian, not only would this save INEC millions of Naira in manpower and logistics, it would also see more people registering to vote because of the convenience presented by an online process.
Many states in the US implemented an online registration process as far back as 2009 and a few of them are testing mobile voting. In 2018, West Virginia became the first state in the US to use mobile voting in a federal election.
The state used Voatz, a mobile voting app, as a voting option for some of its citizens outside the country.
"The Voatz app uses the camera on the voter's mobile device to verify their identity, and it utilizes blockchain technology with the goal of protecting the anonymity and security of each individual's vote," reads a report (pdf) by American Professor, Anthony Fowler.
While mobile voting is yet to be adopted on a large scale, even in the US, many countries use electronic voting as an alternative to paper-based voting.  In Africa, countries like Namibia, DR Congo, and Nigeria have tested electronic voting. However, for different reasons, irregularities were recorded in each case, raising more concerns among voters.
---
Suggested Read: Inside Nigeria's first ever electronic voting exercise in Kaduna State
---
Theoretically, aside from its convenience, an app like Voatz, which boasts security by blockchain technology, has the potential to overcome most of the challenges associated with electronic and paper-based voting. But for now, even the US is having challenges with scaling it nationwide.
What could possibly go wrong?
For one, the Nigerian Constitution does not make provisions for other methods outside the electoral voting exercise we currently have. However, if it does, will Nigerians be open to using mobile voting as opposed to the traditional one?
To find out, we did a quick poll on Twitter.
#POLL: If you were given an option to vote using your mobile phone during elections, would you?

Kindly RT and reply with your thoughts.

— Techpoint Africa (@Techpointdotng) October 7, 2019
80% of the 178 respondents would be willing to vote with their mobile phones, 13% would not, while 6% are kind of skeptical. Some of the issues raised were mostly about security and privacy.
"While I like the idea of voting online, I'm yet to see any concrete suggestions for dealing with risks of hacking and breaches. An attempt at electronic voting in my alma mata saw students waking up to realise that people had voted with their accounts. Similar allegations came up," one responder commented.
"Maybe if my privacy is guaranteed. Don't want anybody hacking into the database and finding out who I voted for. This is an advantage the traditional booth and ink-print have," said another.
These concerns are very valid. And many proponents of mobile voting have met these same concerns and the mention of blockchain technology doesn't seem to calm anyone down.
---
Suggested Read: 5 areas the Nigerian economy can benefit from blockchain technology
---
Voatz, said to be secured by blockchain technology, was almost hacked in 2018. And many Americans are even more concerned about putting the fate of an entire country in the hands of a private company.
In Nigeria, which is even a less trusting society, a mobile voting app already seems like a very long shot. For one, for it to work, the entire country has to move from paper-based to electronic voting. That obviously comes with its own security challenges.
---
Suggested Read: 4 reasons Nigeria is not ready for electronic voting
---
But if we can believe our banks and payment platforms to secure our money and information, maybe we can someday trust a mobile, convenient, and seamless electoral process. That is if it doesn't get resistance from the government.