It is mid-afternoon on the Friday before the local government elections in Kaduna State. Dr. (Mrs.) Saratu Binta Dikko-Audu, chairman of the Kaduna State Independent Electoral Commission (KAD-SIECOM), has been on her feet for the most part of the day moving from one end of the commission's premises to the other. The compound itself is buzzing with activities like a bee hive, marking a culmination of events that have taken place over the past 6 months.
The Kaduna State local government elections were earlier slated for the 30th of December 2017 and subsequently cancelled. KAD-SIECOM suspended the elections because the State House of Assembly had not passed the Kaduna State Independent Electoral Commission Bill No. 10 of 2012 into law.
The bill, which would allow the use of electronic machines for voting and verification in the state local government and council elections, was finally passed on the 6th of February 2018. The elections were subsequently rescheduled for last Saturday, May 12, 2018.
Back at the KAD-SIECOM premises, there is an undeniable tension in the air, and understandably so. History is about to be made as the state prepares to conduct Nigeria's first and Africa's second electronic voting elections.
Dr. Binta finally settles into her office for a few minutes and I manage to sneak in an interview.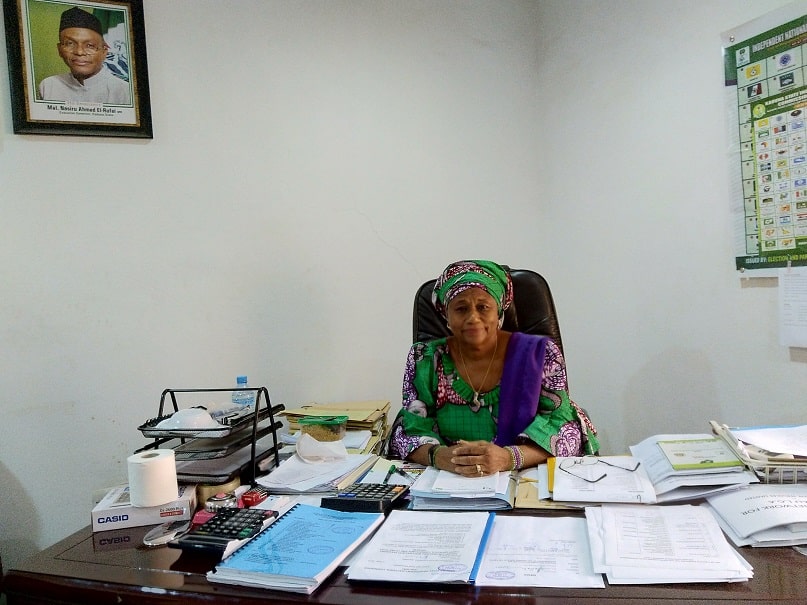 "The coming elections have taken a lot of planning and a great team to get to where we are now and the government of the state has been very supportive too. The introduction of these electronic machines will definitely make the elections very secure and trustworthy, a truly democratic process where the people get to truly choose a leader," she tells me.
The machines she speaks of are Electronic Voting Machines (EVMs). I had earlier seen and interfaced with them downstairs in the commission's ICT centre.
The technology and how it works
The Voter Verifiable Paper Audit Trail (VVPAT) Electronic Voting Machine (EVM) Model number EMP2710 was built specifically for KAD-SIECOM by Chinese based EMPTECH; the same company that built handheld PVC scanners for the 2015 Nigerian presidential elections.
Weighing in at 12kg, the EVMs are boxlike devices shaped like medium-sized printers.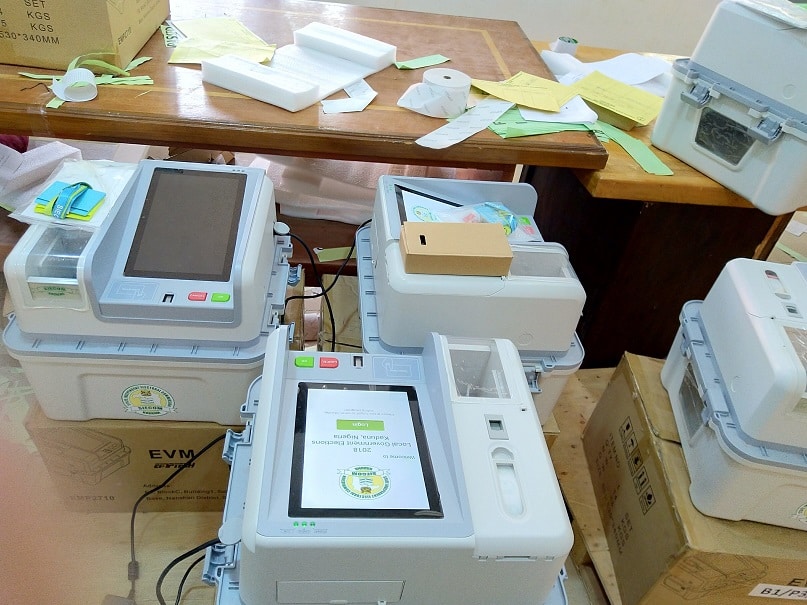 They feature 1.8GHz quad-core processors, 2GB RAM, 8GB ROM, 12.2-inch LED backlit touch display, USB 2.0, fingerprint scanner, SIM and PSAM slots, 13,000 mAH batteries and run on Android 5.1.
Even though there are 5,739 voting points in Kaduna State, 6,000 units of the EVM have been procured. According to Engr. John Habila, Head of ICT at KAD-SIECOM, the excess will serve as backup and provide for any contingency. Indeed after procurement, 140 EVMs were lost to rain sometime within the week.
As they are made to order, the EVMs already include a list of the 46 political parties participating in the elections.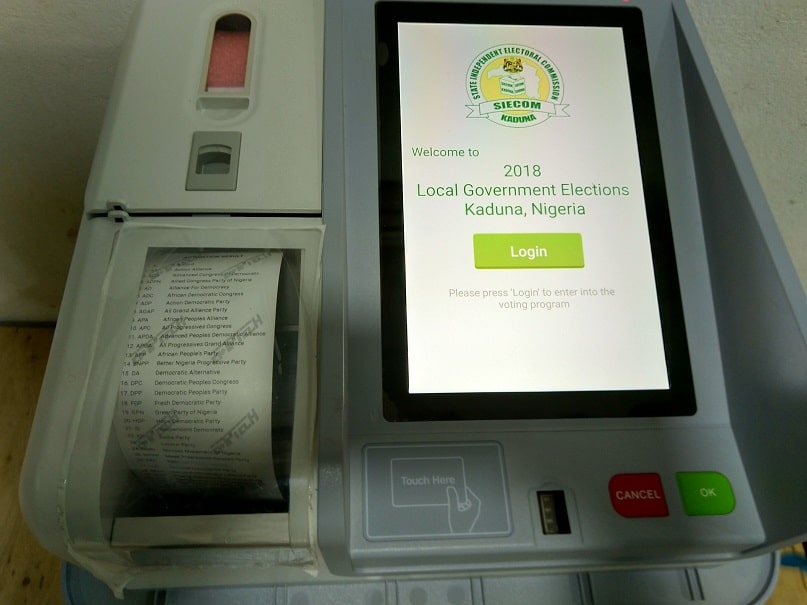 On the election day, voters are expected to go to respective polling units and get accredited with their permanent voters cards (PVCs). Afterwards, they electronically vote their chosen party and accompanying candidate by selecting and pressing the appropriate icon on the EVM screen.
When the voting exercise ends, an electoral officer brings out printed ballot papers from the machine for manual counting among party agents and officials.
On sensitisation
The EVMs have a great user experience and an ease of operation that makes adaptation easy for first time users, regardless, technology can be a hurdle for the uninitiated. There is a KAD-SIECOM Voter Education Handbook that explains and sketches out the workings of the EVM for electoral officer and voter.
Apart from the fact that a lot of people can't be bothered about user manuals, this booklet is in English but a large percentage of the state residents speak Hausa as a first language.
Prior to the elections, some of the EVMs had been taken to the 255 wards in the state for a 3-day sensitisation campaign. Dr. Binta said in this time, the citizens were invited to try out the machines and reactions were very positive.
Apart from the electoral, presiding and supervising officers, there are 26 adhoc staff trained primarily to work with the EVMs and according to the chairman of the commission, getting them acquainted with the technology was not a walk in the park. However, the ease of operations of the EVM made it a lot easier.
Engr. John says the training exercise was intentionally moved closer to the election so that there is no chance they forget operation instructions.
As foolproof as possible
In Dr. Binta's words,
"This [technology] is wonderful because there is really no chance of manipulating the results as the machine captures what has been inputted and prints it out at the end of the election and once its printed out, data cannot be changed from any end."
By itself, the EVM has a failsafe mechanism. If a wrong password is entered three times, it powers off in 15 seconds until restarted again.
All these security measures in place give the impression that nothing can ever go wrong. But everybody is still holding bated breaths
In the words of the chairman, "The world is watching, we have put everything in order as humanly possible, we will see how tomorrow turns out."
There are 23 Local Government Areas in Kaduna State, to monitor the elections, I will be shuttling between polling units in 2; Kaduna North and Kaduna South.
Election day proper
Officially, election is slated to start by 9 AM. The Local Education Authority (LEA)  primary school in Barnawa in Kaduna South local government is location for LEA I, II, III and IV polling units. It's 10:26 AM and no Electoral Officer or EVM is on site.
A lively football match is underway in the school's field and voters waiting for the officers have become spectators cheering the players.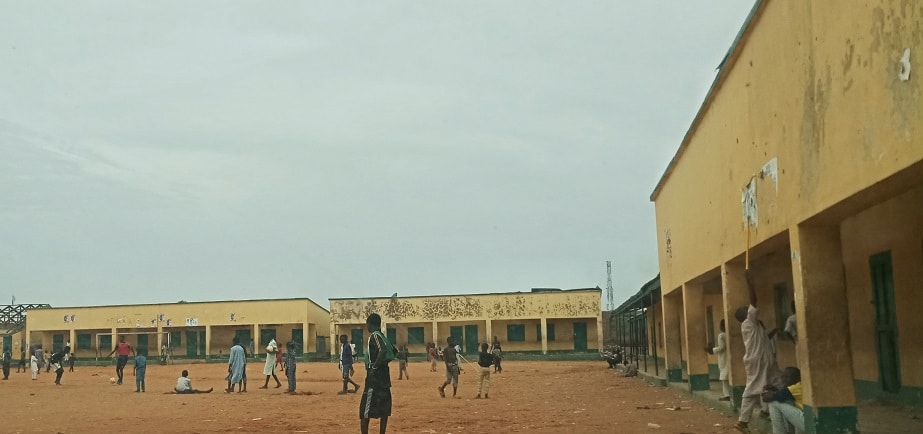 This trend continues across a large part of Kaduna South. In 5 locations with more than 20 polling units, voters are waiting to cast their votes.
A source says this late and seemingly low turnout can be blamed on low campaigning and sensitisation. "When politicians campaign, 'come and vote for me' is different from 'come and out and vote whether its for me or not'. There was not enough campaigning for people to come and vote."
The story is a lot different in Kaduna North. According to unconfirmed reports by 10 AM over 10,000 votes had come in from the area.
Kaduna North, with its predominantly Muslim populace, is said to be more politically oriented than the South.
Three green lights signalling readiness are blinking on the EVM in polling unit 027 in Shaba Ward, Kaduna North. The two election officers in charge of the polling unit both agree the EVM is easy to use. "It really is easy to use and operate. We have had over 50 voters so far."
Voting has started in all the polling units in Shaba Ward.
Elections started later than 9AM but is already gathering momentum.
For some reason, turnout in Kaduna South is lower than Kaduna North.
@suaveveekthaw is currently in polling unit 005 in Shaba Ward, Kaduna North.
Voters are queuing up fast. pic.twitter.com/ObMbYGpDkj

— Techpoint Africa (@Techpointdotng) May 12, 2018
It is afternoon and momentum is picking up generally in polling units where elections have started.
I earlier asked Dr. Binta about handicapped and older voters who could not vote by themselves, she mentioned that the law allows them bring their wards to help.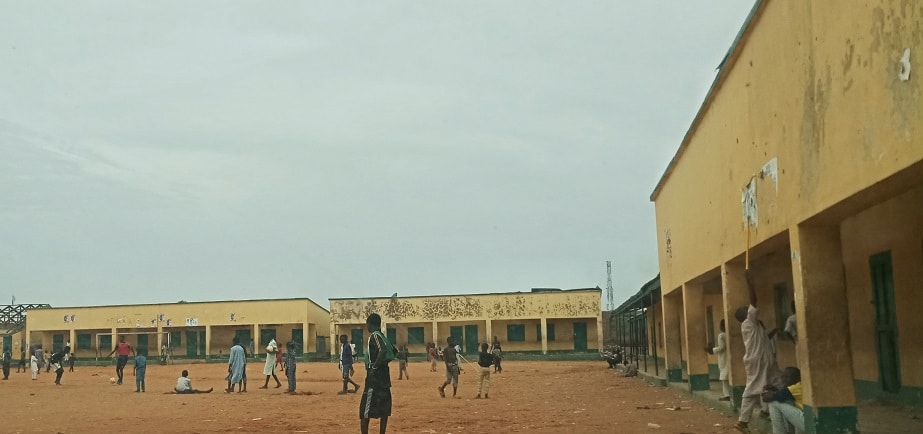 I see a partially blind old woman helped by her daughter to the machine.
Surprise, surprise.
Aside the seemingly obvious tamper-proof nature of this technology, unknown to even the electoral officers, before the final triggered transmission, the EVMs will be transmitting results live to a monitoring room in the commission's ICT centre and simultaneously saving same on a server.
According to Engr. Habillah "At the end of the day, if the printed slip does not tally with what is on the server in the commission, it means there have been some irregularities."
Charles Dyaji is the CEO of Yellow Line Services, a Nigerian technology company charged with the transmission aspect of the EVMs, getting the machines to transmit results after the elections was not without its challenges.
"Because of low internet penetration in some of the areas these polling units will be located, we chose virtual SIM cards to connect to any available network. Satellite devices would have been the best bet, but they are too expensive," he explains.
Truly, the EVMs are transmitting live results to the server room in the ICT room in KAD-SIECOM.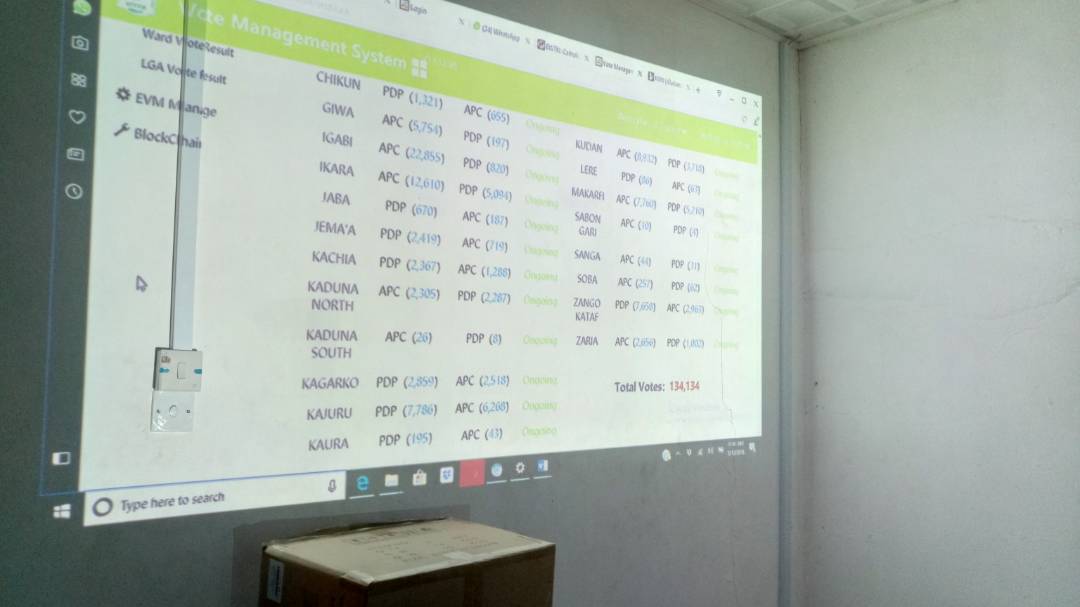 At this point, everything seems to be sailing smoothly, except they really are not; there are a few hiccups.
Major challenges
Considering low internet penetration in the state, Charles had anticipated that there would not be sufficient connectivity to transmit data from the EVMs; his fear was unfounded -- connectivity was strong on all the machines.
When I had earlier spoken to Engr. John Habila, he echoed the chairman's thoughts.
"On the technology aspect, we have put finishing touches on everything and expect a smooth sailing. If anything will go wrong, it will most likely not be technological."
He was very correct.
In all the polling units I visit, there is insufficient sensitisation and education on the usage of the machines. This ignorance appears to extend from some partially aware electoral officer to the completely clueless voter(s) and agitated party agents who were watching but didn't know what to watch.
Most of electoral officers can operate the machines and perform basic voting functions, but beyond that, they do not know enough to convince, calm or otherwise placate the largely ignorant voters.
Two polling units on Television Road in Kaduna South actively exemplify this ignorance. By 3 PM, voters refuse to cast their votes as they are confusing the machine's batch number with their polling unit number.
The major concern is that this particular machine does not belong to their unit so votes they make on it will not count. In reality, any machine can be used for any polling unit as long as the authorisation cards are available.
The people still see the machine like a traditional ballot box; electoral officers are not sure and so cannot tell them any different.
In the other unit, party agents representing a few political parties are supposed to monitor the elections and watch. Because they are not sure what to watch for, they all suspiciously sandwich the EVM in an agitated manner. When an explanation is offered, they all move back.
Generally, most of the uproar and challenges I notice stem from an ignorance on the working of the EVMs. Apparently, the few days the EVMs were demoed at experience centres were not enough and the officers themselves did not get sufficient training.
Another puzzling challenge is that for unfathomable reasons, EVMs were not brought out on time to polling units. Some units started voting by 3 PM.
At the Television Road polling unit where the contested EVM is refused an unboxing, an angry youth approaches me. Noticing my tag, he must have assumed I am an election officer.
"Why will they keep us waiting here since 8 AM? Why will you people keep us here like you are paying us?."
In polling units where elections happened, voters turned out early but the EVMs came too late in most places.
The fluidity of technology
With the EVMs there is an evident speed and ease.
Even though PVC accreditation was done manually, votes were still cast faster than the traditional paper balloting system that used handheld accreditation scanners.
https://techpoint.africa/2018/05/16/electronic-voting-election-nigeria/
Generally, the Kaduna Local Government Elections were less than perfect but far from terrible in technological experience. As a historical milestone for Nigeria and Africa, a lot of tinkering on the drawing board is necessary to better the experience for future electronic voting elections.