Two weeks after the deadly floods that ravaged Benue State and environs, the number of displaced people is still on the rise. According to Premium Times, an estimated 110,000 people were displaced by the floods. Relief materials have poured in since the floods abated.
But maybe there is one or two --or three-- ways we can use tech to help.
Smart collation for relief resources
Vanguard Nigeria reports that Africa's richest man Aliko Dangote led a committee that donated ₦250 million to the displaced victims.
In the same vein, Nigerian-Ghanaian rapper and singer Mr. Eazi reportedly pledged to donate 10% of proceeds from his 'Life is Eazi Culture' festival in London to victims of the Benue flood.
However, two weeks before these popular figures lent a helping hand, social media has been awash with calls for donations on different fronts for displaced people. It is difficult not to wonder about accountability for these donations. Because obviously, mischievous and dishonest people will use this medium to con people.
It is not clear who started it, but a Google Document and Slack Channel were created in Texas to help displaced people after the hurricane. It was meant to account for resources. This can be done and every resource put on it for easy tracking and accountability.
Crowdfunding
Crowdfunding on social media is and has always been a means Nigerians have used over the years to raise money for different cause. But techies can always find a more efficient way to make it work better.
Earlier this year, CEO of Anakle, Editi Effiong raised ₦6.5million through the chain reactions off a blog post and a series of follow up tweets.The money was to build a house for a poor family in Akwa Ibom State and give them a fresh start. As unbelievable as it sounds, he documented his experience and proved it can still be done.
Paystack and LifeBank have both taken a bold first step together by automating the process of sourcing funds to donate Care Boxes to those affected by the floods. These Care Boxes contain critical food and health essentials such as soap, blankets, and more.
Technology offers endless possibilities, and this case is no different. Techies, tech companies and everybody else should support them [Paystack] or take another step.
Build "The App"
In February this year, the Ministry of Agriculture and Rural Development reportedly partnered with MTN, Microsoft to release IWMI, an app that is supposed to predict floods. Guess what, the app didn't and doesn't still work.
There could be many reasons the app does not work, but none is our business right now. Since this is a matter of life and death, a software developer or company should undertake to build this app. Let me tell you why.
The 2012 floods in Nigeria were the deadliest in a 40-year period. After this horrible episode, Nigerians hoped and prayed the floods do not come back.
This app is supposed to warn against a recurrence, but it cannot do any warning in its present state.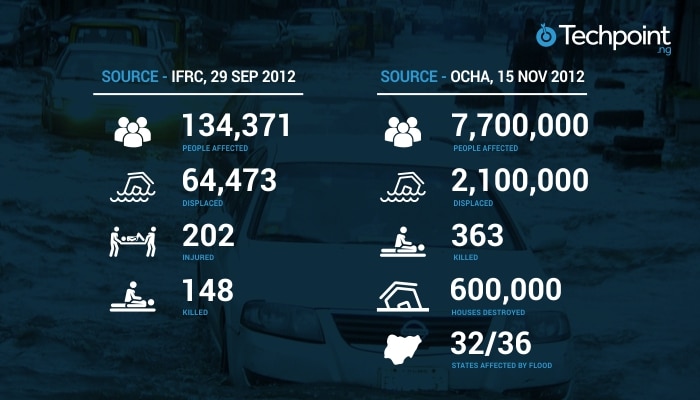 A few days before the flood, Nigerian Meteorological Agency reportedly warned Benue State authorities, but nothing happened.
Even if everyone in Benue State will not get the app, most people will. For the second quarter of 2017, the Nigerian Bureau of Statistics (NBS) ranked Benue State 12th on states with highest number of internet users. With 2.3 million people-- 2.54% of total population-- connected, a sizeable number of people will see it.
In its Annual Flood Outlook (AFO), the Nigeria Hydrological Services Agency (NIHSA) says 314 of the country's 774 local government areas are prone to flood this year, incase you are thinking "it's just Benue".