Launched on March 15, 2017, Bookvendeur is an eCommerce platform that sells books and other related materials. The online book store was founded by Charles Efe,  and Oladoye Samuel (Technical founder).
The story of Bookvendeur began with Charles Efe as a child. Born into an average income family of educationists, he figured his only possible pathway to becoming great was reading. Hence, his passion for books was ignited and fortunately, he found a way to turn that passion into a business with Bookvendeur.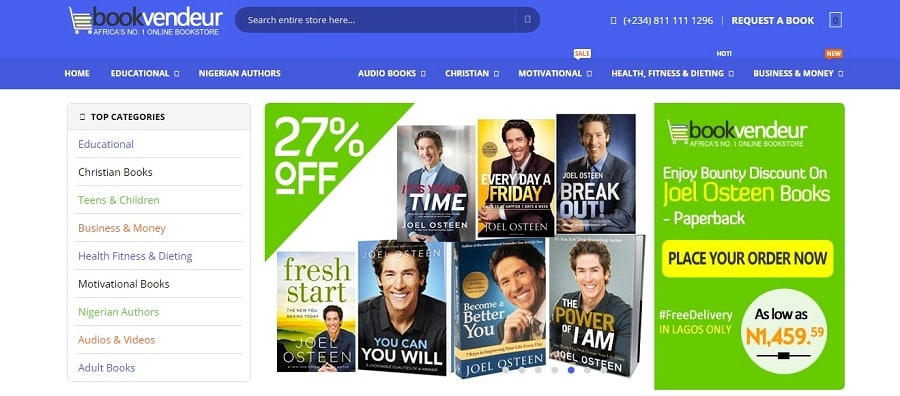 Books on various subjects ranging from professional, health and fitness, academic, religious, teens and children, business and money, to motivational books are available at the affordable prices, with free delivery.
Unlike other book vendors, purchasing books is so easy at Bookvendeur. We give you various options and choice on how to buy books with least hassle. You can order any book, and get it delivered to your door especially if you are in Lagos, we deliver to you within 12 hours of purchase.
For convenience, customers can also place their orders via text messages, emails or through Facebook chat, Twitter handle, WhatsApp and other Bookvendeur's social media profiles. According to the founder, orders via these channels will get a response within 12 minutes of request.
Asides the promise of prompt delivery through their subsidiary firm, Deliveryng, the team pegs their competitive edge on continuous improvement and being customer centric. Books are available for sale in soft and hard copies.
If you are a book enthusiast, you should visit the website immediately.
---
Discover new startups every weekday by noon (WAT) | Pitch your startup here.
---
Techpoint is conducting a survey of tech worker salary satisfaction in Nigeria. Please take just three minutes to fill this anonymous form. Thank you.