Olumide Olusanya is Chief 'Glootian' at Gloo.ng, a pioneering online grocery business based in Lagos. Or Sparta, depending on how you choose to see it. You can hardly miss all the references to Sparta strategically placed all around the Gloo.ng office in Lekki, Lagos Island. One particular inscription reads:
Heads down; Ignore the noise. Stay hungry, stay focused. Keep shipping. THIS ... IS ... SPARTA!!!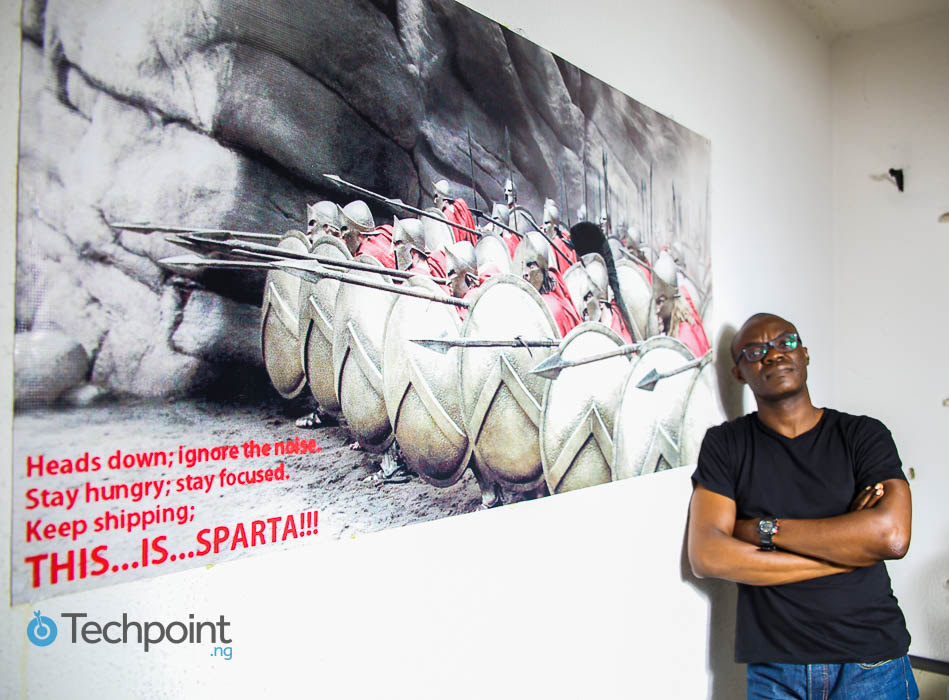 The philosophy is evident in the way Olusanya runs his company -- Gloo.ng is the pioneer in Nigerian eCommerce you probably never heard about before now. "We don't make noise" Olusanya tells us, "we focus more on the product and the customer".
What follows is an amazing story of how Olusanya quit a promising career in Medicine to eventually become Nigeria's first, and probably only, technical eCommerce Founder.
Múyìwá Mátùlúkò of Techpoint Africa (MM): How did a fully practising Medical Doctor end up in tech?
Olumide "D.O" Olusanya of Gloo.ng (DO): I graduated from the College of Medicine, University of Lagos (UNILAG) in 1993. I never wanted to study medicine - my dad forced me. So I was always looking for how to do something relating to my passion, which is technology.
I practised as a Trauma Doctor at the Lagos State Emergency Medical Services. Once, one of the sons to the owner of Glendora Bookshop, came to the hospital to deliver his baby. I got to find out he was into tech, so I asked him if I could come over and learn from him whenever I was free.
That's where I got familiar with the concept of relational databases. Microsoft Access was readily available to me then but, when I learnt Oracle was the best, I decided I wanted to be an Oracle Database Administrator. I got books and studied by myself. I totally smashed my certification exams. 
That's one of the gifts I have — I can read anything, any knowledge that is written in a book, and the level of depth of understanding I get from it would be better than the person that wrote it.
After I got my certification, I got a friend of mine, Dr. Ojo of the Computer Science department in UNILAG , to connect me to an unpaid internship at one of the top Oracle certified partners in the country at the time. That's how I became a doctor by night and Oracle Database Admin by day.
This was around 2001. We were working on a project with First Bank at the time and this really gave me an opportunity of getting my hands dirty with real life databases. That's pretty much how I entered tech.
MM: At what point did you decide you could comfortably quit medicine to pursue your passion for tech?
DO: I met Senator Ayo Arise — he was not a Senator at the time — who came back from the US to found Cards Technology Limited (CTL).  
There were no cards in Nigeria by this time asides ValuCard. There were probably only about 10,000 of them at that time. I remember there only 2 ATMs owned by Societe Genrale Bank Nigeria, in Broad Street. Senator Arise painted his vision for electronic payments to me and I latched on to it. I felt like this was something I could actually commit myself to because I knew ultimately that I would quit medicine.
The defining moment for me was when I solved a problem that had been struggling with for about a year. Senator Arise had assured me that if I could help resolve the issue, I had the job. Don't forget I was doctor by night and still working my other day job as an Oracle DBA by day. The only time I had left was overnight. The first free night I got I used it. By the time he came back in the morning, the system was up.
That's how I joined CTL. We were a team of 5 and because I was the only the tech person at the time, I was by the default the CTO. One of the first things we did was get our MasterCard certification, all by reading from manuals.
This was when I realised payments was going to be big in Nigeria. Within a year we rolled out the first real-time POS solution in Nigeria with First Bank. Within another year, we rolled out West Africa's first international payments card — the Ecobank Mastercard. Interswitch was just starting around this time, but with a focus on local. CTL is pretty much where I cut my teeth.
Within 4 or 5 years, I became the CEO at CTL. I was there for 7 years. But I and the founder had a few differences so I resigned as CEO to join Tony Elumelu at UBA, where I helped turnaround their card business.
MM: And I'm guessing that's when the idea for Gloo.ng came?
DO: 6 years before UBA, I had read Warren Buffett's biography, "The making of an American Capitalist". The book left an impression on me, so much so that I made up my mind that I was going to retire into Investment Management.
So whenever I had free time at home, I was studying and running V-Squared Capital, my private Investment Management outfit, on the side. By the time I decided to leave UBA, V-Squared Capital was already giving me twice the cash flow I was getting at UBA. This gave me enough comfort to be able to quit UBA.
I was 39 when I decided to retire. The idea was I was never going to work again in my life. I just studied annual reports at home and took positions in the stock market. As at early 2012 this was what I was still doing this.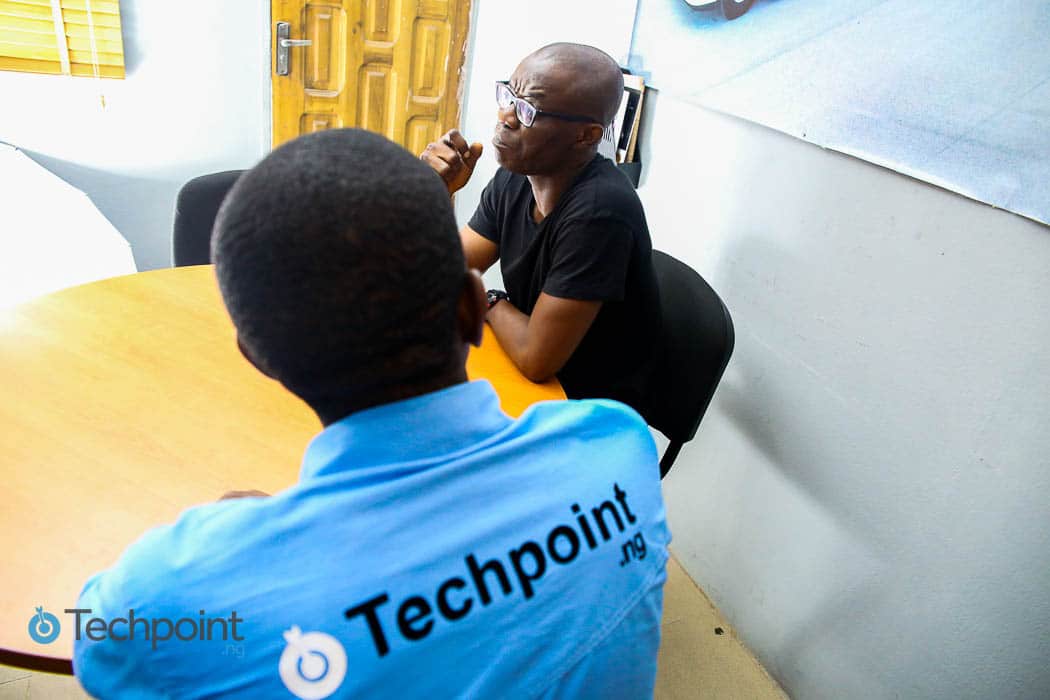 What this gave me is an opportunity, for the first time, to understand how exactly my wife lived her own life.
Prior to that time, as a typical white collar executive, I would leave early in the morning and come back home late at night. My wife was an SAP consultant so she did a lot travelling. I am totally useless at home keeping so, any time she was around, rather than sitting down spending time with the family, she spent most of her free time keeping the home. Particularly stocking groceries from the supermarket, cooking, and freezing food.
I didn't think anyone should be spending their lives this way. There had to be a way technology could make this easier. I took out the settees in the sitting room, called  a carpenter to build shelves and then went to Oke Arin market to by products to stock the shelves. Then I came up with a very small website.
Our website went up on the 30th of June, 2012. The next day, July 1st, Konga.com launched. Sabunta and Kasuwa (now merged as Jumia.com.ng) launched around that same time too.
We were only catering to the Magodo community where we lived at the time. I did most of the picking, packing and delivery myself. My wife would assist in her free time, and I had one person join us at a point but he left after 2 months. Nevertheless, the feedback we got was impressive. Studying and reading further about trends in eCommerce, I realised that there couldn't have been a better time to start an eCommerce business in Nigeria than then. I sold off some of the equity and assets from V-Squared Capital. It was more like the seed fund for Gloo.ng.
As things got more serious, we moved to our first office in Lekki. We believed that was the place with the more potential market. This was in September of 2012. We had 2 drivers join us. Then I asked my wife to resign from her job and join me, to which she obliged. I and my wife did the picking and packing while the drivers did the delivery.
MM: By the way, how did you come up with the name Gloo?
DO: Interestingly, we started off as buycommonthings.com. We wanted a name that people would see and immediately get an idea of what we possibly could be selling. However, it soon became clear we needed to change our name. Especially after we met with a VC who was looking to setup in Nigeria. She kept hammering about changing the name.
One morning, about a week after meeting with the VC, I was having a bath when it occurred to me that the name should be "Glue". One of the things we had seen clearly from running the business for 9 months at the time was that we were having a lot of return customers because we seemed to have a "Glue Effect" on them. But it wouldn't make sense if we were to use "glue" as the name of a website that sells things that people want to consume, it just didn't make sense.
So we thought we'd use the homophone — Gloo. 80% of our revenue comes from repeat business.
MM: So how has Gloo grown over the years from the humble beginnings of serving just people in Magodo?
DO: Our decision to move from the gated community in Magodo to Lekki was guided by the philosophy that Lekki represents the biggest gated community in the country. It is also the one with the highest per capita income. This for us was the sweet spot of our target market.
Then we spread from Lekki estate to cover the whole of Lekki. Then we moved on to V/I, Ikoyi, the whole of Lagos Island and now the whole of Lagos, except Badagry and Epe, for obvious reasons. Our first office in Lekki was about 5000 square-feet. Our current space is 4 times of that. But we are already looking to move to a bigger space before the end of this year.
We are not trying to be everything to everybody, like Jumia and Konga are. We are a supermarket, we have a clear idea of the kind of products people expect to find in a supermarket. So rather than trying to widen our selection, in terms of categories, what we want to do is deepen. But not to cater to every whim and taste.
The idea for Gloo is to stock anything you need to take care of your family, your home and yourself. So you'll find food and drinks, home appliances, kitchen utensils and the like.
MM: What would you say was a major determinant in Gloo.ng's exponential growth?
DO: When we started, we didn't have much cash. In hindsight, it was more of a blessing than a pain. When you don't have much cash in hand to splash on marketing, you tend to focus more on the product and the customers.
That's the foundation of Gloo.ng. We realise that in the long term, there is nothing that's going to make us succeed other than this. If there is any clear competitive advantage we have in this space, it's that  nobody understands the customer as much as we do. So for example, one of the things we didn't do at the start was to allow just anybody register.
You had to be willing to pay from day 1 otherwise you couldn't register or do anything on the site. What that allowed us to do was be able to determine whether or not we even had something that people were willing to pay for the service.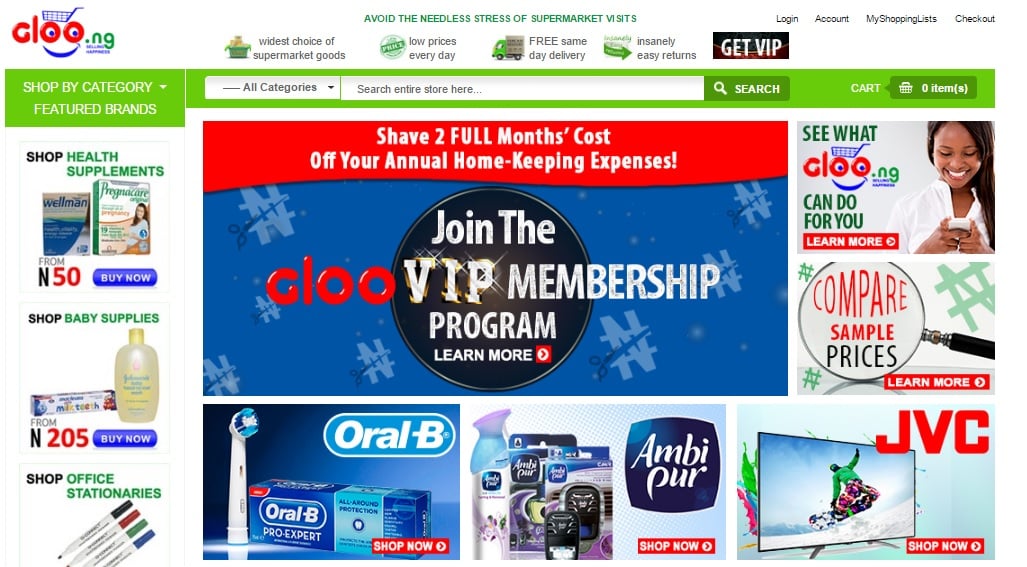 We also weren't spending any money on marketing. We relied 100% on word-of-mouth. The beautiful thing that we had was that Konga and Jumia were around at the same time. The fact that they were spending money on marketing to educate people, not just about their own brand, but on eCommerce in general, created a good wave for us.
Only after we felt that we had a better understanding of who our customers were did we embark on some marketing campaigns. We have a product that really, really works.
MM: Most of the eCommerce players have begun to diversify into the marketplace model, as opposed to stocking 100% of the inventory themselves. We are probably looking at a future of Nigerian eCommerce that will be driven 100% by the marketplace model? What's your take on this?
While we don't make any noise about it, Gloo also employs the marketplace model. Our percentage of marketplace is probably more than what others have. When we started at the beginning of the year, 33% of our revenue was coming from marketplace products. We are now at 40%, we should get to 50% before the end of this year. In the long term, we want that to peak at 80%.
However, I don't believe anyone can do 100% marketplace in Nigeria, due to the constraints we have as regards the supply chain. Nigeria is not a productive base, as far as manufacturing is concerned. It makes sense to want to minimise the risk of inventory but, as far as Nigeria is concerned, it is always going to be a mix.
There is also a strategic benefit for us in wanting to keep 20% of the inventory. A significant portion of our business is B2B (b2b.gloo.ng). We don't make noise about that either but it exists. But we're more excited to make noise about is the new VIP Membership feature we just launched.
MM: You promise same day delivery to your customers. Considering how much of a logistics nightmare Lagos is, how do you manage to keep that promise?
DO: Similar to the concept of Product/Market fit, there's also what we call the Entrepreneur/Problem fit. If there's anything that's clear to me, it's that everything I have done in my life has actually been in preparation for this. It's pretty much the same with the team I have with me.
I can't go into much detail but I can tell you that we have built a proprietary Address Verification System that allows us to do least-cost route planning. So before our fulfilment team members leave, they already have a good idea of every place they are going to deliver and which routes to take.
MM: How about the challenge of payments? What's your take on Cash on Delivery? I personally feel it needs to die.
DO: In as much as payments is a challenge, less than 43% of our transactions are Cash on Delivery and it's easy to see why. I told you 80% of business come from repeat purchases. The products we sell are primarily what people use everyday. As opposed to others in the space who sell things you don't buy everyday, like phones and the like. So while our customers may pay with cash on their first visit, they find it's just more convenient to pay upfront in the long run.
However, I don't think you can take Cash on Delivery away from Nigeria until we become a truly cashless society. It is not a problem of eCommerce. It's a problem of the context of where we are operating.
MM: What are the biggest challenges to running an eCommerce business in Nigeria?
DO: eCommerce, like they say, is a bear. In Nigeria, it's an angry Grizzly Bear. eCommerce is a very challenging business as it is, irrespective of wherever you are. This is because it's a business that requires scale for you to succeed. You cannot be a successful eCommerce player if you're small.
It doesn't matter how many are playing in a certain market, you always see a winner-takes-all. So for example, take a look at the space iROKOtv is playing in, which other entity is actually scratching that space? We have Konga and Jumia doing general merchandise; after those 2, who else has the space? It's the same with Gloo on the online supermarket space.
Another major challenge is the local Nigerian factor. You need generators for power so your cost of running a business is significantly higher. Lastly, running a supermarket business in general is a tough business. I don't think anybody entering this space now can be seen in any form to be sane. Because they will be contending with 3 different things: working in an eCommerce vertical, doing it in Nigeria, and then choosing to do it in the online supermarket space.
What has been of benefit for us is the timing with which we came out. Anybody trying to get to where we are now will end up spending about 20 times the money we've spent, and you probably will still not have clawed at it. That's why we've seen a thousand-and-one people enter this space and they've all fallen by the way side.
Anyone with the intention of starting eCommerce now must have a key advantage and tons and loads of money, in the category of the likes of Konga and Jumia. Because it takes a long time for people to change their mind about something they are already used to. You will need to provide a service that is 10 times better than the competition if you want to beat them.
According to EuroMonitor report, we currently own 80% of the online supermarket space and we intend to own it forever. We are happy to welcome competition because they make us sit up. But we know the pain is hitting them 10 times as much as it's hitting us. However, in our case we have a lot of things in place with which to cushion the pain.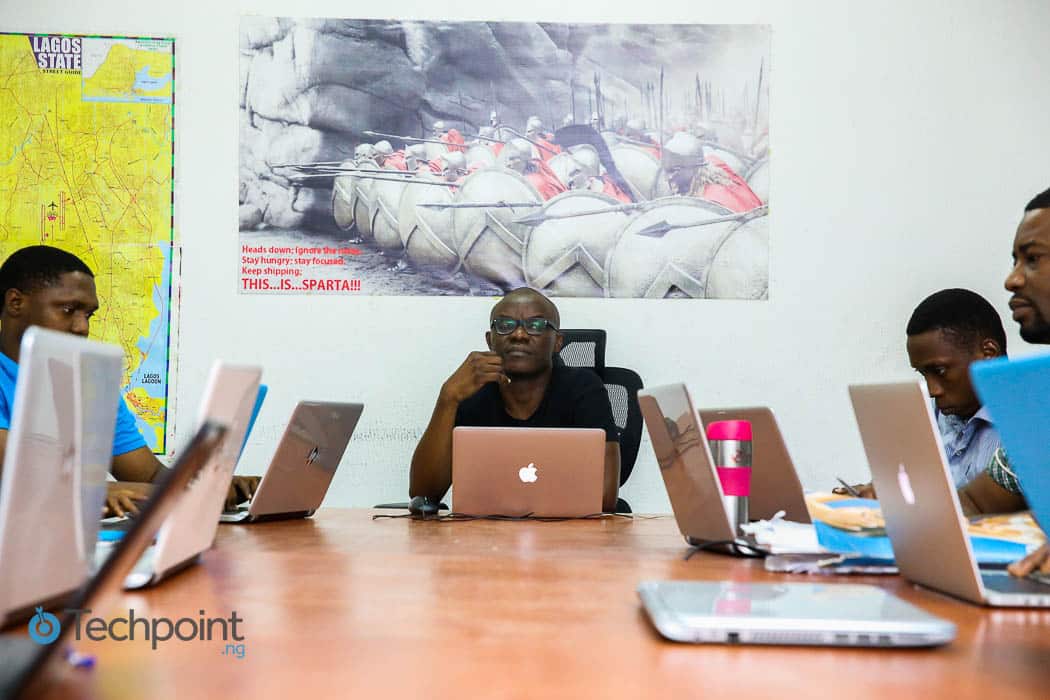 I personally wouldn't encourage anyone to enter the eCommerce space now. Rather, give it about 4 years when the big players would have scaled, growth rate would have peaked and you would better understand their shortcomings.
Don't get me wrong, I'm not saying anyone shouldn't venture into eCommerce. My point is that strategically speaking, now is the wrong time to start. You've missed that wave, but a second wave is coming.
The best way to position yourself for that is to work for an existing foundation eCommerce company, but not at the scale of Konga and Jumia, because you may never get a real sense of the challenges there. The idea  is to get first hand insight into how the system works and how the market is evolving.
MM: What advice would you give budding entrepreneurs in general?
DO: You need to be prepared. Long before Gloo, I had a bunch of business that failed. But you learn from experiences like that. Working in an existing venture, especially in Nigeria where there is no robust ecosystem like in Silicon Valley, is the best opportunity you have to absorb what entrepreneurship really is. Even better if you could be one of the foundation staff so you can see things first hand.
That's best advice I can give. Work as a foundation staff in an existing venture. Forget all the hype about incubators and accelerators. Nigeria doesn't work like that.
MM: What's your long term vision for Gloo?
DO: Take a look at Nigeria now in terms of retail development, particularly the supermarket space, in comparison to the US. In the US. They have 80% market share for formal modern retail. That includes  brick and mortar stores like Walmart, Target and then eCommerce. eCommerce has only about 5% of the entire market.
In the UK it's the same. In South Africa it's 60%. In Kenya it's  30% for formal modern retail. But when you come to Nigeria, it's just 2%. That's between two primary entities — Park 'n' Shop and Shoprite.
What that shows you is that people still prefer to go to their neighbourhood small store. I remember about 2 months ago, I went on my customary competitive scan at one of the huge retail outlets. I bought ₦8000 worth of products but it took me 2 hours 30 minutes to checkout. On a Sunday afternoon. About 1 hour 45 mins of that was spent on the queue itself. But why do people keep going there? Because of the selection that they have.
These guys don't deliberately want to keep people that long. The challenge that they have is they're constrained by brick and mortar. They need to open more stores but, in Nigeria, real estate is very expensive. Because Nigeria wasn't developed with the plan of having big supermarkets like abroad, even if finance was not an issue, getting the suitable location in the first place is a big challenge. Developing it is another challenge. Shoprite for example has been in Nigeria for about 11 years but they have built only 9 stores across the nation. Park 'n' Shop has been here 25 years. It took both of them a combined 25 years to get to 2% marketshare.
We've been around just two and a half years, yet we've covered the whole of Lagos. We're going to Abuja next quarter - the demand is still there. There is a huge gap between what the brick and mortar can scale to and take on that demand and what eCommerce can do. And that's what we see.
Our vision is very clear — to become Nigeria's biggest supermarket. Don't mix it up. We are already Nigeria's biggest online supermarket. The race we are running is to be as big as Shoprite and Park n Shop. Shoprite had $400 million revenue in Nigeria last financial year. That's 4% of their $10 billion group revenue.
To be Nigeria's biggest supermarket, all it takes is to be a Nigerian brand. We are not saying we want to be bigger than Shoprite. But we will be Nigeria's biggest supermarket,  the same way Globacom is Nigeria's biggest telecoms company. It's a Nigerian brand started by Nigerians. That's what Gloo.ng is. That's the vision