Since 2021 Adaverse has been establishing a steady market presence in both Africa and Asia, connecting the two regions with a view of contributing to the wider global Web3 ecosystem. Driven by an aim to promote Cardano integration, Adaverse has developed an extensive repertoire of support in funding, strategy and technical infrastructure for blockchain entrepreneurs at all stages of development.
Adaverse: Cardano's official accelerator for Africa
As a key part of Cardano's global strategy, Adaverse is able to call on the business and technical resources from EMURGO, Cardano's commercial wing, and IOG, Cardano's developmental firm. This gives the company unprecedented access to the Cardano ecosystem, benefiting both portfolio companies and investment partners alike.
Beyond Cardano, Adaverse benefits from a number of external resources and expertise through its structure as a joint venture between EMURGO and Everest Ventures Group (EVG), a pan-Asian tech builder. This allows Adaverse to expand into other markets and synthesise Asian expertise with the innovative development of Web3 in Africa.
With respect to investment, Adaverse seeks startups between Seed and Series A with an MVP and, ideally, revenue. Ticket sizes typically range between $100k and $300k, though there is flexibility depending on the requirements and trajectory of a company.
Alongside funding, Adaverse is able to call on its aforementioned technical, strategic and operational expertise to accelerate companies through project development, tokenomic design, roadmap creation, legal advisory and community and marketing development. This creates a holistic developmental program for earlier-stage startups, establishing their best foundation within the Cardano ecosystem with clear scope for growth.
In Asia specifically, Adaverse has adapted to the more developed Web3 sector and offered support to infrastructure projects including Layer2 protocols, DeFi companies, NFT platforms and DAO structures. Adaverse's extensive network allows quick and relevant access to Cardano's wider ecosystem with an emphasis on liquidity support.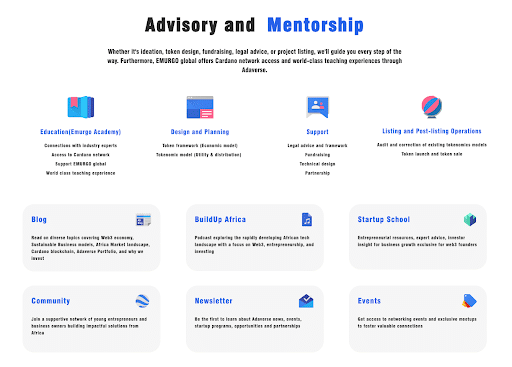 Hence, Adaverse is not simply an investor or accelerator. It is instead a full suite of support for early-stage companies, connecting them with a variety of ecosystem partners for a total growth package.
2022 in review: Cardano as a bridge from Africa to Asia
Over the past year, Adaverse has invested in and accelerated over 35 companies across a variety of sectors: Web3, exchanges, NFTs, gamefi, DeFi, and proptech to name but a few. These companies are spread across 10 countries, representing unprecedented market penetration across Africa and Asia.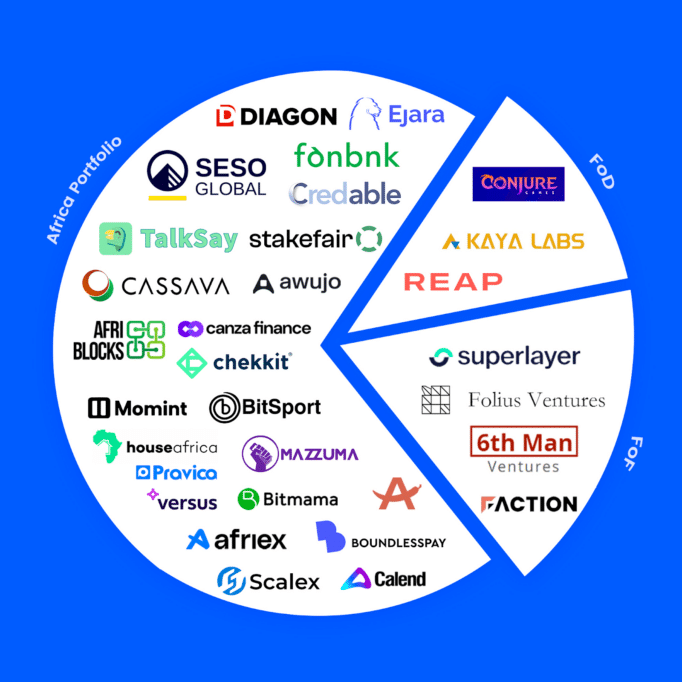 In Africa, there's been a real focus on companies adding tangible real-world value to obvious consumer pain points. This is represented by companies such as Afriex, Seso Global, Ejara, Canza Finance and Cassava Network.
Afriex: a stablecoin-based payment platform that provides multi-currency support for the African remittance market;
Seso Global: a blockchain-based secure real estate management, documentation, and transaction platform for the African real estate market;
Ejara: an investment platform designed specifically for French-speaking Africans. It has integrated cryptocurrency, tokenized stocks and bonds, and equities;
Canza: an emerging market bank that provides financing channels for small and medium-sized enterprises through local currency markets in Africa;
Cassava: a Web3 infrastructure headquartered in Africa, whose product services include token reward networks, digital identity systems, user-controlled data configuration files, and encrypted currency and NFT wallets designed specifically to empower content creators;
As a more developed market, Asia allows Adaverse to explore more infrastructural startups with an emphasis on service provision such as Kaya Labs, Conjure Games and REAP.
Kaya Labs: A "Web3 as a service" infrastructure service provider that aims to make Web3 data accessible and interpretable, with its enterprise-class API providing simple, parameterized blockchain real-time data access services for developers to business decision makers;
Conjure Games: a Web3 game studio founded by Tim Fields– a legendary figure in the gaming industry and former CEO of Kabam. YGG is its advisor and early investor;
REAP: a payment technology company that provides one-stop enterprise financial management solutions for Web2 and Web3 companies;
This year, Adaverse continued in the spirit of being a 'total package' for early-stage companies. The Program Hub was released for portfolio companies seeking to access both internal and external accelerator resources on demand.
More widely, Adaverse has also featured all of its portfolio companies on its in-house podcast series: 'BuildUp Africa'. Featuring some of the brightest minds in the African Web3 space, companies are given the opportunity to pitch their products, explore their journeys and discuss the benefits of Cardano for their respective solutions.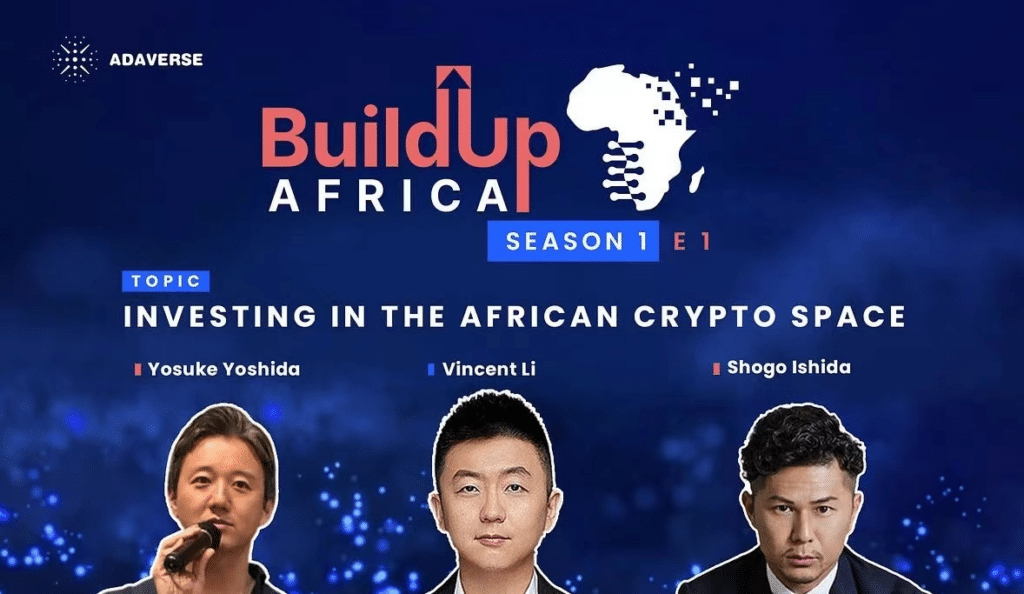 Why Africa?
Where are the billions of incremental users of cryptocurrency?
They are in developing countries lacking financial tools, such as Africa, Asia, and Latin America. They represent both a challenge and an opportunity.
It is for this reason that Adaverse, which started in 2021, chose to develop itself in Africa. While bringing the convenience of the Cardano ecosystem and blockchain system to this fertile land, it also shared growth dividends from the fast development in the African continent in 2022. That is, it has helped the Cardano ecosystem gradually take root in the African continent, and has also attracted a sufficient number of seed users. This has laid a solid foundation for Cardano and blockchain technology to continue to seize opportunities in Africa.
In addition, Adaverse also devotes itself to connecting the African market with other global markets such as Asia and the United States. Up till now, it has formulated Asian investment themes and trading channels. This not only helps Asian companies penetrate the African market, but also brings high-quality African start-ups to the world, allowing global users and investors to share in the growth dividends of the African continent.
As a result, Adaverse has offices and teams around the world, including Nigeria, Dubai, Singapore, Hong Kong, Shanghai, and London. Adaverse's international partnership network provides perfect conditions for finding top projects and cultivating potential teams. In other words, the international partner network streamlines deal sourcing of top-tier projects and offer marketing and PR support on an international level.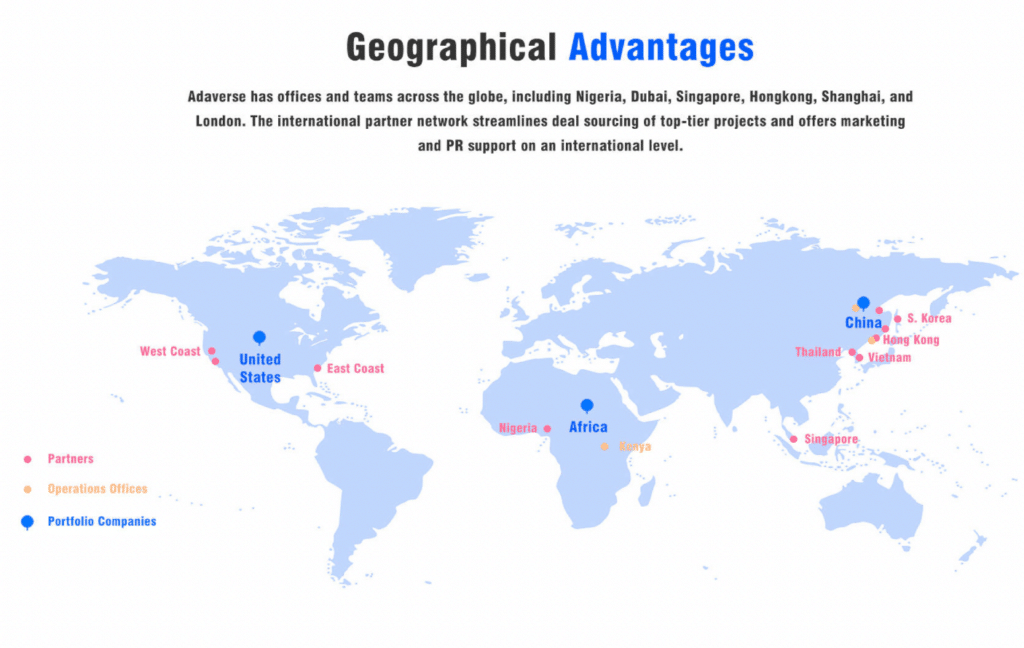 Adaverse's outlook to 2023
Overall, Adaverse has made significant progress in recent years by integrating official resources from EMURGO and Cardano:
Not only has it strengthened its team and investment portfolio, but it has also established strong Adaverse and Cardano brand recognition in Africa and Asia;
It has also expanded its business scope worldwide, participated as early as possible in potential Cardano ecosystem projects and thereby achieved high returns.
"Cardano" and "Africa and Asia" are interdependent and achieve mutual success through each other. The combination of them will continue to be the main investment theme for Adaverse in 2023.
In addition to Africa, markets in Southeast Asia, such as Vietnam and Thailand, are also emerging as promising and untapped territories where Adaverse will explore more deeply in 2023.
Compared to the well-funded European and American regions, most grassroots startups in Southeast Asia and other regions struggle with insufficient development funds. This is a challenge that Adaverse cannot avoid in promoting Cardano ecosystem prosperity, but also an opportunity for Adaverse in promoting Web 3.0.
Moreover, despite the new narratives about new public chains, Cardano in 2022 delivered outstanding performance in the crypto market and while at the same time, steadily completed its turn towards the era of smart contracts.
Against this backdrop, Cardano in 2023 will likely become a new source of innovation and profitability with smart contracts as a new growth driver. In this context, Adaverse– the connector of "project parties" and "funds," will inevitably become an increasingly important "linchpin" in the Cardano ecosystem.
At present, various types of on-chain DApp matrixes are gradually improving as evidenced by the continuous growth of DEX and stablecoin. The construction of Web3 infrastructure for remittance payment and freelance market, etc., is also gaining momentum. Both sectors are waiting to be ignited both technologically and sentimentally.
Therefore, it is Adaverse's vision to help excellent startups in Africa, Southeast Asia, and other regions share the development dividends of the continuously prosperous Cardano ecosystem. It is also Adaverse's differentiated advantage compared to other traditional investment institutions.
Conclusion
Mighty oaks from little acorns grow. In 2023, both the Cardano ecosystem and regions such as Africa and Southeast Asia were hotbeds of considerable growth potential.
Against this backdrop, Adaverse is anticipated to be more active and invest more than the $6 million scale in 2022. While setting its foot in Africa and Asia, it will expand the depth of the Cardano ecosystem. Let's wait and see if it can reap investment returns several times higher than those in 2022 and exceed $10 million in total!
Long Asia and Africa, Long Cardano!
About Adaverse