This October, PAQ SESSION, one of Africa's most anticipated thought leadership and innovation summits kicks off in Port Harcourt on the 27th with a collective of speakers drawn from Lagos and Port Harcourt.
The summit has been hosted in three cities in 2016 with a mini session hosted earlier this year to unveil its theme and focus for 2017.
Speaking on this, the convener and chief futurist, Philip Asuquotes said; " PAQ SESSION started out last year and the reviews it got from attendees and the audience made us realize we had to up the ante with every edition we host. This year, we are kicking it off in Port Harcourt and we have added some new features to it.
"One of this is the Exhibition/Sales space for startups and companies that would want to exhibit their services and product to create awareness and make sales to our attendees. This year's edition also has a special showcase segment that will have us give the podium to 5 startups in the Niger Delta to tell the audience about their platforms, challenges, opportunities, etc."
With a crop of speakers that spans across the tech space and thought leadership sphere, the summit will hold at :
The Grace Place, Evo Road, GRA, Port Harcourt (opposite pepperoni). It begins at 9am prompt and is open to everyone to attend free of charge.
Some of the speakers include;
John Obidi (Founder, SmartBCamp), Adewale Yusuf ( Founder, Techpoint), Emeka Nobis (Thought Leader), Chris Roberts (CEO, KayJay Energy), Uki Asemota ( SA Research and Digital Media to the Deputy Governor of Rivers State), Reigner Davies (Founder, Mould Break) and the converner, Mr. Philip Asuquotes.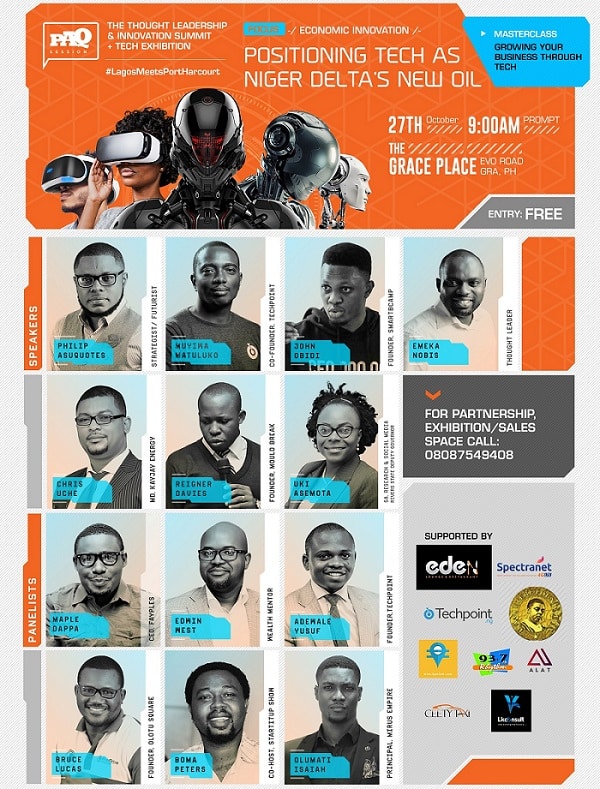 The panelists include;
Boma Peters (Co-host, StartitUp Show on Rhythm FM), Bruce Lucas (Founder, Olotu Square), Mapple Dappa (CEO, Fayples), Edwin West(Wealth Mentor) and Isaiah Olumati (Principal, Mirus Empire).
PAQ is an acronym for Pan African Quintessential. It runs as a network of exceptional African thought leaders and innovators. Its summits have been known to spark up conversations that ignite the mental alacrity of attendees and support innovative Africans in cities it is hosted.
Follow PAQ SESSION on twitter via @PaqSession
Like their Facebook page via here
This program is supported with logistics by Eden Lounge, Techpoint, Ceety Taxi, Spectranet, Isaac Utere Foundation, Rhythm FM, LK Consults, Alat.
To reserve your seat free, text PAQ SESSION 2017 to 07063607101. To partner or showcase your product or business at our exhibition or sales stand, call 08087549408