New tokens and projects are constantly being introduced, keeping the cryptocurrency market dynamic. Among the many options prevailing, a few seem to be compelling for the coming year. Big Eyes Coin is about to change everything, which is why it is quickly becoming a dominant force in the meme cryptocurrency market.
Let's examine why Big Eyes (BIG), Fight Out (FGHT), and RobotEra (TARO) are the tokens with growth potential in the forthcoming year.
RobotEra: A P2E Metaverse Initiative
RobotEra is a brand-new metaverse adventure with a robot and sci-fi theme. (TARO) is the official token for RobotEra that aims to power a decentralised platform enabling users to create, share, and raise profits from their robot designs. It seeks to combine several impactful Web3 principles to produce a gaming project similar to a sandbox where users can gain knowledge while earning money.
RobotEra incorporates NFT assets into the gameplay to give all players of the game a true blockchain-building experience, and they can use and trade both inside and outside the game's ecosystem. These NFTs are symbolised as companions, robot characters, and land. The robot industry is expected to grow exponentially in the upcoming years, so (TARO) has significant prospects for investors.
Big Eyes: Can They Produce Crypto Millionaires?
With its record-breaking presale numbers, Big Eyes has revealed its one-of-a-kind loot box as a way to reward token holders and make them the next crypto millionaire. The cat-themed meme coin has since raised $31 million and is currently in stage 12 of its presale.
The loot boxes from Big Eyes Coin are the ideal means of satisfying anyone's need for cryptocurrency and offer incredible returns. This initiative has an impressive list that you will never miss out on opening loot boxes! The Excali-Paw Master Chest is a brand-new loot box tier level that Big Eyes Coin introduced last week. The rewards for this loot box, which costs $9,999 to purchase, ranging from $10,000 to $1,000,000! This is a once-in-a-lifetime opportunity to profit from the high value of BIG tokens at the time of launch. This loot box delivers a rare opportunity for new community members to take part in the meme coins presale while earning a sizable profit along the way.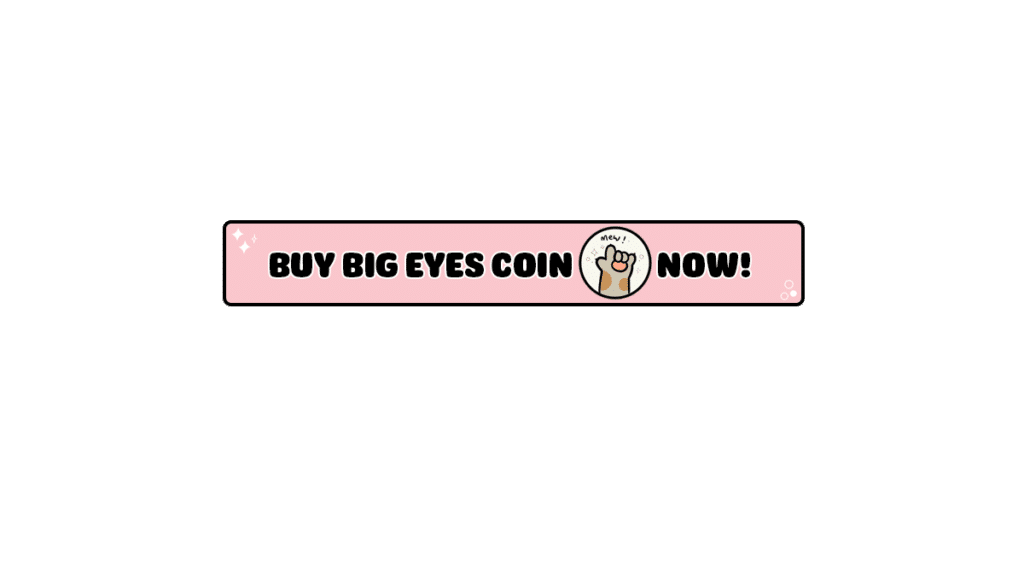 Fight Out: Intriguing Fitness Token
Fitness app and health club chain Fight Out (FGHT) gamifies the fitness lifestyle. Incentives such as rewards, badges, and community expansion are provided to users who complete workouts and challenges through Fight Out. This altcoin, which gained attention during a 2023 presale, helped to build investor confidence and promote healthy habits among its community members. Users can compete in the metaverse, gain knowledge from seasoned fighters and athletes, and acquire rewards and badges by completing fitness-related tasks. Fight Out, heading toward Web 3.0, will give users access to original content, a metaverse experience, and actual events. They intend to acquire real gym spots. It's encouraging that the presale for Fight Out has surpassed the $5 million mark. There is limited time to hop on your neighbourhood metaverse gym.
BIG Will Remain Big
This is a great time to purchase some of your favourite cryptocurrencies as the crypto market bounces back from its collapse in 2022. While unimpeachable Web 3.0 major players like RobotEra (TORA) and Fight Out (FIGHT) will continue to exist, it's still a fortunate decision to broaden your assets with meme coins like Big Eyes Coin!
Read More About Big Eyes:
Presale: https://buy.bigeyes.space/
Website: https://bigeyes.space/
Telegram: https://t.me/BIGEYESOFFICIAL