Venture capital activity in the global Web3, crypto, and blockchain space last year was massive. While interest in the space has increased steadily since 2012, 2021 holds the record for biggest investments to date.
According to a Galaxy Digital Report, VCs invested more in crypto startups in 2021 than in the last seven years combined. Investments were estimated to be $33 billion, 67% of which were in rounds larger than $100 million.
The largest portion of the funding — 41.83% — went to crypto startups offering trading, investing, and exchange services. Web3, NFT, and metaverse-related startups were a distant second with 17% of the funding.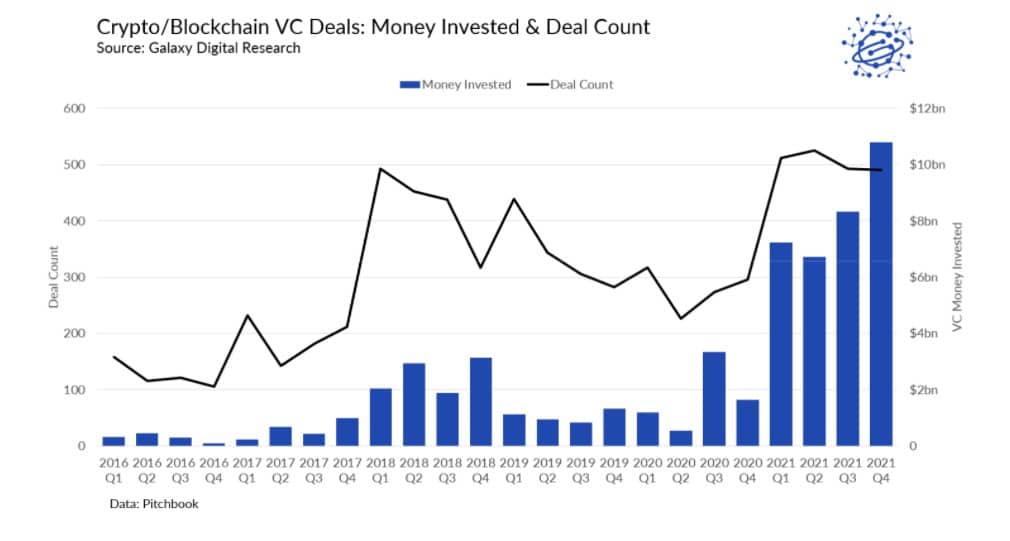 This year could be a big year for Web3 startups, especially in Africa, with the announcement of Nestcoin's $6.45 million pre-seed round. The startup, focused on creating and investing in Web3 and crypto-focused products, announced the raise today, February 1, 2022. 
Pan African venture capital firm 4DX Ventures backed the funding round with participation from Serena Ventures, launched by world-renowned American athlete, Serena Williams, among other investors. 
There was also an array of crypto and blockchain-focused VCs such as New York-headquartered CoinFund, which has investments in the popular NFT marketplace, Rarible, and Polkadot, one of the biggest blockchain networks. Blockchain and cryptographic asset fund, gumi Cryptos Capital, also invested in Nestcoin's pre-seed.
This pre-seed funding comes three months after Nestcoin's official launch in November 2021. The investment will be used to accelerate its mission of driving adoption and helping Africans create wealth through crypto.
Founded by Yele Bademosi (CEO) and Taiwo Orilogbon (CTO), Nestcoin is the duo's latest venture after they exited crypto and cash payments startup, Bundle Africa, in July 2021.
Bademosi wrote in a blog post that he was taking a step back to "explore other areas that need more support in the African crypto community beyond traditional buy-and-sell currency trading."
Bademosi told Techpoint Africa that the idea for Nestcoin had been brewing as far back as 2017, even before the launch of Bundle. He had always been fascinated by blockchain and wanted more Africans to understand the tech and the several ways they could benefit from it.
Breach and Metaverse Magna record growth
Nestcoin launched Breach — its first product — in November 2021. Breach is a media platform focusing on simplifying crypto and blockchain concepts for a global audience. According to Bademosi, almost 6,000 people have subscribed to Breach's newsletter since November.
The launch of Breach was followed by Metaverse Magna (MVM), a platform that provides anyone with the right skill set to make money with play-to-earn games on the metaverse.
It provides assets for Axie Infinity, one of the most popular metaverse gaming platforms. Players on the platform can earn over $1,000 monthly. However, the assets required to play on the platform are expensive.
MVM provides these assets for free while a percentage of the players' earnings is deducted. It currently has 400 active players and a community of almost 10,000 people.
In the time Nestcoin has been operational, it has been fulfilling its mission to improve lives with crypto and Web3.
Bedemosi told Techpoint Africa that apart from the growing number of users and participants, an "important measure of the impact of Breach and MVM is the comments we get from our community every day. People tell us all the time that they wish they'd encountered our products earlier in their crypto journey."
The argument about Web3
While Nestcoin plans to improve lives with Web3, some people like Elon Musk, Tesla CEO, believe the idea of a third-generation Internet is just another marketing buzzword that helps VCs make money.
Web3, which means the third generation of the Internet, promises a decentralised system of ownership on the Internet. Instead of big corporations like Meta and Google owning a large percentage of data (and money), ownership will be shared with everyone on Web3. However, Jack Dorsey, ex-Twitter CEO, and Musk believe it's just a concept created by VCs to own more of the Internet.
VCs such as Andreessen Horowitz (a16z) have invested up to $3 billion in the space, including NFT marketplace OpenSea, where inside trading activities by some executives were uncovered last year. 
Bademosi, however, maintains that Web3 has the potential to create a more equitable world.
"We believe that Web3 technology will create access to more economic opportunities for people in frontier markets."
He added that the challenge Nestcoin has faced so far with Web3 is deciding which opportunities to explore as there are so many within the space. Aside from creating Breach and MVM, Nestcoin has also invested in crypto payments startups, Lazerpay, and, recently, AltSchool. 
"We've done all these in such a short time. Imagine how much more we'll do in the coming months and years," Bademosi says.
Decentralised finance (DeFi) and a digital art platform could be the next products for Nestcoin. But Bademosi hints that crypto-native solutions in the payments and social spaces are in the works while they improve on current products.