On September 22, Nigeria tech Twitter was in a frenzy over the launch of a new fintech application: Abeg.
With a logo bearing the letter 'a', a dollar mark across it, and a purple background, Abeg signalled its arrival in style. Its aim? "To make someone happy with cash."
In West Africa, and mostly in Nigeria, the term "Abeg" is used to say please or to plead for something, which makes Abeg's value proposition simple.
Bearing a striking resemblance to US-based mobile payment service, Cash App, Abeg is a fintech platform leveraging on user's tags to request and send money.
Using tags instead of the traditional bank accounts as its first choice to send and receive money is one of the platform's ways of providing a fun experience for its users.
"Send me your account number" is the new ghetto (peasant behavior)

Send me your #abegtag jare 😌

— sensehey ⚡️ (@dare___a) September 25, 2020
Similarly, users can send money to people on their contact list using their phone numbers or via payment links after they fund their digital wallets.
But what led the team behind Abeg, with almost zero-marketing efforts, to create something that has, so far, caught on with a lot of Nigerian millennials?
Abeg: Making peer-to-peer mobile payment seamless
"Do you remember how many buttons you have to click to make a payment via a bank app? We want to remove those obstacles and allow you to send money in just three clicks. That's our promise," Dare Adekoya, Co-founder and CEO of Abeg tells Techpoint Africa.
According to him, fintech platforms before Abeg haven't figured out the best experience for peer-to-peer (P2P) mobile payment in Nigeria. Seeking a solution to this problem, Adekoya, his Co-founder -- Akanni Muheez -- and their team set out to build Abeg with special attention to user experience.
Before founding Abeg Technologies, the company behind the Abeg product, Adekoya worked at Sterling Bank where he designed web and mobile experiences, while Muheez worked as a mobile and web developer at Prospa, a fintech platform in Lagos.
Carrying out these respective roles at Abeg was pivotal to how well the final product turned out. Attesting to this, Adekoya says that from customer feedback, most of its users had "amazing first-time experiences," something he feels is rare with consumer fintech.
"We've seen this kind of excitement with products from the likes of Paystack but not in the consumer space."
The platform's onboarding process is quite straightforward. When signing in, a user provides some information: full name, email address, a phone number for OTP verification, and a bank verification number (BVN).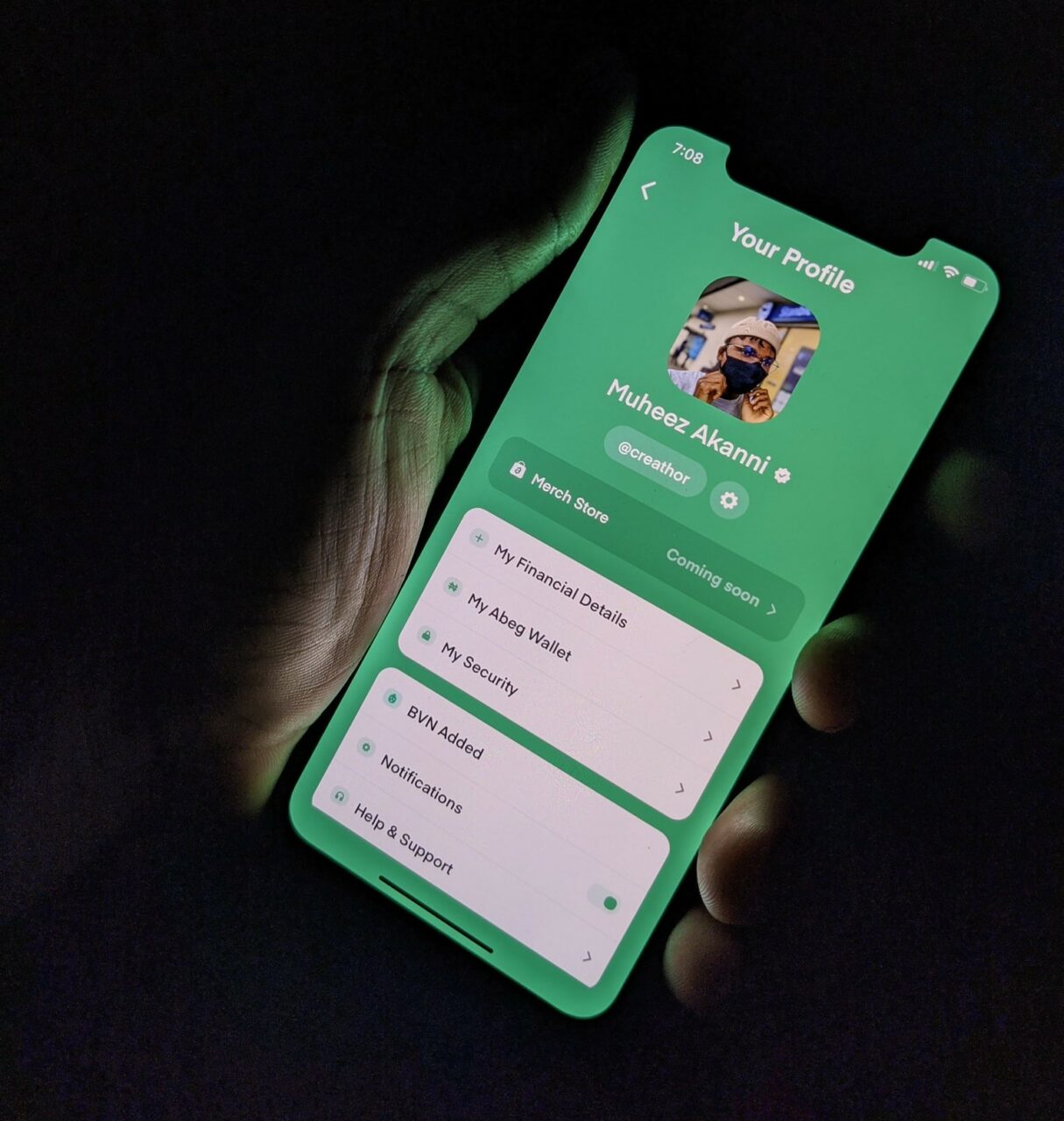 Users go on to create a tag which can be used to send or request for money, and then they are provided with a digital wallet to carry out transactions. 
However, there are other features on the Abeg app that aren't live yet. A merch store to buy Abeg items; 'Ajo', a collective savings feature; and a fundraising platform where users can donate to a cause.
Using a niche market to scale
Besides building a good product, another key thing to note is that being tech influencers on Twitter in their own rights, the team has been able to ride on a sense of camaraderie among the Nigerian tech community for its marketing and promotion.
"I'll say Twitter's tech community actually helped a lot in promoting just like most startups emerge through the help of close friends and connections built in their sector or community."
This is evident in the numbers Abeg has pulled off so far. Launching just a week ago, Adekoya says Abeg has over 5,000 users who have performed P2P transactions in their thousands with wallet funding running into millions of naira.
But the startup isn't resting. For the CEO, this is just the beginning as the goal is to get the product into the hands of everyday users and other communities.
One way to do that is via giveaways.
A social media trend, people have used giveaways to exchange money and gadgets, among others, for more followers or likes.
The concept thrives among the tech community on Nigeria Twitter as people encourage each other to "do giveaway". It has become a norm and Adekoya believes this is Abeg's "beachhead market" specifically because of the name of its product.
With giveaways not ending anytime soon, at least not in Nigeria, Abeg has the perfect opportunity to scale to other giveaway markets across the country.
"We believe it's the right hook to get the first set of users and early adopters onto the platform."
While Abeg might be thinking of scaling into other segments, and outside Nigeria in the coming months, it'll have to double down its efforts to ensure that customers are happy.
According to the CEO, it wasn't all rosy when the platform went live as they had to deal with unexpected traffic and unforeseen technical issues.
"Our mailing service went down because we hit limits that we weren't aware were there. We also had to switch between multiple SMS providers and deal with bugs in production."
If these issues are sorted out, Abeg can look forward to scaling. But if the plan is to become the Cash App for Africa, it'll need to provide more services like its counterpart in the US.
Other than making P2P mobile payments seamless, the Square product has features that allow users to invest in stocks, grow their savings with interest, as well as buy and sell bitcoin. Similarly, it provides Cash Card, a debit card to make purchases using funds in a user's Cash App account.
That being said, the startup knows what needs to be done, and according to Adekoya, Abeg is going at it full tilt. 
"We think of Abeg as a platform where a lot of interesting things can happen and one of them just happens to be giveaways. In the coming months, we will be announcing other interesting features that will definitely grow the platform," he says.
https://zp-pdl.com
http://www.otc-certified-store.com/gastrointestinal-tract-medicine-usa.html
https://zp-pdl.com
http://www.otc-certified-store.com/skin-care-medicine-usa.html
https://zp-pdl.com/online-payday-loans-cash-advances.php
займ миллион рублей
займ без процентов на карту мгновенно круглосуточно без отказа
займ на чужую карту