While the internet continues to play a major role in our everyday lives, particularly in the areas of banking, commerce and media, it's easy to forget that the billions of data being processed everyday is not stored "somewhere in the clouds", but in actual, physical Data Centres all over the world.
One of such is MDX-i, the first Tier III Data Centre in West Africa, which was launched in January 2015 by MainOne. Located somewhere in Lekki, Lagos, MDX-i is expectedly shrouded in secrecy, as is typical of Data Centres the world over. However, its doors were recently opened to Techpoint for a very controlled tour and photo session.
MDX-i is a 3500 square-metre co-location facility targeted primarily at enterprise customers. You can think of it as a safe haven for enterprise customers to keep their digital infrastructure safe. MDX-I provides the space, the enabling environment and security so the customers do not have to go through the headache of daily maintenance.
Our tour starts out with 2nd-level security at the entrance to MDX-i. We were not allowed to take photos from the outside of the building
The above is just the second in 3 layers of human security you have to contend with at MDX-i.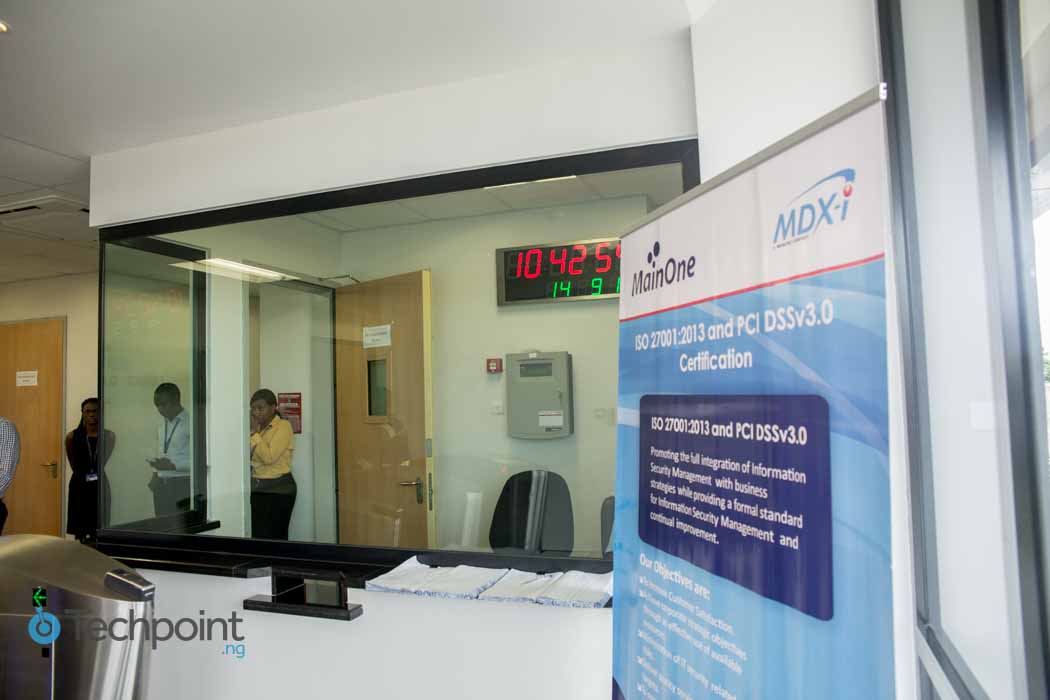 Let's move on shall we?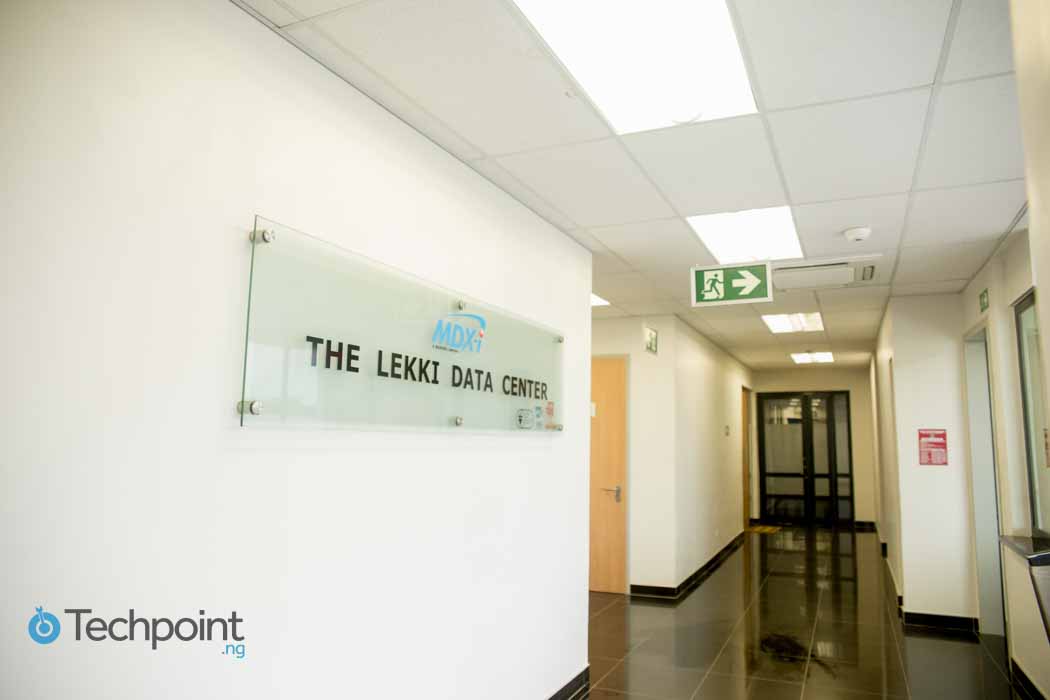 Inside, we are first introduced to the 'NOC' - 'Network Operation Centre'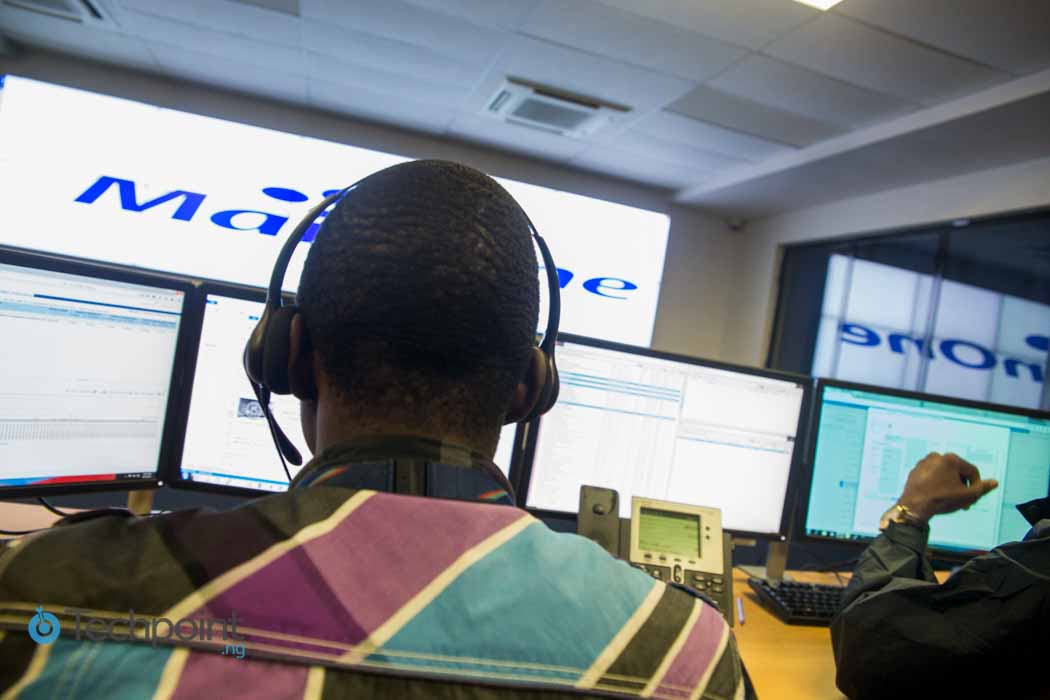 The Network Operation Centre is where all of MainOne's services are monitored, including the more renowned broadband service. All 7000 kilometres of MainOne's submarine cables, which originate from Europe end up at MDX-i in Lagos, are also monitored from the NOC.
Moving on to the server room aka "data hall"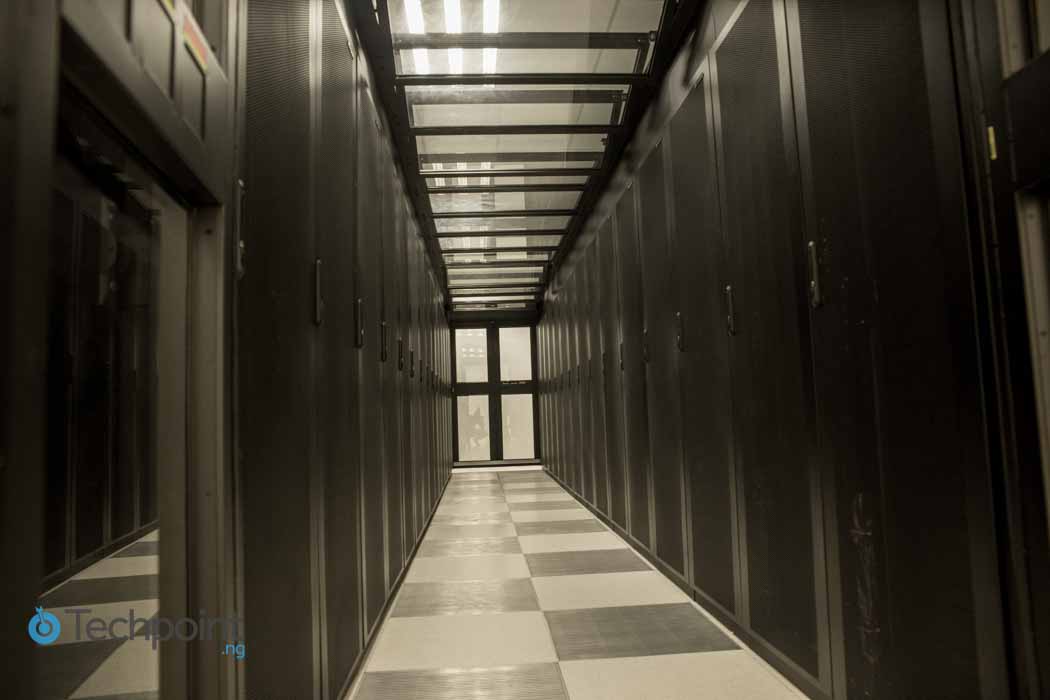 This is where all customer data is stored. Spanning at 1500 square metres, the data hall is built to house 600 server racks. The data hall is also flexible enough to fit various rack sizes. Standard rack size is 42U but it can support up to 47U. At the moment only 6% of that capacity is being utilised.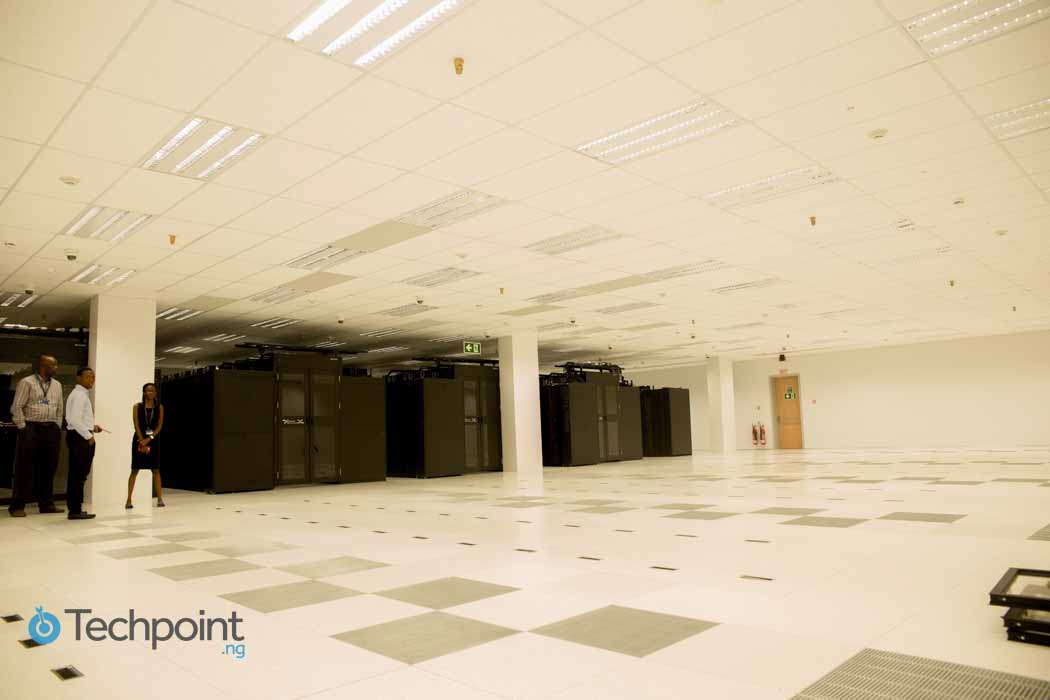 As the customer base grows, more and more of the space will be utilised. Current customers are allowed up to this point where they have access to monitor their racks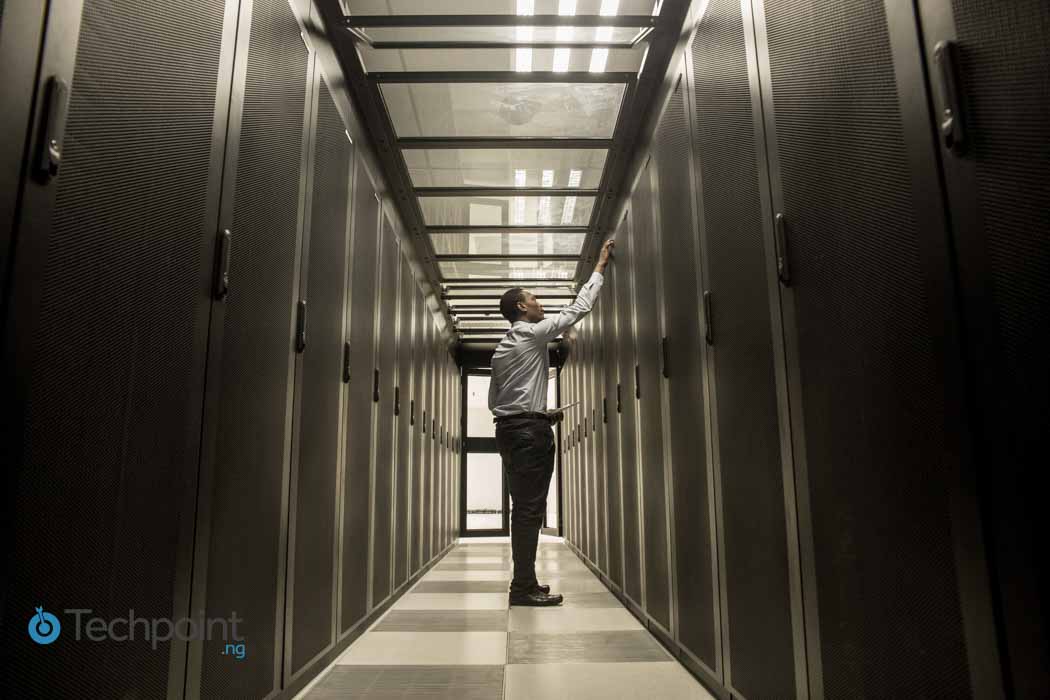 Security concerns
Of course running such a place where tons of customer data is stored is not without security concerns. On the software side of things, the MDX-i Data Centre recently secured the industry standard PCI-DSS and ISO 27001:2013 certifications. These are both globally recognised standards for information security.
However, when it comes to Information Security, the weakest link remains the human element. Which is why, as mentioned earlier, there are 3 layers of human security at MDX-i. The 3rd layer, being the most important, is never seen but is always felt. That's as much info as we are allowed to divulge.
Data safety concerns
Another major concern for MDX-i clients would be safety of data. That is the likelihood of data being lost or corrupted due to physical factors like power outages or fire. MDX-i is perfectly suited to ensure this safety by virtue of its Tier III certification.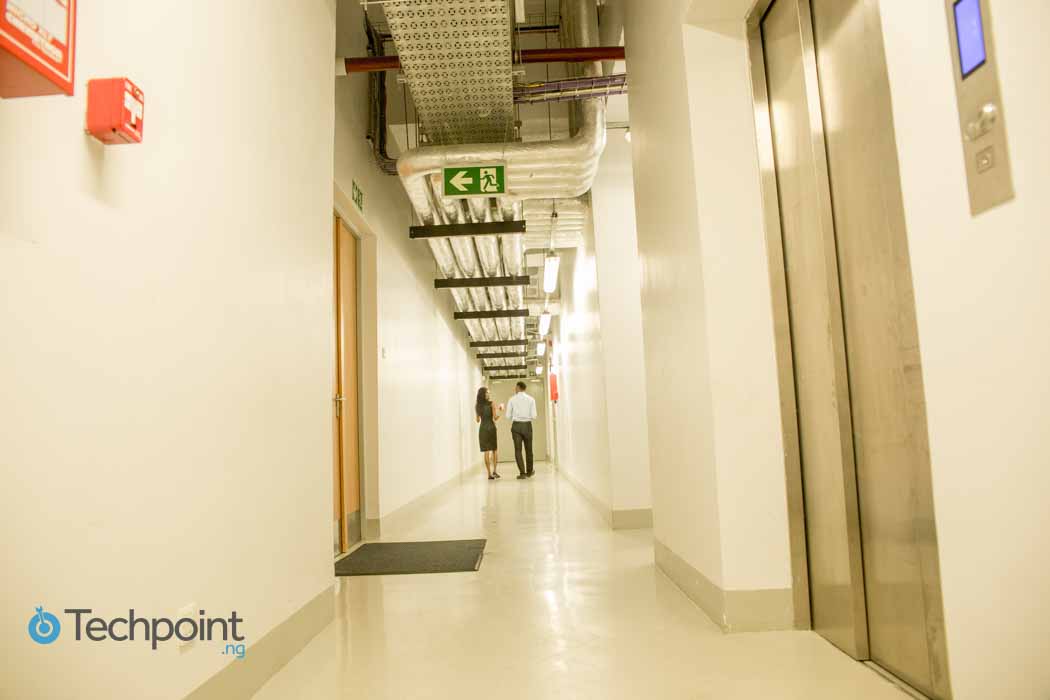 Tier III is an international standard rating used to define the level of up-time of a Data Centre, as related to data redundancy. The idea is that from the moment you start up a data centre, you cannot shut it down. The higher up the Tier levels a Data Centre is, the less outages and the more robust and less prone to failure it is expected to be.
Keeping a data centre at Tier III in a country like Nigeria plagued by power outages is no small feat. But MainOne appears to have managed to pull it off. First off, they have managed to bypass the power distribution problem by hooking up directly to the 330 substation, which hardly ever goes off.
Of course, in the rare occasion that is does go off ( only 2 occurrences this year), there are 2 backup 1750 KVA capacity generators on ground. The time between power outage and generator kick-start is a mere 44 seconds. To ensure redundancy, there also 2 transformer rooms each hooked up to 15-minute backup UPS systems. The number of generators is projected to go up to 6 by the time the data centre begins running at full capacity. For extra measure there is an on-site fuel reserve that is kept at 105,000 litres of diesel at all times
There is also in place an effective redundancy chilled water cooling system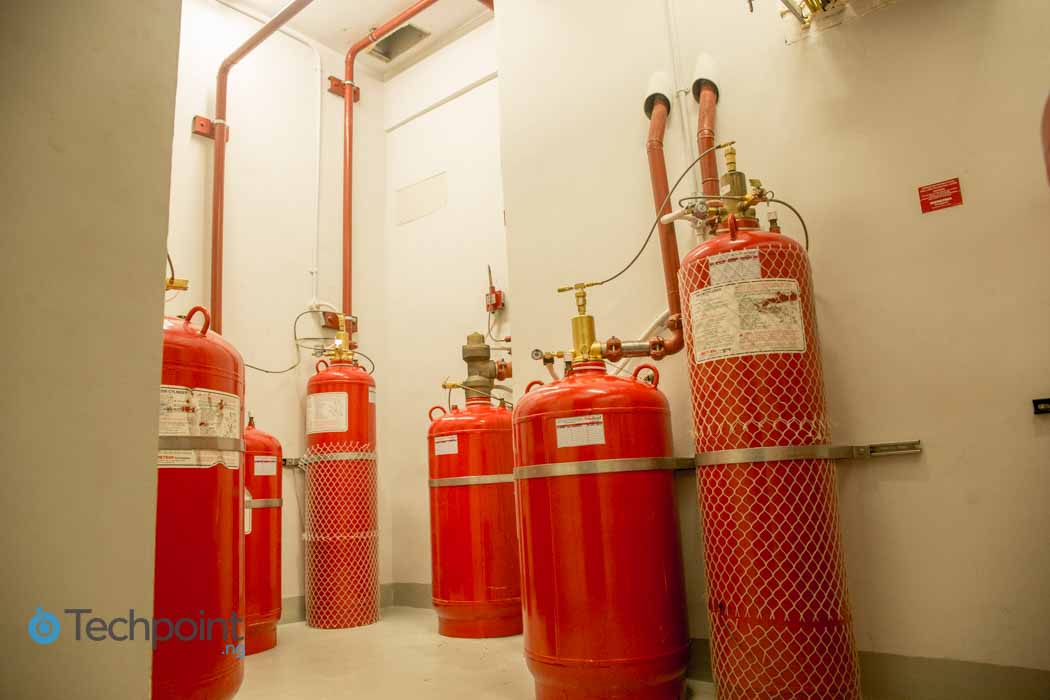 There are many other security measures in place which we unfortunately are not allowed to divulge. We can however verify that MDX-i's Tier III rating is not just on paper.
As of this publication, MDX-i caters primarily to enterprise customers, whether small or big, who require co-location and disaster recovery services. However, a partnership was recently sealed with Microsoft to provide a cloud-computing subscription service.
To find out more about the services MDX-i offers and how it might suit your business, you can visit official website