In 2016, back when few people were familiar with Nigeria's tech space, Oo Nwoye was featured in a fireside chat with Y Combinator in Nigeria. Since then, he's grown to be one of the most influential people in Nigeria's tech space.
After 7 years of acting in mostly advisory roles for startups, he's partnered now getting his hands dirty with product building, and he's chosen an important niche. He's partnered with Ozo Omosigho, to build a live election collation platform dubbed Collate Africa.
Nigeria's electoral process has witnessed highs and lows when it comes to transparency. As Nwoye points out, results are usually honest at the polling unit level, but things change on the path to national collation.
In February 2022, Nigeria's President Muhammadu Buhari signed the Electoral Amendment Bill into law, after several failed attempts and controversies. Among the law's important provisions was the electronic transmission of results directly from the polling unit to collation centres.
This, alongside the Bimodal Voter Accreditation System (BVAS), where meant to curb incidences of rigging during elections.
However, during Nigeria's Presidential elections of February 25, 2023, INEC claimed it had unexpected downtimes on its servers, to the chagrin of some Nigerians. This has led tech professionals to start thinking of solutions.
Why an Election collation platform?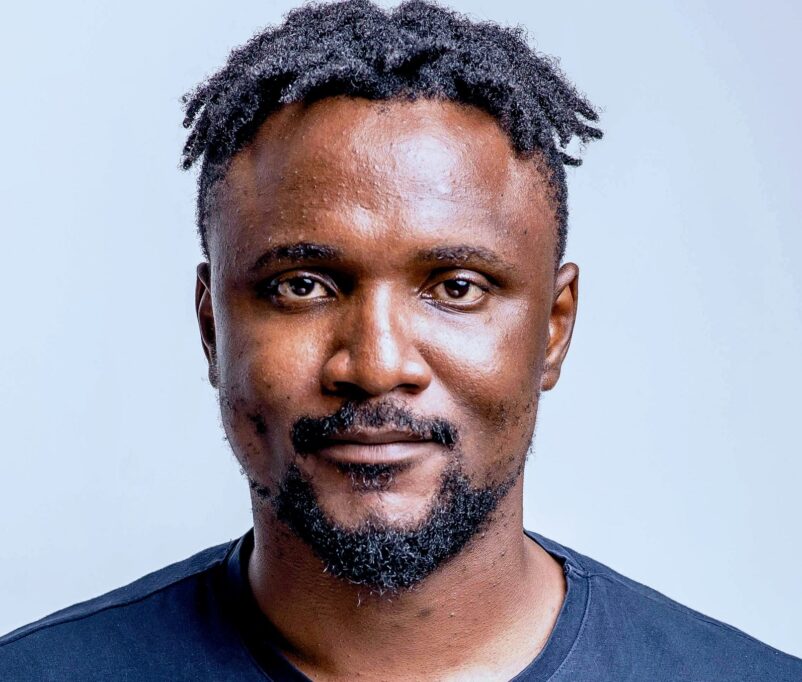 In the age of social media, a major issue for Nigeria's elections is the proliferation of diverse election results, which can be challenging to verify. The sheer amount of information online could get overwhelming and confusing.
In the weeks leading up to the election, some companies and civil rights organisations launched elections-related platforms to solve this. Stears and Civic Hive's election collation centre are among some of those platforms.
Both platforms depended on INEC's data but offered a more intuitive and easy-to-access alternative compared to INEC's own platform.
Nwoye reveals that most people had put their hope in INEC's technology, but were left disappointed. That forced him and some of his peers to start thinking of solutions to improve transparency.
"We believed in INEC's process, as they used it, and it worked in a few elections. We trusted that INEC would put the technology to good use during the Presidential elections, but to our shock, the polling units were not transmitted directly to INEC. They gave not-so-smart excuses regarding Internet servers," Nwoye says.
He maintains that when suspicions of results manipulation came in during the Presidential elections, people who were trying to dispute it didn't have enough evidence. "The few that surfaced were disorganised," he adds.
The result was Collate Africa, a platform the founders are pushing with transparency as its watchword.
What Collate Africa looks like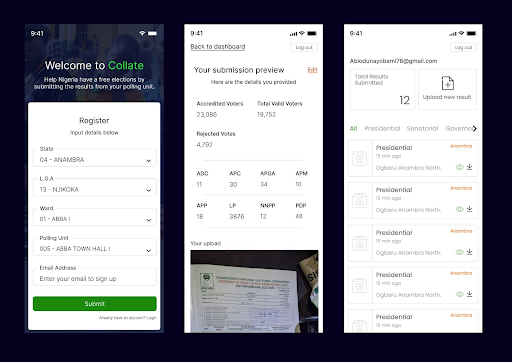 Nwoye says the plan for Collate Africa is to have robust, and centralised data of all Nigeria's polling units, in all states.
To achieve this, it would need one registered voter each from the country's 176,876 polling units to pre-register on the platform, www.collate.africa/register, before the country's gubernatorial elections on Saturday, March 18, 2023.
From what we could see on the Collate Africa platform, users will be required to enter their state, local government area, ward and polling unit. The voters can then upload the election results in real-time on election day.
Building a product after seven years
With Techcircle, he's helped various startups build their business. TechCircle's portfolio features companies like Paystack, which was acquired by Stripe. Community events like Oyamakewegroove is an end of year party for Nigerian techies.
Besides Techcircle, Nwoye has built some really exciting products alongside Opeyemi Obembe. Fonenode is a platform that enables web applications to connect with telephony infrastructure. Gbedu.fm, a music streaming service for Nigerians; Callbase for businesses to manage customer communications; and Writerack, a platform that automated Tweetstorms.
Having supported startups in advisory roles since 2016, we were understandably curious as to why Nwoye chose to get his hands dirty with an election platform. Apparently, the answer lies in the urgency of a civic engagement platform.
"I came across some people building something along that line, and I told them to add some features like pre-registration, so we know how many people to expect from different polling units. I kept following up for five days with few results. So I said wait a minute, I know how to do this. So I called some of my old friends, and we did the design and got some young devs to build it. I was tired of telling people what to do, and it was delaying momentum."
The future implications of Collate Africa
While existing solutions relied on INEC's data, Collate will be relying on the electorate to help keep the election monitoring body accountable. This, however, raises questions about how it plans to ensure the accuracy of the information uploaded.
"The platform allows multiple users from one polling unit to upload results. It's just a platform to promote transparency. So if 6 people upload from a polling unit, then 1 person uploads a manipulated result, then 4 people upload results that are the same, then you know the results from those 4 are most likely the right result."
Nwoye admits that the platform might not be able to verify the authenticity of all results, but the evidence will be there for everyone to see.
"If a party has a certain number uploaded, and a different number is announced, we might not be able to do anything. But it evidence will be there for anyone to do whatever they want with it." As this platform goes live ahead of the elections, we'd be looking forward to two things. How this platform can complement existing platforms to improve election transparency, and if Oo might be delving into the startup game fully?