At the Techpoint Awards 2021 ceremony, five individuals made the nomination list for the Tech Influencer of the Year Award. Based on votes cast by Techpoint Africa's audience, Fisayo Fosudo, an independent Nigerian YouTuber and content creator, emerged as the winner. In his heartfelt acceptance speech, he revealed the award proved that the effort he put into his work was worth it.
After 249 YouTube videos, 295,000 subscribers, and almost 18 million views, Fisayo is still building a name for himself in a niche that showed little prospects six years ago when he started.
"I was able to start making videos because I placed a bet on myself. I was a bit intentional in the beginning. I knew this was what I wanted to do in a way, and I was going to make it work by force."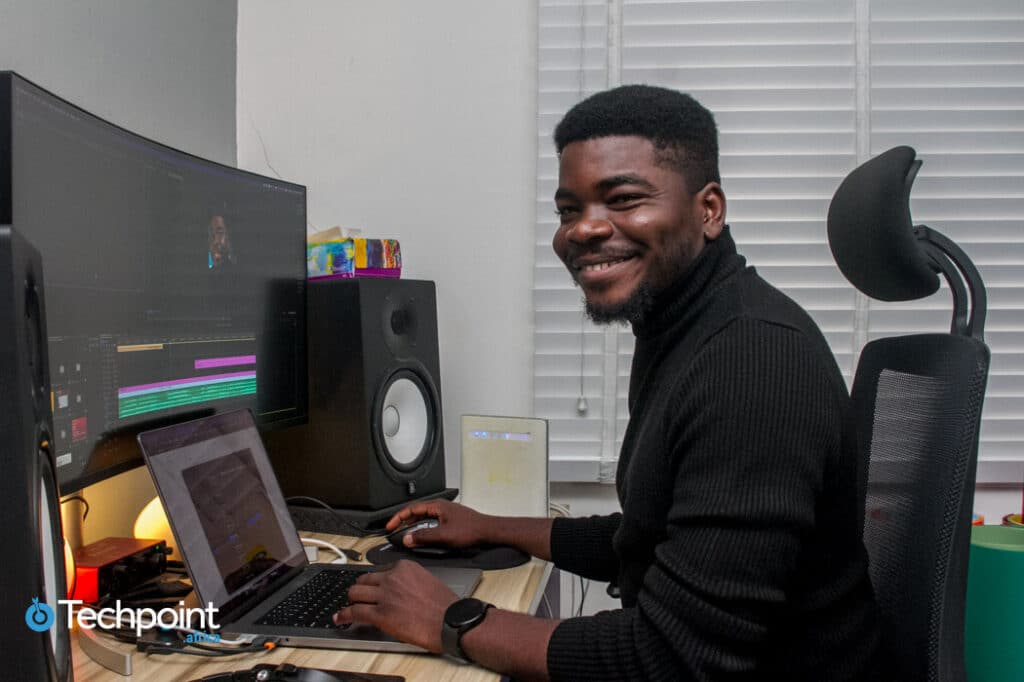 The concept of content distribution has massively evolved over the last decade, with the Google-owned video-sharing platform, YouTube, driving its growth. Recent statistics show that Nigeria has over 650 channels with a combined 100,000+ subscribers and 35 channels with over 1 million subscribers. There is also an increasing number of channels making a minimum of seven figures in revenue compared to 2021, and over 75% of watch time — from outside the country — on content produced by channels in Nigeria.
YouTube has helped Fisayo Fosudo use his skills to pursue his passion for storytelling. The Nigerian visual storyteller and YouTuber is popular for his videos about smartphones, accessories, apps, and the tech in finance; today, his brand has gained transcontinental recognition, and he is one of the 26 YouTube Black Voices Creator Class of 2022 grantees from Africa.
A beautiful tapestry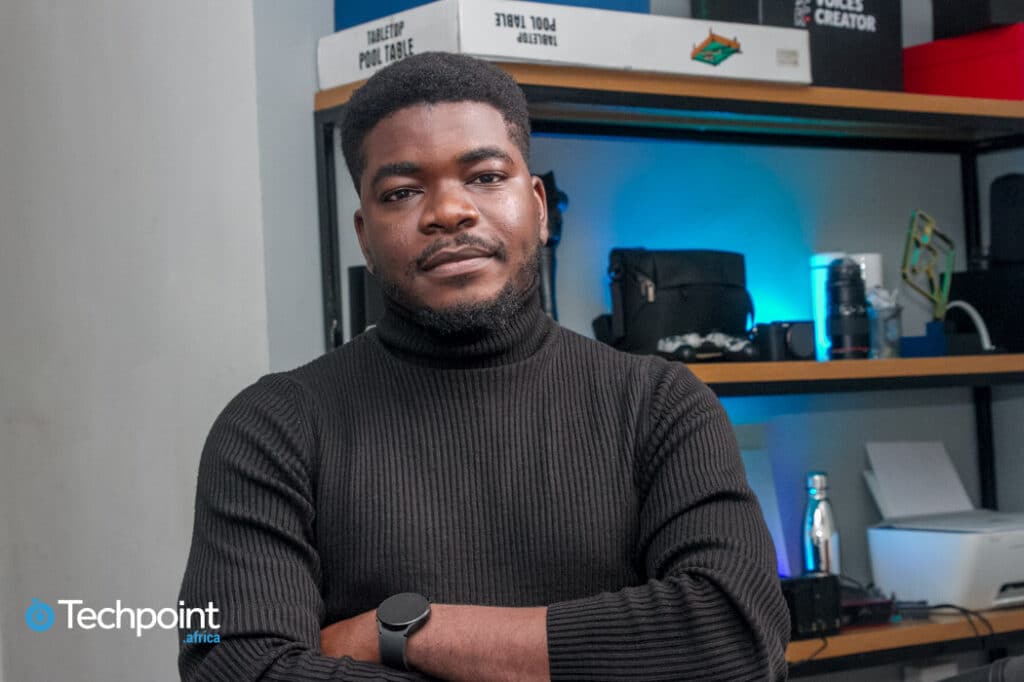 A perfect place to begin Fisayo's story is how he got the many skills he puts into his work.
From childhood, Lagos-born Fisayo was fortunate to be surrounded by supportive people whose interests aligned with his. For starters, his parents ensured that he was serious about acquiring knowledge and doing well in school. However, a close uncle was responsible for Fisayo's interest in tech and his love for books.
For as long as Fisayo remembers, he has been creative.
"I was a graphic designer. I could draw; before I entered university, I was drawing and selling comics."
Fisayo's parents killed his idea of going the art class route in secondary school as quickly as it came. And that was one decision Fisayo is still grateful he was stopped from taking because eventually winding up in the commercial class birthed his love for economics. And this explains how he ended up as an economics graduate from the University of Lagos.
As an undergraduate, Fisayo played an active role in his department, contrasting his introverted personality; he was responsible for idea development and thinking up programmes. He was the Social Director for the Nigeria Economics Student Association, a position he earned and maintained because of his ability to create content, raise funds, and design brochures.
He made conscious efforts to hone his graphic designing skills during his time as a departmental executive.
"I really loved graphic design because I had this art background. I appreciate visually creative things. I mixed my art background with graphic design and became a fairly good graphic designer. I really loved the tech behind the designs."
So, his two internship experiences, his first official job, and several paying gigs were in that field. Fisayo has always had an interest in creative companies.
Fisayo has always liked creative companies, and his two internships, his first official job, and several paying gigs were in the graphic design space.
Straight out of the university in 2015, Fisayo got his first official job as a brand developer and social media strategist at MAX.ng, one of Nigeria's earliest logistics startups. His responsibilities there led him to learn video production.
"It was the first job that gave me a role that I was able to explore a lot. I learnt so much on the job at MAX; I grew as a designer there and learnt video production on the job."
With a love for books and art, an attraction to economics, and a deliberate decision to learn video production, Fisayo was ready to begin a new phase. And in 2016, he decided it was time to take the bold step.
Fisayo Fosudo's YouTube journey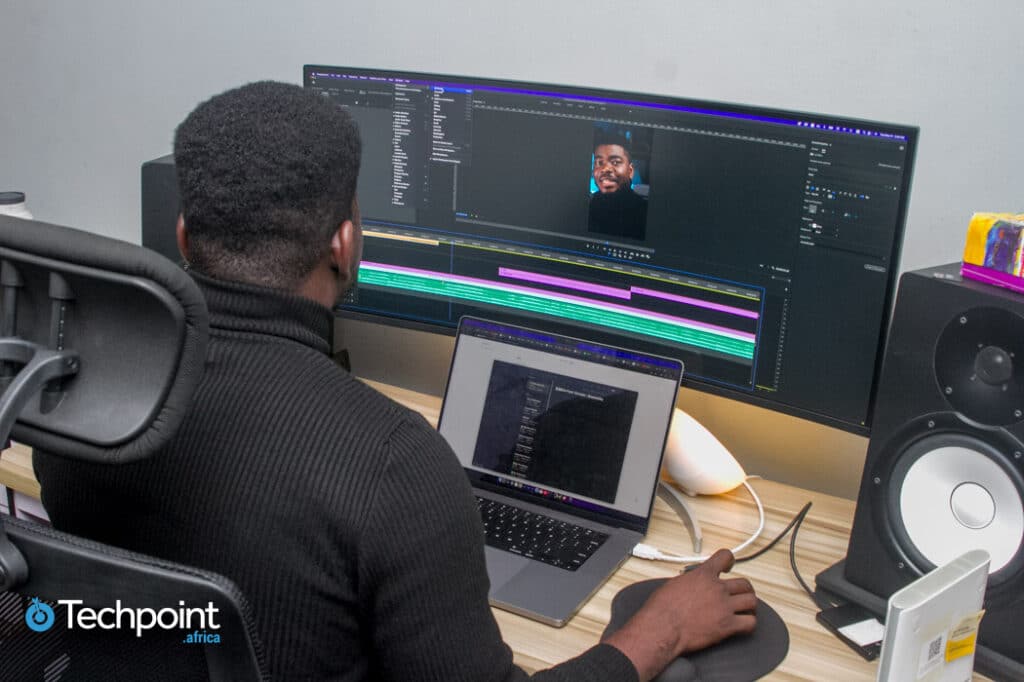 Fisayo took to YouTube for two reasons: he always watched reviews before making purchases, and he grew to appreciate the work done by popular American YouTuber, MKBHD. So he desired to do something similar for his demographic in Nigeria.
"I really like the quality of his work and how he presents stuff. That was one of the major motivations for me. And I knew him even before I started, but I couldn't really afford the gear. I also wanted to give value because I was passionate about tech."
It turned out that admiring someone doing what he was passionate about wasn't enough for Fisayo. He knew he had to act, so he made a drastic and risky decision.
"I placed a bet on myself. I took money I'd saved for a year and said, 'You know what? Let me get gear and just start this thing.'"
That was 2016, while he worked at MAX.ng and did gigs. In under a year, he'd saved $5,000, about two million naira at the time.
"I took all that money. And I just said, 'Maybe I should just buy video production gear and see if I can start making videos on the Internet.'"
Six months later, he wasn't getting any returns on his enormous investment, but it was difficult to give up on what he had spent so much to start. And so, though he released his videos months apart, he persisted. He did gadget reviews of his devices but barely got any attention. However, for some inexplicable reason, he knew it would ultimately pay off.
Proud of how far he has come, Fisayo remembers what he got wrong with his first few videos.
"The first few videos I made are still on my channel, and I hate them so much. I was forming accents, pretending to be who I wasn't, and it just didn't make sense. So I think after the third video, I became real and started talking like myself. And that was when I noticed that people were paying attention. There was no need for me to fake it. I could have just come online and just be myself. So that was when people started noticing, and the phone companies started coming. They were like, 'Oh, this person is like us; he speaks our language.'"
And that was the inflexion point.
Fisayo was one of the early Nigerian YouTubers who focused on the tech and gadget review niche despite the presence of more established foreign creators with massive international reach in the space.
But that wasn't enough to deter him, and he started getting attention in 2017. Through networking and recommendations, Tecno and Samsung began to give him phones to review. However, that was only the beginning.
At that point, he had stopped his nine-to-five job at MAX.ng, and expectedly, his parents reacted in typical African fashion.
"I still remember them asking me when I would get a real job when I just started."
Fisayo has deliberately and consistently delivered top-quality videos since his first product review in November 2016, and over five years later, he remains relevant as he continues to innovate.
Decisions and outcomes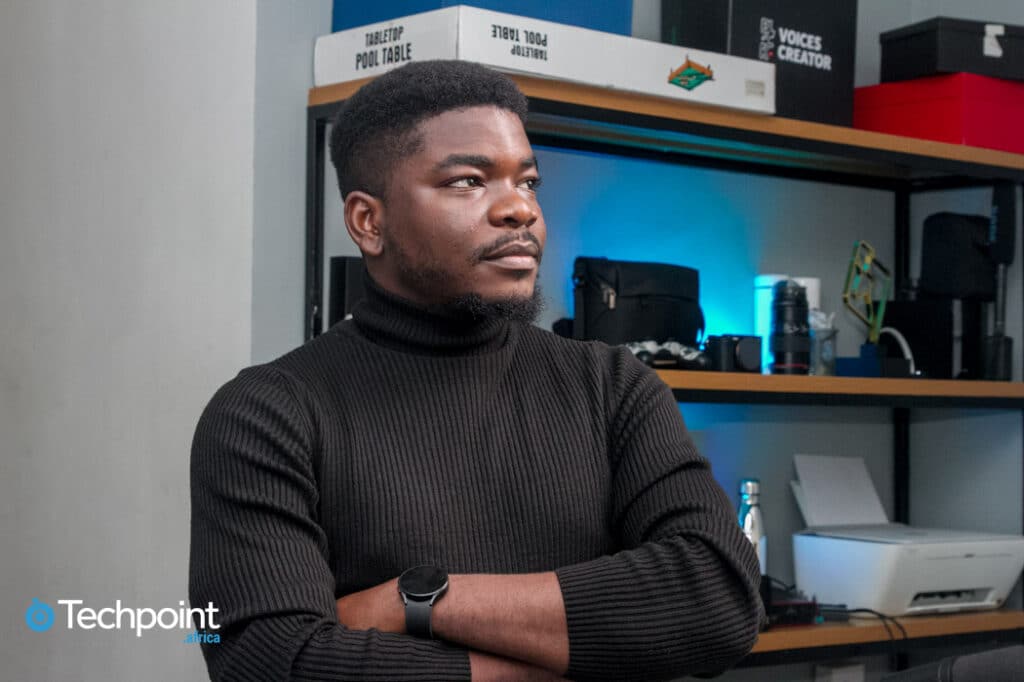 Talking about what gave him the boldness to take such a massive risk at the beginning of his career and also scale through the challenging times, he says,
"I was reading a lot of books at the time, and I knew for a fact that if you read books, you stand on the shoulders of giants. When you read books, you have a template to know what will happen next."
These treasures taught him to optimise knowledge, focus, innovate around challenges, and be frugal and unique.
Here are some of the books that stood out for Fisayo: Think and Grow Rich by Napoleon Hill, Rich Dad Poor Dad by Robert Kiyosaki, The Richest Man in Babylon by George S. Clason, How to Control your Brain at Will by Dr Roger Vittoz, Ignore Everybody by Hugh MacLeod, Mastery by Robert Greene, and two Thomas J. Stanley books — Stop Acting Rich and The Millionaire Next Door.
Fisayo gets his drive to keep going from his parents' support and consistent feedback. And then there is his to-do list.
"And, of course, it's also profitable," he says with a chuckle.
Fisayo makes money from working with different brands and earning ad revenue from YouTube.
Monetisation on YouTube is a factor of cost-per-mille (CPM), where "mille" stands for a thousand. CPM is the amount of money advertisers are willing to pay for every one thousand views their ads get. This is not the same as the total number of views on a particular video; only ad views lasting at least 30 seconds are considered monetisable.
On average, for every 1,000 monetised views on any content, Fisayo could get between $1 and $40, depending on the content type. He understood much later in his YouTube career — before Finance Friday — that finance-related content, for instance, brings in much more CPM by default compared to tech.
Today, Fisayo can make over $5,000 from YouTube monthly, which pales compared to the $90 he made in his first few years.
Fisayo talks about a time when his extravagance worried him. And then, he decided to do something about it at the start of 2020.
"I had a hundred thousand subscribers in 2020, but I did not have savings. At some point, I was ready to give up on everything. That was when I decided to put 70% of my earnings in a fixed deposit account. It turned out to be a foolish decision."
This was a one-year fixed deposit plan which he considered extreme. But the good part was that when it matured in December, he had saved up to $10,000, from which he rented an apartment more suitable for his work. He also took a vacation to Dubai in January 2021, where he shot his first Finance Friday episode after four years of making only tech videos.
Making it all worth it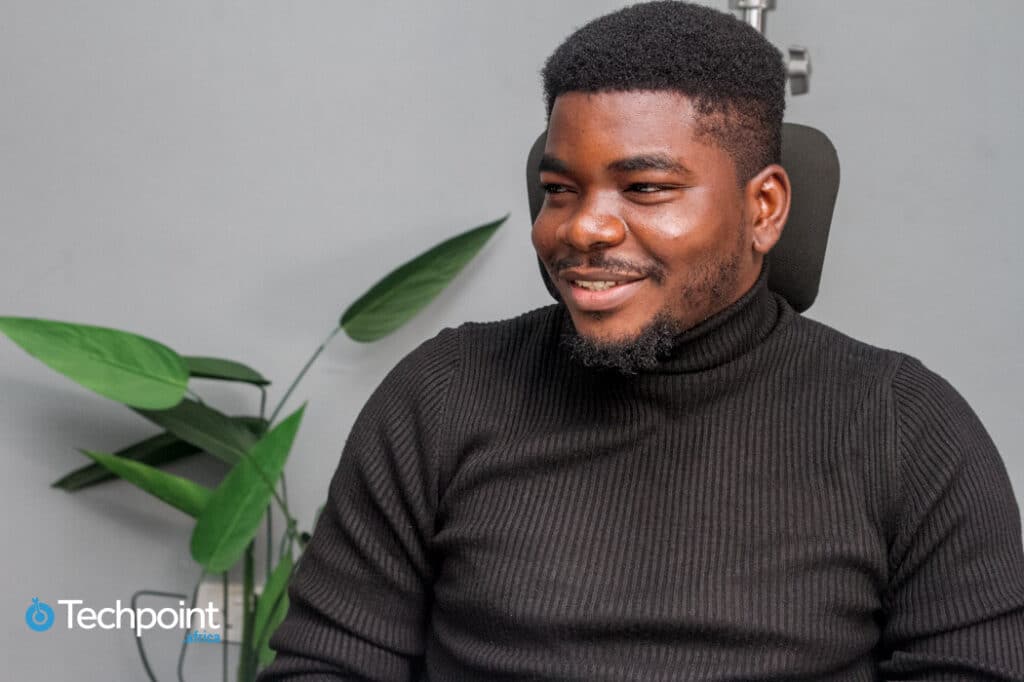 Aside from the profitability, which Fisayo believes can always be better, he is further driven by a need to meet requests. His studio has a whiteboard with an array of content he has to create, so he can't afford to be inconsistent.
Fortunately, he can do a lot with a team of four consisting of a writer, an editor, a manager, and an animator. And he's deliberate about the content he pushes out as it requires a lot of reading and research to give out well-rounded views on topics.
It takes him and his team three to seven days to make a video. And because of the amount of work required to keep a personal brand alive, he admits that achieving a work-life balance is almost impossible. Nevertheless, he finds time to unwind by watching documentaries and animations, going to the movies, and reading books.
Lately, Fisayo has been honouring speaking invitations at events to establish him as a thought leader in the space. At the Techpoint Africa Blockchain Summit (TABS) held in May 2022, he moderated a panel of blockchain experts to discuss NFTs, DAOs, DeFi, and the era of decentralised opportunities.
Among other awards, Fisayo is particularly proud of Google's recognition earlier in the year when he was one of the 26 Africans in the YouTube Black Voices Creator class of 2022. They were recognised for hitting subscriber milestones, pursuing new businesses, and leading meaningful black life and culture-related discussions. This gave him access to funding, partner support, training, and a rich network of professionals.
Fisayo dreams of a time when he'll be an alumnus of Harvard or Oxford University.
"I would want to see what it feels like to study among some of the brightest minds in the world and get a sense of being in that environment."
He advises interested YouTubers to take advantage of the various tools and materials available online before starting, have a defined plan on the value they plan to offer, and not be bold enough to make mistakes while maintaining their consistency.
He adds jocularly, "And don't quit your day job; the last thing you want to be is a broke creative."