Bolsters Operations with Zero-Commission Offer for Drivers in 15 New Cities
On Friday, July 14, inDrive, the globally recognized mobility and urban services platform, revealed plans to extend its peer-to-peer ride-hailing service to 15 new Nigerian cities and to launch a freight product feature called, inDrive.Freight. The announcement was made at the Lagos Startup Week 2023, which celebrates entrepreneurship and innovation in Africa.
Timothy Oladimeji, Business Development Representative, inDrive Nigeria, described mobility as a basic need that every human must have and stressed how the 15-city extension by inDrive makes this very easy for everyone in local communities through its fair and transparent peer-to-peer ride-hailing model.
Further speaking to the launch of the logistics-support product for small, medium, and large enterprises, Oladimeji said, "From data analyzed, we realized that people wanted a courier service that could help them transport packages that weigh more than 20kg. Hence, we introduced an upgraded version of our courier service - inDrive.Freight - an on-demand, same-day delivery service which allows our customers and other business owners to transport goods weighing between 20kg to 20tn, seamlessly."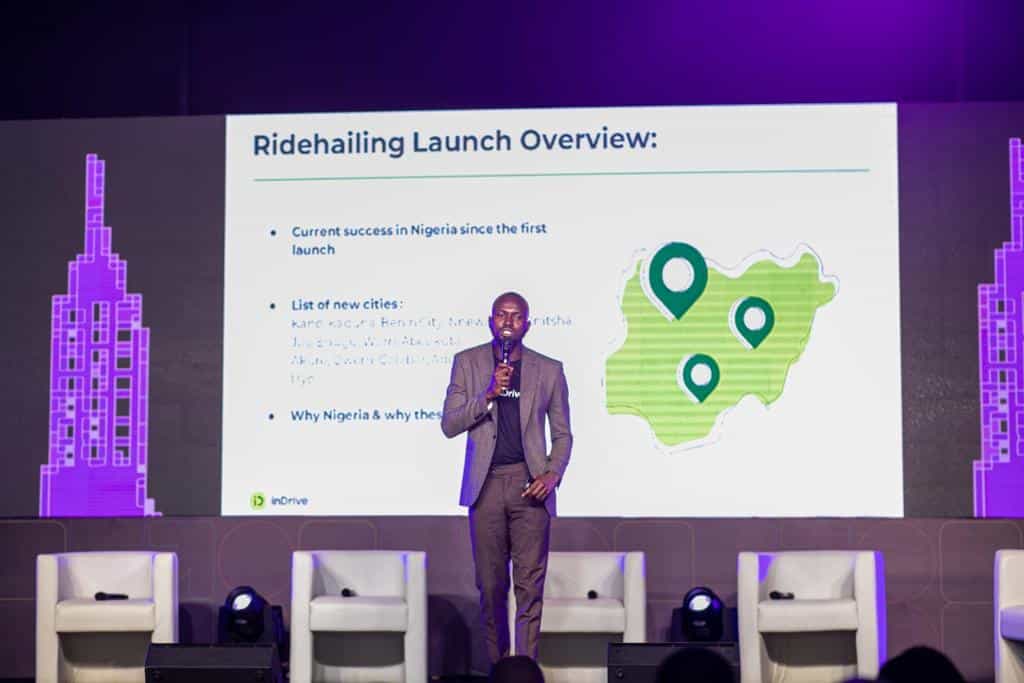 The Business Development Representative went on to explain that the inDrive.Freight module mirrors that of the peer-to-peer ride-hailing app features, that allow customers to set preferable prices, choose vehicles, and select drivers. It also showcases a unique feature that allows customers to take a picture of goods that they intend to send.
For business owners, this has a transformative impact as the business owners no longer have to invest capital in setting up their own courier services or adjunct logistics businesses, with cost-saving alternatives offered through the usage of the inDrive.Freight.
Going live with the launch across Nigeria, on Monday, July 18, inDrive's expansion to the new 15 cities in Nigeria has officially commenced. The company has announced the extension of ride-hailing app's reach to business-driven cities like Kano, Kaduna, Benin City, Nnewi, Aba, Onitsha, Jos, Enugu, Warri, Abeokuta, Akure, Owerri, Calabar, Ado, Ekiti and Uyo, further bolstering the growth of these cities and their economies, via an accessible and interconnected urban mobility system. This development further reinforces inDrive's commitment to community empowerment through fair, transparent urban mobility, and delivery solutions within Nigeria.
The ride-hailing service has already achieved a triumphant operation in Lagos, Abuja, and Ibadan. These new metropolitan areas stand to gain immensely from the access and convenience that InDrive provides.
Headquartered in Mountain View, California, inDrive has already made significant strides in the ride-hailing industry, with its app being downloaded more than 175 million times and currently operating in 655 cities across 48 countries.
Echoing its core values of challenging unfairness and promoting innovative solutions, transparency, and fairness, inDrive's expansion in Nigeria serves as a strategic step toward driving global impact and facilitating inclusive opportunities for all. As it looks ahead, inDrive continues to focus on growth and innovation. With its unique peer-to-peer model, the company is set to reshape Nigeria's mobility and freight landscape and beyond.
About inDrive
inDrive is a global mobility and urban services platform headquartered in Mountain View, California, USA. The inDrive app has been downloaded over 175 million times and was the second most downloaded mobility app in 2022. In addition to ride-hailing, inDrive provides an expanding list of urban services, including intercity transportation, freight delivery, task assistance, courier delivery, and employment search.
inDrive operates in 655 cities across 48 countries. It supports local communities via its peer-to-peer payment model and community empowerment programs, which help advance education, sports, arts and sciences, gender equality, and other vital initiatives.
For more information visit www.inDrive.com