Hey Techies! Pause the coding, just for a few seconds and come closer.
You've probably heard of the Africa Technology Summit, the big technology event on the continent, as the MEST Africa brings together the brightest minds and the who's who in the African Tech Space. And it's live in Lagos but let's not bore you with the details, go read more afritech.com.
The big news is, at Interswitch, we know Christmas is here and we've #SwitchOn the giving mood already. So, we are giving out 10 tickets, $150 each for free… just for a simple task to the tech community. You know they say tech is where the money is now, so with something just as little as 200 words, you can get a seat at the King's table… No jokes!
So, here's the game. With 200 words, craft a compelling essay on this topic: Tech, Digital Payment Solutions and Africa's Future.
What we are looking out for is simple - originality of thought, creativity, smart insights, and of course good grammar.
#BRAG your writing skills just as much as your coding skills and here's that big chance for you to rub minds (and shoulders) with the big guys in the tech space.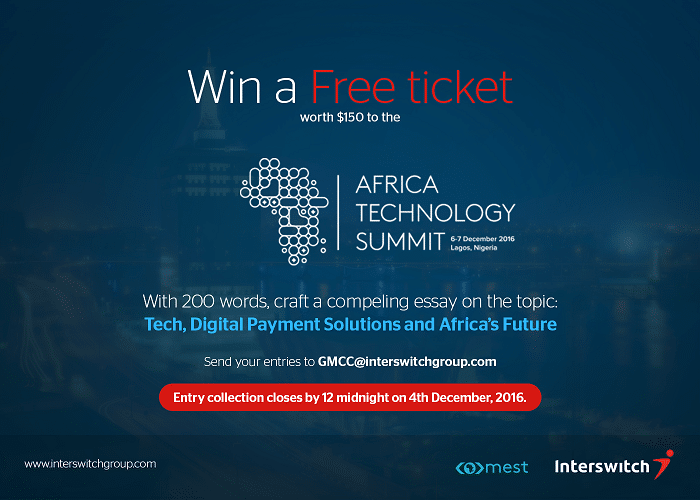 Send your entries to [email protected]. Entry collection closes by 12 midnight on 4th December, 2016.
So, are you a tech company, tech platform or smart start-up operating in the digital space? What will you do with 200 words? Think. Write. And $150 worth of ticket is yours.
Winners will be selected by a panel of judges at Interswitch and announced by 2pm on Monday, 5th of December. So, don't just submit but also stay tuned.
You've got 72 hours and the clock starts ticking now.