As the name could have suggested, the main highlight for this ZenBook series is its OLED screen. Asus has nailed what should define an ultrabook in 2021 with the ZenBook 13 OLED (UX325). It is very rare to find an ultrabook with good battery life. Less powerful batteries are a trade-off for ultra-portability, but the ZenBook 13 OLED strays a bit far from this argument.
Summary Product Profile
Series
ZenBook 13 OLED (UX325)
Use
Business, Personal, Multimedia
Display Size
13.3 Inches
Operating System
Windows 10 Home Windows 10 Pro
Processor
11th Generation Intel® Core™ processors
Graphics Engine
Intel Iris Xe Graphics & Intel® UHD Graphics
Storage
Up to 1TB PCIe 3.0 x2 NVMe SSD
High Speed Memory
Up to 32GB LPDDR4X-4266 MHz
Connectivity
2 Thunderbolt™ 4 USB-C®, 1 USB Type-A, 1 HDMI 1 MicroSD card reader Wi-Fi 6 Bluetooth 5.0
Battery
67 Wh lithium-polymer battery, up to 13 hours
Just like any other ASUS OLED display laptops, the ZenBook 13 OLED (UX325) is PANTONE® validated for superb colour accuracy, and has a cinema-grade 100% DCI-P3 colour gamut. The laptop reproduces colours with superb real-life accuracy for professional-grade visuals, making them perfect for professional and creative work, or anyone who simply wants to enjoy the very best colour fidelity. The UX325's display uses organic light-emitting compounds that naturally reduce harmful blue light by up to 70% compared to LCD displays, making them extra gentle on your eyes to reduce the risk of retinal damage.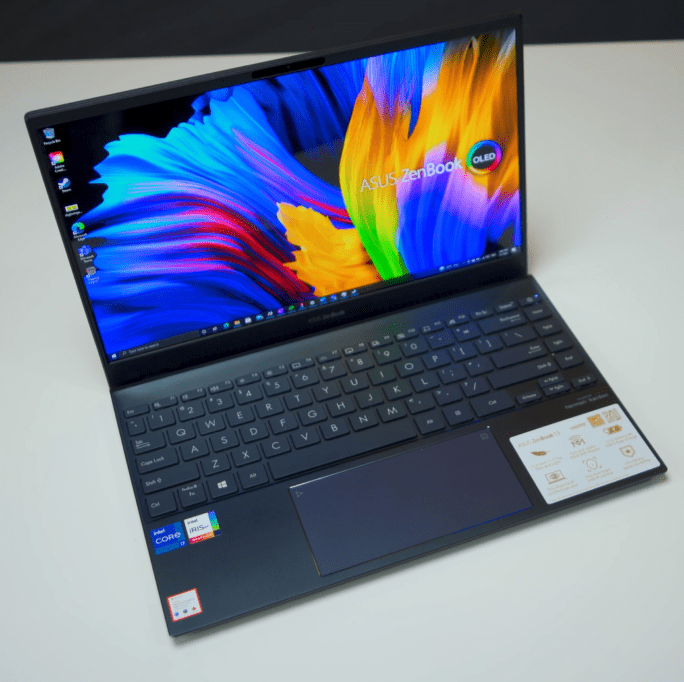 ZenBook 13 OLED Sophisticated Finish
As with all other Asus ZenBooks , the chassis and lids of the ZenBook 13 OLED is made of diamond-cut aluminium alloy. The unique concentric-circle ZenBook finish is featured on their lids for a surface that is soothing and sophisticated in appearance. With a lightweight design, the ZenBook 13 OLED weighs 1.14 kg and features a side profile of 13.9 mm, which results in a sleek form factor for a mobile use.
ASUS is offering the ZenBook 13 OLED in two colour schemes: Pine Grey and Lilac Mist. Pine grey offers a restrained and calm appearance, while Lilac Mist is bright and light.#
Display Performance
As far as the display goes, the ZenBook 13 OLED (UX325) has up to 13.3-inch OLED HDR display that supports 1920 x 1080 resolution and 0.2ms response time. The display offers an ultrawide colour gamut of 100% DCI-P3, which is widely used in the motion picture industry, and is PANTONE® Validated to provide the most precise colour accuracy. Colour accuracy is usually represented by a 2D colour-gamut diagram that shows how colours are faithfully reproduced, but only at a particular brightness level.
The Asus ZenBook 13 OLED display also manages the blue-light ratio to reduce potentially-harmful emissions up to 70% less than normal LCD, with certification from TÜV Rheinland for low blue light and flicker-free visuals – promising greater care for your eyes, ever after many hours of use.
The OLED screen of the UX325 makes it a friendly laptop for children, since children's eyes are not fully developed, with a more transparent lens and cornea, harmful blue light can penetrate the eye more easily, potentially causing premature aging of the retina. With ASUS OLED displays, the significantly lower blue light levels mean better eye care for children.
Computing Performance
With thin and light form factors, the ZenBook 13 OLED is equipped with the 11th gen Intel® Core™ processors and supports up to 32 GB of memory and a 1TB PCIe 3.0 NVMe SSD as well as Thunderbolt 4, standard HDMI 2.0 and USB 3.2 Gen 1 Type-A ports, along with a microSD card reader. All these options ensure comprehensive connectivity.
The processing speed is fast, thanks to the latest 11th Generation Intel® Core™ processor with Intel® Iris® Xe graphics which provide better computing performance and can enable FHD gameplay at up to 60 fps with better battery life and mobility than previously possible.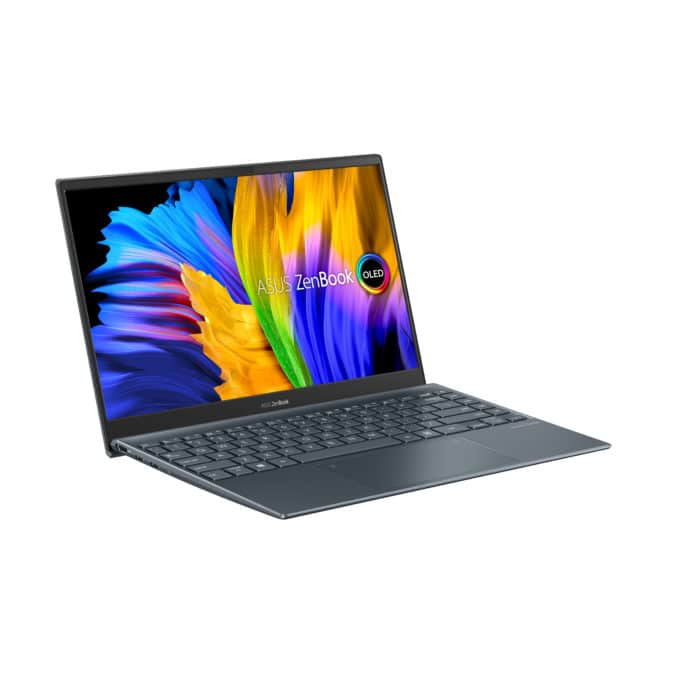 Ancillary Features
Wi-Fi master technology and Wi-Fi 6 for ultrafast downloads, smooth streaming, greater range, and incredibly stable network connections. With Wi-Fi SmartConnect, the laptop will automatically connect to the router with the best signal in your current environment. It also memorizes the mobile hotspots you connect to and prioritizes connections to them when the network is detected.
The laptop has a NumberPad 2.0 and edge to edge keyboard with independent function keys. The second generation NumberPad 2.0, MIL-STD 810G military-grade, is an ultra-light yet strong aluminium alloy that helps ensure durability and the MIL-STD 810G standard has been tested to prove strength and stability.
Asus ZenBook 13 has a good battery life with fast-charging. The battery can last up to 13 hours upon full charge without any drag or slow performance. The laptop also offers a fast charge function that can charge the battery from 2% to 60% in just 49 minutes.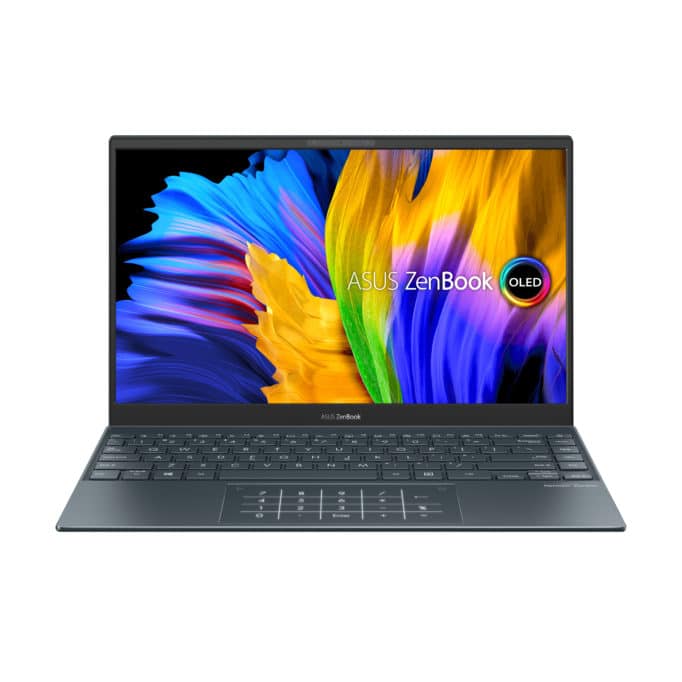 What else do you want your laptop to do? Are you a media content creator who would prefer noise cancelation, top-notch graphics, slick body, good battery life, fast-charging, great audio and super processing system? Then the ASUS ZenBook13 OLED is perfect for you.
For what it's worth, if you want an OLED screen in a very portable and lightweight laptop, the ASUS ZenBook 13 OLED (UX325) should be a laptop to consider.
Learn more about the ZenBook 13 OLED (UX325) here
#ASUS # ZenBook13 #OLED