On Tuesday, April 4, 2023, Shuttlers, a Lagos-based mobility startup, announced the close of a $4 million round. The startup which was founded in 2016 by Damilola Olokesusi had previously raised a $1.6 million round in 2021, five years after it first began operations. At the time, it had 10,000 users, covered 30 routes in Lagos, Nigeria, and sold more than 6,000 bus tickets daily.
Since then, it has grown, adding an extra 60,000 users besides selling more than 9,000 tickets daily. Shuttlers also has 260 buses that ply 300 routes daily in Lagos and Abuja and at least 80 organisations use it to convey employees to and from work.
Starting Shuttlers was the result of Olokesusi's experience with Lagos' chaotic transportation system. Having been raised in Ibadan, the difficulty involved in getting a bus ride was unfamiliar and pushed her to start the company. Its value proposition is simple — individuals and businesses can sign up on the platform to book a ride along selected routes. While individuals can pay their fares, organisations can do the same for employees or split the bill with said employees.
For anyone who has had to struggle to get a danfo, this is an attractive proposition, especially when you consider that the startup says its fares are cheaper than other ride-hailing players in the country.
**Danfo is the name given to the yellow minibuses that are used for public transportation in Lagos.
In Nigeria, Shuttlers competes with Treepz, a Techstars portfolio company whose VC-funded expansion motivated Shuttlers to raise its first round of institutional funding. In 2021, the startup which had just gotten into Techstars Toronto raised a seed round that aided its acquisition of Ghanaian bus company, Stabus and Ugandan startup, Ugabus. It also hinted at expanding to Canada. This year, it announced an expansion into Kenya off the back of more funding from its investors.
These acquisitions and expansions do not appear to have gone according to plan. When it launched in 2019, it did so as a bus-hailing platform. By the next year, it tacked on a logistics service as the coronavirus pandemic affected transport companies.
However, a trip to its website suggests that the startup has changed its plans and is now a vehicle rental platform. That is the same for its Ghanaian and Ugandan subsidiaries. More importantly, it is advertising a waitlist for this service suggesting that it is either not immediately available to users or is still being tested in a close circle and that its bus-hailing service has been shut down.
While pivots are common among startups, Treepz's moves pose a few questions that other players in the space will do well to answer. The most important would be, what necessitated the switch to a vehicle rental platform?
Nigeria's bus-hailing market has very few competitors, with Treepz and Shuttlers the most funded of the lot. That should help with cornering a significant market share. However, its Ghanaian and Kenyan subsidiaries are going through similar changes.
Paused expansion plans
When Shuttlers announced its pre-seed round in 2021, Olokesusi disclosed that the startup was ready to expand outside Nigeria.
"We are ready to take over the African market, starting with Nigeria and West African markets in the next couple of months," she said.
Eighteen months after making that statement, the startup still operates in Lagos and Abuja but now wants to expand into five other Nigerian cities by 2024. So what happened to its dreams of an African expansion?
Olokesusi explains that an African expansion remains on the cards but Shuttlers would rather strengthen its hold on the Nigerian market while building an infrastructure that would facilitate an Africa-wide expansion.
"The African expansion is still something that we're definitely going to do, but having reviewed our progress internally with Nigeria being one of the biggest consumers in Africa, and looking at our market penetration in a city like Lagos, we realised that it would serve us best to deploy the resources that we have in winning at home first."
She believes it is important for Shuttlers to optimise its processes and invest further in tech in Nigeria before scaling out, as this would ensure that the company has won at home and is positioned to maximise its resources when it eventually scales.
At a time when startups are scaling prematurely and reversing their decision shortly after, this is a good approach. Companies typically expand to get more users or spread risk. However, geographical expansions also require additional changes to personnel and figuring out new approaches to serve the market. Not every company does this well and in the end, they bleed resources without tangible results.
While Olokesusi is quiet about the five cities Shuttlers could expand into, Nigeria's macroeconomic environment could serve as a guide.
Bayelsa ($3,961), Akwa Ibom ($3,387), Imo ($3,054), Delta ($2,384), and Rivers ($2,311) states have the highest per capita income in Nigeria and are ideal locations for the expansion. Consequently, Shuttlers could be expanding into Uyo, Owerri, Yenagoa, Asaba, and Port Harcourt. Olokesusi hints at this when she says per-capita income would play a role in Shuttler's expansion plans.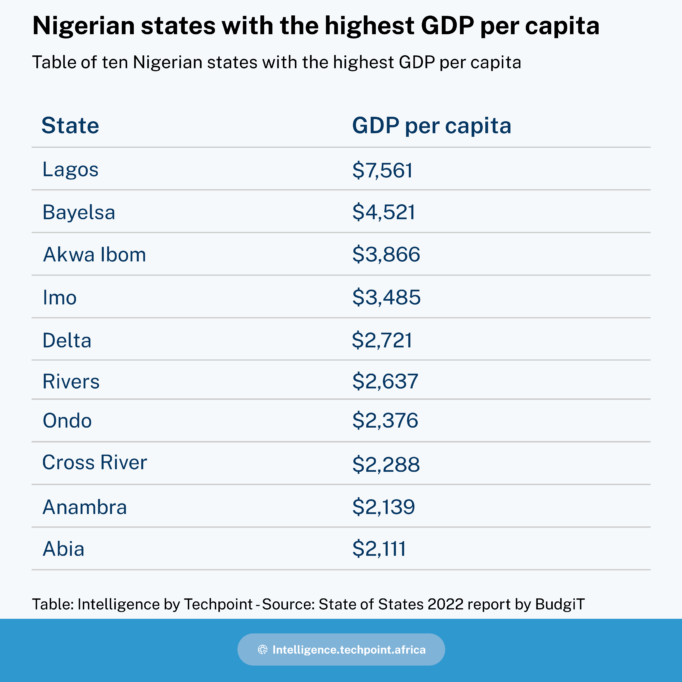 "Some of the things that we factor in when making a decision in the places to operate in is the per-capita income of those cities."
The informal nature of most economic activities in the country also means that there are not as many people who would opt for a slightly more expensive transportation option even if it provided comfort and Olokesusi acknowledges that this plays a role in how the startup thinks about its business.
"The major cities in Nigeria turn out to also be the major hubs for white-collar jobs, white-collar workers, and maybe even some blue-collar workers, who would benefit the most from the service that we're offering," she says.
"You want to be able to use the limited resources that you have to be able to serve the most customers that you can in the right places. And in looking at Nigeria, we feel like there are 20% of the cities that accommodate 80% of the opportunity here," she adds.
Despite these obvious challenges, Olokesusi is optimistic that Shuttlers will succeed where many mobility startups in the country have tried and failed. Success, she says, is tied to providing a reasonably priced solution that is equally easy to use for everyone.
"We need to provide a service that is more reliable than what people are already used to and at a price point that people can afford, packaging it in a technology solution that works and is simple enough across the board, while managing all the different stakeholders."
Nigeria's transportation sector is largely informal, but a growing and digitally savvy youth population means the sector is also ripe for an infusion of technology solutions. Still, success requires a clear understanding of the problem and the ability to provide the right solutions, while making changes when required. Shuttlers appears to be on the right track and its success could provide a blueprint for startups. "We know that we'd succeed because we're thinking about it correctly. Transportation is a very difficult problem to solve. And the first thing to do is to acknowledge that. The second thing is to know that you're trying to change the behaviour of the masses. There's opportunity in this space, but because of the level of difficulty, not everybody can do well. But Shuttlers will," Olokesusi concludes.