The news:
Lazerpay will be downsizing its workforce to create some runway for the company's operations
The company's plan to raise funds was thwarted after a lead investor pulled out
The company will share the names of outgoing employees to help them find new employers.
Njoku Emmanuel, CEO and Founder of crypto payment startup, Lazerpay, has announced that the company will be laying off employees in a bid to extend its operating runway.
According to the statement he shared on Twitter,  the company had initially resorted to stopping the salaries of the management team and cutting the salaries of other employees.
However, the company will have to lay off employees due to the lack of funding.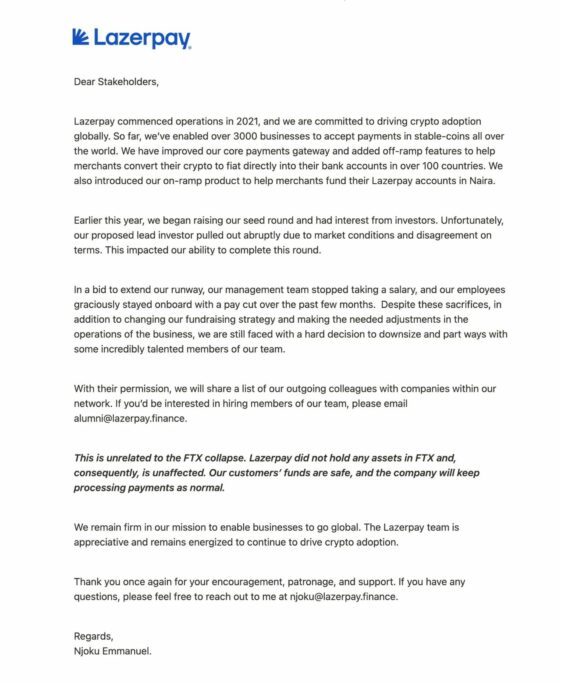 Started in 2021 by 19-year-old Emmanuel, the company's mission is to become the Stripe for crypto payments by helping businesses accept stablecoins from anywhere in the world. 
Emmanuel revealed that the company had helped 3,000 businesses accept stablecoin payments across the world.
Interestingly, the company received investment from Nestcoin which recently disclosed that it would be laying off employees after its funds were caught in the bankrupt crypto exchange, FTX.
Emmanuel, however, added in his statement that Lazerpay's layoff has nothing to do with the ongoing FTX debacle.