Cloud computing in Africa hasn't caught on as much as in the West. However, there are clear signs that the market is growing. The cloud computing industry in Africa and the Middle East is expected to be worth $31 billion by 2026 from $14 billion in 2021.
On Wednesday, January 12, 2022, Nigerian cloud-based HR and payroll management platform, SeamlessHR, raised $10 million to take its business across Africa with plans of setting up shop outside the continent.
New players such as Y Combinator-backed Bento and Workpay is also proof that cloud-based computing is on the rise in Africa, though most of them are in the HR and payroll management sector.
Orda is another emerging player providing cloud-based services. While they are common with HR and payroll management, Orda offers its services to restaurants and food business owners.
The startup is popping into the cloud-based scene with a $1.1 million pre-seed led by Lofty Inc Capital with participation from Microtraction, Norrsken Foundation, Magic Fund, Ire Aderinokun, and other angel investors.
Launched in April 2021, Orda was founded by Guy Futi (CEO), Adinlewa "Fikayo" Akinwale (CTO), Mark Edomwande, Kunle Ogungbamila, and Namir El-Khouri. It is an electronic point of sale (ePOS) and restaurant management system that helps food business owners manage all their operations from one place.
The platform can take dine-in orders and orders from third-party apps such as Jumia Foods and social media apps. It manages these operations and gives customers relevant insights that help them make important business decisions to grow their businesses.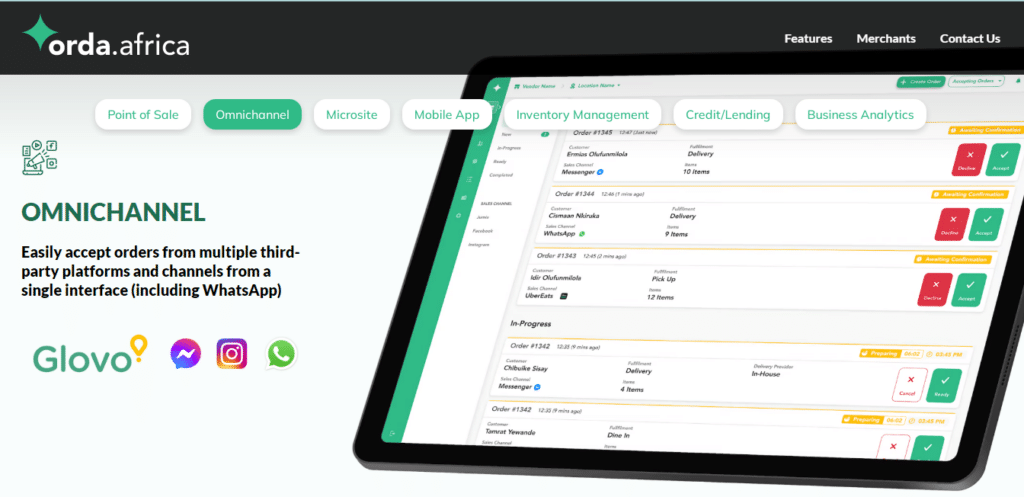 In addition to managing all restaurant operations, Orda also offers restaurants a lightweight website, mobile app, and inventory management system. It connects offline and online sales with inventory and provides data on supplies the restaurant is running out of.
In a chat with Techpoint Africa, Futi said the idea for Orda came while the co-founders were looking to build restaurants that had the technology to support payments, transfers, and logistics.
But as they built, they realised the tech would be great for many restaurants, and they saw an opportunity.
"Many restaurants did not have the proper tools and software to run their business efficiently, and so thinking about it and going deeper into the problem, we decided to build Orda."
The platform essentially makes restaurant management easier, tracking everything that happens online and offline.
According to the CTO, Akinwale, "Orda was built after 18 months of a collaborative customer feedback loop. We listened to everything, from how African restaurants reconcile inventory, how customers pay, to how they handle logistics and more. We can confidently say that no one has done as much work as we have to build an end-to-end solution for our food business owners. We are excited to usher in much-needed digitisation to the sector."
Futi, the former Managing Director at Jumia Foods, became familiar with restaurants in Nigeria and their challenges when it comes to management. This is perhaps why Orda added credit services to the platform, a service Futi says is growing rapidly.
Since the startup became fully operational in June 2021, Futi said transactions and Gross Merchandise Value (GMV) have been growing 15% week over week.
The startup's cloud-based system is currently available in Nigeria and Kenya. However, it plans to expand across Africa with the funding.