On Saturday, August 21, 2021, small business owners looking to shoot sales through the roof and individuals thinking of setting up a business will gather at Zone Tech Park, Gbagada Expressway, Lagos, for SME Clinic 2021.
This year, our experienced speakers will be addressing topics that focus on the concerns of small business owners in today's technology-driven world. You can find out what to expect here and check out 3 reasons not to miss SME Clinic 2021.
At this point, I'll let you read the testimonials of three participants from SME Clinic 2020.
"Running a business in Nigeria is really not easy, and for me as an entrepreneur, attending SME Clinic by Techpoint Africa in 2020 played a pivotal role at the early stage of my business. At the event, I learnt practical strategies on how to navigate through Nigeria's unique market. With the grant my business won, I was able to get a refrigerator for my business, which was a pressing need at the time. Today, we have gone on to get a place of our own, and we're growing each passing day."

— Onyekwere, CEO, Queen's Fruits.
"If you ask me, there are a lot of things that make a business thrive. And I know that in the case of my business, attending the last edition of SME Clinic, listening to all the panelists moderate insightful sessions, and winning a grant all contributed to the growth of my business today. Since then, we have gone on to increase our product offerings, added to our collection, and leveraged technology for the best of publicity."

— W. Habib, CEO Smiley Socks Company.
"Given the nature of my business, it's one that's full of unpredictable turns. Attending SME Clinic in 2020 really helped me with strategies to grow my brand, plus the grant I won at the event came just in the nick of time and was effectively utilised. During the lockdown, I was still able to onboard offline customers to our, at the time, new online platform, and this helped me reach more people and especially, made for ease of interaction with offline clients."

— F. Adeleke, CEO, Qiqi Farms.
This year's Clinic promises to be value-packed. There will be learning, unlearning, networking, and growth.
Join us at SME Clinic 2021 to learn more about how to market and grow your business online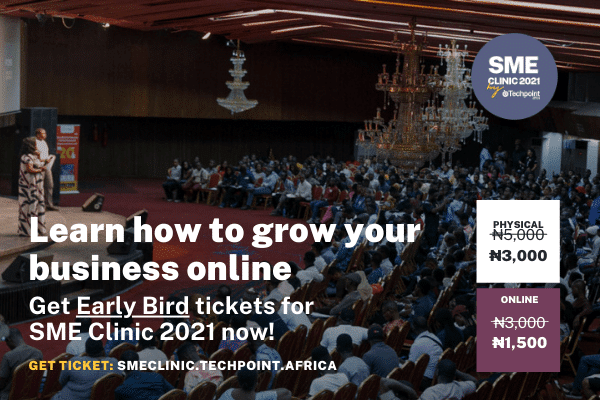 Early Bird Offer! Get your ticket for SME Clinic 2021 at discounted rates now. Learn how to launch, market, and grow your business online.
Want to learn how to market your business and make more sales online? Register for SME Clinic 2021 and gain skills to grow your business. Get your Early Bird ticket now (offer ends soon).