If you are a regular here or follow us on social media, you probably already know that SME Clinic 2021 is 12 days away — August 21, 2021. If you aren't a regular, now you know. 
Already shaping up to be an exciting time of learning, with experienced business owners-cum speakers sharing from their wealth of knowledge on SME-related topics covering the pain points of most small businesses in Nigeria, this year's Clinic promises to be value-packed.
With the coronavirus pandemic still raging, businesses and companies have embraced technology to remain in operation and continuously engage their clients. At SME Clinic, 2021, physical and online attendees will learn how to sustain their businesses with technology.
Why should you be at SME Clinic 2021?
It's a learning opportunity
The peculiarities of the Nigerian SME space make it difficult to adopt and apply Western principles and practices. Consequently, people with experience in the Nigerian space should teach about how to succeed in business.
At this year's Clinic, our speakers will address topics like online marketing and sales for business, running your business online, balancing your day job with your side hustle, and bookkeeping for your business.
It's a networking opportunity
Per The Guardian, "you are just six introductions away from any other person on the planet." Need I say more?
A room full of like-minded people looking to engage for growth is a priceless thing. And this is exactly what is on offer at this year's event.
It's an opportunity to get a ₦100,000 grant
Yes, you read right! Don't take my word for it, read from one of last year's winners:
"My business experienced tremendous growth after I attended the 2020 edition of SME Clinic. I gained firsthand strategies to rightly position myself and my brand. My sense of how a business should run upped to another level. The in-depth and honest talks by the panellists, plus the grant I was privileged to win, helped me with all I needed to rightly position and sustain my business during the lockdown."

— A. Temitope, CEO, The Cleanest Man Laundry.
This year, 5 people who attend SME Clinic 2021 physically stand a chance to get a grant worth ₦100,000. Applications close on August 17, 2021. Apply here if you haven't.
It bears repeating that SME Clinic 2021 is a gathering you definitely don't want to miss as you will be learning more about how to market and grow your business online.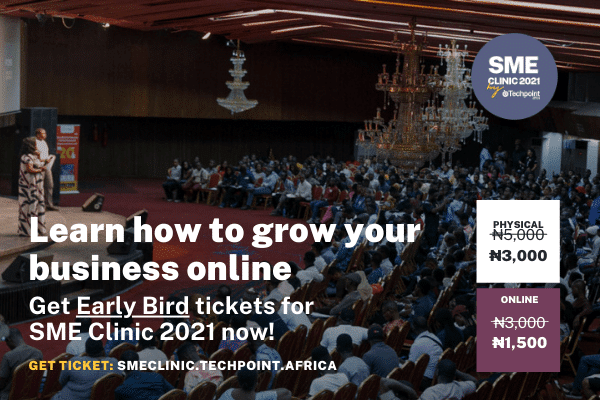 Early Bird Offer! Get your ticket for SME Clinic 2021 at discounted rates now. Learn how to launch, market, and grow your business online.
Want to learn how to market your business and make more sales online? Register for SME Clinic 2021 and gain skills to grow your business. Get your Early Bird ticket now (offer ends soon).