Sometime in 2015, a local flight was about to take off from Atlanta, Georgia in the U.S. to Nashville, Tennessee. As the passengers settled in, the speakers crackled and the voice of an air hostess welcomed passengers on board. As she rounded up her welcome speech, the air hostess announced the presence of some National Aeronautics and Space Administration (NASA) engineers on board.
As the engineers swaggered their way down the aisle, donned in their sleek camouflage outfits, there was a resounding round of applause from all the passengers on the flight. In one corner of the plane, a couple of Nigerian space engineers stared in awe, wondering when Nigeria's space programme would become as revered as its American counterpart. We'll call one of them Engineer Sam.
Sam is a trained chemical engineer who works at the Centre for Space Transport and Propulsion (CSTP), located in Epe, Lagos. It is one of the six centres under the National Space Research and Development Agency (NASRDA), the national space agency of Nigeria.
The Centre for Space Transport and Propulsion (CSTP), Epe
I visited CSTP, Epe, Lagos recently. As its name implies, the centre is dedicated to researching and developing space rockets, that will one day be launched from Nigeria.
It is located within the Lagos State University (LASU) Engineering Campus, on a vast stretch of land which Sam told me belongs to the Nigerian Army. He also mentioned that each of the six space research centres across Nigeria is located within a university environment to enable research and development.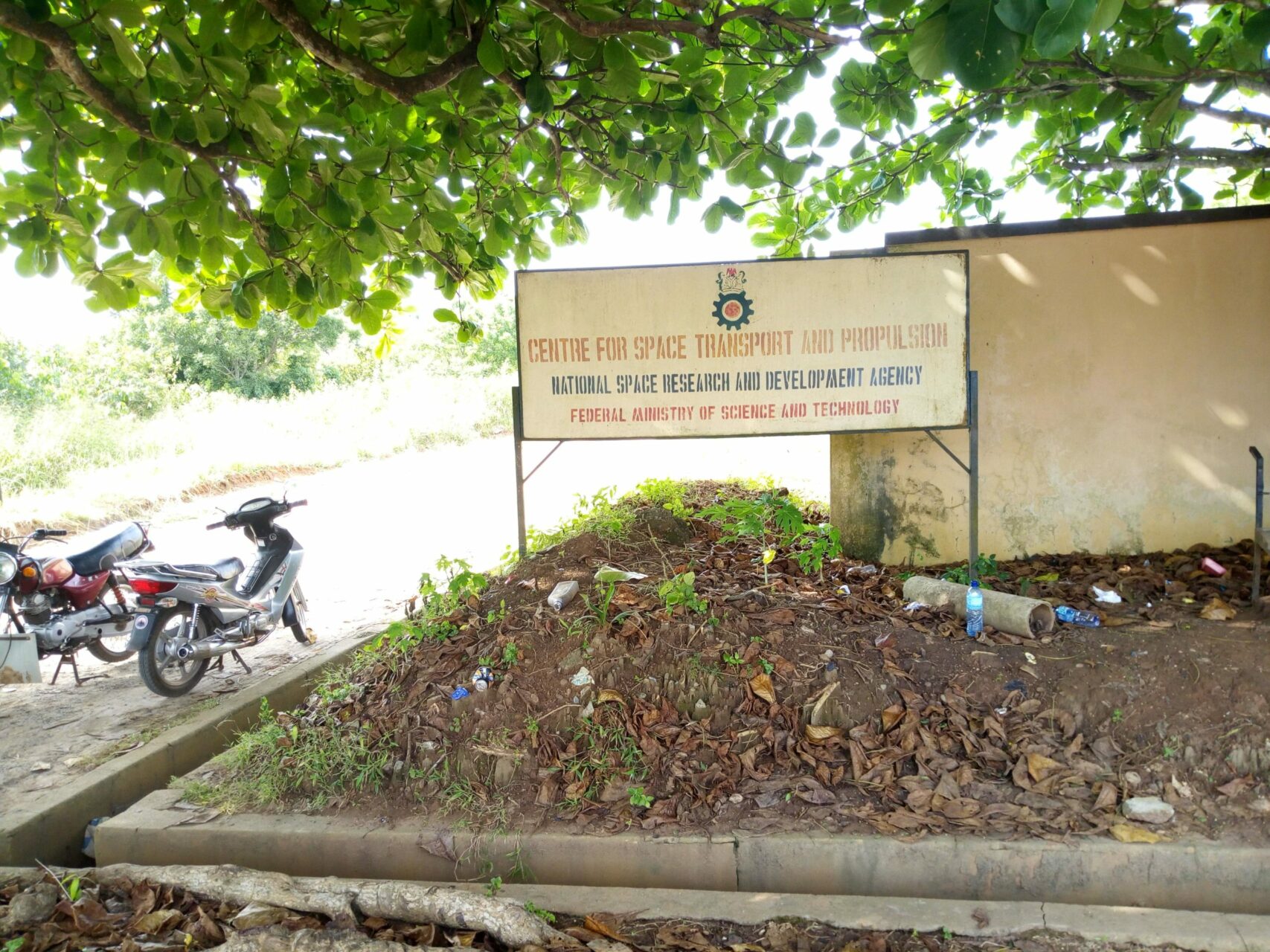 "Here, a variety of brilliant engineers work together to build rockets and other space shuttles. From electrical and electronics engineers to mechanical engineers, chemical engineers to professionals in other fields that are relevant to rocket research."
All the materials used to build these rockets are locally sourced, including the chemicals used to fuel them. The rockets built are tested in an open space on the property but far away from human activities.
"The last launch achieved about 5 km of altitude. We'll keep testing until we get it right. We started from less than 1 km. It's just about the altitude and one day hitting orbit."
I was lucky to have been able to access the premises because as I was told later, it is out of bounds to non-staff members, for security reasons. I was not allowed to go beyond the admin office area.
The few people I spoke with at the centre claim that so far, NASRDA has made more tremendous progress than the public is privy to. And it intends to keep it that way.
Many of the questions I asked seemed to be "breaching security", so they went unanswered. You would find a few articles of NASRDA activities here and there online, and a few pictures of rocket testing on Facebook, but that's just about it.
According to a staff of CSTP, Lagos, this is a deliberate attempt by NASRDA to control its exposure. This, according to him is as a result of the current security concerns in the country.
"Even NASA does not publicise every of its activities, all we see are its products. It is usually for security reasons," he explains.
According to Sam, based on their progress, the agency should be able to launch a rocket into space from Nigerian soil before 2030.
Why 2030?
The story of Nigeria's space programme dates back to 1976 but it was not until 1999 that the National Space Research and Development Agency (NASRDA) was established. The agency, under the Ministry of Science and Technology is mandated to pursue "the attainment of space capabilities as an essential tool for Nigeria's socio-economic development and the enhancement of the quality of life of its people."
In 2002, NASRDA set up a 28-year roadmap for the research, development and launching of satellites into orbit from Nigerian soil by 2030. Top on the list was launching a satellite into space.
In 2003, Nigeria launched its first satellite, NigeriaSat-1 into space from Plesetsk Cosmodrome, Russia and has since made tremendous progress, according to another CSTP staff.
"After the NigeriaSat-1, we have launched about three other satellites; NigeriaSat-2 and NigeriaSat-X, also launched from Russia and the NigComSat-1R which was launched from China. What we're now working on is a rocket that will be assembled and launched by Nigerian indigenous engineers before 2030."
These satellites are being used for communication and data gathering, but they have the potential to do more.
Challenges
Successfully launching a rocket into space does not come cheap. For countries like America, China and Russia that have launched several rockets into space, billions of dollars were spent on research and development.
"The Nigerian government does not prioritise our space programme, so accessing funding is our biggest challenge," says Sam.
Despite the millions of Naira allocated to the national space agency every year, the programme still suffers from a lack of funds. Sam says CSTP is doing all it can to work with the little fund they get, but is convinced that should they be provided with enough money, a rocket can be launched into orbit in no distant future.
"Private companies also need to be sensitised on what is going on here, and its advantages for them."
One area the government is however prioritising is educating its staff. According to Sam, all the engineers at the centre regardless of their department are given the opportunity to learn more about the intricacies of space travel outside the country.
Based on the little I saw and was told, Nigeria's space programme has the potential to make tremendous impact, if it is prioritised.
For it to be taken seriously, the government needs to provide enough funding for research and development. It also needs to maximise the data provided by its already existing satellites in space to enhance communications, predictions and proper planning.