On Wednesday, July 6, 2022, Techpoint Africa held a Twitter Space on how to prepare for Amazon's interview process to help candidates interested in working at the company.
The American eCommerce giant announced an interviewing event in Lagos, Nigeria, for software developer II candidates interested in relocating to the US, Canada, and Ireland.
The event, which will take place between August 1 to 5, 2022, is an opportunity for Nigerian software developers to get into not only one of the top technology companies on the planet but also a great way to relocate outside Nigeria.
Felix Ekwueme, Product Management Leader and Customer Experience Impressions specialist at Amazon, gave pointers on the best ways to prepare for Amazon interviews and some valuable insights about his two years at Amazon.
Ekwueme moved to the US in 2012 to study computer science at Wiley College. He worked at different tech companies, including IBM, before joining Amazon in 2020. 
How to prepare for Amazon's interview process
How long does it take?
According to Ekwume, Amazon's interview process takes about three weeks, a process he described as straightforward. "They basically try to see if you understand what Amazon is all about."
What should I learn before the interview?
A great tip before going to Amazon interviews is to understand Amazon's leadership principles. Ekwueme said there's a 90% chance candidates who aren't familiar with these principles will not make it past the first stage. 
Stage 1
The next stage, described by Ekwueme as the full loop, is where candidates will be examined by a panel, evaluating the candidate's knowledge of Amazon's leadership principles.
"They evaluate you on something like ownership. Ownership means you have full ownership of your product as a leader, and you don't leave problems to someone else."
Stage 2
After evaluations, a decision is made after a debrief call. If Amazon finds you good enough to work with the company, recruiters decide which role suits you best.
Find additional information about preparing for Amazon interviews here.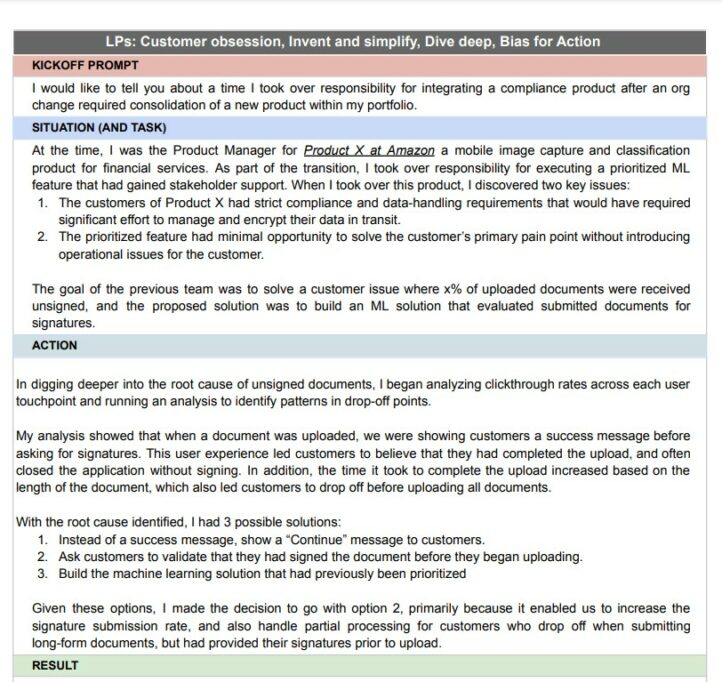 Other details
A Twitter user who had already been interviewed as a software engineer also shared his experience. He said candidates would get a 90-minute data structure and algorithm assessment to test their coding skills.
The assessment is followed by behavioural tests focused on Amazon's leadership principles. In this phase, the questions are about what the candidate will do in specific scenarios.
The process then ends with basic interview questions such as "why are you fit for this role?"
"Apply to a job at a level higher than you think you are." According to Ekwueme, you can get recommendations for lower positions when you do not make the bar for the role you applied for at the interview.
After getting into Amazon, what's next?
While it's important to share tips on nailing the application and interview process, knowing the best practices to imbibe while working at the company is also imperative.
"Your success in a team relies on your ability to work with people, your ability to communicate and being able to compromise."
Ekwueme pointed out that some people tend to put a lot of pressure on themselves to deliver once they get into Amazon, a mindset that could make them counterproductive.
"When you join Amazon, time is on your side. There is so much knowledge within Amazon that the only way you can grasp them is by giving yourself the liberty of time."
Ekwueme also narrated what the process of getting along and building relationships was like for him at Amazon. The first hurdle was learning to communicate; Amazon had a lot of acronyms, and learning everything was key to effective communication.
Thankfully, Amazon has an acronym dictionary to help with grasping acronyms faster. In addition, he also noted that people in the company also have an incentive to help. The leadership culture meant that anyone you ask for help is ready to help.