Last year, the Lagos State government announced plans to install 13,000 close circuit television (CCTV) cameras across the state as well as 6,000 street lights and security sensors for surveillance and crime prevention and to improve the impact of emergency and disaster management across the state.
Part of this initiative is the mobile surveillance that has been deployed on the streets of Lagos in April. The anti-crime CCTV cameras-- which is managed by the operatives of the Lagos state Rapid Response squad (RRS) with technical assistance from the Lagos state Response Unit (LRU)— while being test-run, recorded its first victory when the patrol team arrested a pickpocket at Oshodi.
While I commend the Lagos state government for finally making good on their promise and taking this laudable step to reduce the crime rates in Lagos, I could not help but wonder if the arrest of the pickpocket was sheer luck on the patrol team's part.
It is one thing to detect a crime in action, it is another thing to apprehend the culprit especially if he is able to flee from the crime scene. What if the young man was able to avoid arrest at the time, wouldn't that mean he would have gotten away with his crime?
If you have ever been mugged in Lagos or been the victim of a pickpocket, you know how quickly these guys can get away without a trail. How then can the police hunt them down and enforce justice?
It is the nature of the Nigerian government to put the cart before the horse. In 2010, the Nigerian government awarded a $470 million contract—the Chinese Exim Bank provided a $399.5 million loan-- to a Chinese company to install 2,000 CCTV cameras in Abuja and Lagos.
The project was to generate voice, video, and data, using the code division multiple access (CDMA) technology to tackle terrorism, armed robberies, kidnapping and other violent crimes that increasingly undermine security.
With so much money put to waste without putting the right things in place; it was no shocker that the project failed. The purpose for which the project was initiated was defeated; no crime has been detected using the facilities as it is applicable in other parts of the world. Most of the cameras installed have been vandalized due to their non-usage. The members of the Senate have been probing this project since 2014.
The need for a unified database
The Nigerian government adopts one form of technology or the other with no way of implementing it to its full potential. If we are going to adopt the use of surveillance systems, we might as well do it the right way by working on achieving a unified database first. In developed countries, criminals caught on surveillance cameras are apprehended because of the presence of a standard database.
The lack of a unified database in Nigeria is the root of some of our problems as a nation. I can get away with running a red light with a car with an unregistered number plate even with the new surveillance system. Even if the camera captures my face, there will no way to trace me because my data is here and there.
People can get away with using different names, addresses and other information for different registrations because they are aware that none of the agencies will make efforts to verify their data. How can crime be curbed in a system as disorganized as this?
If Nigeria had a unified database, we would not have ghost civil servants, police can easily solve crime cases because there will be a system in place that has the data of all residents of the country. Therefore, I do not see the purpose of the project being completely satisfied until we fix our database flaws.
Are Lagosians ready for a surveillance system?
As an optimist, I like to believe that people behind the surveillance operations will make it work. However, I will not be surprised to see patrol team operators arrest innocent Lagosians just so they can collect bribes. They could even collect bribes from criminals. Also, after the hype of the surveillance dies down, the operatives may be seen slacking off their surveillance duties.
Then there is the issue of privacy. You know that unsettling feeling you get when you think someone is watching you? Imagine feeling that way every time you are out on the streets of Lagos.
In Kenya, the CCTV surveillance system introduced in 2013 has helped the police solve several crimes. However, in recent times, Kenyans have voiced their discomfort on the government's "invasion" of their privacies.
The Kenyan government has made moves to take it up a notch by listening in on their conversations with the help of mobile service providers to fish out counterfeit phones.
South Africans are facing similar problems with citizens voicing their concerns about the government watching them. Unsettling right? Almost sounds like a fancy problem to have but we will get there eventually.
Studies have shown that surveillance cameras are a useful law enforcement tool and can assist in preventing crimes, however, they are not a panacea by any means. Bearing this in mind, I think the Lagos state mobile surveillance initiative is a step in the right direction and maybe other states can take a cue from this.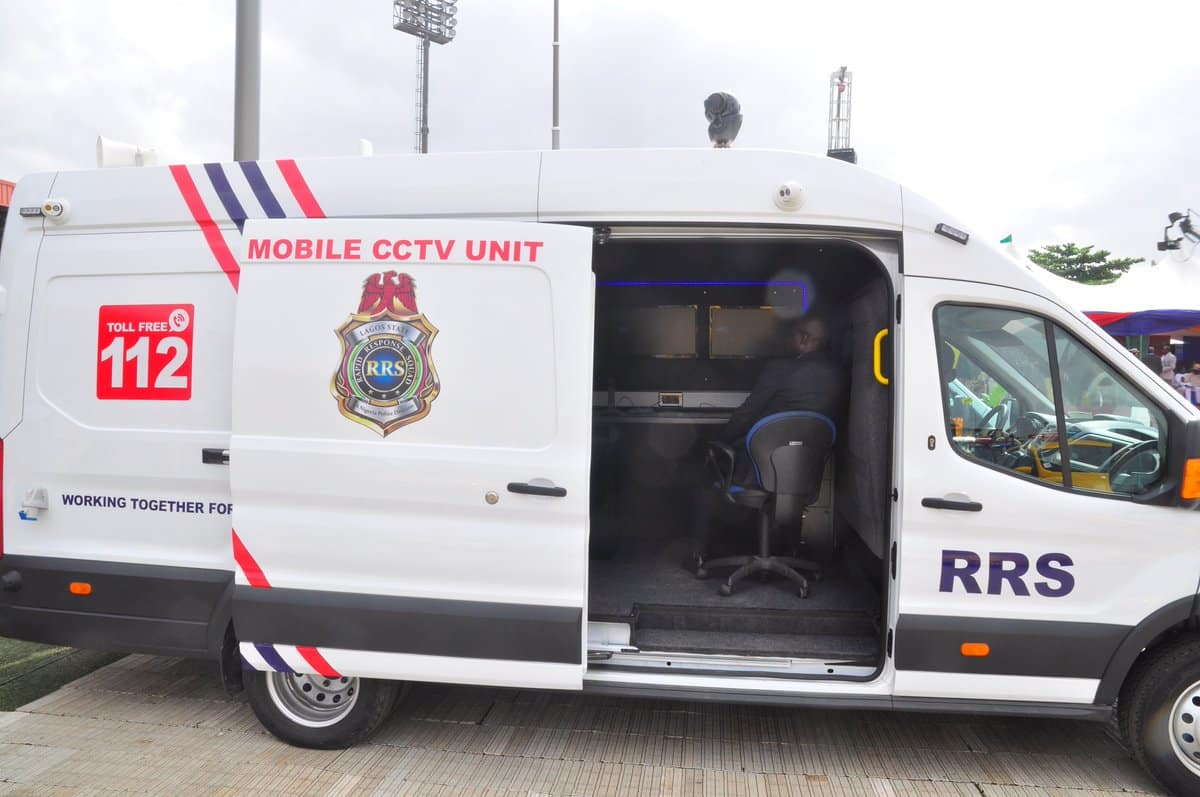 However, why do the surveillance vans have CCTV and RRS written in such bold letters? What a subtle way to apprehend criminals?