The Abuja leg of the Techpoint Innovation Tour of Northern Nigeria ended last Wednesday and as the roundup has shown, as expected there was loads of exiting innovations,  businesses, startups and people to meet.
As the tour is still underway, we decided to take a train ride from Abuja to Kaduna to continue the other part of the tour. The trains are the highly advertised high-speed ones that were commissioned sometime in March this year.
Suggested Read: Nigeria's first ever high-speed rail is finally here
And herein is an overview of the experience, services and general reception on the train.
Ticketing
According to a communicated schedule, the train was meant to take off from the Kubwa train station by 7:22 AM so we left the hotel one hour earlier to beat early morning Abuja traffic.
Even though it was early in the morning, the waiting area was packed full of passengers who have already purchased tickets.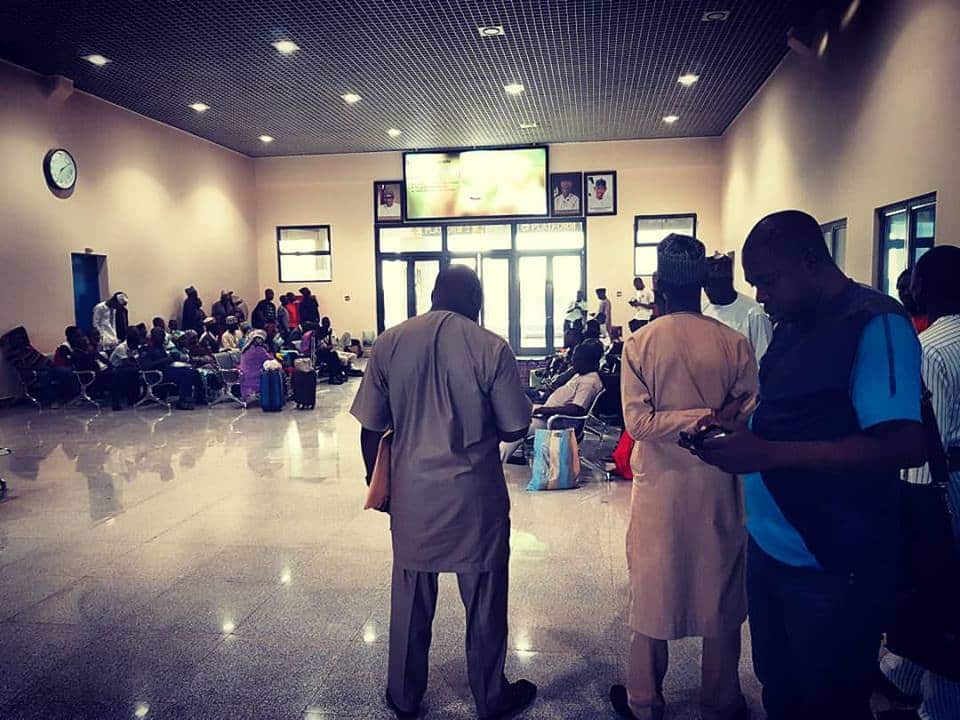 The ticketing area was uncluttered and orderly queues waited for tickets (no surprise there, we weren't in Lagos). Announcements were made through an intercom in the glass window.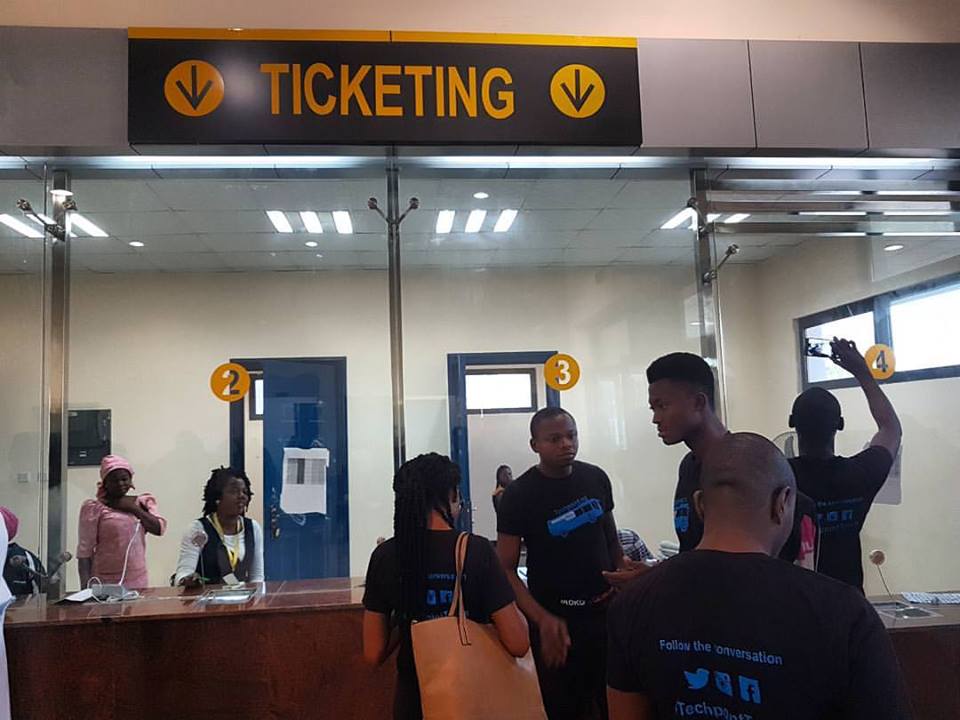 First class tickets cost ₦900 while second class seats are sold for ₦600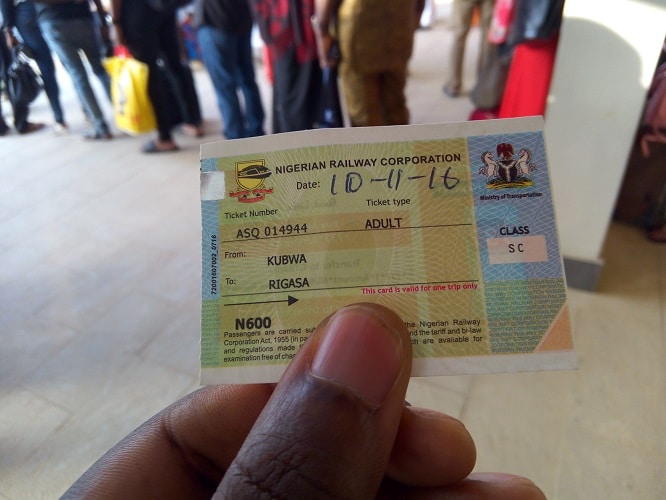 The initial plan was to ride first class and get the ultimate experience of the train, but the ticketer told us the first class tickets had been exhausted.
Investigation revealed that the first class tickets were being hoarded and reserved illegally by the ticketers. After we took our forced second class cabin seats, he sold three first class tickets to another customer.
Boarding
After getting tickets, we tried relaxing but the train horn tolled in the distance and passengers moved out to the platform  to await the oncoming train.
The outward rush towards the platform was disorganised and reminiscent of a Lagos bus struggle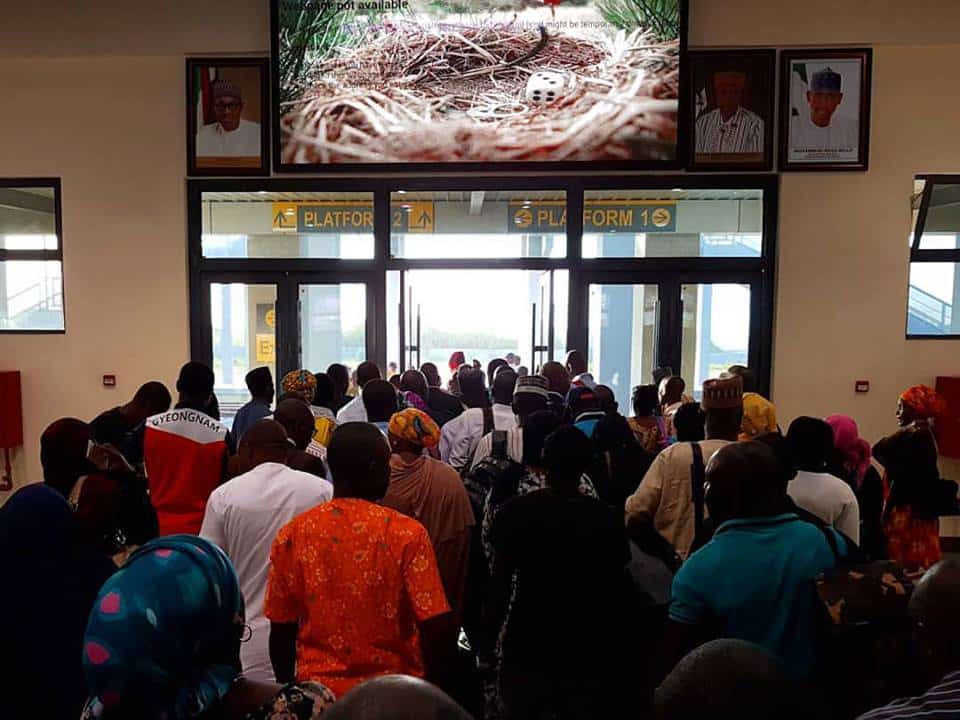 While boarding the train, the queues were more orderly
On-board
Upon boarding the train, I was shocked by the orderliness and crispy atmosphere within the train itself.
The air conditioner was on full blast and everywhere was spick and span; not even a single litter could be located anywhere.
Seats were made of plastic with comfy cushions draped in red cotton coverlets.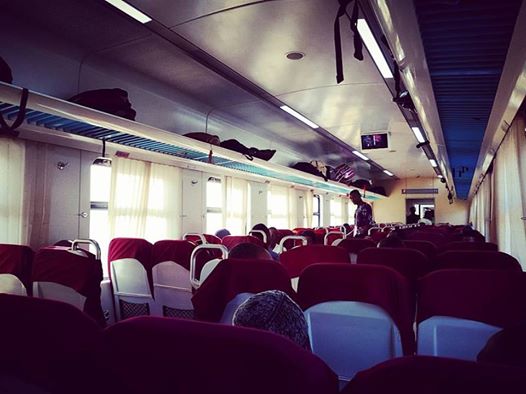 I found an excuse to sneak into the toilet on-board to see the messy state it would be in, but lo and behold, my surprise knew no bounds.
The water closet was not only sparkling clean, the flush, sink and tap worked too!
Overhead bins and coat hangers too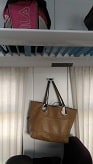 Enroute
Our train left the station by exactly 7:25 AM and a few minutes after take off, the conductor walked up and down the aisle punching ticket. When he moved around, something occurred to me; what if I came onboard without a ticket?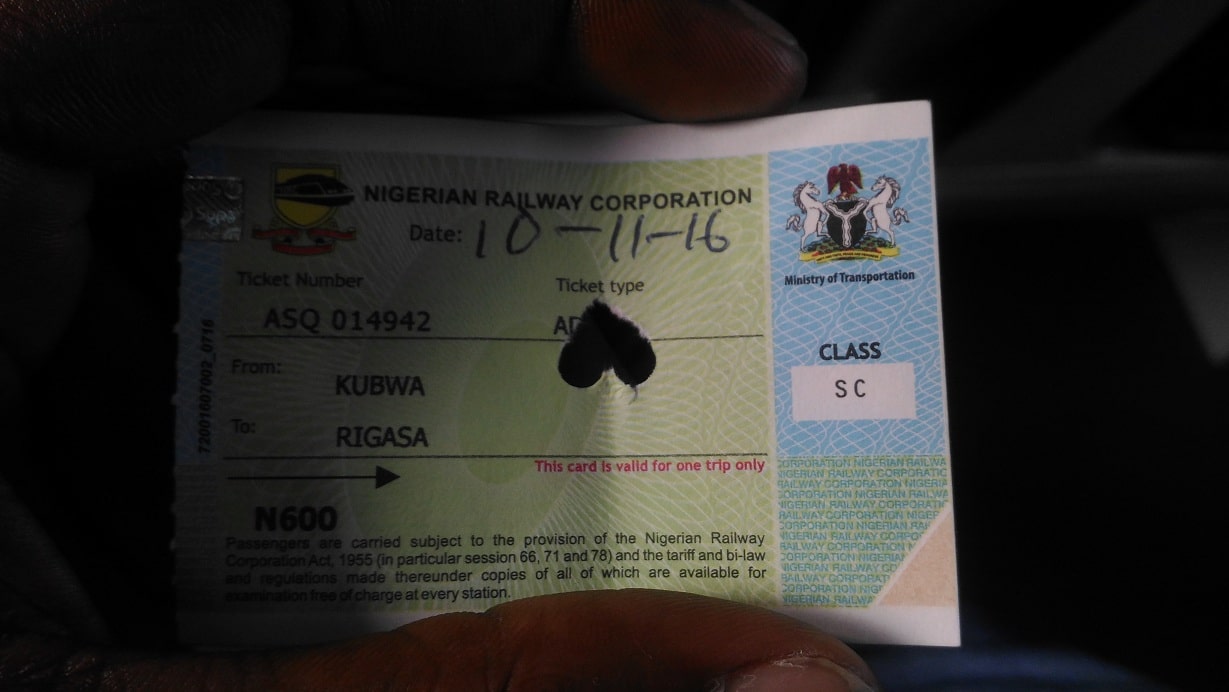 He gave three options and punitive measures of sorts for people who board without tickets. They either pay double , are dropped of at the next station or get handed over to the police, if they've gotten to their destination.
Jere Station is the first stop and we reach it by 8:00 AM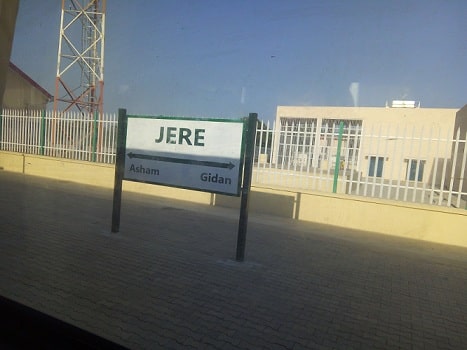 Even though Jere is in Kaduna, it is still 35 minutes from take-off point which is not very impressive. The train is painfully slow. We took off from Jere after 5 minutes (8:05 AM) and reached Rijana by 8:45 AM.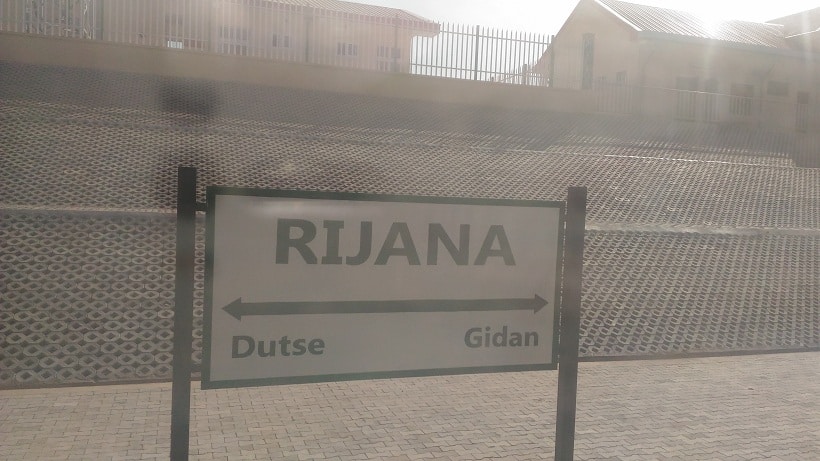 Rijana was misty on the side of the window it stood on and at that point, a man selling soda and too-sweet cakes came on board. We left Rijana at 8:53 AM and reached Rigasa by 9:37 AM.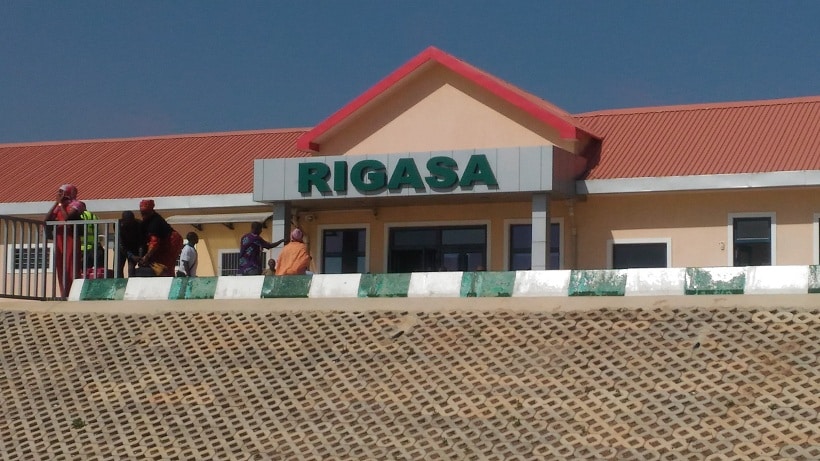 In Rigasa we alighted and the train turned around to pull the coaches in the opposite direction.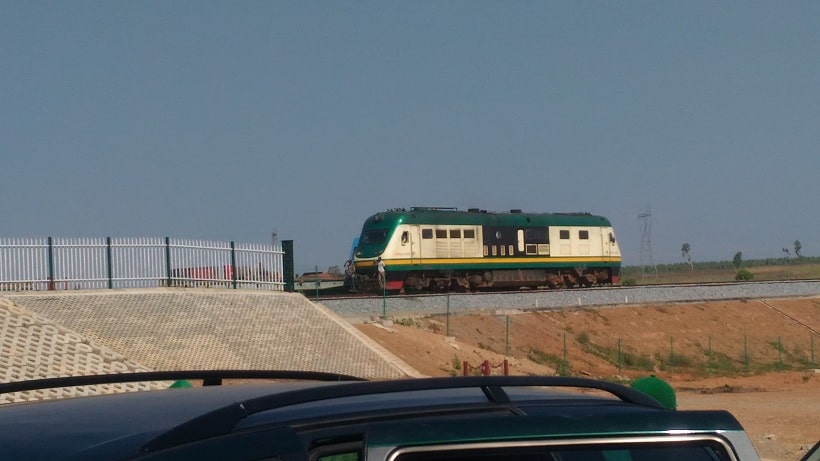 Observations
Apart from the aforementioned observations, I noticed a couple of things on the course of our trip from Abuja to Kaduna;
The drivers are all Chinese and I wonder why. Even though the railway project was executed by the China Civil Engineering Construction Company (CCECC) and China has invested billions of dollars in our rail system. I expected the train operations to create jobs for Nigerians, unless of course it is in the MoU signed.
In January when the high-speed railway was publicized, it boasted 120 — 150 km/h and a 1 hour distance between Abuja to Kaduna and vice-versa. But it took us 2 hours and 12 minutes, and without traffic, it means the trains are way slower than they say they are.
Lastly, the system could be more efficient if an online portal is created to enable passengers book and reserve tickets for their journeys before boarding. But the 'first class ticket cabal; will not have their way if passengers bought ticket online, so I guess it's wishful thinking on my part.
Overall, the train works and the system is efficient to a great extent, I kept wishing an alternative transport system like this one could be in Lagos before we get back from the Techpoint Innovation Tour.
Featured Image credit: Shutterbug Creative Media. 
---
The Techpoint Innovation Tour (Northern Nigeria Edition) was made possible by our primary sponsors — iROKOtv.com and GIGM.com, location partners Ventures Platform Abuja, CoLab Kaduna and nHub Jos, and coverage partners — xteamstudios and Shutterbug Creative Media.
---
Are you in tech and you are looking at getting a foreign remote job or you want to move abroad? Fill this form and you will get the BEST resources to help you get that high paying remote job as well as japa easily! WAGMI!