School to offer quality tech courses to youths in the state
Skill-to-market platform AltSchool Africa has announced its strategic partnership with the Enugu State government to offer cutting-edge skill development tech programs to its indigenes. AltSchool Africa will provide a comprehensive and experiential upskilling platform for learners in the state looking to forge careers in growing sectors.
AltSchool Africa, known for its innovative and industry-relevant courses, will provide access to high-quality skill acquisition programs in frontend and backend engineering. The platform is taking a non-conventional approach to learning and offers courses directly related to in-code and no-code courses. Through this collaboration, the youths in Enugu State will have the opportunity to upskill, ensuring they are well-prepared for the demands of the modern workforce.
The State Governor, Dr. Peter Mbah, is taking this proactive initiative to equip individuals with the skills needed to succeed in a job market that is constantly evolving. This collaboration also aligns with the Governor's mandate to equip 40,000 youths yearly with digital skills to reflect a shared commitment to human capital development and the creation of sustainable economic opportunities.
Hon. Arinze Chilo-Offiah, Special Adviser to the Governor on MSMEs and DG, Enugu SME Center, said, "This partnership signifies a significant step toward equipping our people with the skills they need to thrive in today's dynamic world. We believe that by investing in skill development, we are securing a brighter future for the youth of the State as well as aligning with the National Export Talent Program (NATEP) of the Federal Government.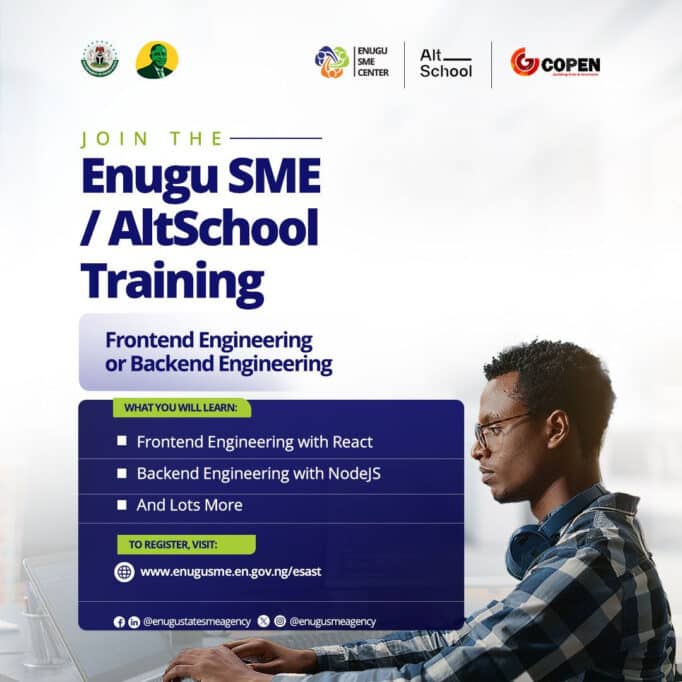 Commenting on the partnership, Adewale Yusuf, AltSchool Africa CEO, said, "We are honored to partner with Enugu State on this transformative journey. When I had my initial conversation with the state government, it was great to hear about their bold vision and ambitions for the youths in the state. AltSchool Africa is committed to providing accessible and high-quality tech skills that empower individuals and drive economic growth. Together with Enugu State, we look forward to unlocking the full potential of the youth in Enugu."
Sultan Akintunde, AltSchool Africa's Head of Technology and Co-founder, said, "As we join forces with the Enugu State Government, we are driven by our shared vision of empowering Nigerian youths to thrive by fostering creativity, critical thinking, and problem-solving skills that will set them up for success. AltSchool Africa plays a critical role in the skill and training of Nigerians at scale. We have a robust learning infrastructure that allows us to train the youth in Enugu State and this partnership also attests to the fact that our work at AltSchool Africa is getting noticed".
Following AltSchool Africa's recent expansion of its learning faculty to introduce Creative Economy, and Business schools, this partnership will provide an additional opportunity to reach more young people and enhance their skills, enabling them to re-imagine their goals and career prospects.
About AltSchool Africa:
AltSchool Africa is a global talent technology company that is committed to reshaping the landscape of learning through innovative technology, personalized learning experiences, career services and meaningful partnerships. By combining cutting-edge technology with expertly designed content, AltSchool Africa aims to provide learners with the tools and resources they need to thrive in an ever-evolving world.