Paychant helps businesses to accept Bitcoin and other cryptocurrencies payments in a way that they are familiar with.
The company says it provides online and offline businesses with an easy way of accepting cryptocurrency payments, giving them access to a growing number of consumers who want to pay using digital currencies.

According to Paychant, all payments are processed in real-time, giving merchants the
comfort of low transaction fees that can not be compared to that of traditional payment
gateways (credit card processors).
"Although the crypto market has never been so stable in terms of its value, that is why we have set in place a system that instantly converts crypto to fiat money," the company explained.
A key part of Paychant's offering is ensuring that the process of accepting cryptocurrency payments is straightforward and that no prior experience of cryptocurrency or blockchain technology is needed.
Merchants using the Paychant platform don't require any instruction on how to use the payment method, as the system is designed in a way that they are familiar with.
On the platform, merchants can either choose to receive their payout in local currency (NGN) i.e bank transfer or get settled in cryptocurrency. For merchants who want to be settled by a bank, Paychant process payout to all the 22 commercial banks that is available in Nigeria, the transfer is initiated as per the merchant withdrawal request.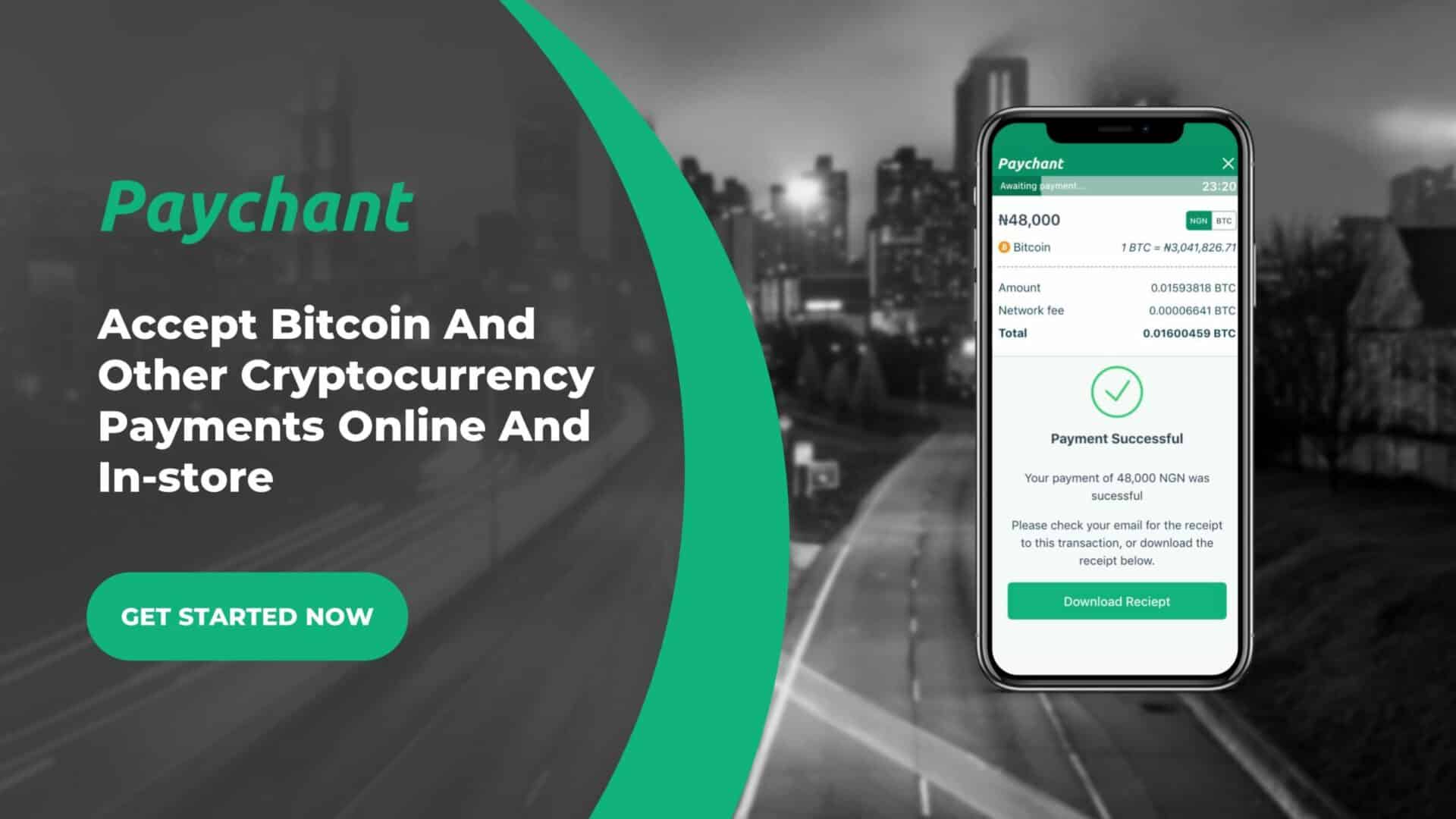 "A big benefit of crypto payment is that it makes moving around huge sums of money cheap, and all these points to a future of a cashless community that uses digital currencies," the company explained.
Available means to accept crypto payment on Paychant
Payment Page: Users on Paychant can simply create a Payment Page to accept
cryptocurrency payment.
E-commerce Store: Merchants can create a free customize e-commerce store that is
integrated with an in-built cryptocurrency payment gateway, no developer is needed for this.
Point-of-Sale (POS): Paychant provides a Point-of-Sale (POS) application that supports
Bitcoin and Ether payments, which allows merchants to accept direct crypto payments in their physical store or shop. The application is available on Apple's app store and Google's Playstore.
Donation Page: A donation page that lets individuals and charitable organizations accept/raise funds in cryptocurrency.
API Integration: A simple integration for businesses to accept Bitcoin and other
cryptocurrency payments on their website.
Paychant is starting a trend that is unique from the perspective of Nigeria and our vision is to continue our work until we reach a stage where we will become a household name, a product of daily needs to people in Nigeria.
What do you think about the Paychant cryptocurrency payment gateway platform? Let us know in the comments section below.
For more information, visit https://paychant.com