Nigeria, which ranks third globally, is regarded as the largest country in Africa with the greatest concentration of crypto traders. The country is responsible for the greatest volume of bitcoin trading outside of the US. It is interesting to learn that roughly 60% of Nigerians exchanged cryptocurrency according to reports.
Although these figures are encouraging, the environment in Nigeria has not been very welcoming to cryptocurrency and associated topics. The Central Bank of Nigeria (CBN) has mandated that all commercial banks and lenders cease all cryptocurrency trading and operations.
The Nigerian government's decision to outlaw cryptocurrencies has been extremely detrimental, especially for young Nigerians who are aware that more than 1 billion individuals worldwide use cryptocurrencies. Many cryptocurrency trading platforms in the country were shut down during this time. Also, money from several bank accounts believed to be used for cryptocurrency trading has been frozen.
Bank transactions that have "crypto", "bitcoin", "p2p", or other crypto-related phrases next to the account will be locked as of right now (February 21, 2023).
It is disturbing how poorly cryptocurrencies are treated in Nigeria and Africa as a whole. The community has accepted a system that enables cryptocurrency dealers to exchange cryptocurrencies without going via a bank in an effort to find a workable solution.
The Top 4 Issues Nigerians Have with Cryptocurrency
1. Choosing The Right Cryptocurrency Exchanges To Use
Finding the best cryptocurrency trading platform these days that is extremely effective for you can be difficult.
To encourage safer crypto trading within Nigeria, numerous exchanges have been set up. In this situation, a number of phoney platforms have been developed to steal money from cryptocurrency investors. How can cryptocurrency traders in Nigeria tell whether platforms are trustworthy? You may get crucial advice on how to pick the best crypto apps to sell bitcoins in Nigeria by using certain checklists for selecting the best crypto exchanges in Nigeria.
2. Speed Of Transactions
As cryptocurrency speed is intriguing, quick transfers are essential. Transactions typically take hours to complete. A typical cryptocurrency trade on a P2P trading platform would take between 10 minutes and an hour. Unexpectedly, some last longer than five hours. Yet, the length of a crypto transaction may be shorter than five minutes, depending on the app. How can you confirm payment before your consumers receive your product if you need to process transactions rapidly or your business accepts crypto payments? Will your clients be required to wait for hours?
For the majority of Nigerian cryptocurrency traders, transaction speed has turned into a negative aspect. This is one reason why it's challenging for many Nigerian companies to take cryptocurrency as a form of payment.
3. Exorbitant and Variable Fees
Another issue many Nigerians deal with is the cost of cryptocurrency transactions. You should examine the pre- and post-conversion rates in order to truly assess the best solutions. What are processing fees, receiving fees, and withdrawal fees? These costs are a major letdown for domestic cryptocurrency trading.
4. Limitations
It is terrible that so many crypto traders in Nigeria are unable to transact. There are frequent limits on how much you can withdraw, receive, and buy/sell using some crypto trading apps. This goes against the idea behind cryptocurrency. People can now send money without any restrictions from one location to another, thanks to cryptocurrencies. Why am I below my withdrawal limit and hence unable to receive my money? Many Nigerians have lost interest in cryptocurrencies due to restrictions, if not outright lost them.
Among other things, these characteristics make crypto trading particularly challenging in Nigeria.
How Breet Addresses Some Of The Cryptocurrency Problems Africans Encounter
Breet is the game-changing impact of Crypto Africa. Breet is an OTC cryptocurrency exchange platform that makes it simple to sell cryptocurrencies in Nigeria and Ghana and allows individuals and businesses to rapidly convert cryptocurrency to fiat currency.
You can avoid tedious explanations of how cryptocurrencies operate and tedious depictions of crypto market charts, thanks to Breet's storefront system. With Breet, a user can safely exchange cryptocurrencies for cash within 5 minutes without the use of third parties or peer-to-peer transfers. You can collect your money in less than five minutes with only one click.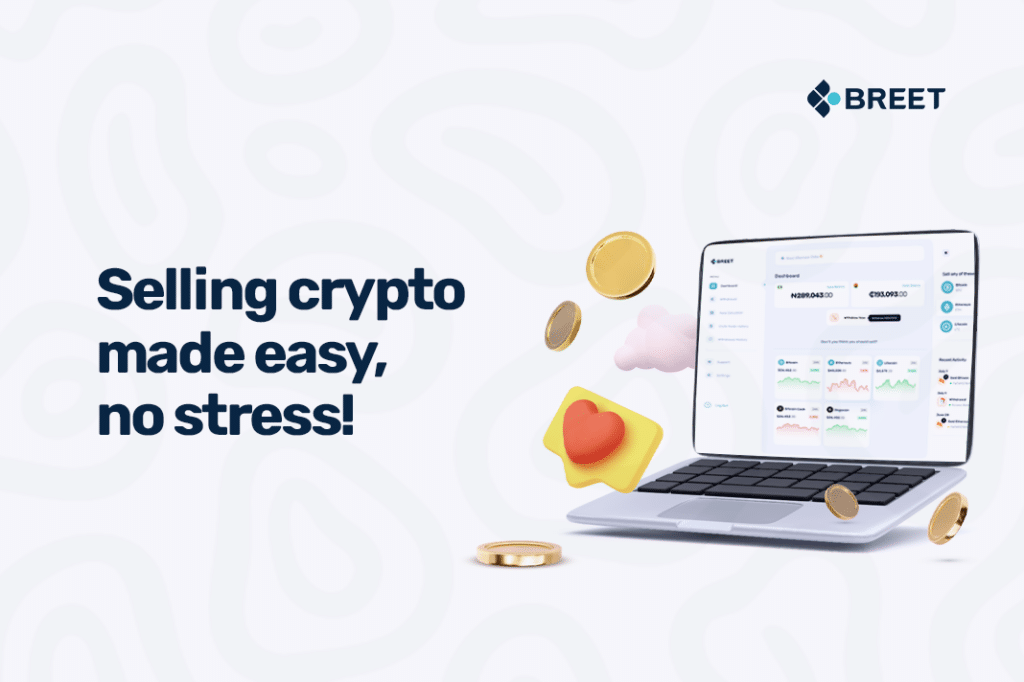 Breet allows you to convert bitcoin to Naira in under five minutes. This in itself is a fantastic feature. As a result, merchants may now accept cryptocurrency as a form of payment without having to have clients wait hours for payment confirmation.
Breet is unrestricted as well. There aren't any additional costs associated with receiving, processing, or withdrawing money. Breet is completely free to use. For many Nigerian cryptocurrency traders, using Breet for free eliminates the issue of high and unpredictable costs.
There is also no cap on how much you can deposit or withdraw. Before you may withdraw, you don't need to have enough cryptocurrency to equal thousands.
Breet is simple, cost-free, and accredited. Before concluding that Breet is likely the greatest cryptocurrency trading platform in Nigeria right now, not much more needs to be said. The outstanding reviews for the Breet app are convincing evidence.
What else do you require? In any case, a cryptocurrency exchange facilitates simple trading and makes consumers pleased. To use Breet, you must download the Breet smartphone app. Every Android and iPhone smartphone can use this software.
Keep in mind that it may be challenging to become a better crypto trader in Nigeria. This is why it's critical to conduct independent research to learn more about cryptocurrencies and the most recent news.