Globally, the world is becoming decentralized at an exponential rate and Nigeria has become more introspective on leveraging this trend. While there have been conversations on the need to strategically adopt more digital modes of operations, most developing countries have approached this evolution with reluctance and shaky hands. Filecoin, the worlds' largest decentralized network provider, partnered with Ethereum-Nigeria to organize the first-ever networking conference in Nigeria themed 'The FileCoin Conference' which is being held from Thursday, March 31st to Saturday, April 2nd at Zone Tech Gbagada, in Lagos Nigeria to kickstart conversations on Blockchain and decentralization.
With the growing influence of Web3, and blockchain in the tech world, Filecoin has delved into fostering more insight into the possibilities it presents for Nigeria's thriving economy and the immense benefits of storing, requesting, and transferring data via a verifiable marketplace with charged speed.
The 3-day multifaceted conference witnessed a gathering of top experts in the blockchain field and reputable speakers from across the globe, with an agenda that encompassed a workshop, a mini-hackathon and a deep dive conference. 
When asked about the initiatives and core objectives for the conference, Chukwuemeka Enoch Mbaebie, a Devcon V Scholar Alumni and the Ambassador for Orbit Community Program Lagos, stated that,
"As one of the biggest spaces for tech in Africa right now, it is only right that Nigerians should be at the forefront taking advantage of the possibilities that Web3 and Blockchain technology has to offer. We believe that our aspirations in creating a decentralized tech solution align with the desires of young Nigerians which is why we have designed this conference."
The glaring specialization and expertise of Filecoins' advanced technology to provide a robust foundation where the world's most valuable datasets are stored in a completely open-source environment enabling people from all over the world to participate, has positioned them as key pioneers and experts to lead this conversation.
The conference is power-packed with deep-dive interactive sessions on various topics such as IPFS, NFTs, Web3, Daap, FVM, Metaverse and the Future of Filecoin. Understanding that diversity is the spice of life especially when it centres around providing the best knowledge from expert speakers, Filecoin strategically employed experts and professionals like; Juan Benet- CEO Protocol Labs, Yulia Deriuhina- Ecosystem WG,  Akinyemi Akindele- CEO Betdemand, Oluchi Enebel- Web3Ladies, Jonathan Dotan, Chris Quintero- CEO Stackshift and others to speak at the conference.
When asked what the Hackathon would look like, Akinyemi Akindele stated that the hackathon will be an opportunity where young Nigerians will be able to display their skills and stand the chance to win cash prizes worth $1750, a conducive working space for three months and membership in the Orbit Community Program in Lagos.
The third day of the event witnessed the hackathon which was declared open by the CTO of Blocverse- Tochukwu Okoro. While questions were addressed to provide better indepth knowledge on Web3 and Blockchain technology for participants and the numerous job offers available, applicants for the Hackathon geared up to begin the contest in full speed.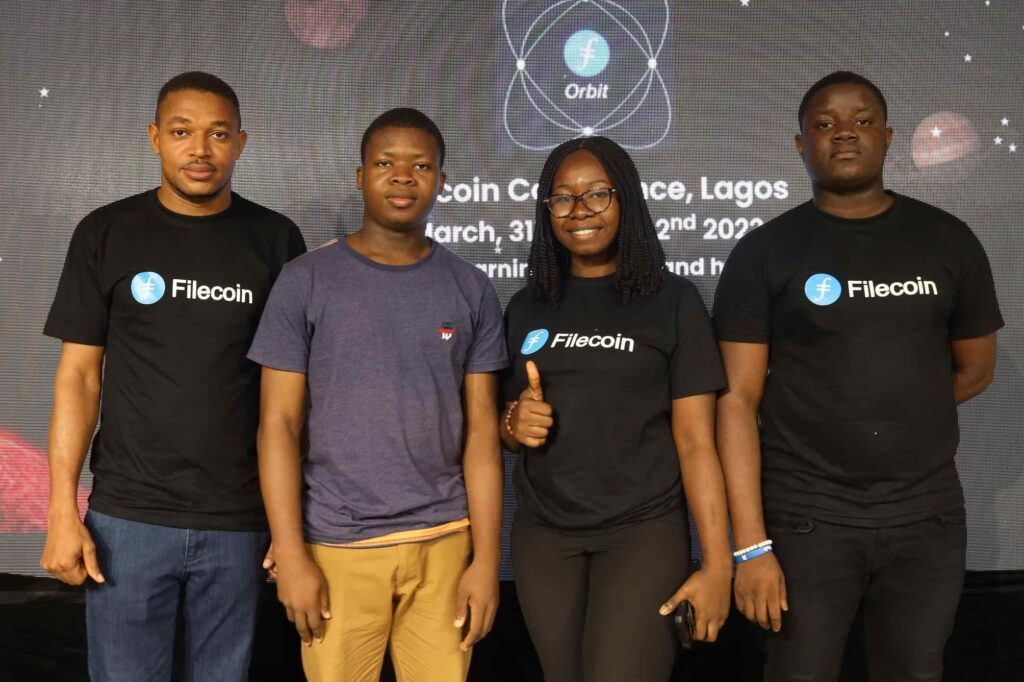 Applications from various teams and individuals to birth solutions leveraging the Blockchain Technology, IPFS, and the FileCoin platform were demoed on the day of the hackathon. Ten teams presented their projects and three emerged winners. Judges for the hackathon were Tochukwu Okoro - CEO, Blocverse, Ayodeji - CEO, Web3Bridge, Dare - CEO, Blockbuild Africa and Daniel - CEO, THE DIGIT.COM.
Team Dotwog came first with their project that focused on a decentralized data migration platform which scored 83 points. The team was headed by Oluwatobiloba and other team members; Oluwasomidotun, David, Gift, Wuraola and Topichulan.
Team Synergy came second with a project called Decentra Doc, an open source real time collaborative text editor that can be stored on IPFS which scored 82 points. Team members include; Olusola Samuel, Toyosi Salami and Maxwell Codehouze
In the third position was team Medcan DAO with a project that focused on how NFT can be used to fund and manage health education and research on marijuana which scored 79 points. Team members include; Abimboka Adebayo and David Uzochukwu
Other submissions included projects like "Staking Contract With NFT Whitelisting" which scored 70 points. This project allows owners of a particular NFT to stake a particular token and get 10% of their stake monthly. Stakers can only withdraw their profit after 3 days since they staked. Team members include; Abimbola Adebayo, Pamilerin Ayobami, Adegbite Kelvin, Obiagwu Nnamdi, Olajumoke Boladele-Lawal and Abdulrasheed Adediran.
Team Battle NFTS scored 42 points with a project that creates a battle NFT character using verifiable Random Number Generator (ANG) to create an open-sea marketplace. The NFT changes based on real world data using a decentralized oracle. With an NFT character already built, they added a tokenURI view with IPFS and Pinata which allows viewing of IPFS files when the node is down. Team members include; Ibrahim Shittu, Atanda Nafiu
Team Name Decentralized built an NFT Minter that scored 54 points. It is a project that allows you to mint an NFT to your wallet from a custom smart contract. Team members were; Dauda Oladipo, Joseph Nwadike and Femi Olah.
Team Evify scored 54 with a project titled Evify. Evify allows users in a certain entity to generate, store and verify their documents as an NFT through NFT a w/IPFS decentralized storage. Team members include; Annaelechurana Kevin - Lead, Kevin - Researcher, Alvan - Developer, Gabriel - Developer and Chimmezirim - Developer.
Team Blackgames built a project titled File-School which scored 70 points. File-school is a decentralized E-learning Platform built by Wande Oki.
Team Web 3 ladies submitted a project that focused on NFT minting which scored 70 points. Team members include; Khadijah and Maureen.
Team Decentradrive scored 62 points and was owned by Pidoxy. The hackathon ended with contestants thanking Filecoin for the opportunity while further reiterating that the conference had been insightful as different sectors and aspects of the Web3 and Blockchain were addressed by the different speakers.
Filecoin's initiative has therefore paved the way for decentralized systems, international collaborations and projects that will boost economic growth. The CEO of Stackshift, Chris Quintero also reiterated Filecoin's sponsorship of scholarship programs that make it easy for people to spread their network into the Web3 space. Their ample optimism in Nigeria's tech community and belief that better days are ahead is unsurprising and is one of the key features necessary to steer the unavoidable revolution. 
Leading Filecoin's brand visibility and brand presence strategies, Dolphin Agency- a digital marketing agency focused on leveraging strategic communication channels to promote organizations and projects within the Web3 and Blockchain Ecosystem also stated that although Filecoin is based in the United State of America, their dedication to creating a community where decentralized modes of operation are accepted and acknowledged has endeared them to lead this conversation in Nigeria.
Filecoin is the worlds' largest decentralized network that allows users to store, request, and transfer data via a verifiable marketplace. Filecoin is completely open-source, enabling people from all over the world to participate with a protocol that runs on an advanced and novel proof system, a combination of Proof of Spacetime (PoSt) and Proof of Replication (PoRep), to provide unmatched efficiency and reliability.
Since its liftoff in 2020, Filecoin's  storage providers have surpassed 15 exbibytes (EiB) of global, decentralized storage capacity, equivalent to 190 Internet Archives, 45,000 Wikipedias, and 6,850,000 years worth of video calls due to its advanced technology that provides a robust foundation to store the worlds' most valuable datasets. As an alternative to costly cloud storage, the Filecoin network offers efficiently priced and geographically decentralized storage, minimizing financial barriers and allowing users to take advantage of its unmatched network capabilities.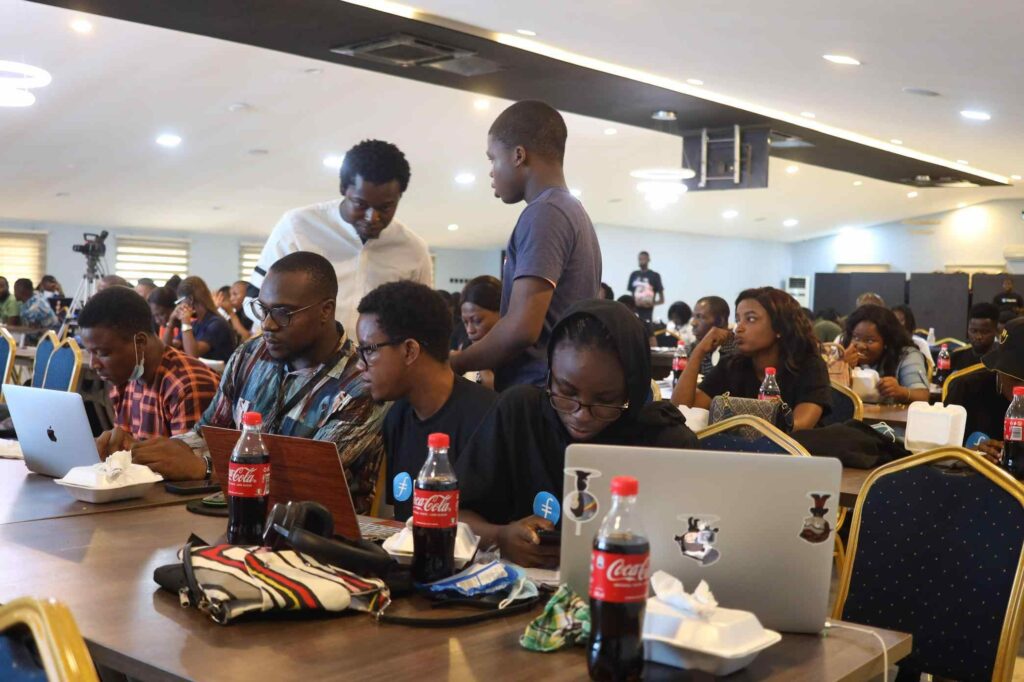 It is therefore expected that participants of this event will leave with a determination to create solutions capable of stimulating decentralization and economic inclusiveness in the Nigerian ecosystem.
When asked if the conference would end in Lagos, Filecoin further stated that all roads will lead to Abuja for the Bogota Ethereum Nigeria and Orbit community Programme meet at a later date this year to continue conversations on decentralization and Blockchain in Nigeria.