Say goodbye to the days of tedious bill payments and hello to the ultimate all-in-one solution—Owletpay.
Owletpay is not just another payment platform. It is your gateway to convenience, a digital world offering access to a wide range of services you use on the regular—airtime, internet, electricity, cable television, sports betting, tickets, and more.
It is like having your own payment superhero on speed dial, ready to tackle and settle your bills effortlessly. Do not waste time switching between apps and waiting for transactions while battling frustrating user experience—sign up on Owletpay!
But there is more! Owletpay joined Telcos, DisCos, and other service providers to bring value-added services that will help businesses soar—perks and benefits that will leave you wondering how you ever survived without Owletpay.
Owletpay is not just here to handle payments. They are here to enhance your entire payment experience.
At Owletpay, accessibility, ease of use, and efficiency are the guiding principles. Owletpay has cracked the code on streamlining bill payments, thanks to their deep understanding of the consumer perspective.
Their uber-young team of digital professionals has been there, felt the pain, and found ways to improve things.
With Owletpay, you can say goodbye to frustrations and hello to a seamless payment journey.
Elijah Olusehinde is the mind behind this payment revolution. He knows a thing or two about numbers and innovation as a Mathematics graduate of Osun State and the founder of Owlet Online and Owlet App.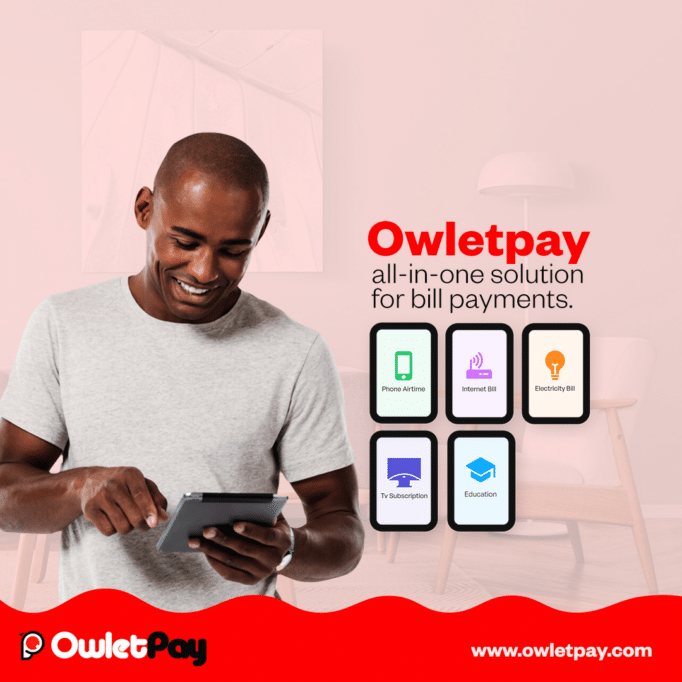 With Owletpay, he is keen on transforming how we connect with the world, one payment at a time.
Speaking ahead of the launch, Mr Olusehinde said: "I have always believed in delivering products that provide a seamless experience. What we have done with Owletpay is provide a smooth, silky, and seamless way to handle your everyday bills.
"It is a simple go-to solution for hassle-free bill payments. We understand the importance of efficiency and convenience in today's fast-paced world. We just want to make things as convenient as possible and eliminate the need to juggle multiple platforms for different services.
"Our mission is to provide seamless access to the services you rely on daily. We also had our entrepreneurs and business owners in mind. What they will find is value for their money. Expenditure-saving features designed to aid ease of business."
Owletpay has made it effortless, so you can focus on what truly matters—growing your business and seizing new opportunities.
It is time to level up your payment game with Owletpay. Say hello to a world of instant bill settlement, unmatched convenience, and a payment experience like no other.
Join Owletpay on this exciting journey and discover the power of seamless payments. You and your business deserve it.
Disclaimer: Owletpay cannot be held responsible for sudden bursts of payment excitement, unstoppable smiles, or the uncontrollable urge to high-five someone. We are just here to make your payment journey extraordinary. Enjoy the ride!
To start enjoying seamless world of Owletpay, visit www.owletpay.com. To keep up with Owletpay on social media, follow @OwletPay on Instagram and Twitter. You can also join the conversation with #OwletPay on social media.