Hi there,
Ever heard of the term, Hope as a Service? Well, me neither. At least until last Wednesday when we recorded the latest Techpoint Africa Podcast. I think it's a perfect phrase, though, and if you render that service or know someone who does, please point me in the right direction.
If the term confuses you, you should listen to last week's Podcast. Find it on your preferred streaming service here. (Please click "Ignore" when you get the warning)
In today's Digest, we have:
the Internet: one word connecting Google, MTN, and Ethiopia, and
Waitlisting as a marketing strategy.
Google's Equiano lands in Togo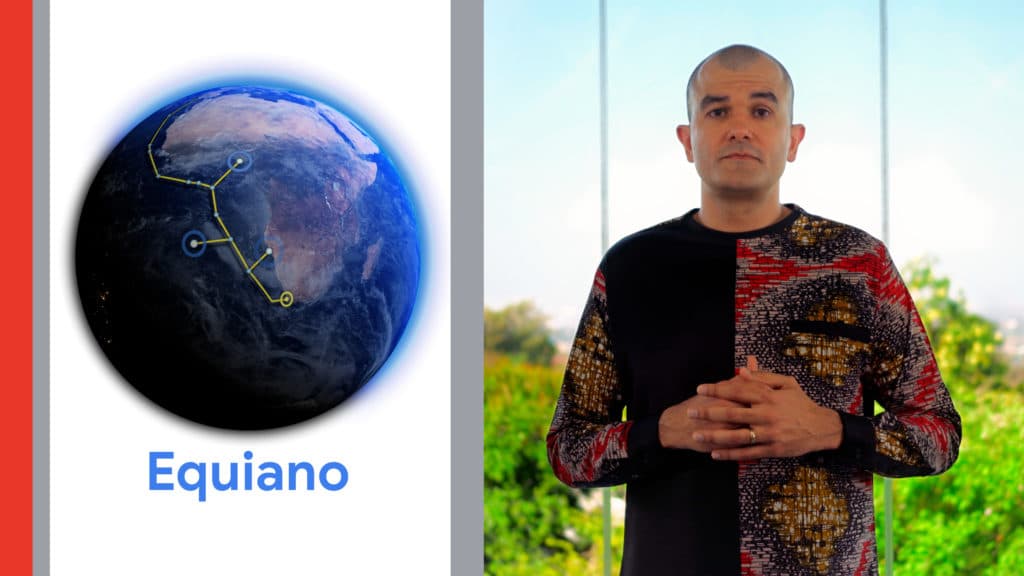 Let's start with an image: You're in the kitchen, standing over your sink, with a bowl in it and the tap running. For some reason, you're lost in thought, and you forget to turn off the faucet. Soon, everywhere is overflowing with water, and you still don't turn it off.
Why the analogy, though? Well, Google's subsea Internet cable — Equiano — has landed in Togo. The company announced this on Friday, March 18, 2022, and said it has partnered with ex-Google project, CSquared.
Stay with me a bit: First announced in 2019, Equiano is a 100 terabit fibre optic cable from Portugal to South Africa, with landing points in Namibia, Nigeria, and St Helena and will connect Africa with Europe. As of 2021, the West and East African coasts each had cables with an Internet capacity of at least 100 Tbps.
Add Google's Equiano, and this becomes 300 Tbps. Technically, this should automatically mean faster Internet, right?
Not so fast: However, the reality is, out of an available 100 million megabits per second, Ghana — the highest ranking African country for fixed broadband — has a speed of 53.28 megabits per second. 
Why so tiny? Lack of Internet infrastructure. It's one thing for an Internet subsea cable to land on your shores, and it's another for it to get to where it's needed.
Here's where the analogy comes back: Think of this as that bowl (Africa) overflowing with water (subsea Internet cables). The tap isn't turned off, and the wasted water is not helpful to anyone.
Here's a handy explainer if you want to know more: Subsea Internet cables and the race to connect Africa to the Internet
Google has a plan: CSquared provides fibre infrastructure that helps connect the Internet coming from subsea cables to where they are needed. So, this partnership with CSquared in Togo could mean that Google's Equiano's cable actually does the good it is intended to do.
There's also a boring backstory here of the government working together with CSquared to form CSquared Woezon, but there's also a bit more exciting news.
New jobs! According to Africa Practice and Genesis Analytics's economic impact assessment of Equiano in Togo, the subsea cable will add approximately 37,000 new jobs between 2022 and 2025, and increase Togo's economic output by an additional $351m during the same period. It also brings 20 times more bandwidth than any cable currently serving West Africa.
Who's next? Word on the street says the cable will land in Nigeria next, then Namibia, and after South Africa.
Meanwhile, in the Eastern part of the continent, Ethiopia's government plans to sell part of its stake in Ethio Telecom have hit another snag. The country's Ministry of Finance announced this on Friday, March 18, 2022, and gave no definite date on when the process will continue. The race to commercialise one of the world's last state-owned monopolies is still on.
Elsewhere, MTN's bid to secure spectrum in South Africa has been successful. On Thursday, March 17, 2022, the telecom giant revealed that it had spent $347 million in the controversial Independent Communications Authority of South Africa (ICASA) auction as it looks to expand its 4G and 5G coverage in South Africa. 
Currently, MTN's 4G network supposedly covers 96% of the South African population. This spectrum allocation could mean more reach, coverage, and speeds.
Nigeria's electricity woes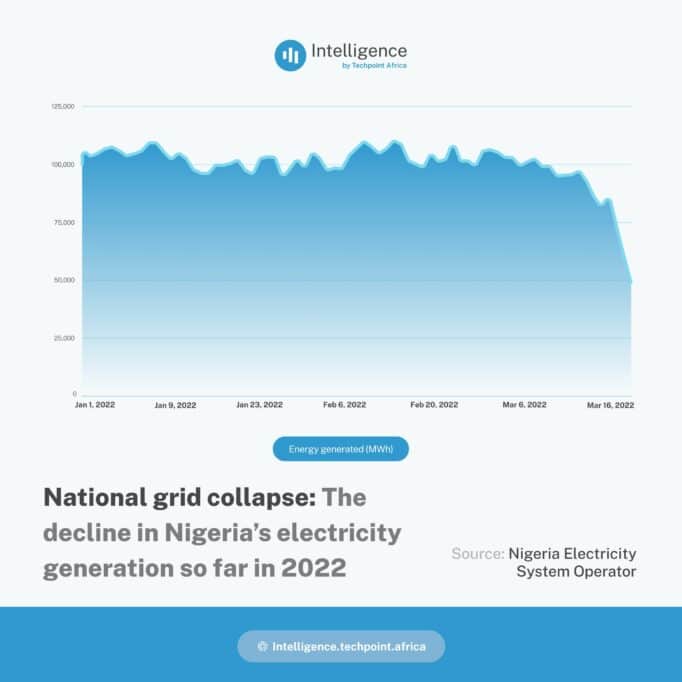 On Monday, March 14, 2022, Nigeria's National electric grid collapsed, plunging many citizens into darkness. Barely 24 hours later, it collapsed once more on Tuesday.
The chart above shows the daily amount of energy generated as at Wednesday, March 16, 2022.
Want a little more context? You can check out this article by BusinessDay's Oladehinde Oladipo
To see interesting statistics and charts like this, please, follow Techpoint Intelligence at @techpointintel on Instagram and Twitter.
Waitlisting as a startup marketing strategy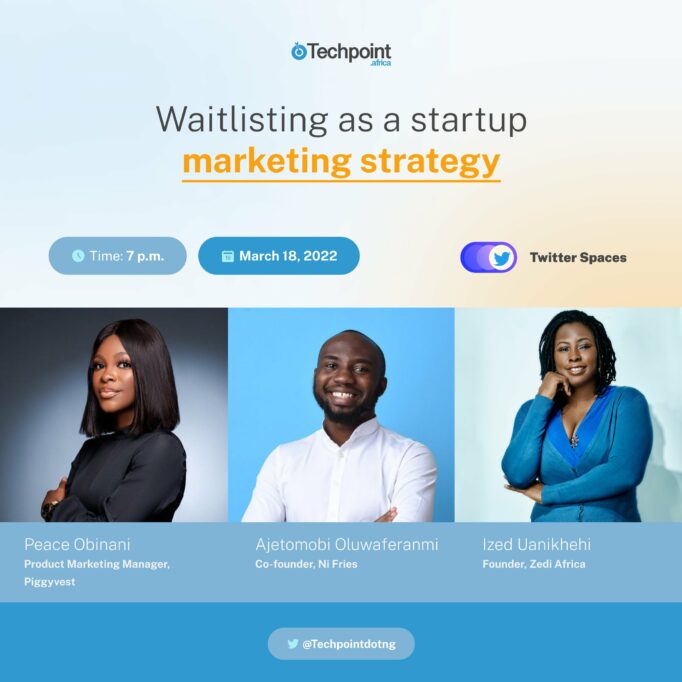 I just have to chip in that this heading reads like a Software as a Service (SaaS) platform. But then, away from Internet speeds and millions of dollars, we are moving on to waitlists.
What is a waitlist? It is a marketing strategy used to create a sense of exclusivity while generating a buzz around a new product or service. For example, ABC company wants to launch a new and exciting product. So, they advertise the product and ask people to join a waitlist — basically fill in their names and email addresses — to be among the first new users. 
You've probably had to join a waitlist once or twice in the past few months. You also probably forgot about the product at some point, didn't you? So what's the hype around waitlists recently, and how can you use them correctly?
We had a chat with Ized Uanikhehi, Founder, Zedi Africa; Peace Obinani, Product Marketing Manager, PiggyVest; and Oluwaferanmi Ajetomobi, Co-founder, Ni Fries to answer some questions on when and why you should use a waitlist, how you should use it, privacy implications, among other things.
First thing I can tell you for free is, don't forget to build the product you advertised while creating your waitlist. Things could get a little problematic.
Catch up on our conversation here, and don't forget to watch out for our next Twitter Spaces in April.
Techpoint Africa stories last week
What I'm listening to/reading/watching
Opportunities
Here's to a good week 🥂