"Cadana is a platform that allows African workers to get paid on demand instead of waiting till the end of the month, unlocking their earnings in real-time." — Albert Owusu-Asare, Cadana CEO.
Digitising payroll and human resources (HR) is one of the many services that Cadana offers, but the true mission of the startup is to accelerate wealth building for African workers by making their earnings available to them when they need it.
In a conversation with Techpoint Africa, Cadana Co-founder and CEO, Owusu-Asare, discussed his motivation for creating the startup and why he thinks on-demand salary could help Africans accelerate wealth creation.
Growing up in Ghana, Owusu-Asare came from a modest background and, at an early age, knew how vital payday was. He recalled how families waited earnestly for the day their pay would come in to sort out financial problems.
"I could see first hand how my parents were working very hard to make sure we got the best experiences growing up. From there, I observed the role that jobs played in our lives."
Building Cadana
Owusu-Asare has a wealth of experience in the fintech world, and Cadana isn't the first fintech he has been a part of. He was the CTO of Esusu, a New York-headquartered startup that became a unicorn in January 2022.
But his finance journey didn't start at Esusu; it began at Goldman Sachs. Owusu-Asare left Ghana for the US to study. There, he met a friend — Ameer Shujjah — who would become his Co-founder and CTO at Cadana.
Shujjah and Owusu-Asare were the only computer science and physics majors in the university they attended. And their love for computer science and physics bolstered their friendship over a decade.
After university, Owusu-Asare took to Wall Street and landed a job with Goldman Sachs. He was an engineer at the investment bank and helped build a digital lending platform there. Through this, he became one of the first engineers to work on the Apple Card.
"It was a joint partnership between Apple and Goldman Sachs to create a very modern credit card experience for millions of Americans, and that, to me, was when my journey with credit began."
He drew upon his experience with Apple Card when he became the CTO at Esusu. What Esusu does is to help low and middle-income earners in the US survive the credit system the country was built on.
"In America, everything is tied to the credit score; if your credit score drops, you're done. So many low to middle-income earners were trapped in this credit score cycle. So, every time people pay their rent every month, we use it as a mechanism to help them improve their credit score."
Esusu's success opened Owusu-Asare's eyes to how technology can create access to wealth-building opportunities, and he left the US to bring those opportunities to Africa.
"I left Esusu because I just had a passion for Africa."
Why Cadana?
Owusu-Asare thought of several ways to impact the African continent significantly, and Cadana came to mind. To him, Africa's greatest resource is its people, and they must get access to funds when they need them.
"Very similar to Esusu, I realised that the monthly pay cycle is something that has been on for years or even centuries. I thought, why do we pay people once a month?
"Today you can order an Uber right to your doorstep; you can sit in your home and order food at the touch of a button. Why can't salaries be as real-time as Uber? That was where the idea started."
It is easy to assume Cadana is a platform that provides credit access to salary earners, but it is not. It simply gives them access to their salary before the payday.
How does Cadana work?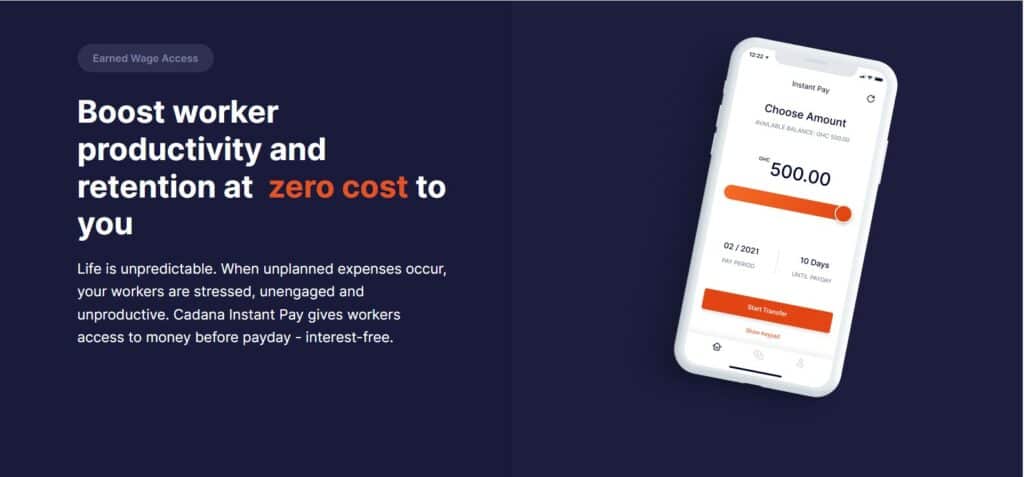 While Cadana provides salary on-demand, there are limits to the time and amount of the salary that can be demanded. Owusu-Asare said, "We understand that certain guardrails need to be put in place so that you can be as efficient with your money as possible.
"What Cadana does is to partner with your business; we always go through your employer so that we understand where you work and how much you earn. Certain employers tell us they want to give employees access to 50% of their money or 30% of their money.
"We also work with the employer to put a transaction limit so people do not abuse it. So these are the control measures we have put in."
Essentially, employees do not have to pay any form of interest for getting their salary early. Cadana pays the salary and gets the money back from the employer when the payment is due.
So how does Cadana makes money?
It is essential to see Cadana as a payment platform and a salary on-demand platform. The platform makes its money by charging a transaction fee of $1 (₦415) whenever salary is demanded.
Owusu-Asare explained that the transaction fee is split between Cadana and its payment partners.
"We work with our payment partners to actually disperse the money to their bank accounts or in Ghana to their mobile money accounts. Part of that fee goes to the payment providers, and we put a spread on what we do."
Interestingly, Cadana also offers a gamut of payment services from which it makes money. According to Owusu-Asare, it is a very holistic all in one platform that allows businesses to run payroll, pay vendors and suppliers, and generate invoices.
With these multiple streams of income, he said the company has a sustainable business model which will help them add more value to the employee.
"Our biggest value proposition is always the employee and the experience we are giving to them."
How Cadana stands out from the crowd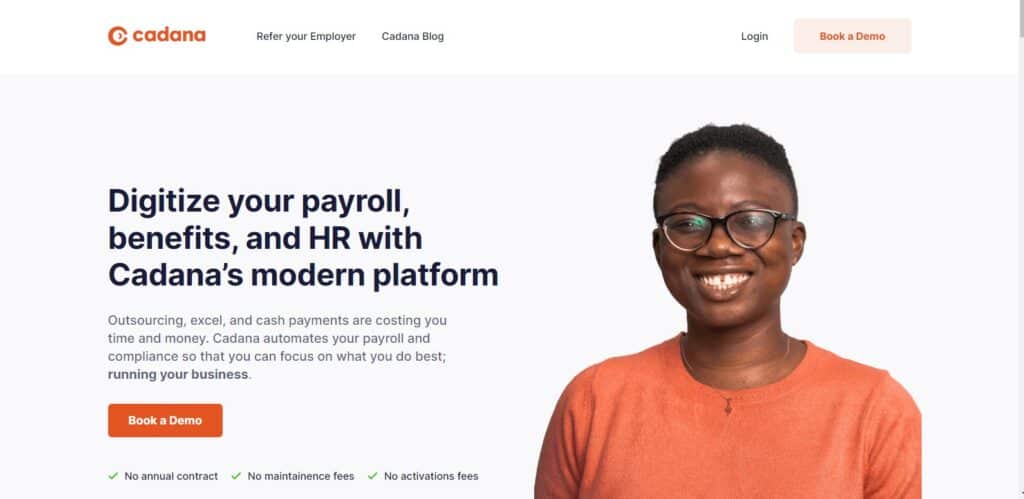 When it comes to digitising payroll and HR, Cadana is in the same league as Bento and SeamlessHR. However, its on-demand salary offering sets it apart. In explaining how Cadana's positioning is different from others, Owusu-Asare said, "We are positioning ourselves first and foremost as a payment company.
"Our positioning is actually powerful because by making the businesses and their money movement as efficient as possible, you can pass on some of those efficiency gains to employees."
While Cadana stands out from the payroll and HR crowd with its on-demand salary and payment services, it's still in the same boat with Earnipay, another on-demand salary platform that recently raised a $4 million seed round.
Just like Cadana, Earnipay charges transaction fees between ₦250 and ₦450 ($0.60 and $1.08) for processing transactions.
However, Owusu-Asare assured that in the coming months, Cadana would have product offerings that offer salary on-demand and services like payment and investment that will complete its mission of wealth acquisition.
Risks and challenges to offering on-demand salaries in Africa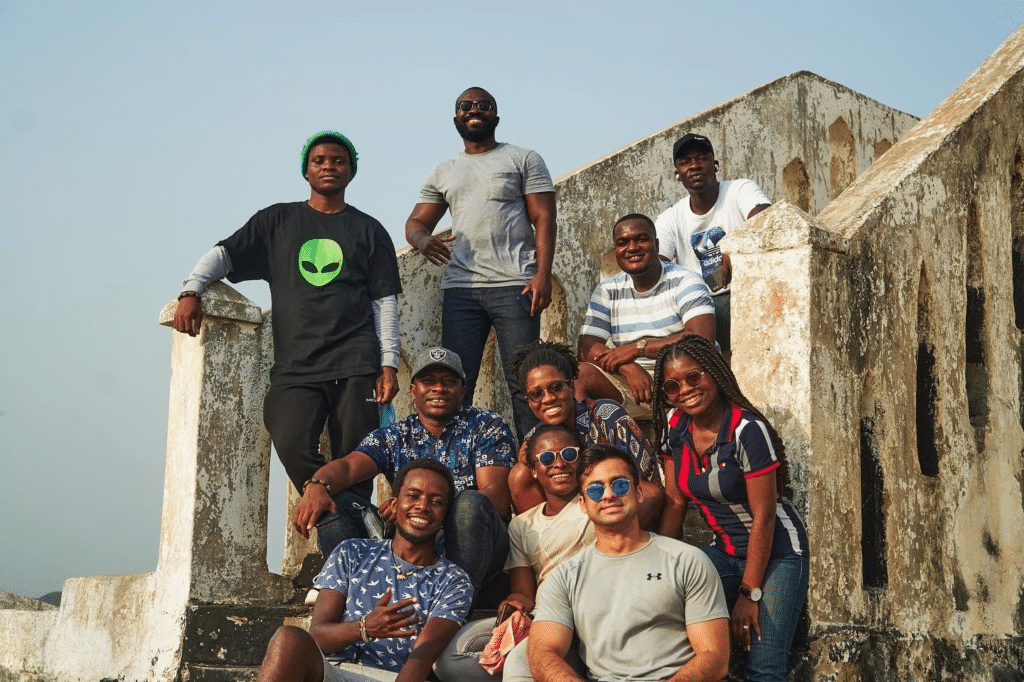 Cadana launched in Ghana but has expanded to Nigeria as part of a partnership with African fintech giant, Flutterwave. But how easy is it to offer these services in Africa, or perhaps what does Cadana do when employers do not pay salaries after an employee has demanded salary?
"There's always going to be risks, but we focus a lot on employers that pay their people on time and are forward-thinking," Owusu-Asare said.
While focusing on employers that pay on time could reduce the risks for Cadana, he also admitted that the space Cadana is playing in is new, and businesses that they onboard have to be educated.
"We have internal teams that spend a lot of time with these businesses, trying to help them understand that their employees can spend over five hours at work dealing with their financial issues instead of working.
"We also try to help them understand that when an employee quits or gets sacked for being unproductive, they actually spend a lot more money replacing that person."
Educating employers on the importance of a healthy relationship then becomes the major challenge for Cadana, an obstacle Owusu-Asare believes they will overcome in no time.