According to the World Bank, small and medium enterprises (SMEs) account for 90% of businesses and 50% of employment globally. In addition, SMEs create 7 out of 10 jobs in emerging economies. Consequently, ensuring that SMEs have a good environment to thrive in is crucial for job creation and economic growth.
However, an inability to access finance for their business operations means many SMEs have to close shop. In Nigeria, for example, banks are more likely to give loans to large businesses. Over the past five years, startups like FairMoney and Brass have stepped up, providing individuals and businesses with an alternative to existing financial institutions.
Last year, Nigeria's fintech space saw a new entrant – Pivo. The startup was founded by Nkiru Amadi-Emina (CEO) and Ijeoma Akwiwu (COO) as a result of an observation the two women had. Before Pivo, Amadi-Emina had founded Jalo, a logistics startup that served businesses in Northern Nigeria until its acquisition by Kobo360.
The deal, an acqui-hire, saw Amadi-Emina join Kobo360, where she held various positions, including Port Operations Lead. Akwiwu, on her part, had spent most of her career working as a lawyer and building her private practice.
Her jobs saw her working with various tech companies, and she was soon curious about other services a lawyer could offer startups. Seeing this interest, a friend offered her the opportunity to work on a project to curb corruption in Nigeria's judicial sector. While the project never saw the light of day, it gave her more insight into opportunities in the tech space and led her to get a master's in software engineering.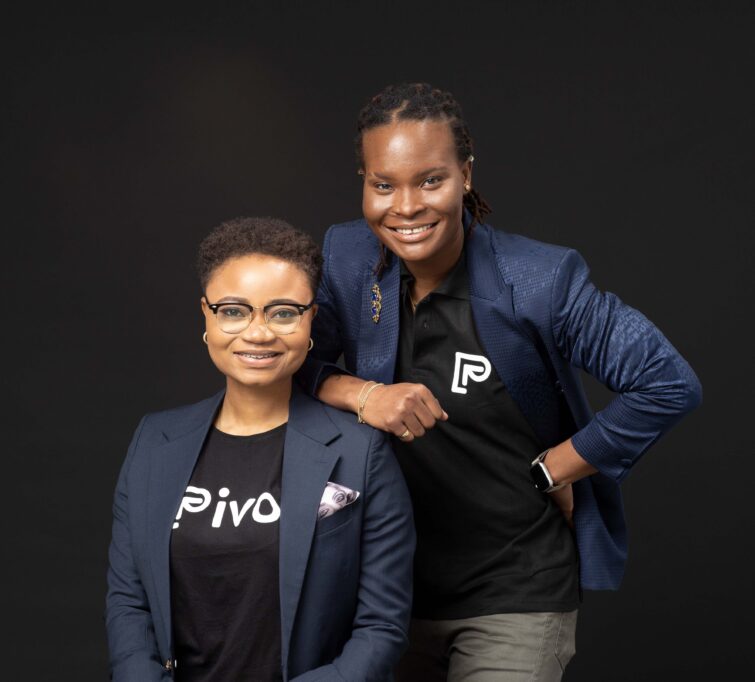 The duo also ran businesses together, and their experience showed them that many small businesses in the supply chain industry struggled with financing. Trying to solve that problem led them to start Pivo.
"Having worked at Kobo360 and then also built a source procurement product together, we found that a lot of the small players in both scenarios have issues with financing or completing transactions that they get.
"It's not necessarily a case of they don't have any business or orders; nobody is giving them cargo to load or orders to fulfil. They had it but didn't have the financial capital to fulfil it. Having noticed that problem, we decided to build Pivo to provide them with adequate financial support," Amadi-Emina told Techpoint Africa.
Financial services for supply chain SMEs
Pivo is a financial services provider targeted at SMEs in Africa's supply chain sector. The decision to focus on businesses in the supply chain sector comes from the founders' expertise working in the industry and an understanding that there's a supply chain segment to most sectors of the African economy.
"We have experience in the supply chain industry. We also understand that a supply chain is a function that cuts across multiple sectors, whether you're in manufacturing, agriculture, or oil and gas. More importantly, in any supply chain, the actors remain the same," Amadi-Emina said.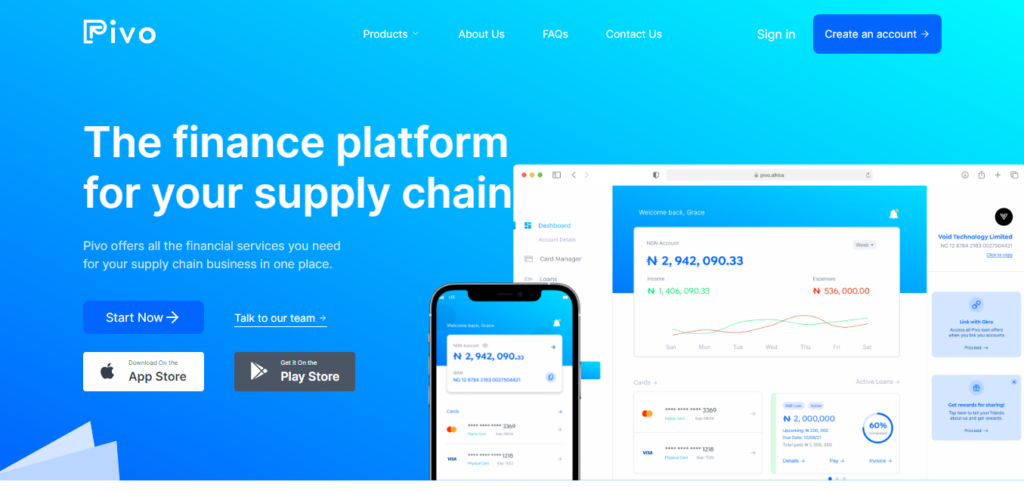 While other startups provide businesses with working capital, what sets Pivo apart is its focus on a set of businesses. The startup has rolled out its first offering – Pivo Capital – a loan service for supply chain businesses, but it is not stopping at that. It plans to offer every financial service that a supply chain business needs, including inventory financing, corporate account services, asset financing, etc.
Since its private beta launched in October 2021, the startup has gotten over 250 clients (200 of which are active), received loan requests of over $2 million, and disbursed over $1 million to date.
Initially bootstrapped by the co-founders, the startup has raised an undisclosed pre-seed round from investors including Mercy Corps Ventures, Microtraction, Ventures Platform, FirstCheck Africa, and Bold Angel Fund. Pivo has also gotten into the ODX accelerator programme, where it will receive $125,000 for 7% equity.
The startup has three core products – Pivo Capital, Pivo Finance, and Pivo Plus. For Pivo Capital, the startup charges an interest rate and management fee on all loans disbursed. The interest rates are not fixed and vary depending on the loan amount and the company involved. However, Akwiwu disclosed that the minimum interest rate is 3%.
For Pivo Finance, the startup's corporate banking service, the startup plans to provide businesses with account numbers, wallets, and the ability to conduct transactions using their Pivo accounts. Although not all the offerings are currently available, the startup plans to charge transaction fees on any transaction done using Pivo.
Growth and challenges
Currently operating in Lagos, the startup has its eyes on Nigeria's other commercial cities, including Port Harcourt, Abuja, and Kano, before expanding to other African countries, starting with Ghana in Q4 2022.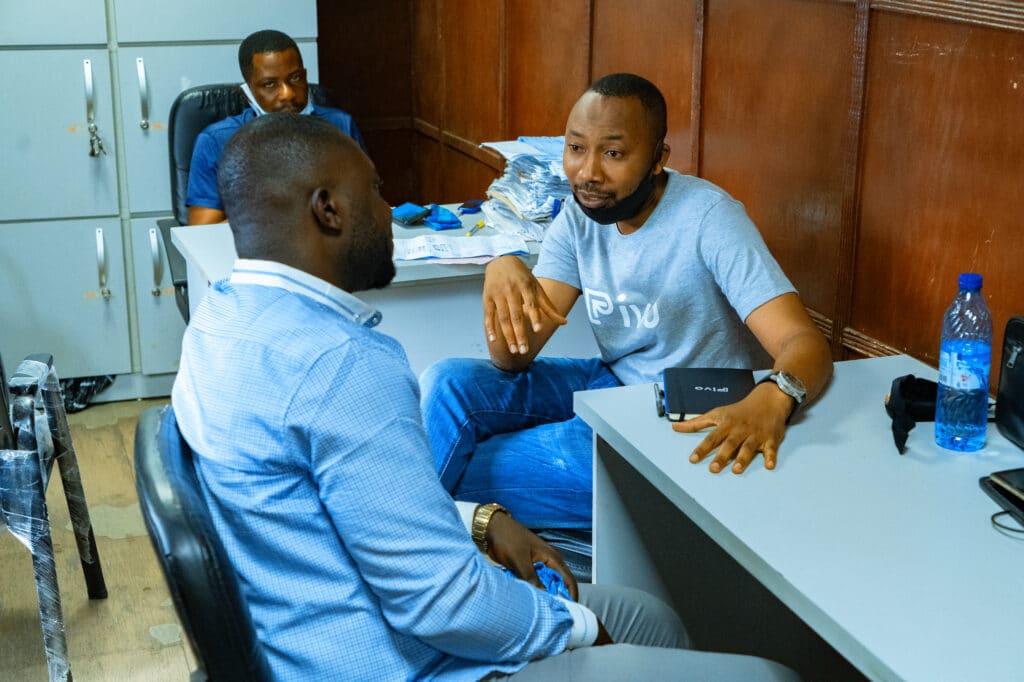 Like any business, the startup has faced its fair share of challenges, including keeping up with the growth of its loan portfolio and hiring the right talent. On keeping up with its loan portfolio, Akwiwu said the company has had to work closely with its financial partners.
"I think the major problem we've had is primarily around keeping up with the growth that we are seeing. An example is that your loan portfolio is growing, but do you have enough capital to support that growth? One of the ways we're mitigating it is quickly activating credit lines with financial partners at the same pace of our portfolio growth."
On the talent front, Akwiwu revealed that the startup still has most of its founding team, while Amadi-Emina shared that they have been intentional about their hires.
"One thing we try to do is to be deliberate and intentional about hiring because what you find is, if you make the right hire, they're able to compensate for other gaps in your structure," Akwiwu added.